Planning a trip to Kazakhstan? This article talks about the best places to visit to experience the unassuming beauty of this underrated country.
Kazakhstan is a fascinating country with a diverse landscape. From vast steppes to majestic peaks to beautiful lakes, the natural beauty of this country is sure to mesmerize you. Kazakhstan was part of the erstwhile USSR and since gaining its independence in 1991, has become one of the most successful countries in Central Asia.
Our goal at Wander Smartly is to make your travels smarter and help you have the best experience on your trips. From my own experience of visiting Kazakhstan, I share the inside scoop on all the places worth visiting.
Places to Visit in Kazakhstan
Day 1 – Explore Almaty City
Almaty is a vibrant and bustling city in Kazakhstan. It served as the country's largest metropolis and was the capital until 1997 when the title was passed on to Nur-Sultan (formerly known as Astana). Almaty remains the cultural, economic, and educational hub of Kazakhstan.
Nestled at the foothills of the majestic Tien Shan Mountains, Almaty offers a picturesque setting with stunning natural landscapes. The city is known for its remarkable blend of modernity and traditional Kazakh culture, creating a unique and captivating atmosphere.
Owing to its rich history and culture, Almaty has many places for tourists to visit. Of these, I'd recommend three that are interesting enough and worth visiting.
The first is The Park of 28 Panfilov Guardsmen, also known as Panfilov Park. This is a significant historical landmark located in Almaty. It is named in honor of the 28 soldiers from the 316th Rifle Division of the Soviet Union who valiantly defended Moscow during World War II.
Panfilov Park offers a serene environment for relaxation and leisure. It is adorned with lush greenery, tree-lined pathways, and benches where you can sit and enjoy the tranquility of nature. The park is a popular spot for picnics, family outings, and recreational activities.
In addition to its historical significance, the park is a venue for various cultural events and festivals. It hosts concerts, art exhibitions, and traditional celebrations, bringing the community together in a festive atmosphere.
Within the park, you must also visit the Cathedral of the Ascension, also known as Zenkov's Cathedral. This is a beautiful Russian Orthodox church built entirely of wood. The cathedral, constructed without the use of any nails, is a masterpiece of architectural craftsmanship and is one of the oldest wooden buildings in Almaty.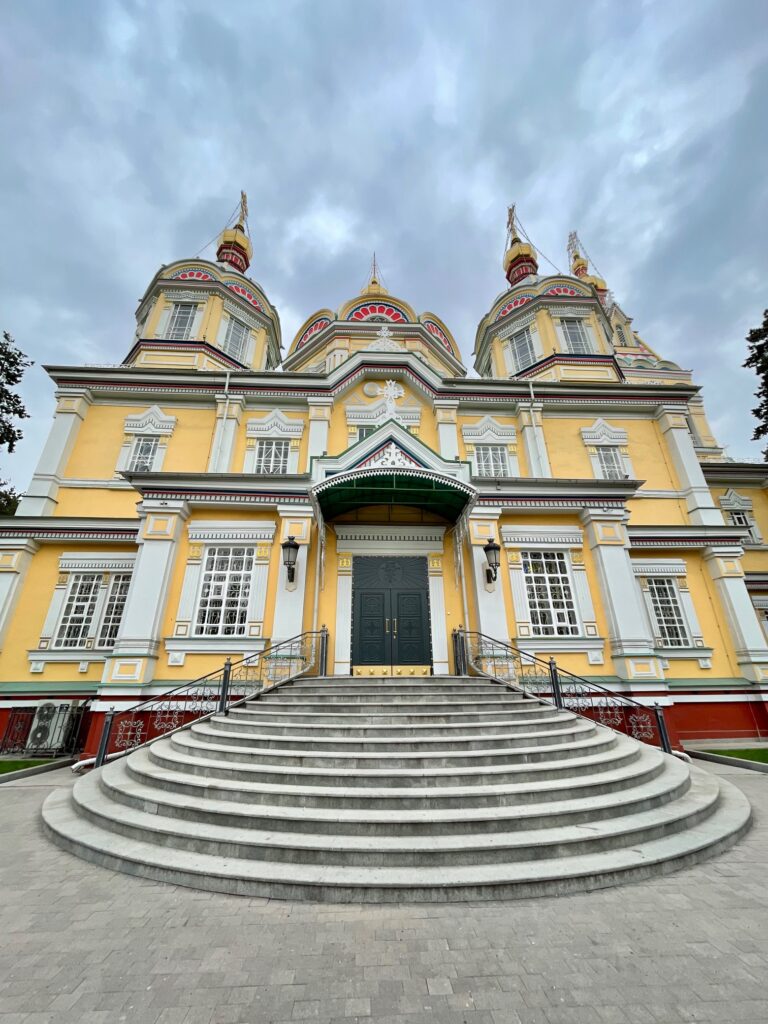 The third place worth visiting in Almaty city is the Green Bazaar. Also known as Zelyony Bazar, this is a vibrant and bustling market located in the heart of Almaty. It is one of the oldest and most popular markets in the city, renowned for its lively atmosphere, diverse range of goods, and a rich cultural experience.
Apart from fruits and vegetables, the bazaar offers an extensive selection of traditional Kazakhstani products such as dairy products, honey, dried fruits, nuts, and grains. You can find an assortment of cheeses, yogurts, and kumis (fermented mare's milk) as well.
There are sections dedicated to clothing, shoes, accessories, household goods, and souvenirs. You can browse through the stalls to find traditional Kazakhstani garments, handcrafted items, rugs, carpets, and various trinkets.
Exploring the market is a sensory experience. The vibrant colors, bustling crowds, and the lively chatter of vendors create an energetic atmosphere. You can engage in friendly haggling and negotiation with the vendors, which is a common practice in the bazaar culture.
Adjacent to the market, there are small cafes and food stalls where you can indulge in local cuisine and traditional snacks. It's an opportunity to savor traditional Kazakh dishes such as beshbarmak (a meat and pasta dish), manti (dumplings), and shashlik (grilled meat skewers).
The Green Bazaar is not only a place for shopping but also a cultural melting pot. It offers a glimpse into the everyday life and traditions of the local people. It's a vibrant hub where different cultures converge, and the sights, sounds, and aromas combine to create a unique and memorable experience for you.
If you are yet left with more time in the day, you can visit the other landmarks in the city – The Republic Square, Astana Square and Abai Square.
Day 2 – Visit the Big Almaty Lake
The Big Almaty Lake is a stunning natural attraction located in the Ile-Alatau National Park, approximately 25 kilometers south of Almaty in Kazakhstan. The lake is known for its breathtaking beauty and crystal-clear turquoise waters.
It is a glacial reservoir formed by the melting of the surrounding glaciers, making it a prime example of the region's glacial landscape. The surrounding peaks, including the imposing Big Almaty Peak, add to the majestic backdrop of the lake, creating a picturesque setting that attracts visitors from near and far.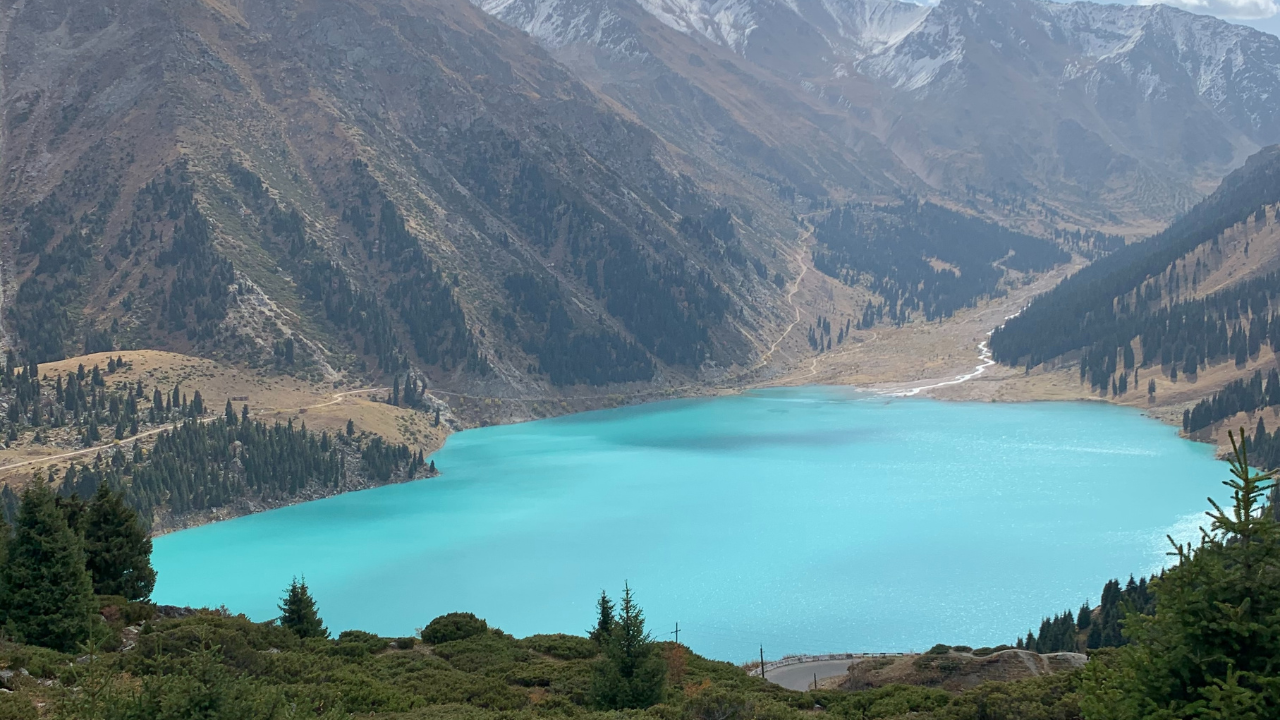 Visiting the Big Almaty Lake is an opportunity to connect with nature, experience the beauty of the Kazakhstani mountains, and escape the urban hustle and bustle. The combination of breathtaking scenery, shimmering turquoise waters, and serene surroundings makes it a must-visit destination for anyone visiting Kazakhstan.
Book this day tour to visit the Big Almaty Lake. You will most likely be picked up from the hotel in the morning for this 5-hour tour (check here). Select the pick-up time as per your convenience. The tour ends with a drop-off at your hotel.
Day 3 – Explore Kolsai Lake, Kaindy Lake and Charyn Canyon
The Charyn Canyon is a breathtaking natural wonder 200 km east of Almaty. It is a remarkable gorge along the Charyn River, known for its unique rock formations and spectacular scenery. You must hike through the valley to marvel at the incredible shapes and colors of the rocks, culminating in a gorgeous river.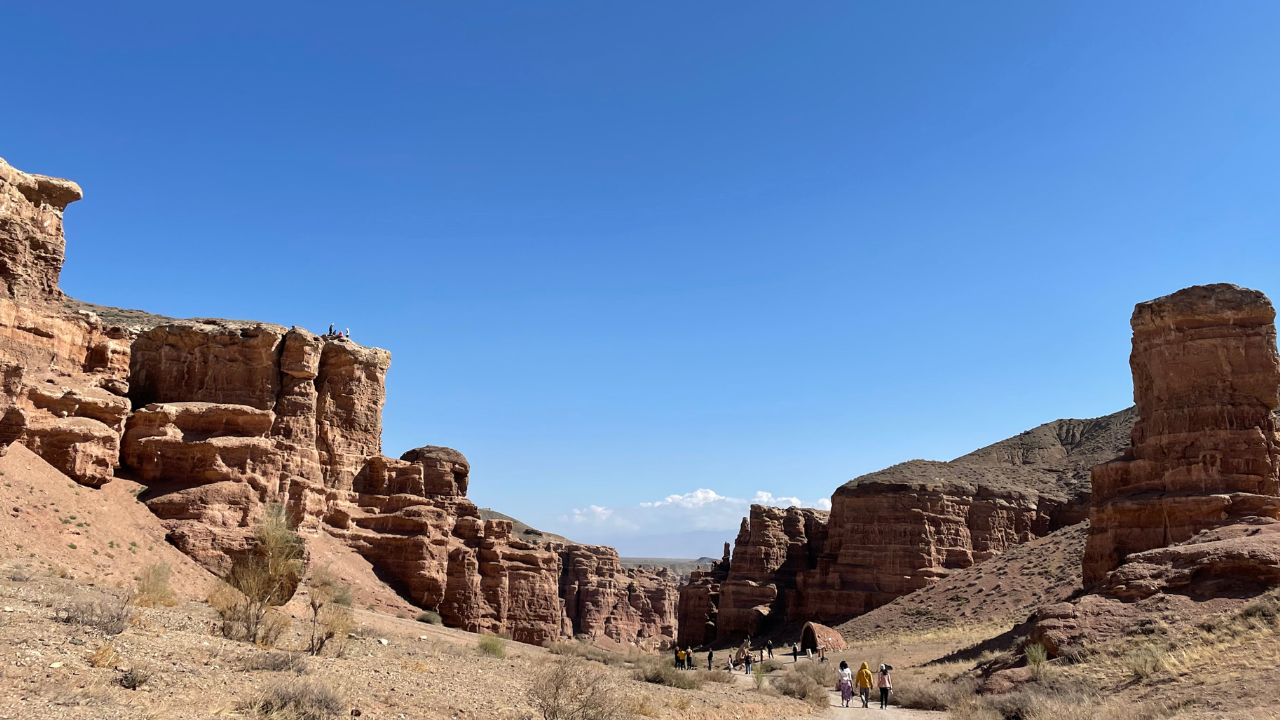 Kolsai Lakes are a group of three scenic lakes located in the northern Tien Shan mountains, about 300 km east of Almaty. These lakes are known for their crystal-clear blue-green waters. The lakes reflect the surrounding mountain landscape, creating a jaw-dropping view. Immersing yourself in the tranquillity of nature at this serene locale is a must-do experience in Kazakhstan.
Kaindy Lake is another beautiful and unique lake known for its striking turquoise water and unusual underwater forest. The most unique feature of this lake is the underwater forest that lies beneath its surface. The forest is made up of tall, dead spruce trees that were submerged when the lake was formed. The trees are still standing upright and their tops can be seen poking out of the water, creating a surreal and gorgeous scene.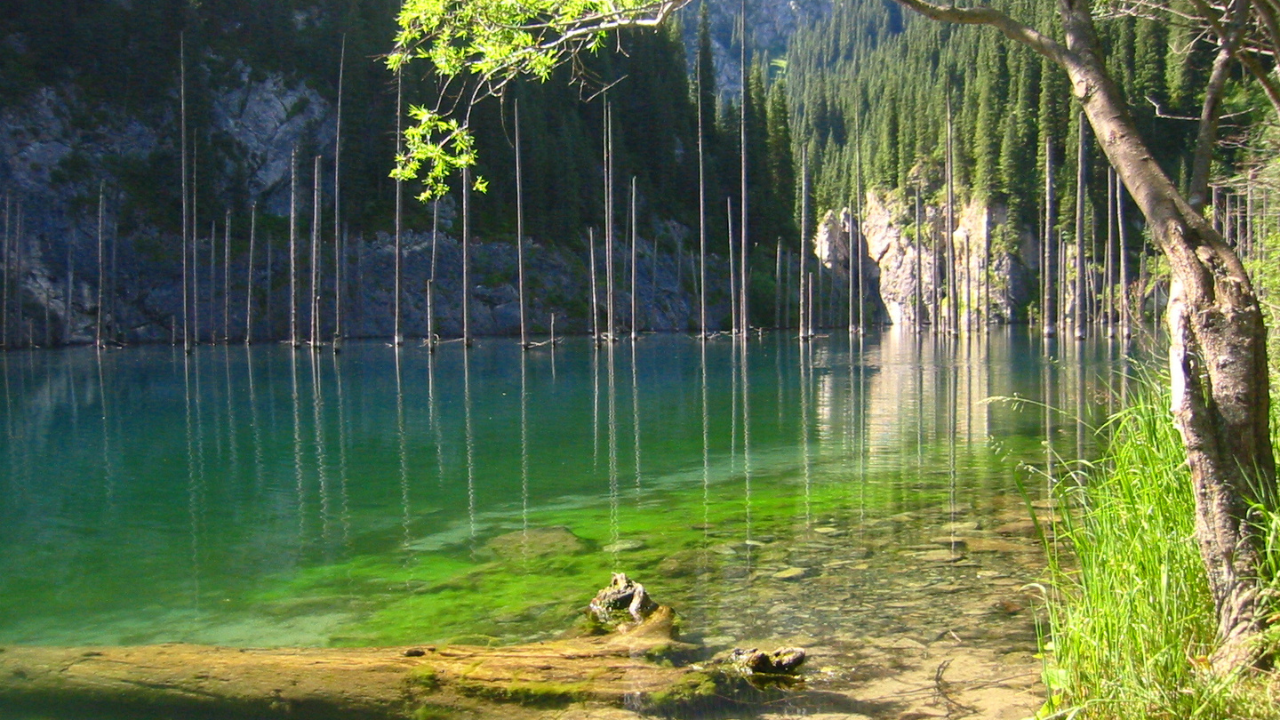 You can visit all the 3 places in one day by taking a day tour. These places are at quite a distance from the city, so it's best to take a guided tour that gives you sufficient time at each place to enjoy the beauty. This will be a hectic day, starting early in the morning, but I do recommend covering all 3 sites in one day altogether. Since these places are a four-hour ride away from the city, it makes sense to see them all on the same day and avoid travelling that far again.
Places to Avoid in Kazakhstan
Some travel blogs talk quite a bit about certain places in Kazakhstan and call them 'must-visit'. However, from my own experience of visiting these places, I'd recommend you to reserve your time and money for other places. You may consider not visiting these places in Kazakhstan:
Koktobe – here you get to see panoramic views of the city of Almaty after taking a cable car ride to reach. This is at best a mini amusement park and not worth a visit for a foreign tourist.
Medeo Gorge and Shymbulak Ski Resort – this is not a bad place at all, but the mountains here are not green and not worth a visit when compared to the Himalayas in India or the Alps of Switzerland.
Nur-Sultan – this is the capital city of Kazakhstan with modern architecture (a couple of buildings) mostly to lure tourists. A cheap version of Dubai, in my opinion. This city is at quite a distance from Almaty and all other attractions in Kazakhstan, and isn't worth taking a detour.
Best Time to Travel
The best time to visit Kazakhstan is between the months of April to May and September to October, during the spring and autumn seasons, when the weather is most pleasant.
How to Reach
Take a flight to Almaty. It is the largest city in Kazakhstan, and also the cultural and financial center of the country.
Where to Stay
To cover all the must-visit places in Kazakhstan, Almaty can be your base location for the duration of your stay in Kazakhstan.
Mercure Almaty City Center is a great choice to stay in Almaty. It is a highly rated hotel with all modern amenities and is in an excellent location in the city, with all major monuments just a short walk away.
---
Kazakhstan is the perfect destination for a nature lover to see some raw and pristine natural landscapes. It is an unconventional destination and definitely worth a visit. Its rich history, diverse culture, and stunning natural beauty is sure to fascinate you.
Check our detailed Kazakhstan itinerary to plan your visit with ease. You must combine 3 days in Kazakhstan with 8 Days in Uzbekistan to enjoy a wholesome holiday in Central Asia in just 12 days.
Drop a comment below to let us know your thoughts! Visit our destinations page for more such detailed travel guides on places worth visiting.
FAQs
Is Kazakhstan good for tourists?
Kazakhstan is the perfect destination for a nature lover to see some raw and pristine natural landscapes. It is an unconventional destination and definitely worth a visit. Its rich history, diverse culture, and stunning natural beauty is sure to fascinate you.
How many days are enough for Kazakhstan?
3 days is sufficient to see all the best places in Kazakhstan.
Which are the places worth visiting in Kazakhstan?
Panfilov Park, Cathedral of the Ascension, Green Bazaar, Big Almaty Lake, Charyn Canyon and Lakes Kolsai and Kaindy are worth visiting in Kazakhstan.