Looking to visit the country of Bosnia & Herzegovina? This Bosnia Itinerary guides you to the best places to see in the country.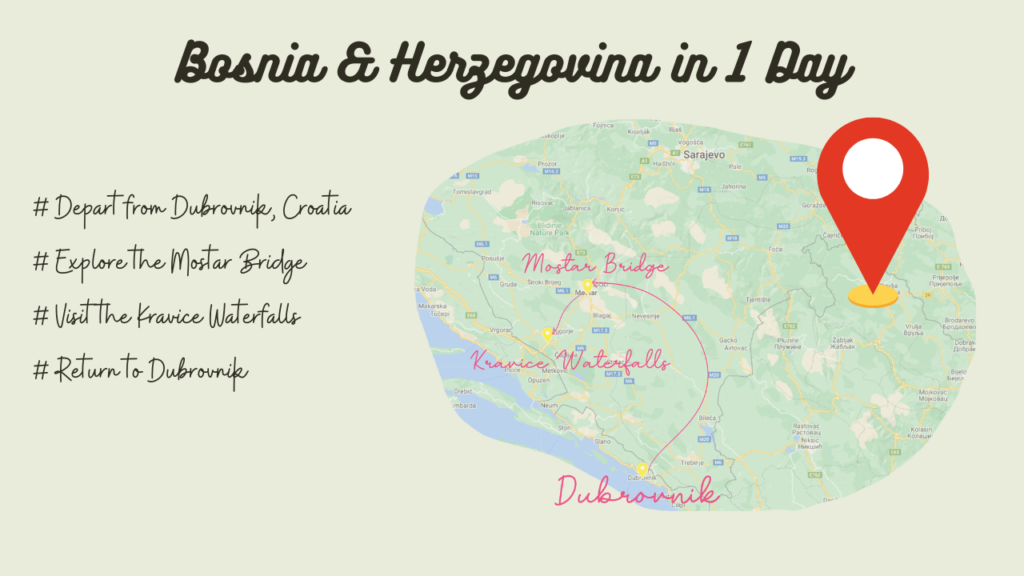 Our goal at Wander Smartly is to make your travels smarter and help you have the best experience on your trips. From my own experience of visiting the country of Bosnia and Herzegovina, I share the best 1-day itinerary that you can use for the must-see attractions in the country.
Bosnia and Herzegovina is a country located in south-eastern Europe. It has a rich history and cultural heritage, which makes it a unique and interesting destination to visit.
One of the things that make Bosnia and Herzegovina special is its stunning natural beauty. The country is home to beautiful mountains, lakes, rivers, and waterfalls, which offer opportunities for outdoor activities like hiking, skiing, and rafting.
Bosnia and Herzegovina is also known for its diverse cultural heritage. The country has been influenced by different civilizations throughout its history, including the Illyrians, Romans, Ottomans, and Austro-Hungarians. As a result, Bosnia and Herzegovina has a unique mix of cultures, religions, and traditions, which are reflected in its architecture, cuisine, music, and festivals.
Additionally, Bosnia and Herzegovina is home to some of the most important historical and cultural sites in Europe, including the Old Bridge in Mostar.
Despite a history of conflict and political turmoil, Bosnia and Herzegovina is a resilient country that has worked hard to rebuild and develop. Today, it is a peaceful and welcoming destination that offers visitors a chance to experience its rich history, culture, and natural beauty.
Best Time to Travel:
The best time to visit Bosnia and Herzegovina is between May to October. To avoid the crowds and enjoy lower prices, you may want to consider visiting during the shoulder seasons (late spring or early fall).
Bosnia Itinerary
This day-long itinerary is covered on a day tour from Dubrovnik in Croatia, and is part of a 10 Day Croatia Itinerary. You will cover the two must-visit places in the country on the same day itself, saving you the hassle of staying overnight and spending time travelling.
Depart from Dubrovnik at 7 am
The tour begins at 7 am with a pick-up from the city of Dubrovnik in Croatia. It is likely you will be picked up from your hotel itself (click here to check). Taking this day tour is the best way to visit Bosnia & Herzegovina from Dubrovnik as it is a guided tour in a small group of 8 people or less.
Explore the Mostar Bridge
Passing the seaside villages of the Dubrovnik Riviera and into the Bosnian countryside, you will reach the medieval town of Mostar after a 2.5-hour drive.
The Mostar Bridge, also known as Stari Most (Old Bridge), is a historic Ottoman-style bridge that spans the Neretva River in the city of Mostar in Bosnia and Herzegovina. It was originally built in 1566 by the Ottoman architect Mimar Hajrudin on the orders of the Ottoman Sultan Suleiman the Magnificent.
The bridge is 28 meters (92 feet) long and 20 meters (66 feet) high, and is constructed of local limestone blocks. It is a single-arched bridge, with a span of 18 meters (59 feet), and its arch rises to a height of 24 meters (79 feet) above the water.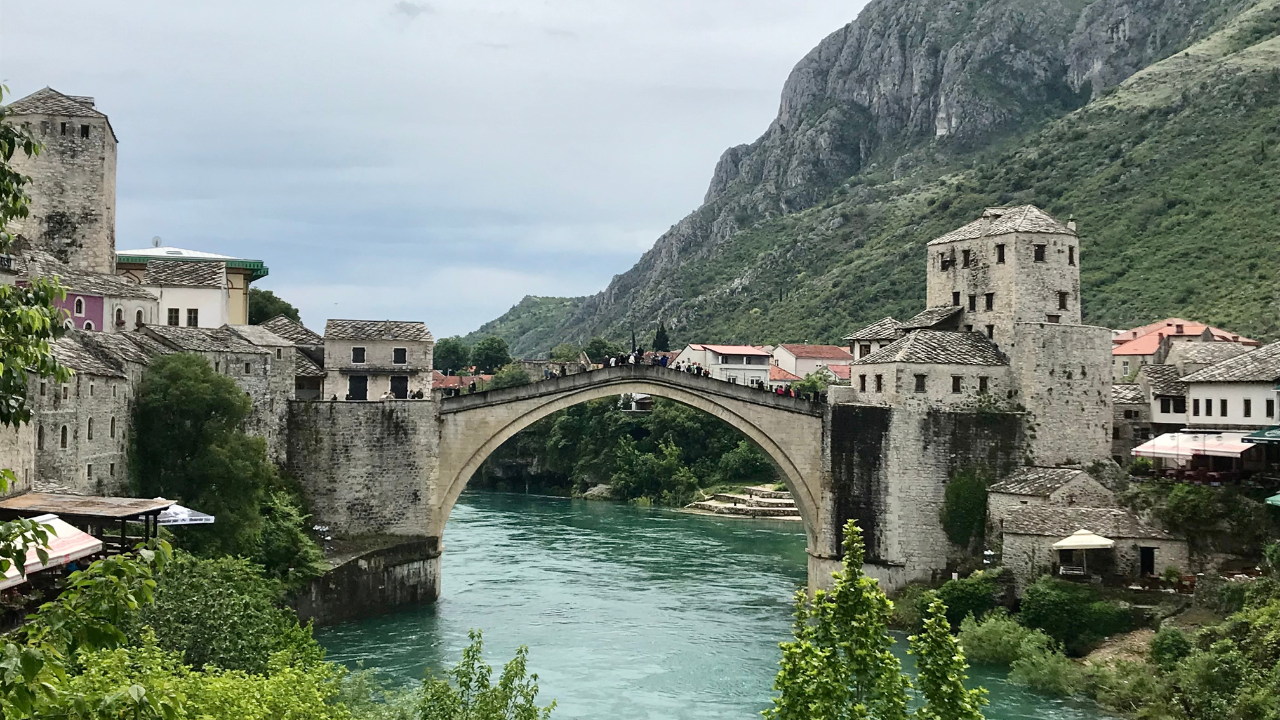 You must know the history behind the bridge before you visit. The bridge was destroyed during the Bosnian War in 1993 but was reconstructed and reopened in 2004, using traditional methods and materials, with the help of UNESCO and other international organizations. The reconstruction was a symbol of hope and reconciliation for the people of Bosnia and Herzegovina, as well as a testament to the country's cultural heritage.
The Mostar Bridge is now a UNESCO World Heritage Site and is one of the most iconic landmarks in Bosnia and Herzegovina. It is a popular tourist attraction and a symbol of the city of Mostar, attracting visitors from around the world.
Enjoy your walk across the bridge with stunning views of the river and the city of Mostar. There are professional divers who will jump off the bridge into the river for a fee. Feel free to indulge in the entertainment if you so fancy!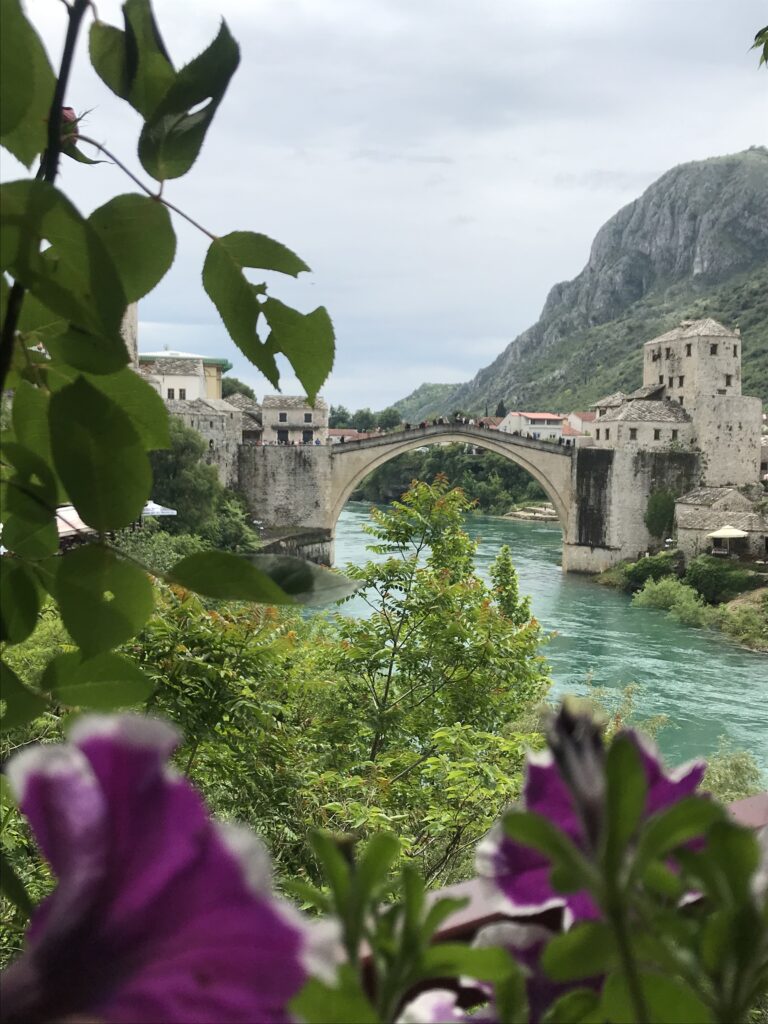 The emerald green waters of the river lend to the scenic landscape of the bridge and make for great photography. Have lunch at the Urban Grill Restaurant near the bridge and keep some time to click amazing photographs of the Mostar Bridge from this restaurant as it offers great views of the bridge.
Visit the Kravice Waterfalls
Your next destination is the Kravice Waterfalls. Also known as Kravica Waterfalls, this is a stunning natural wonder located in the Herzegovina region of Bosnia and Herzegovina. They are a series of waterfalls, cascades, and turquoise pools formed by the Trebižat River as it flows over the karstic rock formations.
The Kravice Waterfalls are located about 40 kilometers (25 miles) south of Mostar and cover an area of over 100 meters (328 feet) wide and 25 meters (82 feet) high. The waterfalls have a horseshoe shape and create a natural amphitheater that is surrounded by lush greenery and trees, making it a picturesque setting.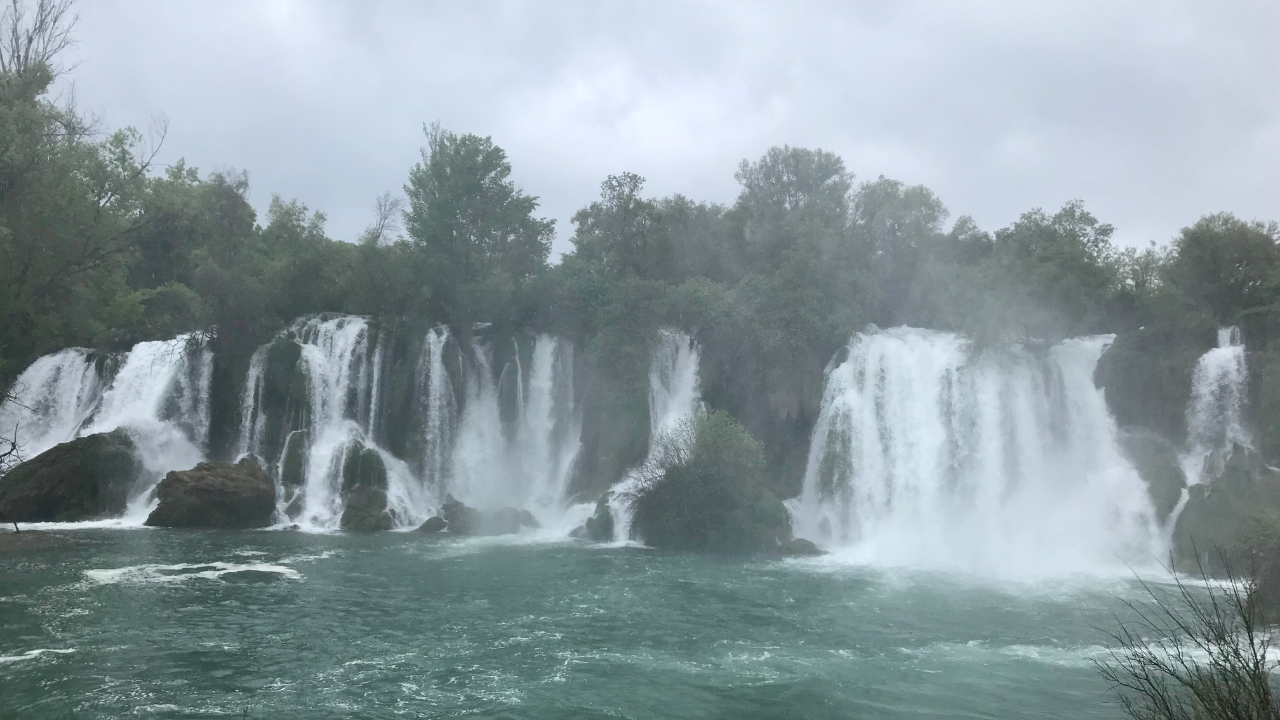 The water at the Kravice Waterfalls is clear and bright blue-green, and you can even swim in the pools for a great experience! The water temperature is typically cool, even during the summer months, which can be refreshing on a hot day.
There are several viewpoints around the waterfalls that provide stunning views of the falls and the surrounding area. There is a restaurant where you can sit, relax by the waterfalls and enjoy a drink.
The Kravice Waterfalls are particularly beautiful during the spring and summer months, when the surrounding landscape is green and lush, and the waterfalls are at their fullest. However, they can also be visited during the fall and winter months, when the surrounding foliage changes color and the waterfalls are quieter.
Return to Dubrovnik
You will be dropped off at your hotel (check here) in Dubrovnik after the 10-hour tour ends. This will be a wonderful day as you cover two of the best destinations in the country of Bosnia & Herzegovina.
Local Food
Bosnia and Herzegovina has a rich culinary tradition, influenced by the country's Ottoman, Austro-Hungarian, and Balkan heritage. Here are some local foods you can try when visiting Bosnia and Herzegovina:
Ćevapi: These are small grilled meat sausages made from a combination of beef and lamb, served with onions, flatbread (somun), and a sour cream and cheese sauce (kajmak).
Burek: A popular pastry dish made with layers of flaky phyllo dough, stuffed with meat (usually beef or lamb), cheese, spinach, or potatoes.
Sarma: A dish made from stuffed cabbage leaves, filled with a mixture of ground beef, rice, and spices, and served with a side of sour cream.
Tufahija: A dessert made from baked apples stuffed with walnuts and sweetened with sugar syrup.
Bosnian coffee: A strong, Turkish-style coffee served in small cups, often accompanied by a piece of Turkish delight or baklava.
Currency
Although the currency in Bosnia and Herzegovina is the Konvertibilna marka (BAM), Euro is accepted.
Visa
You can enter Bosnia and Herzegovina with a Schengen visa or passport for a maximum stay of 30 days. You need to have a passport valid for at least three more months beyond your departure date that is issued within the last 10 years. You may need additional documents along with your visa, best to check the guidelines from your country.
Language
Bosnia and Herzegovina have three official languages: Bosnian, Croatian, and Serbian. English is widely spoken here so you should not have any trouble communicating.
Mostar Bridge and Kravice Waterfalls are two understated and immensely beautiful locations to visit owing to their scenic landscapes, rich heritage and history. A must-visit when you are travelling to the Balkans region of Europe.
Visit our destinations page for more such detailed travel guides on countries worth visiting. Visit Bosnia and Herzegovina as part of 10 Days in Croatia and club it with 4 days in Slovenia to enjoy the best 14-day trip to the Balkans region of Europe.
FAQs:
Is Bosnia worth visiting?
The Mostar Bridge and Kravice Waterfalls are two places absolutely worth visiting in the country of Bosnia and Herzegovina.
How many days is sufficient to see Bosnia?
A day trip from Dubrovnik is sufficient to visit the two must-see places in Bosnia and Herzegovina – The Mostar Bridge and Kravice Waterfalls.
Can you visit Bosnia from Dubrovnik?
Absolutely, you can do a day trip to Bosnia and Herzegovina from Dubrovnik and be back the same day.
Which are the best places to see in Bosnia?
The Mostar Bridge and Kravice Waterfalls are the best places to visit in the country of Bosnia and Herzegovina.