Have you been thinking of visiting Vietnam for a while now? Here is the ultimate 10 Day Vietnam Itinerary with all the curated details to make your travel smart and fulfilling.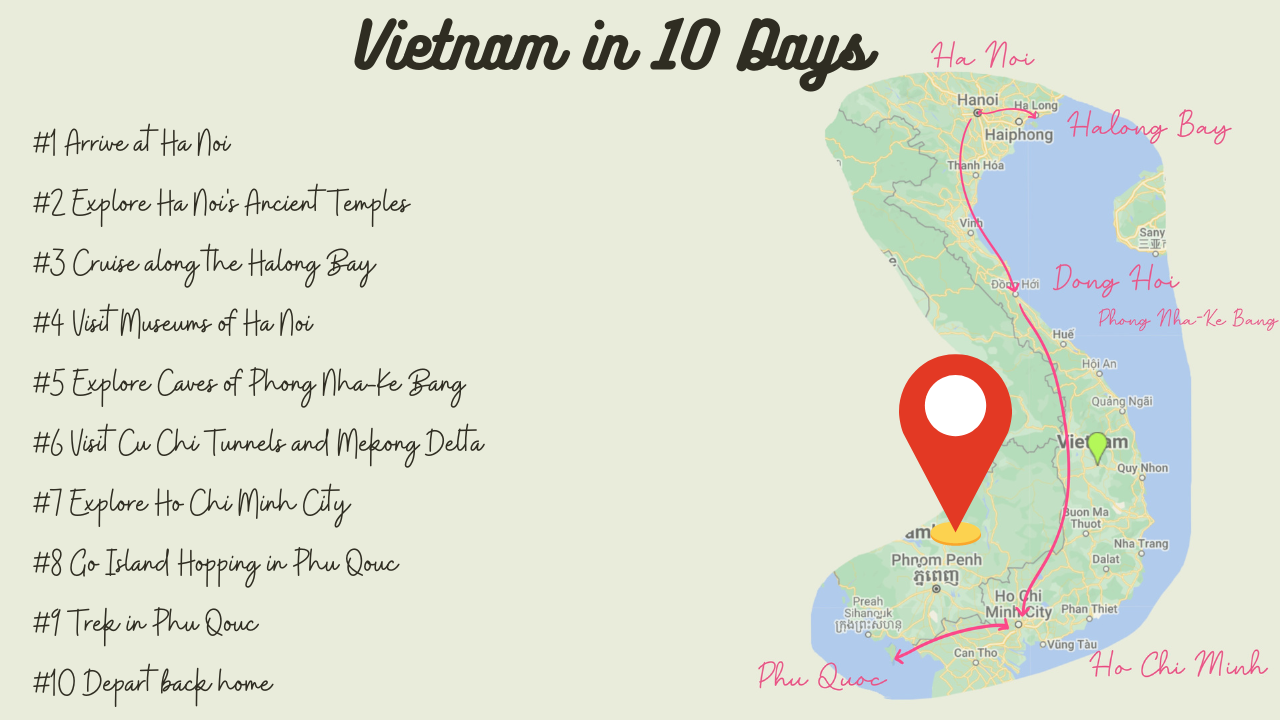 Vietnam is a wonderful holiday destination for many reasons, including its rich history and culture, stunning natural landscapes, delicious cuisine, and friendly locals. Vietnam has a fascinating history that dates back thousands of years, and this is reflected in its culture, architecture, and traditions. From the ancient temples of Ha Noi to the modern skyscrapers of Ho Chi Minh City, Vietnam has a mix of old and new that is sure to captivate you.
Our goal at Wander Smartly is to make your travels smarter and help you have the best experience on your travels. From my own experience of planning the Ultimate 10 Day Vietnam Itinerary for myself, I share all the little details on having the best Vietnamese holiday. Which places to visit, what to eat, where to eat, how long to stay at each place, how to travel – we've got you covered on all fronts. This page is all you need when planning your 10 day Vietnam Itinerary.
Best Time to Travel:
This itinerary is best experienced between the months of October to December and February to April.
10 Day Vietnam Itinerary
Day 1: Arrive at Ha Noi and Explore the Old Quarter
Vietnam is a long and narrow country on the eastern edge of the Indochina peninsula. It makes the most sense to start in the North and travel southwards, or vice-versa. Ha Noi in the North and Ho Chi Minh in the South are the two major cities in Vietnam with good international flight connectivity. This 10 Day Vietnam Itinerary begins from Ha Noi and ends with Ho Chi Minh and covers the most beautiful places in the country.
Ha Noi, the capital city of Vietnam, is famous for its rich history, culture, and architecture, as well as its vibrant street life. After landing, check in to your hotel and release some of the jet lag. I highly recommend you stay in the Old Quarter area which houses the most interesting cultural and historical attractions of the city. Imperial Hotel and Spa in the Old Quarter area is an excellent choice, with many attractions just a short walk away. They have well-sized, neat rooms and great hospitality.
Head out to explore the Old Quarter area on foot. Book a 3-hour tour starting at 6 pm and check out the local markets, sample the authentic Vietnamese dishes and desserts, and sip the local beer, tea or coffee at quaint cafes and bars.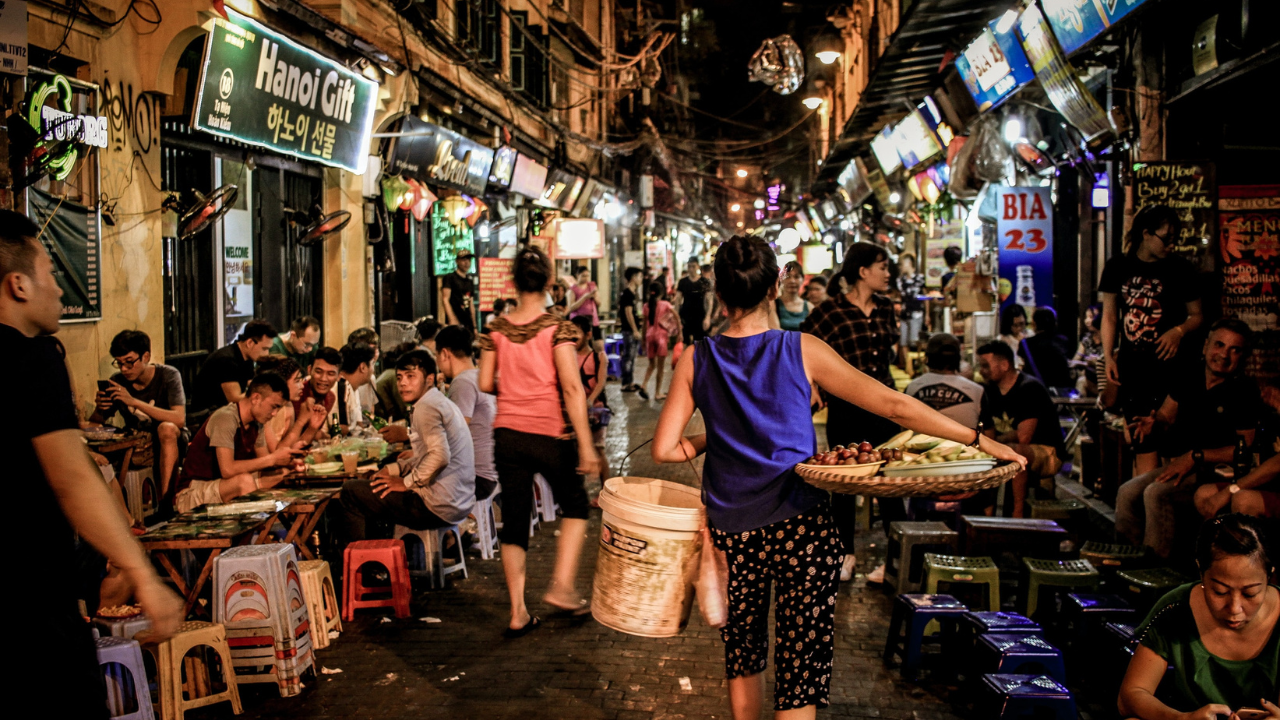 Day 2: Visit the Temples of Ha Noi
Your first day in the city should be spent exploring the nearby attractions on foot. Start with a stroll along the Hoàn Kiếm Lake, meaning 'Lake of the Returned Sword'. The Lake has been an important cultural and historical site in Hanoi for centuries. It has a 1.8-kilometer (1.1-mile) walking path that is perfect for a leisurely stroll. Enjoy a cup of coffee or tea at one of the many lakeside cafes with the view of lush gardens, ancient trees, and historic buildings surrounding the lake.
Continue the walk along the lake to reach the Ngoc Son Temple located on a small island on the lake. To reach the temple, walk across The Huc Bridge, a picturesque wooden bridge with Buddhist Architecture painted in a lovely scarlet color that makes for great views.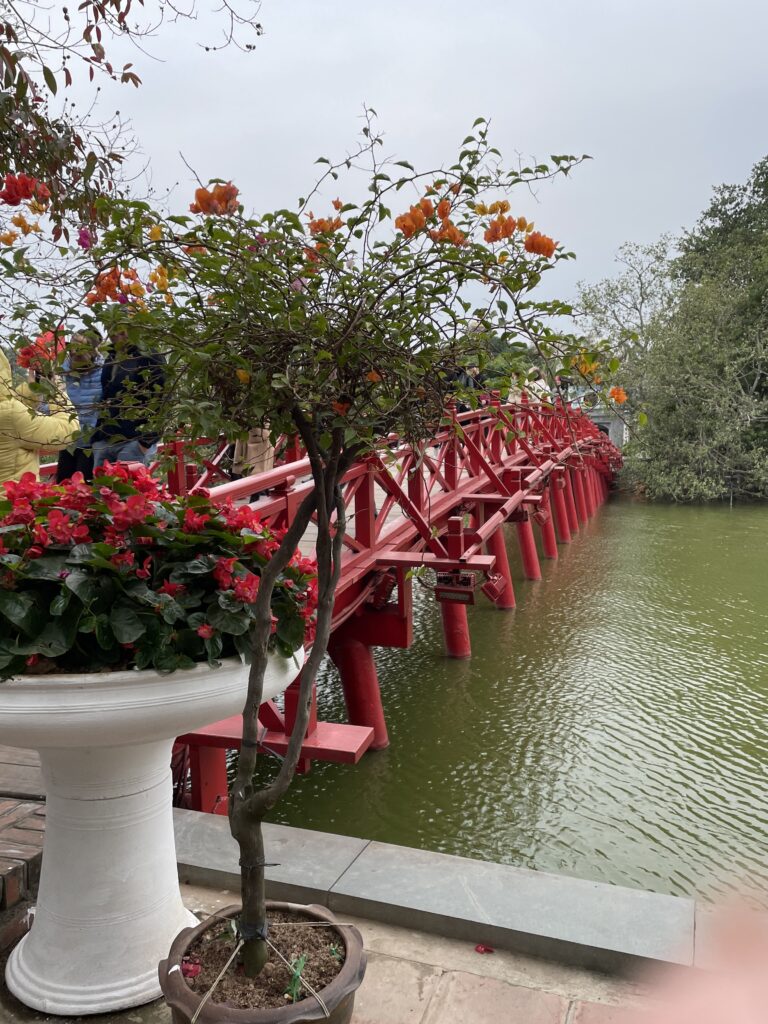 The temple was built in the 18th century and dedicated to the national hero Tran Hung Dao, who was instrumental in defeating the Mongol invaders in the 13th century. The temple is also home to many important relics, including a giant turtle that is said to have lived in the lake for hundreds of years, and a sword that was supposedly used by Tran Hung Dao to defeat the Mongol invaders.
The temple is open from 8 am to 6 pm everyday and requires a minimal entrance fee of around 30,000 VND.
Spend time walking around the streets of Old Quarter. You can choose to shop in the area around your hotel, but remember to bargain hard starting by slashing the quoted price by 50%. I'd recommend Ho Chi Minh as the better city for shopping, but you can always pick up something if it catches your eye. Dried and flavored fruits from Hong Lam stores in Ha Noi make for great souvenirs. I quite liked their ginger flavored apricots (Mo Hong Lam 1).
Your next destination, The Temple of Literature, is a must-visit destination to witness elements of Vietnamese history and culture. It was built in 1070 as the first university in Vietnam. It served as a Confucian temple and a place of worship for scholars and literary men. For over 700 years, it was Vietnam's premier centre of learning, where thousands of scholars studied literature, philosophy, and politics. It is also known for its architecture, featuring beautiful courtyards, gardens, and pavilions, with ornate details and intricate carvings. It has a minimal entrance fee and is open from 8 am to 5 pm. Avoid tank tops or short clothing when you visit this temple. The temple is about 3 kms away from the lake, you can take a taxi to reach there.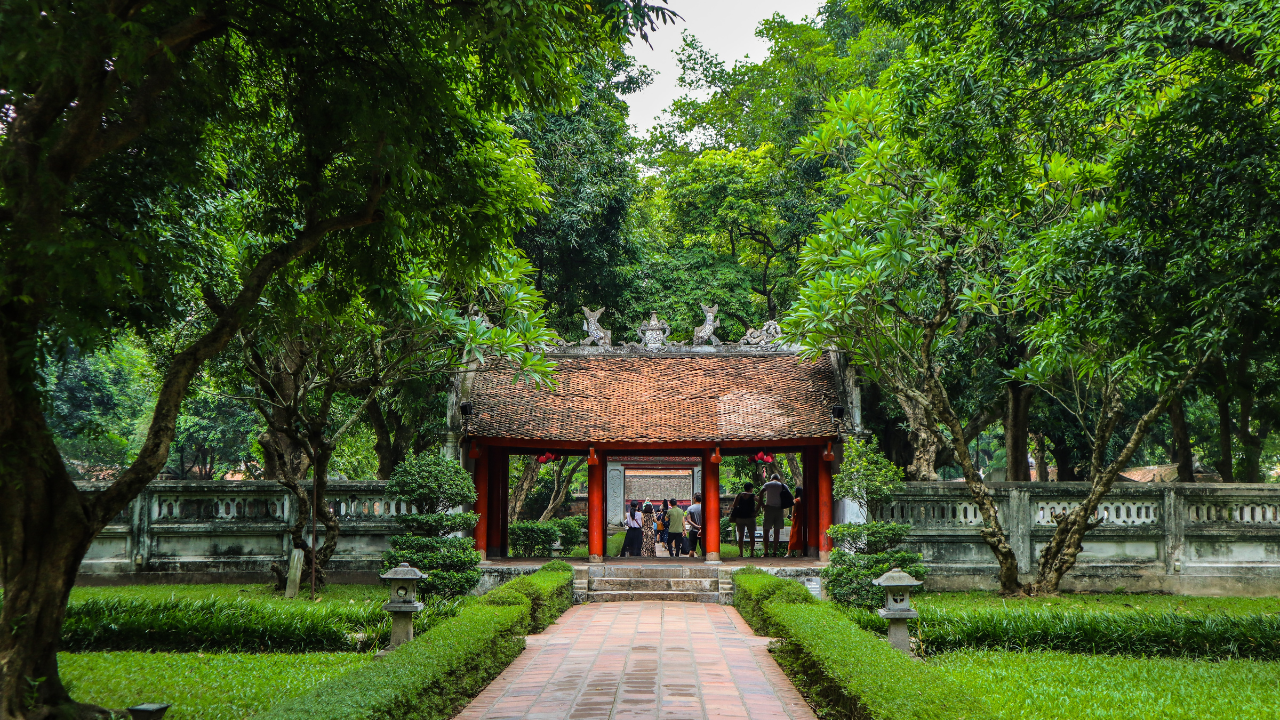 Next on the day's agenda is to visit the iconic and very instagrammable Train Street in the Old Quarter area. This is a narrow street where trains pass through just inches away from the houses and shops on either side of the tracks. Sit and enjoy a coffee or meal at one of the small cafes along the street, while watching the trains pass by. It is an exhilarating experience to see and feel the force of the train as it rumbles through the street, just a few inches away from where you are sitting!
It would be best to match your visit there with the schedule of the trains passing on the tracks. They usually run intermittently between 7:30 pm to 10 pm on weekdays and throughout the day on weekends, but best to check with your hotel reception on the latest schedule and exact timings.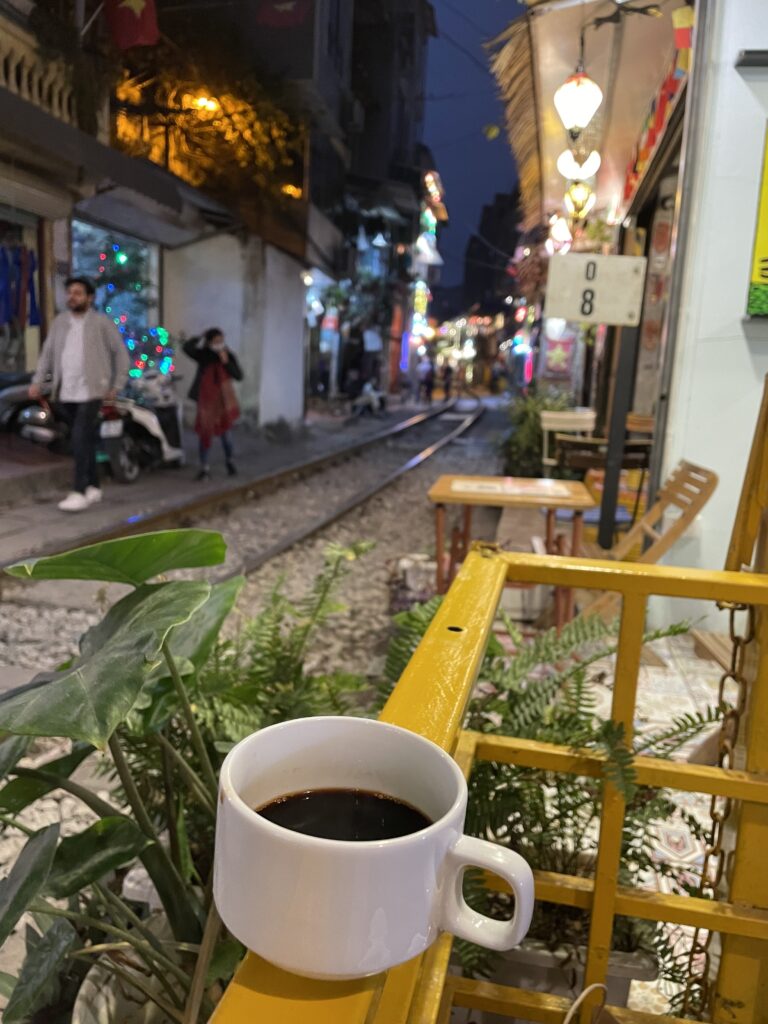 Walking to the Train Street and back can seem a bit tedious, so enjoy a ride in the local rickshaw which seats two people in the front, offering unobstructed views of the city. A unique and must-do experience in the Old Quarter, at least once during your stay.
Gorge on the delicious local cuisine for dinner. You will find many good restaurants around the hotel, Tung's Kitchen in particular is a great option. Try to get a seat in their balcony which faces the street and offers a unique dining experience. Tuck in your bed in time, you have a long (and amazing) day ahead tomorrow!
Day 3: Tour Halong Bay
Halong Bay is famous for its stunning natural beauty, geological and cultural significance. It is a UNESCO World Heritage Site and one of the most popular destinations in Vietnam. It is known for its emerald waters and thousands of towering limestone islands and islets topped with lush vegetation, creating a surreal seascape. The area is also home to numerous caves, grottos, and hidden lagoons that add to its natural allure. It's a must-visit destination for travellers from around the world.
You can visit Halong Bay by taking a day tour from Ha Noi. The bus will pick you up from your hotel in the Old Quarter area and drop you back late evening. Upon reaching the port after a 2.5-hour ride, you head off on a boat cruise to the stunning Halong Bay. Enjoy lunch along spectacular views of the bay in the cruise, kayak or enjoy the waters on a bamboo boat, hike up to a peak to soak in panoramic views of the bay and visit some beautiful caves. It is a day to soak in the ocean and be dazzled by the natural beauty of the magnificent Halong Bay.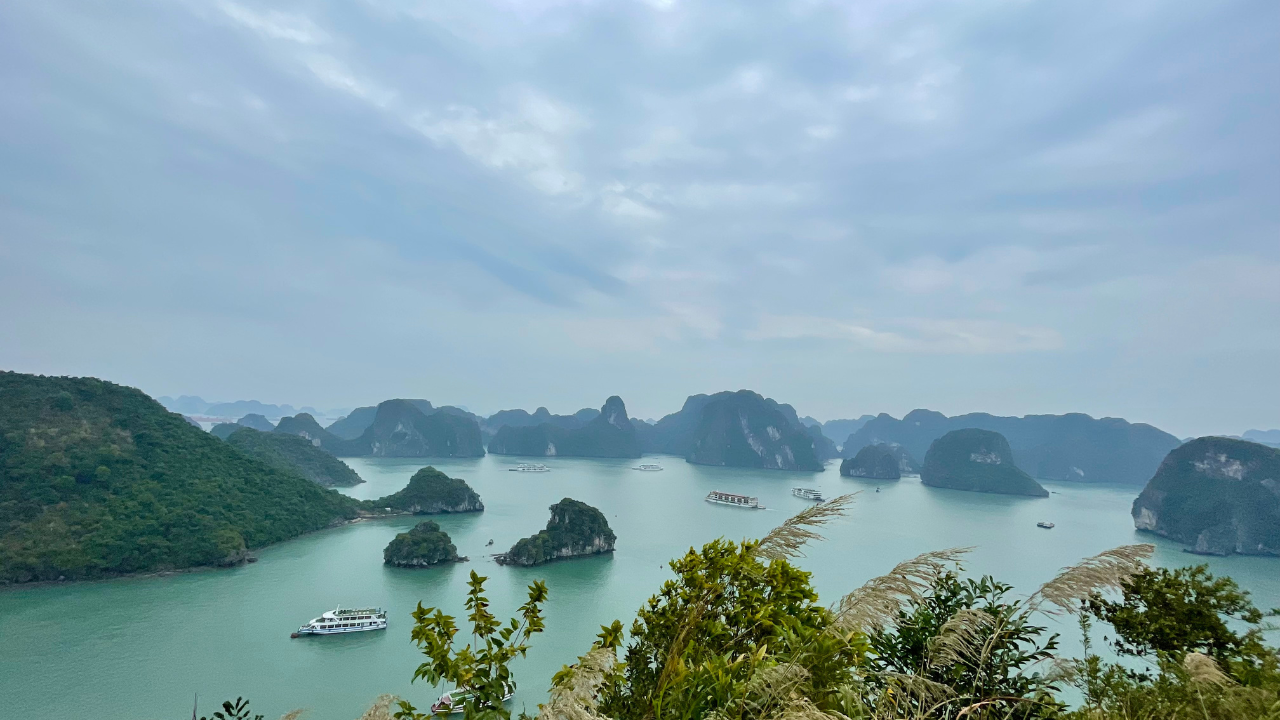 You may have heard from some that this place is over-rated and not worth a visit. Having heard the same and yet going there myself, I cannot disagree more. Halong Bay is the reason tourists plan to visit Vietnam, and it's absolutely justified. Its beauty will leave you in awe. You do not go back home and tell your friends that you went to Vietnam and didn't see the gorgeous Halong Bay!
If you plan to kayak, remember to carry a change of clothes. A jacket is necessary if you're visiting between the months of December to March.
Day 4: Visit the Museums of Ha Noi and Travel to Dong Hoi
Vietnam has had a long and complicated history to its independence. French colonialism in Vietnam lasted more than six decades and was brutal in its core. Thriving on exploitation of its people and resources, it left a profound impact on the lives of people in Vietnam. After World War II, the Vietnamese declared independence from France, but the French reasserted control over the country.
In the late 1950s, the United States became involved in the conflict, providing military and financial aid to the South Vietnamese government, which was fighting against the communist North Vietnamese and their allies in the south. The U.S. became more deeply involved in the conflict over time, deploying hundreds of thousands of troops to Vietnam. In 1975, North Vietnamese forces captured Saigon, and the conflict officially ended.
You will thus find a lot of museums in Vietnam showcasing the legacy of its revolutions and displaying photographs, documents, and other artifacts related to their wars. Of the ones in Ha Noi, I recommend you visit the Maison Centrale, also known as the Hai Lo Prison or Hanoi Hilton, which served as a place of detention for Vietnamese revolutionaries and American prisoners of war.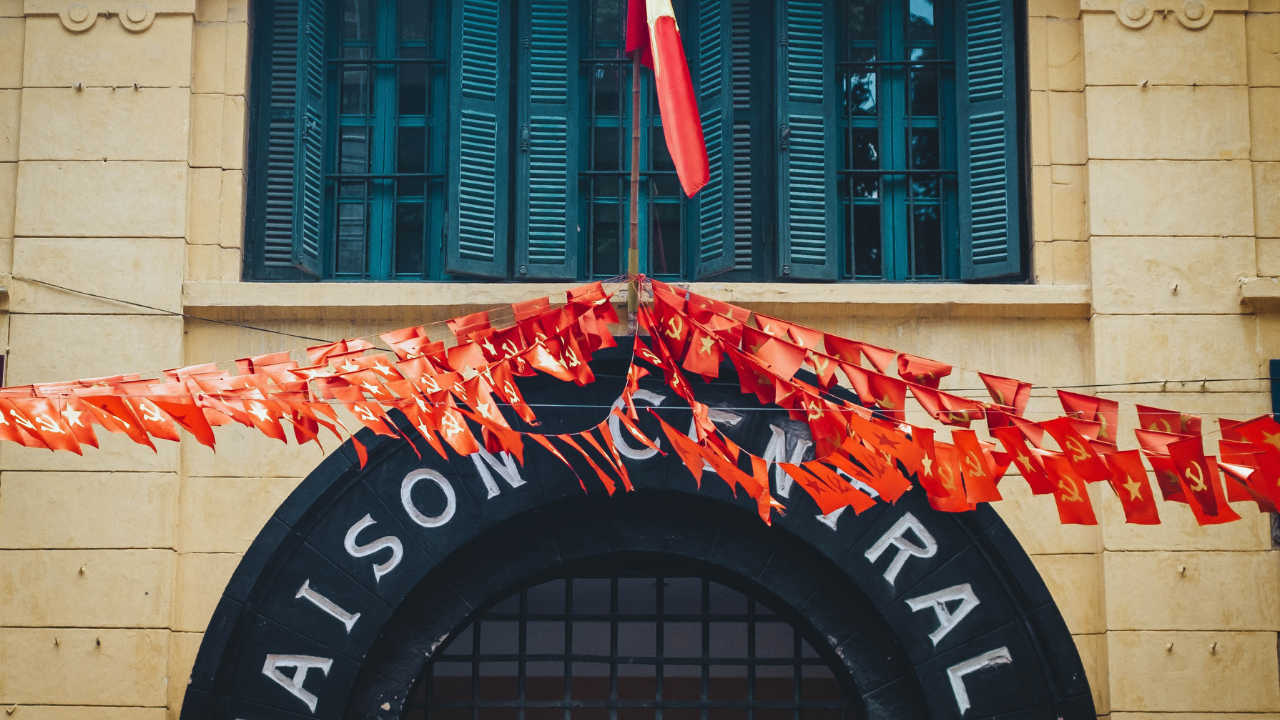 Take the audio guided tour to learn about the history of the prison and the stories of its inmates. The conditions in the prison were notoriously harsh, with inmates suffering from overcrowding, disease, and malnutrition. Many prisoners were subjected to torture and other forms of abuse by the guards. Here, you can see the cells where prisoners were held, as well as exhibits on the prison's use during the Vietnam War.
You can buy tickets at the entrance of the museum and plan to spend 3 hours to complete the audio guided tour.
If you are a history buff, you can consider visiting the Vietnam National Museum of History. The museum's collection includes artifacts from various periods of Vietnamese history, from the prehistoric era to the modern day, organized chronologically and thematically, with each section highlighting different aspects of Vietnamese culture and history.
Grab lunch and head out to watch the Water Puppet Show. I highly recommend Chayfood in the Hoàn Kiếm district which has mouth-watering vegan delicacies. The spring rolls served with sesame peanut sauce are exquisite.
Experience one of Vietnam's most distinctive art forms live on stage at the Thang Long Water Puppet Theatre. The tradition of water puppetry originated from flooded paddy fields which were used as a form of entertainment by the villagers who would stand in the waist-deep water with the puppets performing. This is a 50-minute show held at regular intervals. Booking your tickets in advance would be prudent.
While you're in Ha Noi, devour the local Vietnamese Coffee from any AHA Cafe outlets. These serve the best Vietnamese coffee compared to other places.
On the same day, catch an evening flight to Dong Hoi which would serve as your base to visit the Phong-Nha Ke Bang National Park.
Day 5: Tour Phong Nha Ke Bang National Park and Travel to Ho Chi Minh
Dong Hoi is a beachside town towards central Vietnam. You would need to stay a night here to visit the epic caves of Phong Nha Ke Bang National Park. Melia Vinpearl Quang Binh Hotel is the best place to stay in Dong Hoi with amazing rooms, views of the marina and a splendid breakfast spread.
Phong Nha-Ke Bang National Park is famous for its impressive limestone karst formations and extensive cave systems, many of which are still being explored and mapped today. It is a unique and beautiful natural wonder, a UNESCO World Heritage Site and a must visit on your trip to Vietnam. One of the most famous caves in the park is the Son Doong Cave, which is believed to be the largest cave in the world only discovered in 1990. Visiting this cave entails an extensive 6-day trekking venture, but there are other stunning caves in Phong Nha well worth exploring.
A day tour to Phong Nha begins with a pick up from your hotel in Dong Hoi and takes you in Phong Nha through a picturesque drive. Your first stop will be the Dark Cave in the Phong Nha-Ke Bang National Park where you can enjoy fun activities like a mud bath, a swim in the lake inside the cave, kayaking and ziplining. Carry swimwear and towels as there is no way you can see the Dark Cave without getting wet. After lunch you explore the amazing Phong Nha Cave on a boat, which is a water cave over an underground river. This experience is must-do in Vietnam and was one of the best highlights of my trip. The serene green waters of the river are mesmerizing and exploring a cave on a boat was a totally unique experience for me.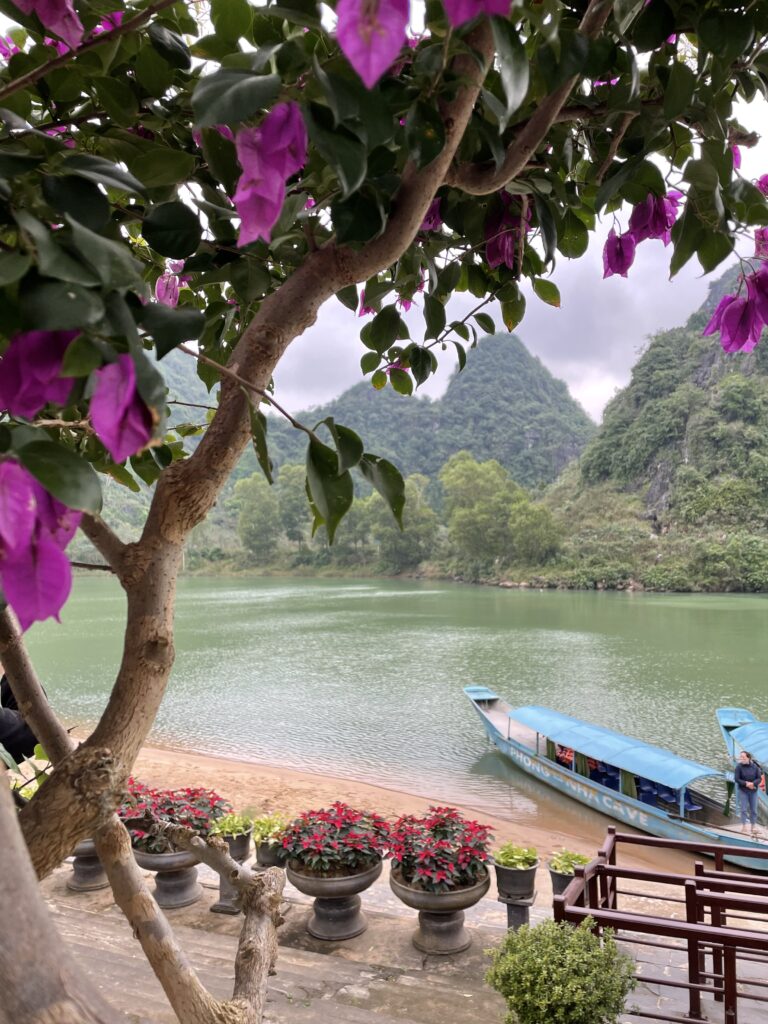 If you do not wish to get wet, you can visit the Paradise Cave instead of the Dark Cave, along with the must-visit Phong Nha Cave. This is a different day tour which swaps the Dark Cave for the Paradise Cave, with everything else remaining the same.
Have dinner after you get dropped at the hotel in Dong Hoi. Bodhi Vegetarian Restaurant within a walking distance is a great option to have delicious vegan Vietnamese Cuisine. I tried the Vegetarian Tom Yum Hot Pot and it was the best dish I ate on my trip. For the meat-lovers, Nhà hàng Sabochi Tuệ Lâm is a good option.
Take an evening flight the same day to Ho Chi Minh City from Dong Hoi.
Day 6: Explore Cu Chi Tunnels and Mekong Delta
Ho Chi Minh City, formerly known as Saigon, is the largest city in Vietnam and is a bustling, dynamic and rapidly developing metropolis with a rich history and culture. It is known for its lively streets, markets, and nightlife. The city has a wide range of restaurants, cafes, and bars, and the street food is renowned for its diversity and quality.
Stay in the District 1 area of Ho Chi Minh which has all places of cultural interest and entertainment avenues in the city. New World Saigon is an excellent choice – I loved my stay there. The hospitality is top-notch and their breakfast spread is the best I had on my trip.
For a more detailed guide on the areas in Ho Chi Minh City, see our article on the Best Places to Stay in Ho Chi Minh.
Explore two of the biggest attractions from Ho Chi Minh City – The Cu Chi Tunnels and Mekong Delta. A one-day tour is sufficient to cover both the places. This is the most convenient way to get the best experience and you get a pick-up and drop off from/to your hotel. The Cu Chi Tunnels are a network of underground tunnels located in the Cu Chi district of the city. These tunnels were used by the Viet Cong during the Vietnam War as a base for their military operations, including hiding from enemy forces, transporting supplies, and staging surprise attacks. You get to crawl along the tunnels which is super fun, try your hand at the shooting range, and witness the intricate network of underground tunnels and traps that played a significant role in the war.
The Mekong Delta is one of the most important agricultural regions in Vietnam and is known as the "rice bowl" of the country. The fertile soil, combined with the warm and humid climate, makes it ideal for growing a wide range of crops, including rice, fruits, vegetables, and fish. It is also known for its immense natural beauty, with picturesque waterways, lush green rice paddies, and floating markets. You take a boat ride down the Mekong River and a sampan ride through the small waterways. You also get to enjoy local fruits and honey tea and listen to a live local music performance performed by the villagers. The highlight for me was sipping on fresh coconut water on the boat while watching the sun set on the river.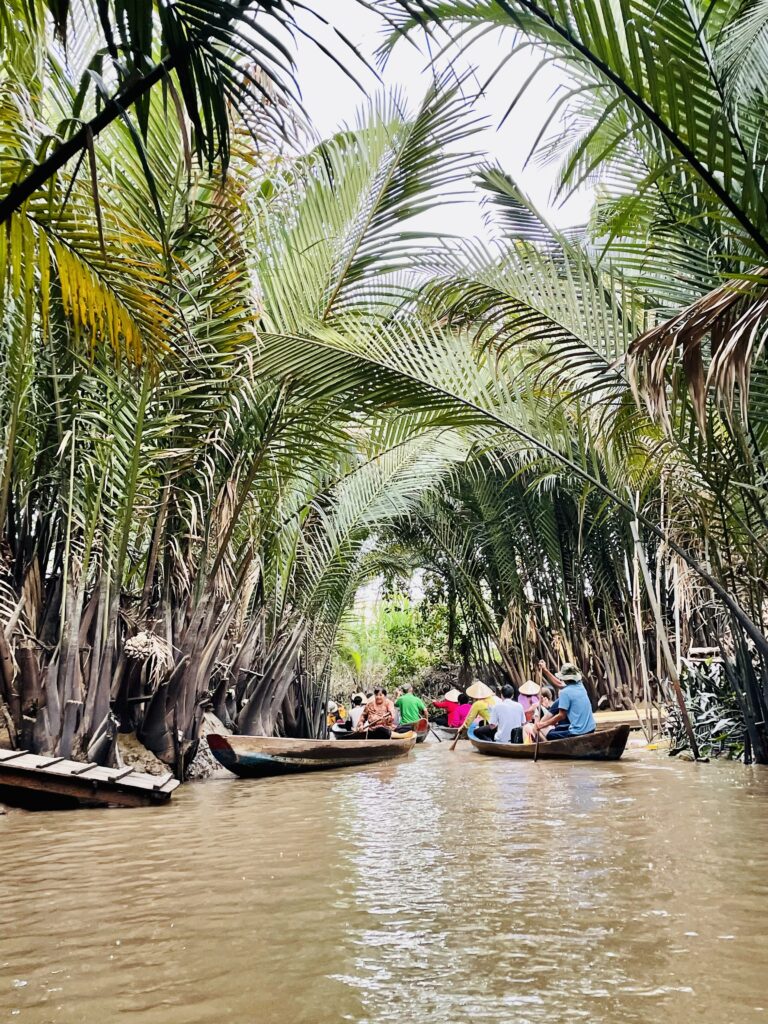 Day 7: Explore Ho Chi Minh City and Travel to Phu Qouc
Step out from your hotel and explore the vibrant streets of District 1. Go shopping at the Ben Thanh Market and the Saigon Square. Remember to negotiate hard at these places; start at 40% of the quoted price. I personally preferred Saigon Square to Ben Thanh, where I picked up remakes of jewellery, clothes, bags and accessories of luxury brands at very nominal prices. You can spend half a day just in both these markets and it is well worth your time.
You must visit The Café Apartment on Nguyen Hue Street (Walking Street) in Ho Chi Minh City. It is a hub for culture and creativity, with numerous cafes, art galleries, boutique shops, and handicraft stores located on its multiple floors. It has become a popular gathering spot for artists, musicians, and creatives. The architecture is a blend of Vietnamese and French colonial styles, featuring high ceilings, wrought-iron balconies, and colorful facades. The building's vintage charm and nostalgic atmosphere make it an eye-catching and interesting place to visit that offers a great vibe. You can grab a meal or a drink at one of the cafes here.
The history buffs can visit the War Remnants Museum, where you'll find photographs, artifacts, and documents related to Vietnam's heroic struggle for independence, as well as military equipment like tanks, helicopters, and planes. The museum stays open till 6 pm and entails an entrance fee of 40,000 VND.
In the evening, take a flight to Phu Qouc.
Day 8: Go Island Hopping in Phu Qouc
Phu Quoc is the largest island in Vietnam known for its stunning beaches, which offer crystal-clear waters and white sands. The island is surrounded by coral reefs, making it an excellent destination for snorkelling and diving. You can explore the underwater world and see a variety of marine life, including colorful fish, turtles, and corals. A two-day stay in Phu Quoc is a perfect way to end your holiday in Vietnam. Relax on the beach and explore the natural beauty of the island.
There are resorts in various areas of the island but it is best to stay on Long Beach, which has the best restaurants and bars on the island. Dusit Princess Moonrise Beach Resort is a great place to stay, where you can enjoy the infinity pool and relax by the beach.
For a more detailed guide on where to stay on the island, see our article on the Best Places to Stay in Phu Quoc.
Go island-hopping on a speedboat today and enjoy snorkelling where you get to witness beautiful coral reef and the vibrant marine life. Relish a seafood barbecue lunch and chill with a drink on the beach.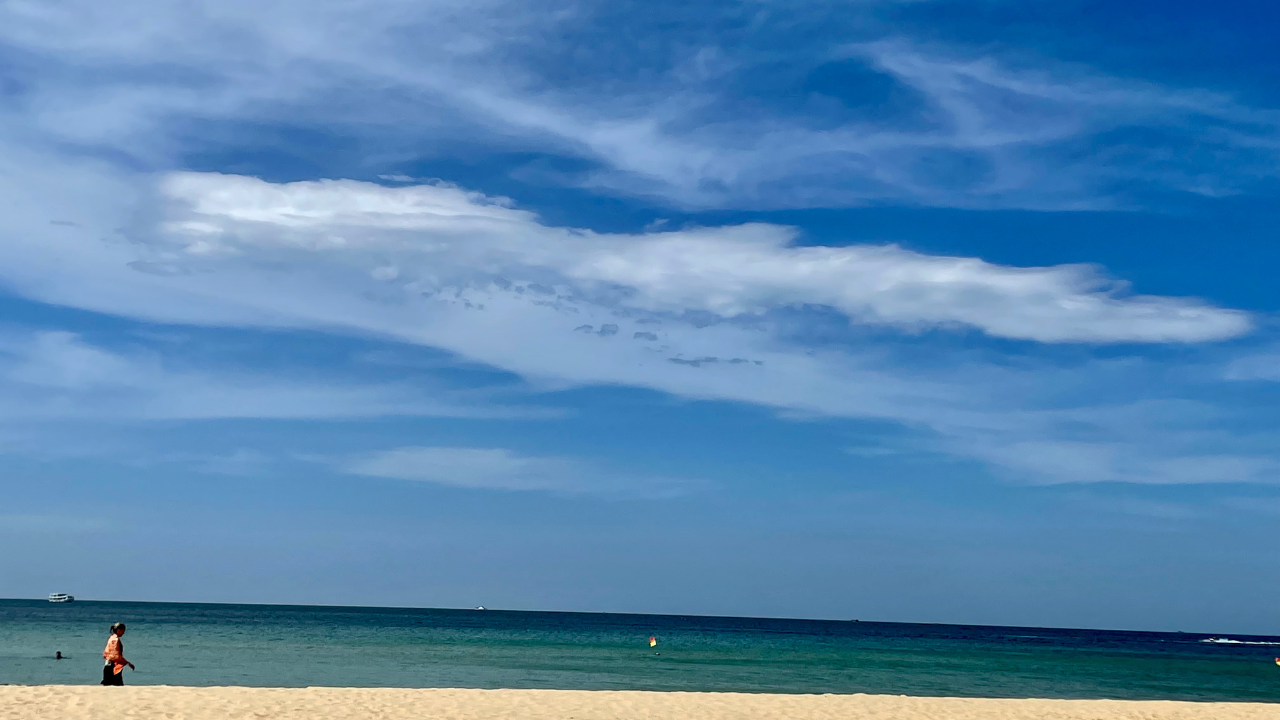 In the evening, you must visit Ocsen Beach Bar and Club on Long Beach. Reach in time to catch the wonderful sunset by the ocean. Watching the drama of the sun set on the ocean while you sip a drink on a bean bag with your feet in the sand is an experience you can devour for hours.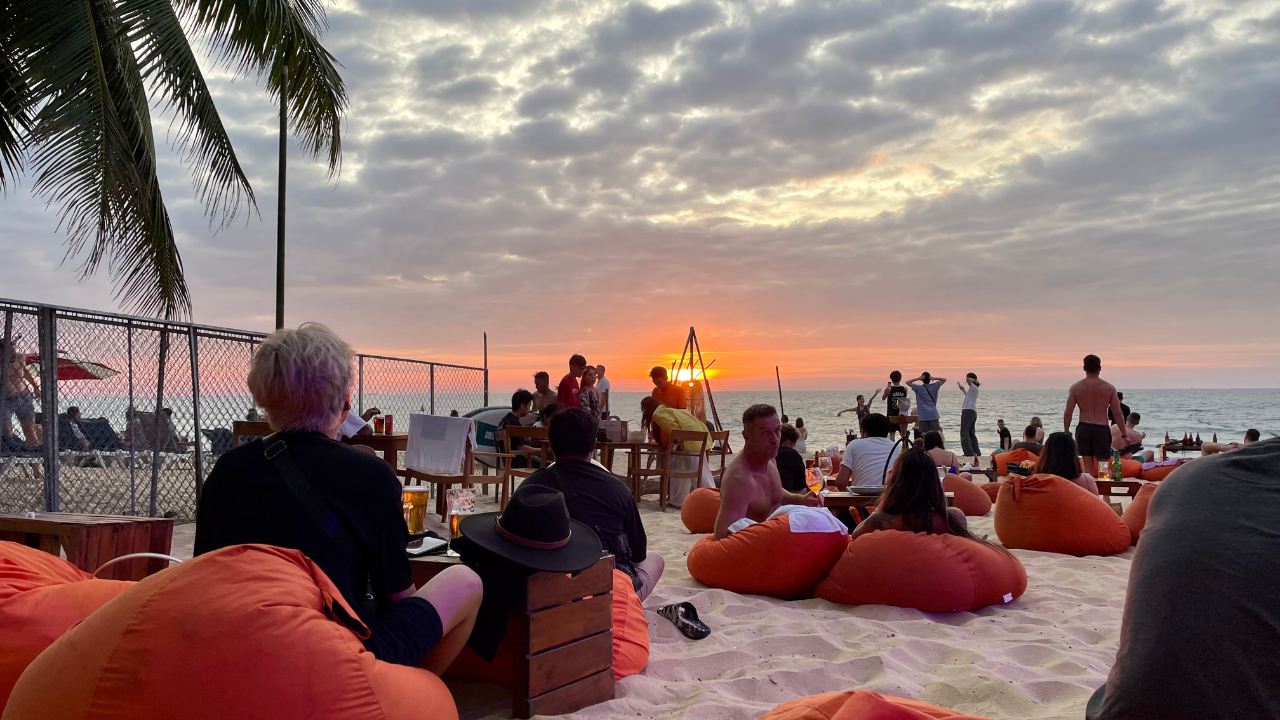 Day 9: Explore Phu Quoc and Travel to Ho Chi Minh
Begin the day with a relaxed breakfast and head down to the beach for a swim. You can choose to explore the island on a two-wheeler (recommended only if you're used to driving two-wheelers) or rent a car/taxi for the day. Start by heading out to the northern part of Phu Quoc which is relatively quieter than the rest of the island. Stop over at Bai Thom Beach which is a serene and quiet place without any hustle bustle. Bask in the tranquil atmosphere, you can then head over to Phu Quoc National Park.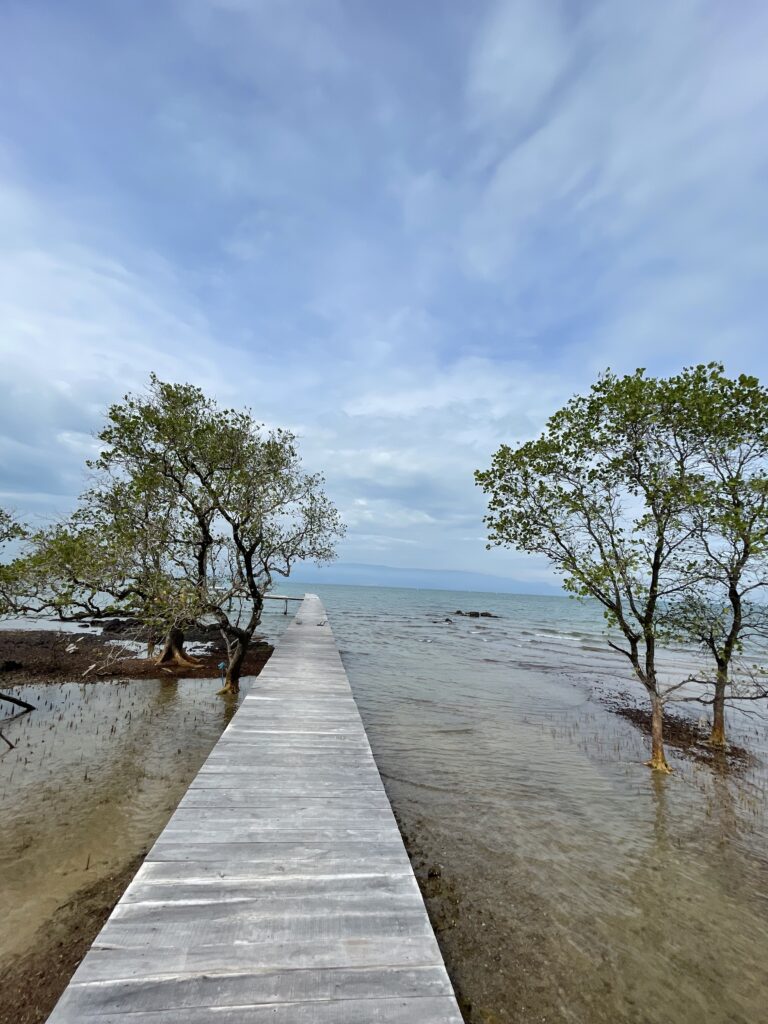 Phu Quoc National Park has retained the original forest area and also has a coastline along the park. It is home to a rich variety of flora and fauna, including many endangered species. Trek in the park where you will enjoy the landscape of the forest, waterfalls, mountains and the ocean. Remember to dress in active wear to hike with ease and carry a mosquito repellent with you.
In the evening, take a flight back to Ho Chi Minh. It is recommended to land in Ho Chi Minh a day prior to your final departure back home, in order to avoid any hassles in case of the domestic flight getting delayed or cancelled. You can stay the night in the same hotel – New World Saigon – as it is not far from the airport.
Day 10: Depart Back Home
Your trip to Vietnam comes to an end as you take a flight back home today.
Vietnam is a great holiday destination that offers something for everyone, from history buffs and foodies to nature lovers and adventure seekers. With this ultimate 10-day Vietnam Itinerary, you get to see the best places in Vietnam in just the right amount of time.
Local Food
Vietnam is known for its diverse and delicious cuisine. Here are some local foods you should try while in Vietnam:
Pho – a noodle soup with beef or chicken and various herbs and spices.
Banh mi – a baguette sandwich filled with a variety of meats, pickled vegetables, and herbs.
Bun cha – grilled pork with noodles, herbs, and dipping sauce.
Cao Lau – a dish made with noodles, pork, herbs, and a special sauce that can only be found in the city of Hoi An.
Vietnamese Coffee – prepared with Robusta beans and condensed milk, Vietnamese coffee has a rich and decadent flavour and is a must-try on your trip to Vietnam, both the iced and hot versions. This coffee is quite strong so you may want to watch your intake to avoid withdrawal symptoms when you get home. It can get quite addictive! You can get packs of Vietnamese Coffee with you back home, Trung Nguyen is the best brand out there.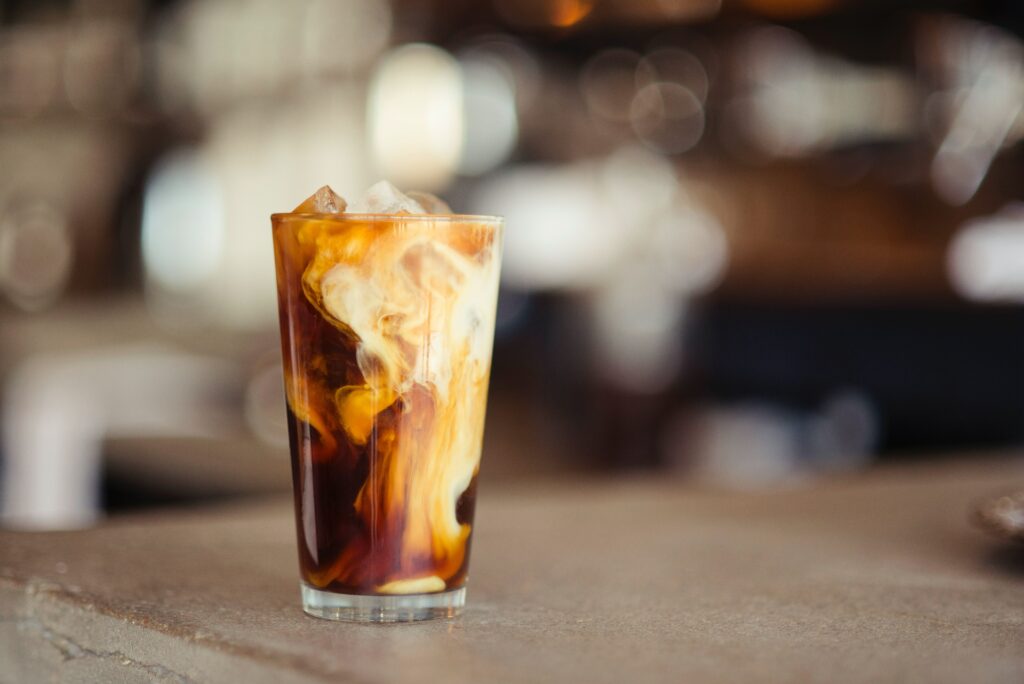 Local Transportation
Taxis are readily available in Vietnam. The most reputable cab operators are Mai Linh and Vinasun. Do ensure the meter is running or decide on a fare if you use any other cab operator. Alternatively, download the Grab app (Uber equivalent) on your phone.
Currency
The currency in Vietnam is the Vietnamese Dong. Cards aren't widely used in Vietnam so carry cash in the local currency with you. ATMs are widely available in major cities. Withdraw Dongs from your debit/travel cards. You may not find international banks in Vietnam; the best ATMs to use are Agribank, Vietcombank, BIDV, Techcom Bank, Sacombank. There will be a transaction fee deducted each time you withdraw cash, so withdraw large amounts at a time.
Visa
Tourists from some countries are exempt from a visa for a defined duration of visit. You can check the list of countries here: https://www.myvietnamvisa.com/visa-requirements.html.
A passport with at least 6-month validity from the date of travel is required. There are many websites operated by travel agents that help procuring an e-visa. I applied for mine here: https://vietnamvisa.govt.vn/.
Language
Vietnamese is the official language in Vietnam. You will find English being spoken in most tourist places, but many café owners and cab drivers do not speak English. Download the Vietnamese language on Google Translate on your phone for easy communication.
Mobile Network Operators
Viettel and Vinaphone are the biggest mobile operators in Vietnam providing 4G and 5G services. You could consider buying a local sim card if that works out cheaper than international roaming with your service provider back home. The best SIM Card providers in Vietnam are Viettel and Vinaphone.
Travel Adaptor
Plugs type A (two flat vertical pins), type C and type F (two round pins) fit most electrical outlets in Vietnam. It is best to carry a universal travel adaptor to avoid any hassles or confusion.
Ready for a great holiday to Vietnam? Book your flights in advance to avail better rates.
Visit our destinations page for more such detailed travel guides on countries worth visiting.
FAQs:
How many days is sufficient for Vietnam?
10 days is sufficient to see the best places of Vietnam.
Which are the best places to see in Vietnam?
Ha Noi, Halong Bay, Phong Nha-Ke Bang, Phu Quoc and Ho Chi Minh are the best places to visit in Vietnam.
How to plan a 10 day trip to Vietnam?
Day 1 – Arrive at Ha Noi
Day 2 – Explore Ha Noi's Ancient Temples
Day 3 – Cruise along the Halong Bay
Day 4 – Visit Museums of Ha Noi and fly to Dong Hoi
Day 5 – Explore Caves of Phong Nha-Ke Bang and fly to Ho Chi Minh
Day 6 – Visit Cu Chi Tunnels and Mekong Delta
Day 7 – Explore Ho Chi Minh City and fly to Phu Quoc
Day 8 – Go Island Hopping in Phu Qouc
Day 9 – Trek in Phu Qouc and fly to Ho Chi Minh
Day 10 – Depart back home
Do you need a visa to visit Vietnam?
Is Phong Nha worth visiting?
With impressive limestone karst formations and extensive cave systems, Phong Nha-Ke Bang is a unique and beautiful natural wonder, a UNESCO World Heritage Site and a must visit on your trip to Vietnam. 
How many days is sufficient to see Halong Bay?
You only need 1 day to cover Halong Bay. Take a day tour from Ha Noi that will pick you up from your hotel in Old Quarter and drop you off.