Looking to visit the glorious city of Amsterdam? Here is the best 4 day Amsterdam itinerary that covers all the must-see places of this magnificent city.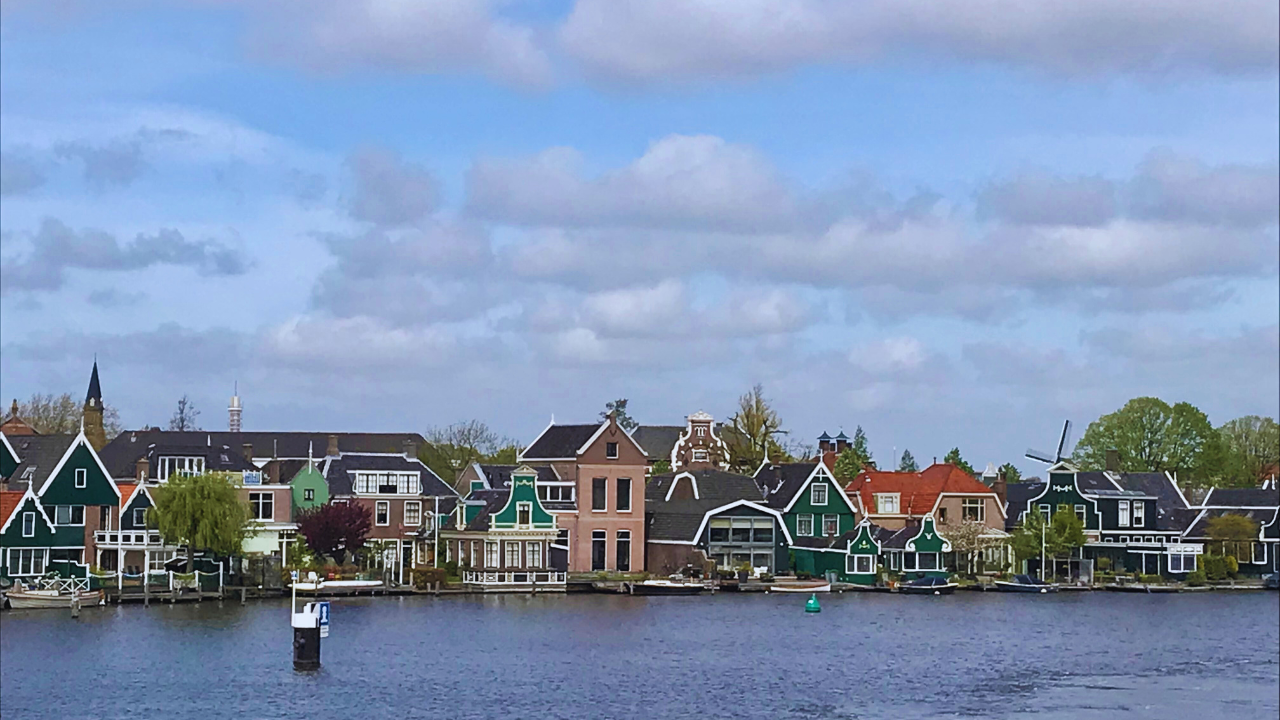 Amsterdam is one of the best cities in the world with a lot of culture and spunk thrown in, in addition to being picturesque and having historical importance. With its iconic canals, world-class museums, and upbeat neighborhoods, Amsterdam is a city with a unique personality that awaits to charm you. Whether you're an art enthusiast, a history buff, or simply in search of a good time, this 4-day itinerary will guide you through the must-see attractions and hidden gems of this captivating city.
Our goal at Wander Smartly is to make your travels smarter and help you have the best experience on your trips. From my first-hand experience of exploring Amsterdam, I share the best Amsterdam itinerary that you can use.
Best Time to Travel
The best time to visit Amsterdam is between the later part of April through early May. This is when the tulips are in full bloom, which is a must-see phenomenon in Amsterdam.
4 Day Amsterdam Itinerary
This 4 Day Amsterdam Itinerary can be done on its own, or clubbed with 9 more days in Germany and Belgium for the perfect 2-week European holiday.
Day 1: Canal Tour, Jordaan District, Van Gogh Museum & Rijksmuseum
Morning: Canal Tour and Jordaan District
Start your Amsterdam adventure with a leisurely canal tour. Amsterdam's canals are a defining feature of the city's landscape. Often referred to as the "Venice of the North," Amsterdam is built around an intricate network of canals that crisscross the city, shaping its layout and giving it an enchanting character. The city's network of canals is also a UNESCO World Heritage site.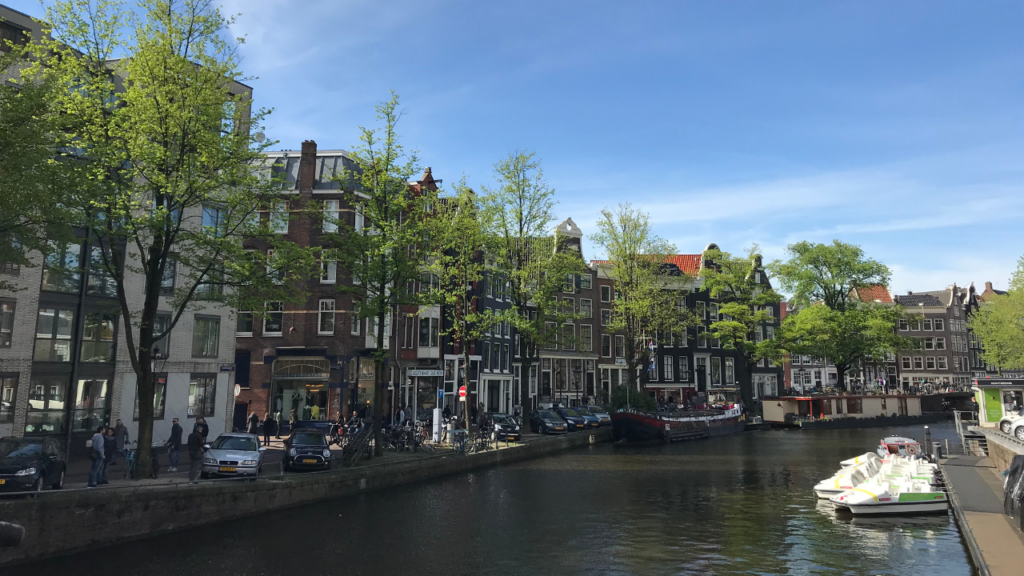 Numerous companies offer canal tours; opt for an open boat to fully embrace the city's ambiance.
In this 100% electric open boat tour, you get to listen to live commentary as you sail down iconic landmarks like the Skinny Bridge and the Hermitage Museum. The canal tour is a must-do experience in Amsterdam. Book your tickets in advance to avoid waiting in line.
After the tour, head to the Jordaan Canal District, a charming neighborhood known for its narrow streets, historic houses, and local boutiques. Grab a coffee at a cozy café and explore the "9 Streets" (De Negen Straatjes), a shopper's paradise brimming with unique shops and galleries.
Lunch: Pancake Bakery
For lunch, stop by Pancake Bakery, where you can savor traditional Dutch pancakes with a variety of sweet and savory toppings. Don't miss the chance to try a classic stroopwafel – a delightful caramel-filled waffle treat.
Afternoon: Art and History
Spend your afternoon at the Van Gogh Museum, home to an extensive collection of the legendary artist's works. The museum provides insight into Van Gogh's life and creative journey, allowing you to appreciate his masterpieces in a whole new light.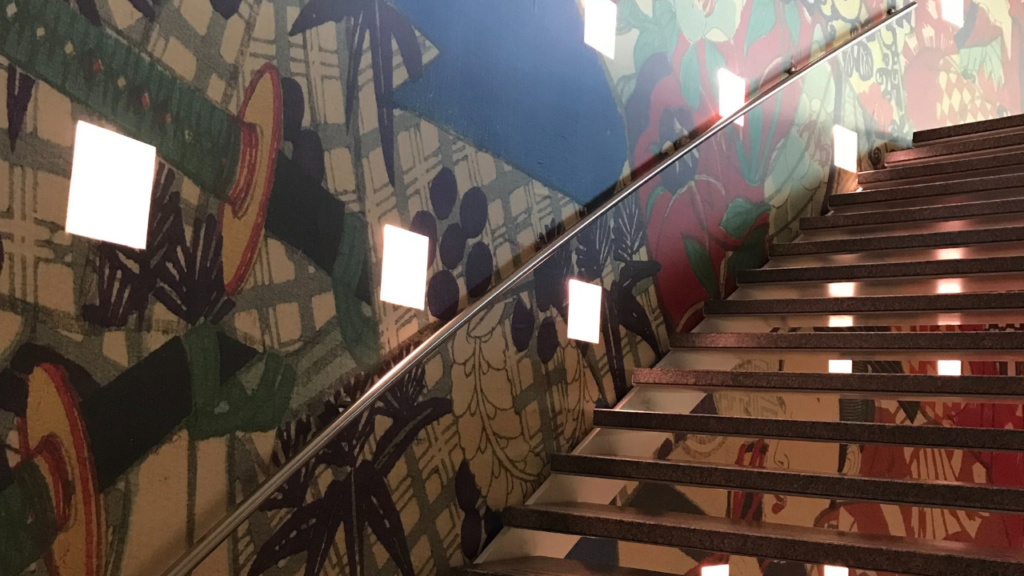 I took a guided audio tour at the Van Gogh Museum which allowed me to immerse myself into the life of Van Gogh. I felt like I got to know him on a personal level. I also picked up a book on letters written by him and some amazing art merchandise from stores outside the museum. Even if you aren't much of an art connoisseur, do not miss this experience in Amsterdam. Book your audio guided tour to the Van Gogh Museum in advance and avoid waiting in queues.
Continue your artistic journey at the Rijksmuseum, housing an incredible collection of Dutch Golden Age art. With its majestic facade and impressive collection, this renowned institution is a must-visit if you're seeking to delve into the artistic and cultural legacy of the Netherlands. The museum proudly displays masterpieces by Vermeer, Rembrandt, Frans Hals, and Jan Steen, among others. Rembrandt's "The Night Watch" is a must-see highlight.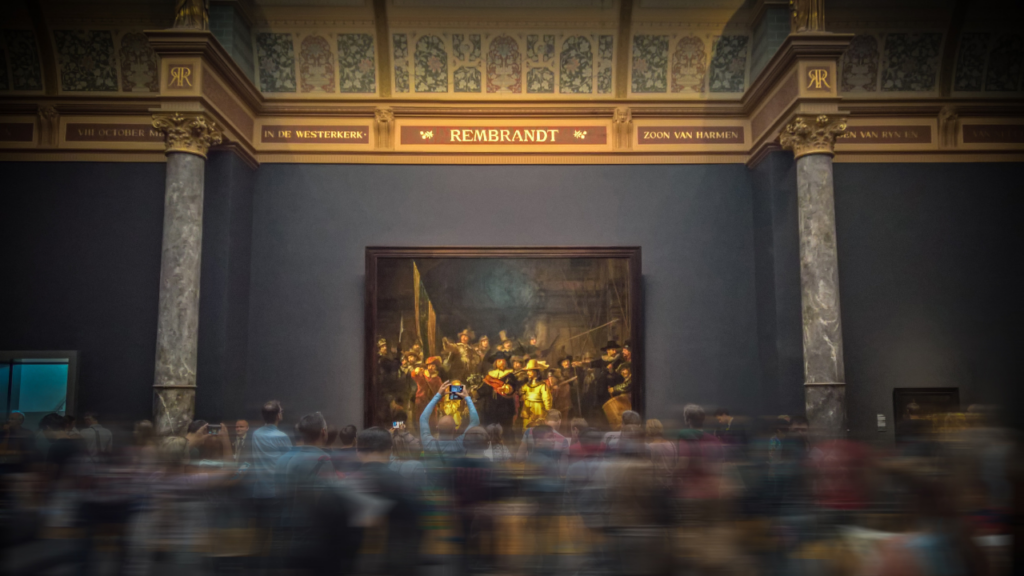 Aside from the art on display, the Rijksmuseum houses an impressive library that contains a wealth of art historical resources. The museum's surrounding gardens offer a serene oasis, where you can take a leisurely stroll and unwind.
Dinner: Foodhallen
Indulge in a variety of international cuisines at Foodhallen – a trendy indoor food market. From sushi to burgers, this culinary hotspot offers something for everyone. Grab a drink and enjoy the lively atmosphere.
Day 2: Anne Frank House, Heineken Experience and Vondelpark
Morning: Anne Frank House
Start your day at the Anne Frank House, a poignant museum preserving the hiding place of Anne Frank during World War II. The Anne Frank House is located in the actual building where Anne Frank, her family, and four others hid from Nazi persecution during the occupation of the Netherlands. The museum preserves the secret annex where they lived in hiding for over two years, from 1942 to 1944.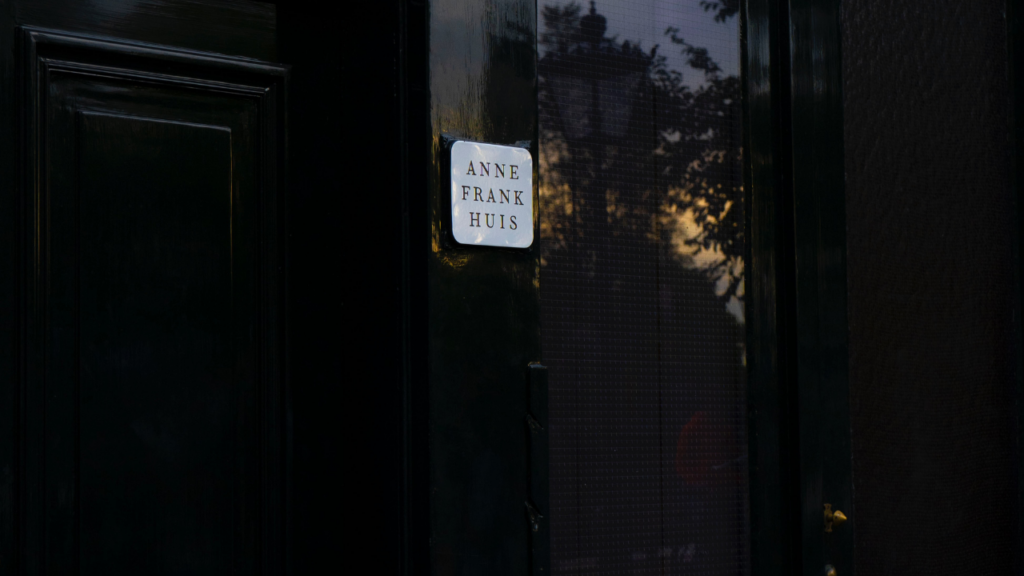 Walking through the concealed entrance behind a swinging bookcase, you enter the secret annex. The space is dimly lit, with recreated rooms and original artifacts, including Anne's diary. The walls are adorned with Anne's own words, thoughts, and dreams, creating a profound connection to the young girl who chronicled her experiences in one of the world's most famous diaries. This powerful experience offers pays tribute to the resilience of the human spirit and is a must-do experience in Amsterdam.
Tickets to the Anne Frank House are only available on their website up till a period of 6 weeks from the date you visit the site. Keep in mind tickets aren't very easily available so you must book tickets to the Anne Frank House as soon as the dates become available on the site.
Lunch: Moeders
Enjoy a traditional Dutch lunch at Moeders, a cozy restaurant serving homestyle Dutch dishes. The quirky décor, featuring pictures of mothers contributed by patrons, adds a personal touch.
Afternoon: Heineken Experience and Vondelpark
The Heineken Experience offers an interactive and engaging journey into the world of one of the world's most famous beers – Heineken. The Heineken Experience takes place in the historic building that once served as the Heineken brewery. This interactive brewery tour takes you through the brewing process that allows you to witness the various stages of production.
No visit to the Heineken Experience is complete without a tasting session! You'll have the opportunity to sample Heineken beer, appreciating its nuances and learning how to pour the perfect glass. I wasn't much of a beer lover before undergoing the Heineken Experience, but tasting the freshly brewed Heineken beer sure felt refreshing to my senses!
Book your tickets for the Heineken experience in advance to avail favourable slots.
Afterward, unwind at Vondelpark, Amsterdam's most famous park. Vondelpark stretches across approximately 120 acres of lush greenery, making it the largest park in Amsterdam. Its central location near the Museum District and Leidseplein makes it a convenient leisurely escape. Tranquil ponds and waterways add to the charm of Vondelpark. Rent a bike, stroll through the greenery, or simply watch ducks glide by.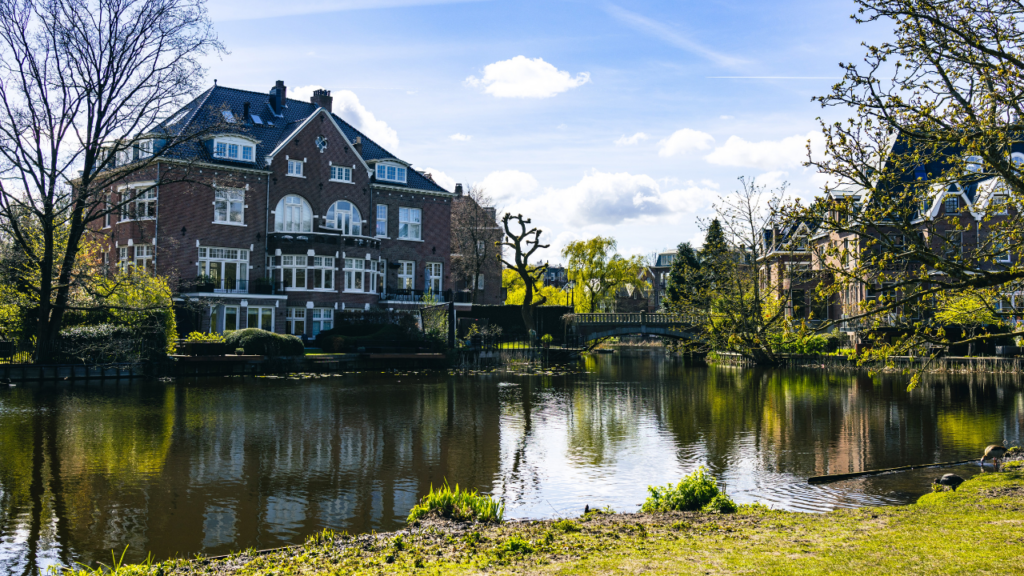 Dinner: Restaurant De Kas
Treat yourself to an exquisite dinner at Restaurant De Kas, situated in a renovated greenhouse. The menu features seasonal ingredients grown on-site, ensuring a unique and fresh dining experience.
Day 3: Day Trip to Keukenhof and Zaanse Schans
Morning: Keukenhof Gardens
This is one of the most enchanting experiences in Amsterdam that is sure to delight you. Embark on a trip to Keukenhof, also known as the "Garden of Europe." This stunning floral wonderland boasts millions of blooming tulips and other flowers, creating a mesmerizing kaleidoscope of colors.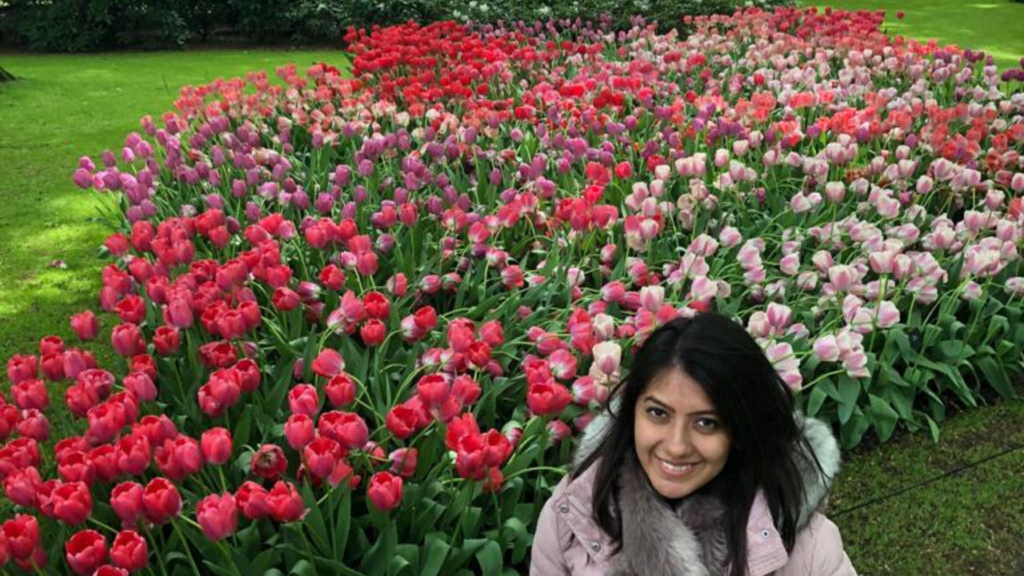 Keukenhof is open to the public for a limited period each year, usually from mid-March to mid-May, aligning with the prime blooming season of tulips. The park is meticulously landscaped with a diverse array of flower displays, themed gardens, and picturesque pathways, creating a sensory journey that showcases the beauty of spring in the Netherlands.
Afternoon: Zaanse Schans
Head to Zaanse Schans, an open-air museum that transports you back in time to a quintessential Dutch village. Zaanse Schans is renowned for its iconic windmills that line the banks of the Zaan River. These well-preserved windmills were used for various purposes, including sawing wood, grinding spices, and producing oil.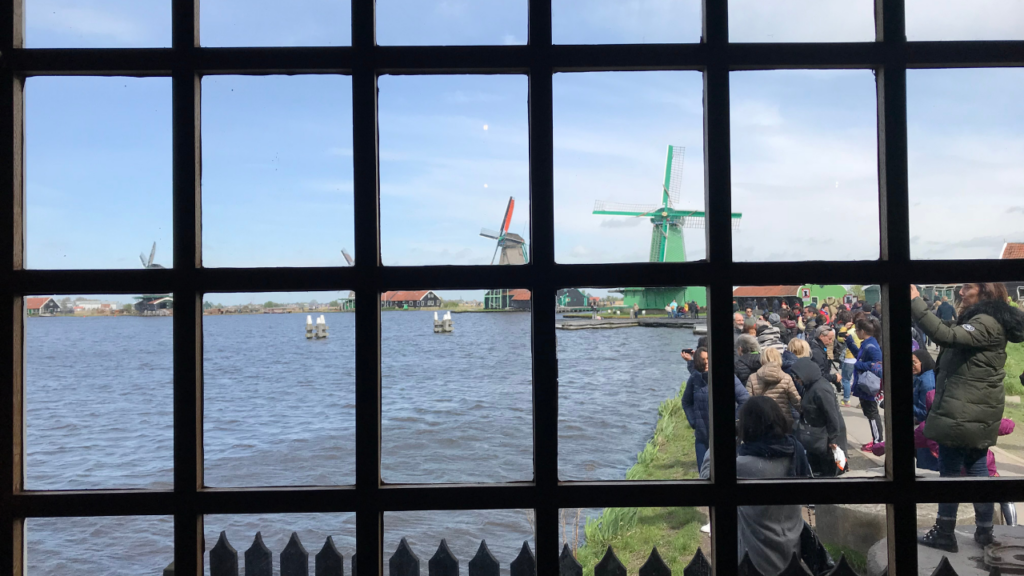 Explore historic windmills, wooden houses, and artisan workshops, learning about traditional crafts like cheese-making and clog-carving. Seeing the traditional windmills in Amsterdam is yet another iconic experience. I got to cycle around the fields here which was a lovely experience!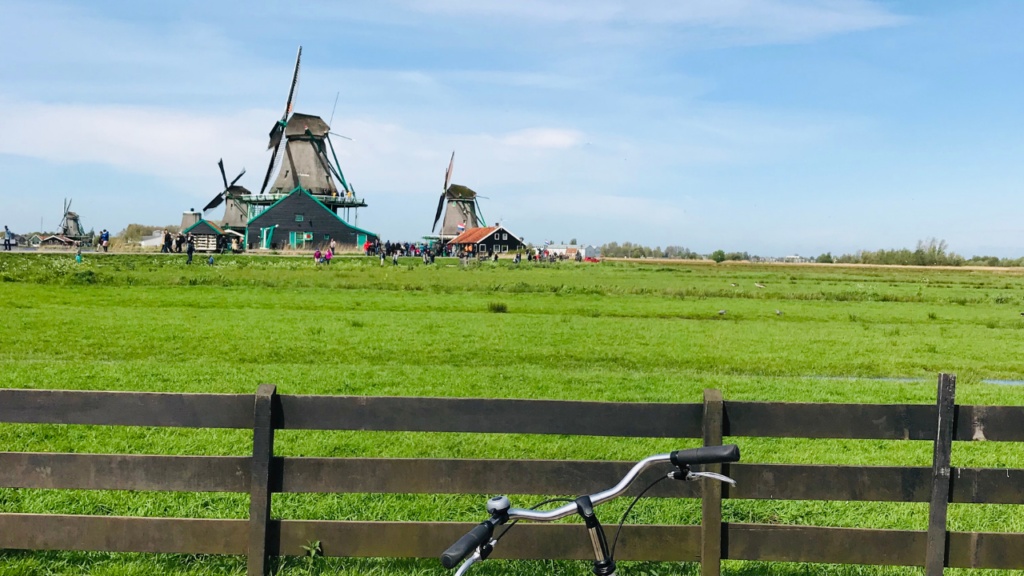 This guided day tour is the best way to experience both the tulips in Keukenhof and the windmills at Zaanse Schans.
Dinner: Pllek
Return to Amsterdam for dinner at Pllek, a unique restaurant constructed from shipping containers, offering panoramic views of the river. Relish in their diverse menu and eclectic atmosphere.
Day 4: Dam Square, Royal Palace & Red Light District
Morning: Dam Square and Royal Palace
Start your day at Dam Square, a central hub surrounded by historical landmarks and vibrant street performers. The square's name, "Dam," originates from the dam built on the Amstel River in the 13th century that played a crucial role in the formation of the city. Over time, the square evolved into a center of commerce, politics, and civic life.
Visit the Royal Palace, a regal and majestic presence on Dam Square. Originally constructed in the 17th century as the city hall, it was later transformed into a royal residence by Napoleon Bonaparte's brother, Louis Bonaparte, who ruled the Netherlands for a brief period.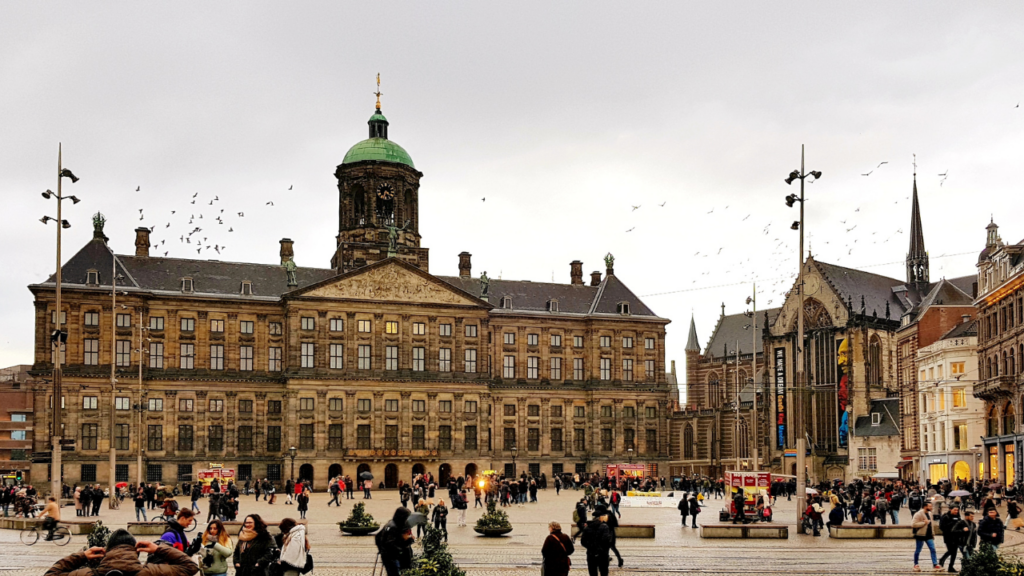 The Royal Palace's neoclassical design is characterized by its grandeur and opulent decoration. The facade boasts intricate sculptures and decorative elements that pay homage to various aspects of Dutch history and culture.
Lunch: Dutch Street Food
Grab a quick but delicious Dutch street food lunch, trying out items like bitterballen and haring.
Afternoon: The Red Light District
Explore the Red Light District, famous for its nightlife and home to unique shops and eateries. One of the most distinctive aspects of the Red Light District is its regulated and legalized sex work. The Netherlands has taken a unique approach to this issue, aiming to ensure the safety and well-being of sex workers. The area is monitored, and sex workers are provided with access to medical care, legal protection, and support services.
The Red Light District isn't just a tourist attraction; it's a reflection of Amsterdam's progressive values, its commitment to human rights, and its willingness to engage in open dialogue about societal taboos. Whether you're interested in engaging in discussions about social issues, or simply observing life in this unconventional neighborhood, the Red Light District offers an experience that challenges preconceptions and prompts important conversations about societal norms and individual agency.
Explore the Red Light District in this highly rated guided walking tour.
Dinner: Breda
End your Amsterdam adventure with a memorable dinner at Breda, a refined restaurant known for its inventive cuisine and elegant setting.
Where To Stay
Park Centraal Amsterdam is the perfect place to stay in Amsterdam. Its central location places you in the midst of Amsterdam's urban landscape. Just steps away from the hotel, you'll find the iconic Vondelpark. The Museum District, home to world-renowned institutions like the Van Gogh Museum and the Rijksmuseum, is within easy reach. Additionally, the trendy Jordaan district is a short stroll away.
Local Food
Here are some of the most delicious local foods that you must try when visiting Amsterdam:
1. Bitterballen: These beloved Dutch snacks are small, round croquettes filled with a mixture of beef or veal ragout. Bitterballen are often enjoyed with a mustard dipping sauce and are a popular choice in pubs and cafes.
2. Stroopwafels: These sweet treats consist of two thin waffles sandwiched together with a sticky caramel-like syrup filling. Stroopwafels are best enjoyed warm, and you'll often find them at local markets or specialty stores.
3. Haring: For the adventurous foodie, haring is a must-try. It's a raw herring fish fillet that's typically served with onions and pickles. It's a traditional street food that's often eaten by holding the fish by the tail and taking a bite.
4. Poffertjes: These small, fluffy pancakes are a beloved Dutch comfort food. Poffertjes are dusted with powdered sugar and often served with butter and more sugar. They're a delightful snack or dessert.
5. Patat: Dutch-style fries, known as "patat," are thick-cut and crispy. They're typically served in a cone and can be topped with a variety of sauces, including the famous "patat oorlog," which is a mix of mayonnaise, peanut sauce, and onions.
6. Dutch Pancakes (Pannenkoeken): Dutch pancakes are larger and thinner than American pancakes, and they can be served sweet or savory. You can find pancake houses offering a variety of toppings, from bacon and cheese to apple and cinnamon.
7. Appeltaart: Dutch apple pie is a beloved dessert made with a buttery crust, tender apples, and a touch of cinnamon. It's often served with a dollop of whipped cream.
Local Transportation
Amsterdam's compact size and pedestrian-friendly streets make walking an enjoyable and leisurely way to explore the city. Amsterdam's public transportation system is also efficient and well-connected. The city boasts an extensive network of trams, buses, and metro lines that cover all major areas. Taxis are available throughout the city, and ride-sharing services like Uber also operate in Amsterdam.
Additionally, bicycles are an integral part of Amsterdam's culture and transportation system. With dedicated bike lanes and bike-friendly infrastructure, cycling is one of the most convenient ways to explore the city, if you're up for it.
Currency
The currency in The Netherlands is the Euro.
Visa
You need a Schengen Visa to enter The Netherlands.
Language
Although the official language in Amsterdam is Dutch, English is widely spoken here so you should not have any trouble communicating.
Mobile Network Operators
KPN and T-Mobile are the best mobile phone networks in Slovenia. You could consider buying a local sim card if that works out cheaper than international roaming with your service provider.
Travel Adaptor
Plug Type F works in The Netherlands – one that has two round pins with two earth clips on the side. It is best to carry a universal travel adaptor to avoid any hassles or confusion.
As your 4-day journey comes to an end, you'll leave Amsterdam with a heart full of memories and a camera filled with picturesque scenes. From its iconic canals to its world-class museums and eclectic neighborhoods, Amsterdam's unique blend of old-world charm and modern allure ensures an unforgettable experience for every traveler. Book your flights in advance to avail better rates.
Leave us a comment below and visit our destinations page for more travel guides on countries worth visiting.
FAQs
Is 4 days enough to see Amsterdam?
4 days is just the right amount of time to explore Amsterdam.
How do I plan a 4 day trip to Amsterdam?
Day 1: Canal Tour, Jordaan District, Van Gogh Museum & Rijksmuseum
Day 2: Anne Frank House, Heineken Experience and Vondelpark
Day 3: Day Trip to Keukenhof and Zaanse Schans
Day 4: Dam Square, Royal Palace & Red Light District
Is 4 days in Amsterdam too many?
No, you need 4 days to explore everything Amsterdam has to offer.
How many days are needed for Amsterdam trip?
4 days is just the right amount of time to explore Amsterdam.