Looking to travel to the serene country of Slovenia? Here is the best Slovenia itinerary that covers all the picturesque places of this magnificent country in just 4 days.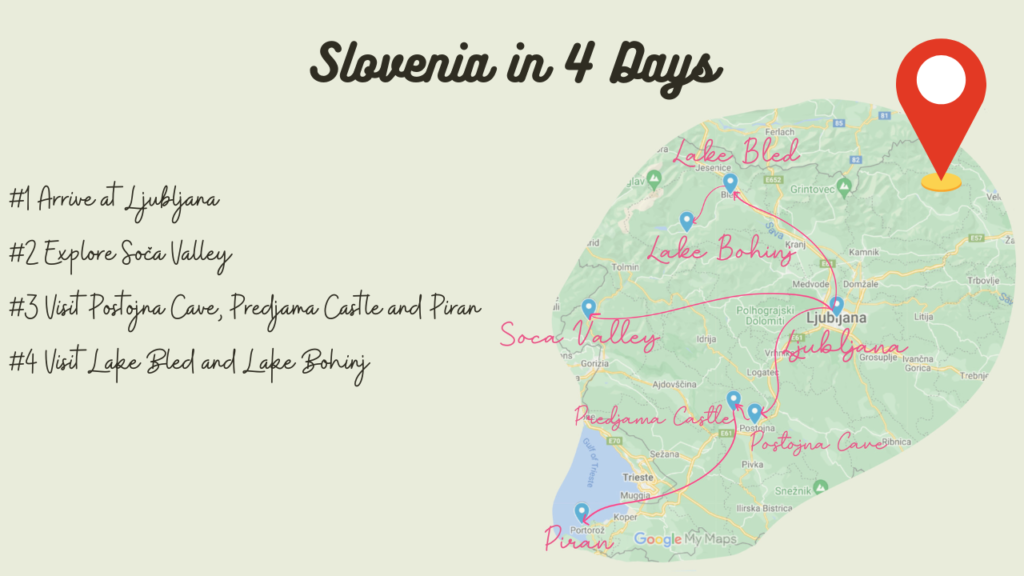 Slovenia is a gorgeous country in Central Europe's Balkans region known for its mountains and lakes. Flanked by the Alpine Mountains in the North and the Mediterranean Sea in the south, it offers heaps of natural beauty to satiate your wanderlust. Slovenia is also relatively less crowded but its landscapes offer much more than its hyped neighboring countries. It's a tranquil country with magnificent views to soak in, making it one of the best travel destinations in the world.
Our goal at Wander Smartly is to make your travels smarter and help you have the best experience on your trips. From my own experience of visiting Slovenia, I share the best Slovenia itinerary that you can use.
Best Time to Travel:
The best time to visit Slovenia is between May to October.
Slovenia Itinerary
This 4-Day Slovenia Itinerary can be done on its own or followed by 10 more days in Croatia, (highly recommended) its bordering neighbor in the south, making it a wholesome 14-day trip to the Balkans Region of Europe.
Day 1: Arrive at Ljubljana and Explore the City on Foot
Ljubljana is the capital and largest city of Slovenia, located in the heart of the country. It is a quaint and pretty European City with a unique blend of architectural styles, including Baroque, Art Nouveau, and modernist buildings. The city center is filled with colorful buildings, cobblestone streets, and historic landmarks. Ljubljana is known as a green city, with plenty of parks, green spaces, and pedestrian zones. It is a vibrant cultural hub, with numerous galleries, museums, theaters, and music venues.
Land in Ljubljana and check-in at your hotel. This city will be your base for all days on your visit to Slovenia, so pick a hotel that will provide a comfortable stay. Best Western Premier Hotel Slon is a wonderful place to stay which is at a fantastic location – offers the main attractions in the city within a short walking distance.
After getting some rest, step out to explore the city on foot. Start with a stroll along the Ljubljanica River in the Old Town. Visit the Triple Bridge which is one of the most recognizable landmarks in Ljubljana. It connects the historic center of the city with the modern part of town and offers a great spot for taking photos.
Visit the Prešeren Square which is surrounded by beautiful buildings and landmarks, including the Franciscan Church of the Annunciation and the Prešeren Monument.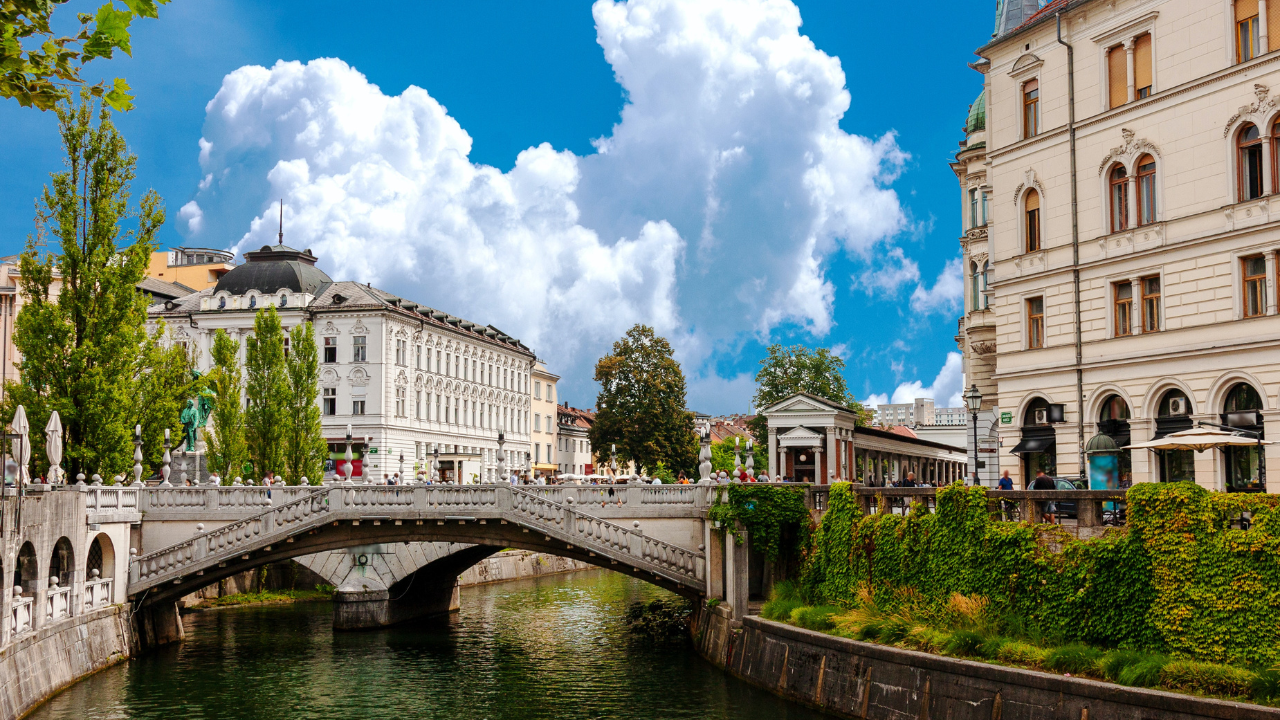 The Dragon Bridge is an iconic bridge adorned with four dragon statues, which are the symbol of Ljubljana. It is a great spot for taking photos and enjoying the views of the Ljubljanica River.
Walk around in Tivoli Park in the heart of the city and if time permits, visit the Ljubljana Castle located on top of a hill overlooking the city, offering stunning views of the city and the surrounding area.
Day 2: Explore Soča Valley and Boka Waterfall
On your second day in Slovenia you must visit the majestic Soča Valley which is home to the pristine Soča River, one of the most beautiful rivers in Europe. The Soča River with its emerald green waters surrounded by mountains is natural beauty as its very best. In all my world travels, I am yet to come across a river as pretty and clear as the Soča River. This is a 'must-visit' on your trip to Slovenia.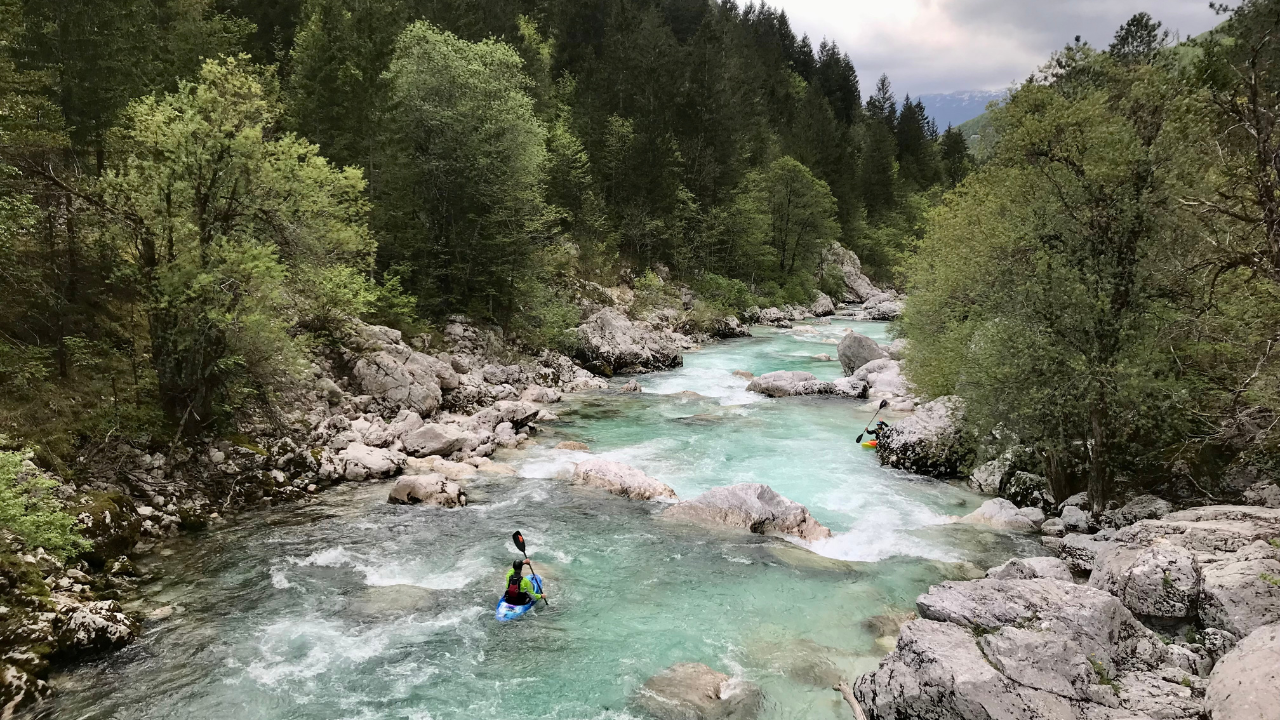 Book a day tour to explore this charming landscape of Slovenia. This takes you on a guided trip to the Soča Valley and the Boka Waterfall. Boka Waterfall is one of the tallest waterfalls in Slovenia, with a total height of 106 meters (347 feet). The waterfall drops in a single, unbroken cascade from the top of a steep cliff, creating a dramatic and awe-inspiring sight. It is located in a beautiful and rugged natural setting, surrounded by forested hills and rocky cliffs.
The waterfall is at its most impressive during the spring and early summer months, when the snow and ice from the mountains begin to melt and the water flow is at its highest. Keep your cameras ready for some stunning photography.
On this tour, you will also visit Kranjska Gora, the biggest alpine resort in Slovenia, and spot peaks of the Julian Alps and landscapes that served as battlefields during World War I.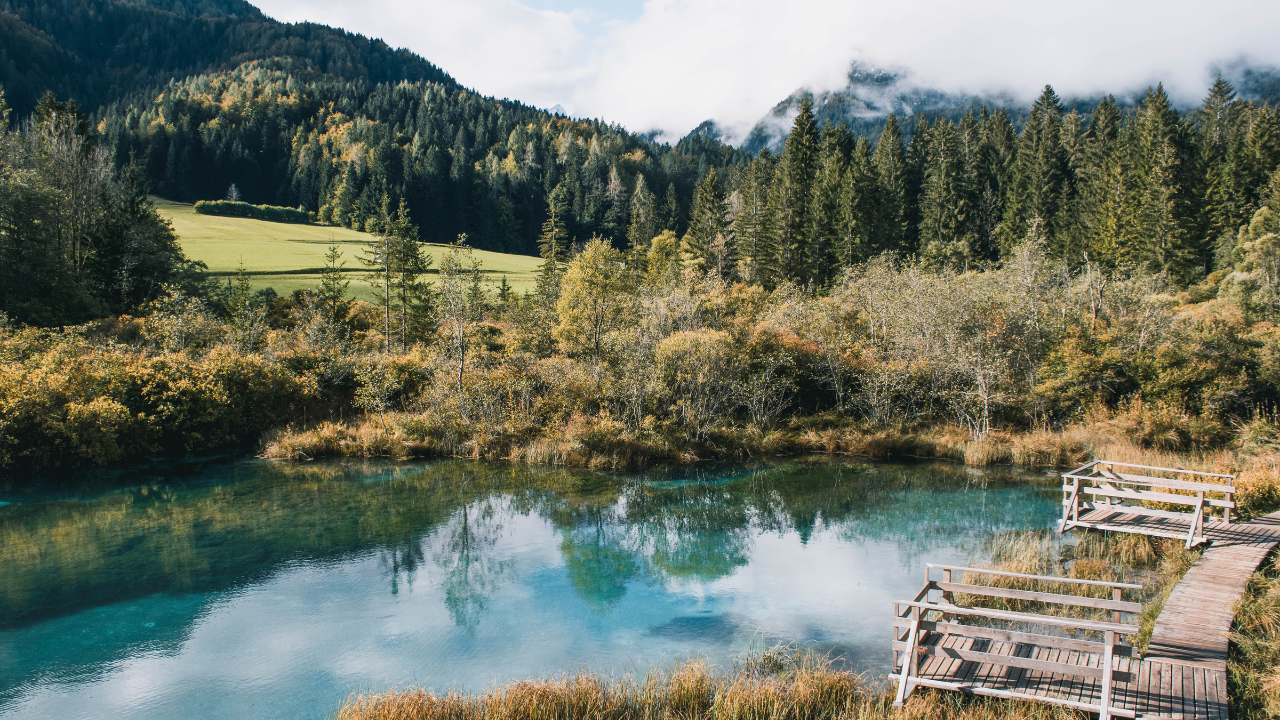 Day 3: Visit Postojna Cave, Predjama Castle and Piran
You begin the day with a day tour from Ljubljana to the Postojna Cave, the Predjama Castle and the town of Piran which together offer a unique and fascinating glimpse into Slovenia's natural and cultural heritage. You will be picked up from your hotel – Best Western – for this tour.
Postojna Cave is a vast underground karst cave system that stretches for over 24 kilometers (15 miles) and is known for its stunning stalactite and stalagmite formations. The cave is also home to a population of the olm, a rare amphibian that can live up to 100 years and is found only in this region. You will take a train ride through the underground passages, as well as a walk through some of the most impressive chambers.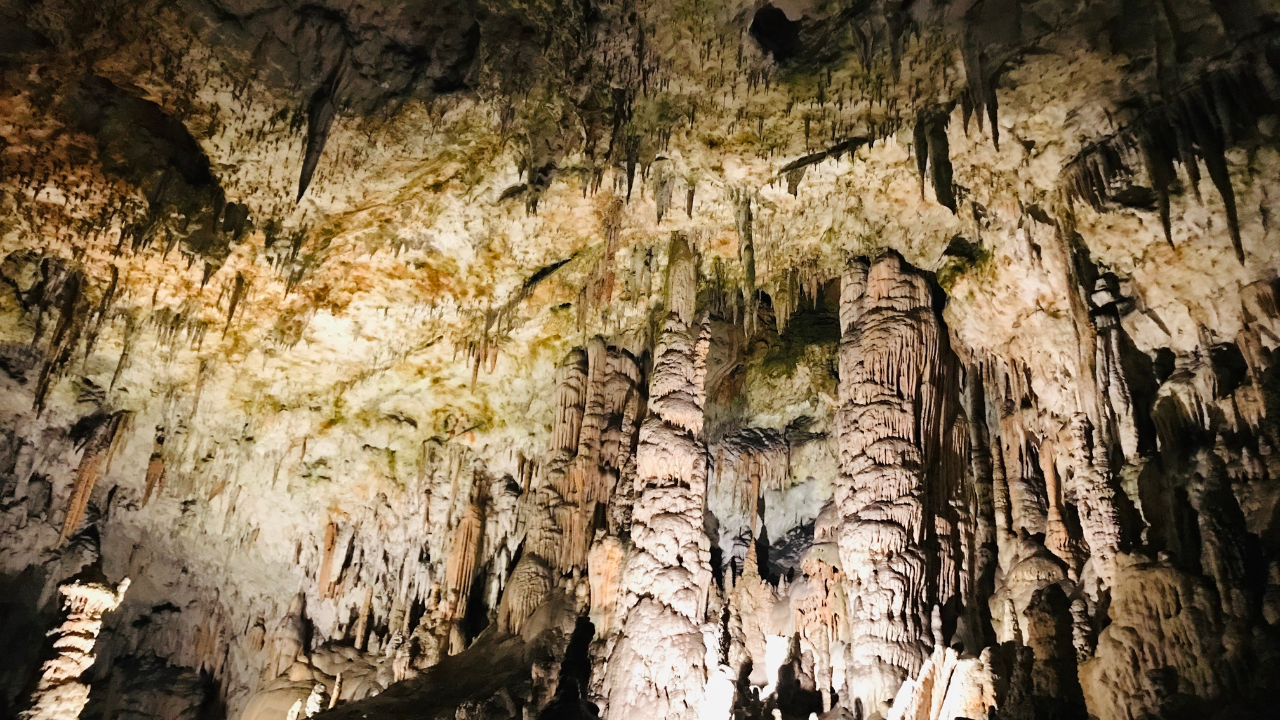 Predjama Castle is a medieval fortress built into the side of a cliff, located about 9 kilometers (5.6 miles) from Postojna Cave. The castle was originally built in the 13th century and was later expanded and renovated in the Renaissance and Baroque styles. It is known for its dramatic location and its rich history, including the legend of Erazem of Predjama, a nobleman who was besieged in the castle in the 15th century and managed to hold out for over a year before being betrayed by one of his own men.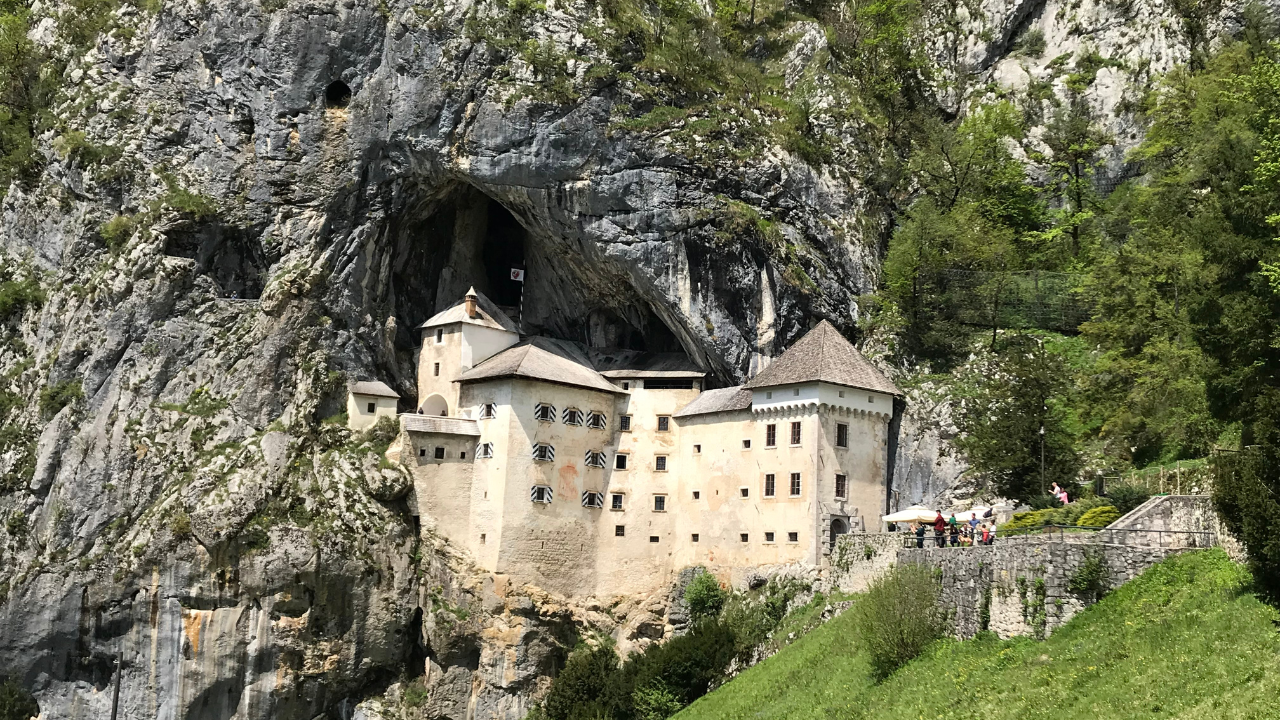 You will take a guided audio tour of the castle, which includes a walk through the living quarters, the chapel, and the armory, as well as a climb up to the top of the castle for panoramic views of the surrounding countryside.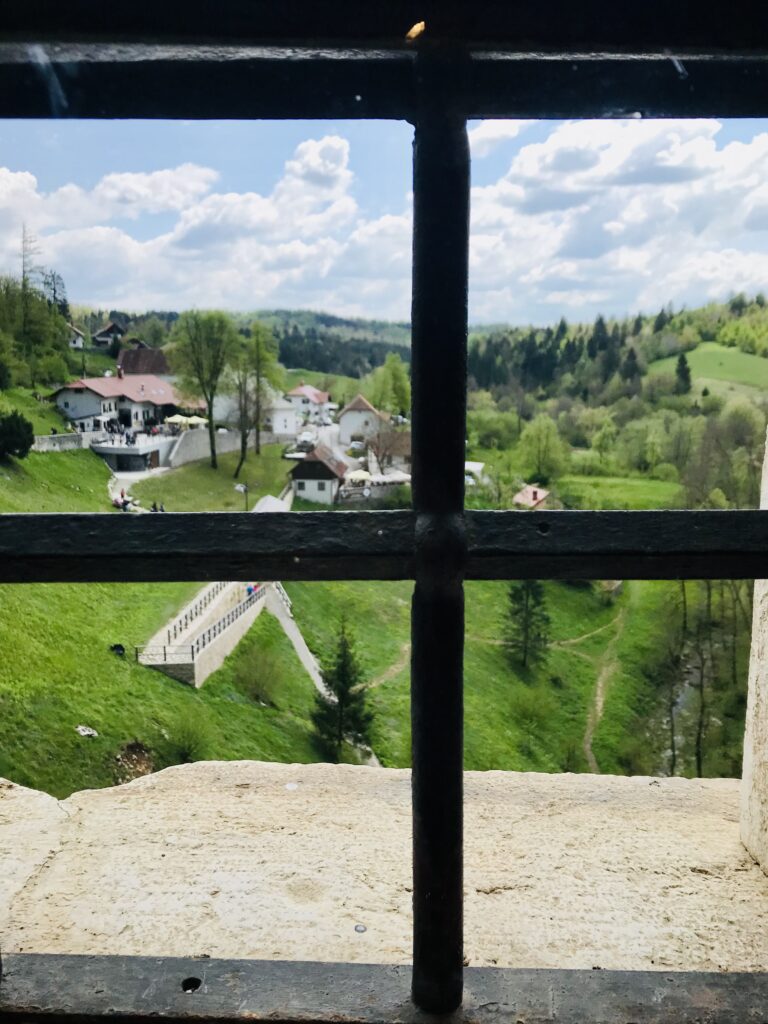 View from Inside Predjama Castle
The next agenda for today is your visit to the dreamy town of Piran in Slovenia, a must visit place on your trip to Slovenia.
Piran is a charming coastal town located on the southwestern coast of Slovenia, near the border with Italy. The town is known for its narrow, winding streets, colorful houses, and beautiful beaches. It has a long and fascinating history, having been founded by the ancient Romans and later ruled by the Venetians, who left a lasting architectural and cultural influence on the town.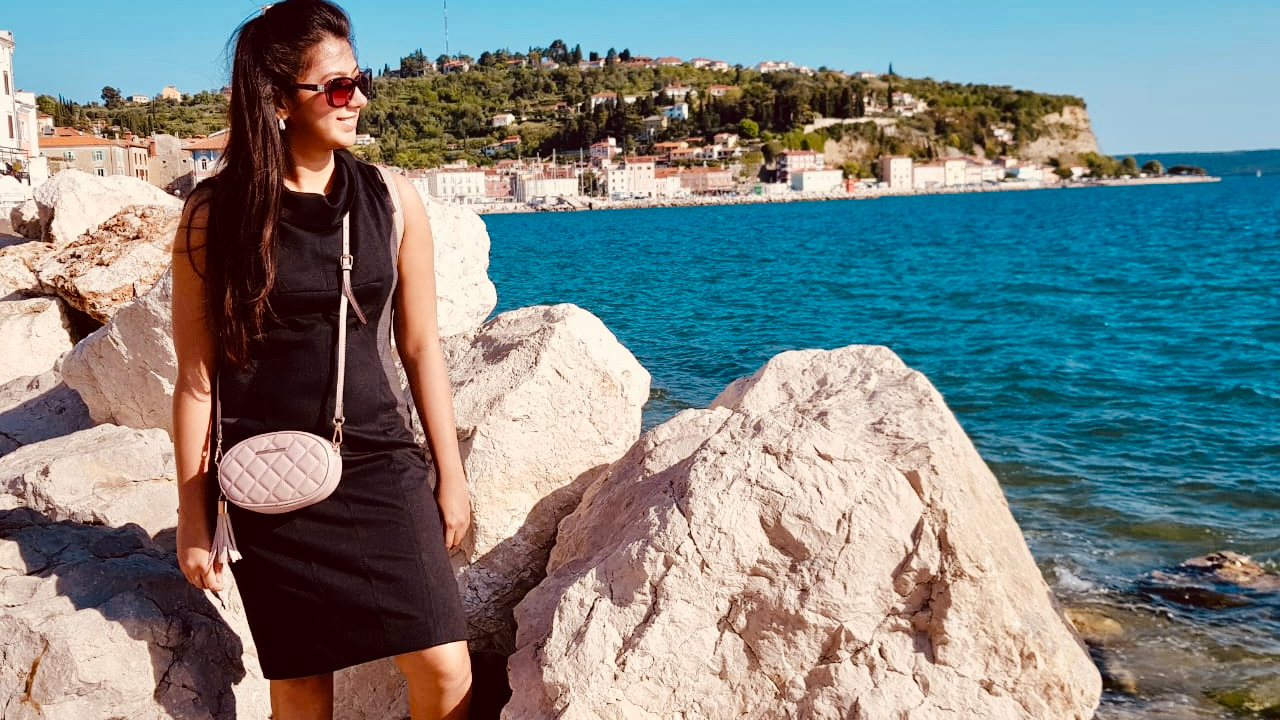 The old town of Piran is situated on a peninsula jutting out into the sea and is surrounded by ancient walls and fortifications. Explore the narrow, cobbled streets lined with historic buildings, including the Venetian-style palaces.
Piran's waterfront is quite attractive, with several beautiful beaches, including the popular Tartini Beach, named after the town's most famous son, the composer and violinist Giuseppe Tartini. Enjoy a walk along the promenade and watch the sunset. Do try and visit the beautiful St. George's Church, which offers panoramic views of the town and the sea.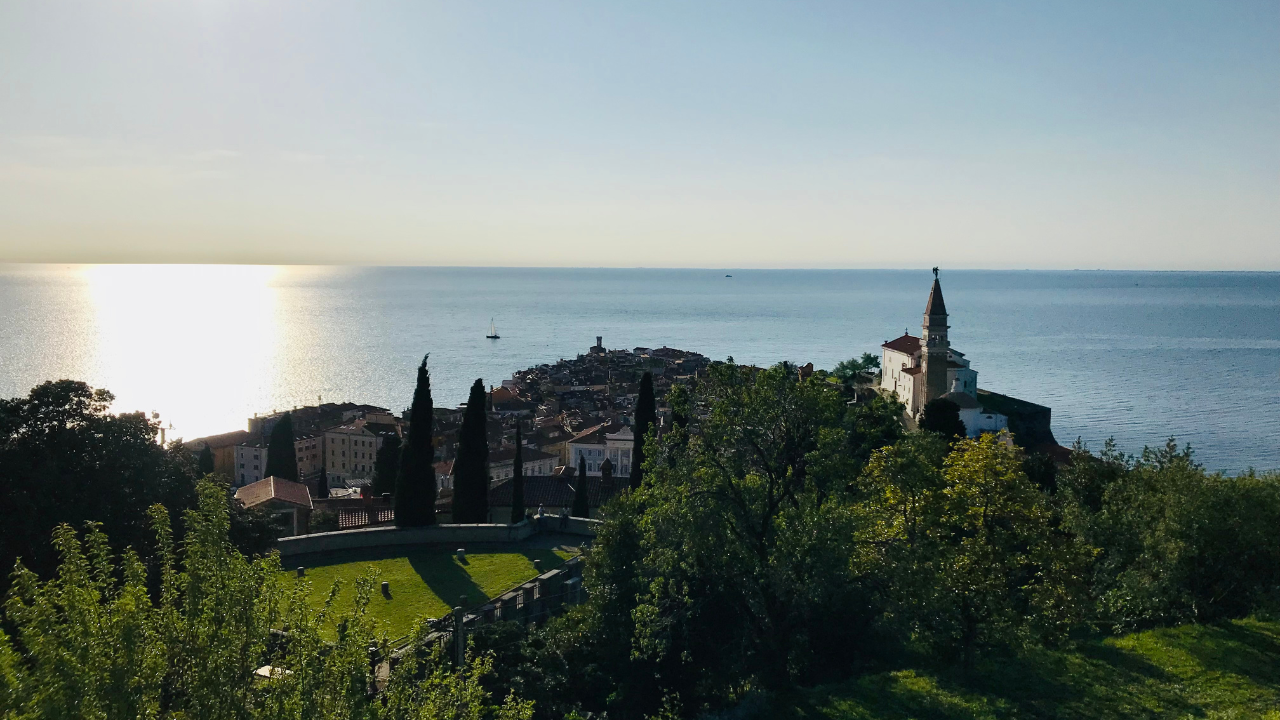 The town is also known for its excellent seafood restaurants, where you can sample delicious local specialties such as grilled fish, seafood risotto, and the famous Istrian wine, Malvazija.
You will be dropped to your hotel in Ljubljana after the tour ends.
Day 4: Visit Lake Bled and Bohinj
Lake Bled and Lake Bohinj are two stunning glacial lakes located in the Julian Alps of northwestern Slovenia, known for their natural beauty, crystal-clear waters, and surrounding mountain landscapes. Today you will visit both on a day tour from Ljubljana.
Lake Bled is the more famous of the two lakes and is one of Slovenia's most popular tourist destinations – well worth the hype. It is known for its iconic island with a church and a medieval castle perched on a hill overlooking the lake. You can take a traditional wooden boat called a pletna to the island, climb up to the castle for panoramic views of the lake. Try the local dessert – Kremsnita – known as the symbol of Bled.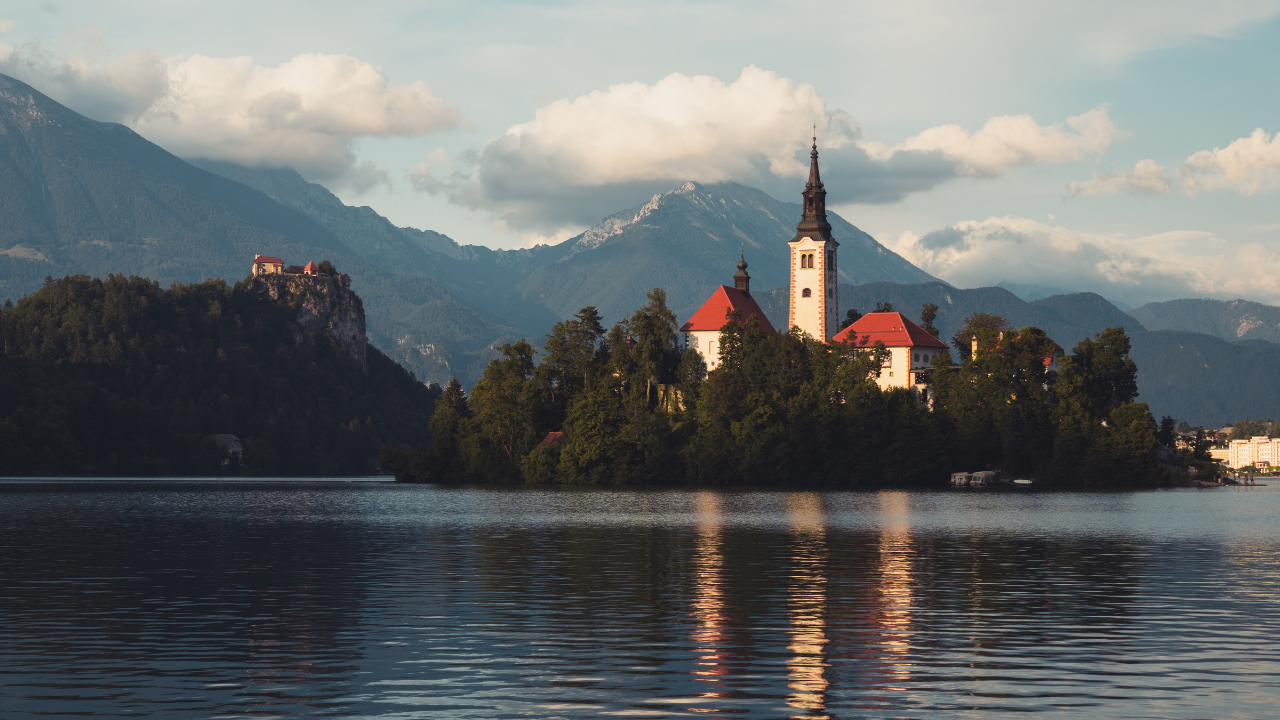 Lake Bohinj, about 30 minutes away from Lake Bled, is the largest permanent lake in Slovenia. The lake is surrounded by the Triglav National Park and the Julian Alps and offers stunning views of the mountains and the surrounding forests. Enjoy the spectacular views of the lake and the mountains at this picturesque location.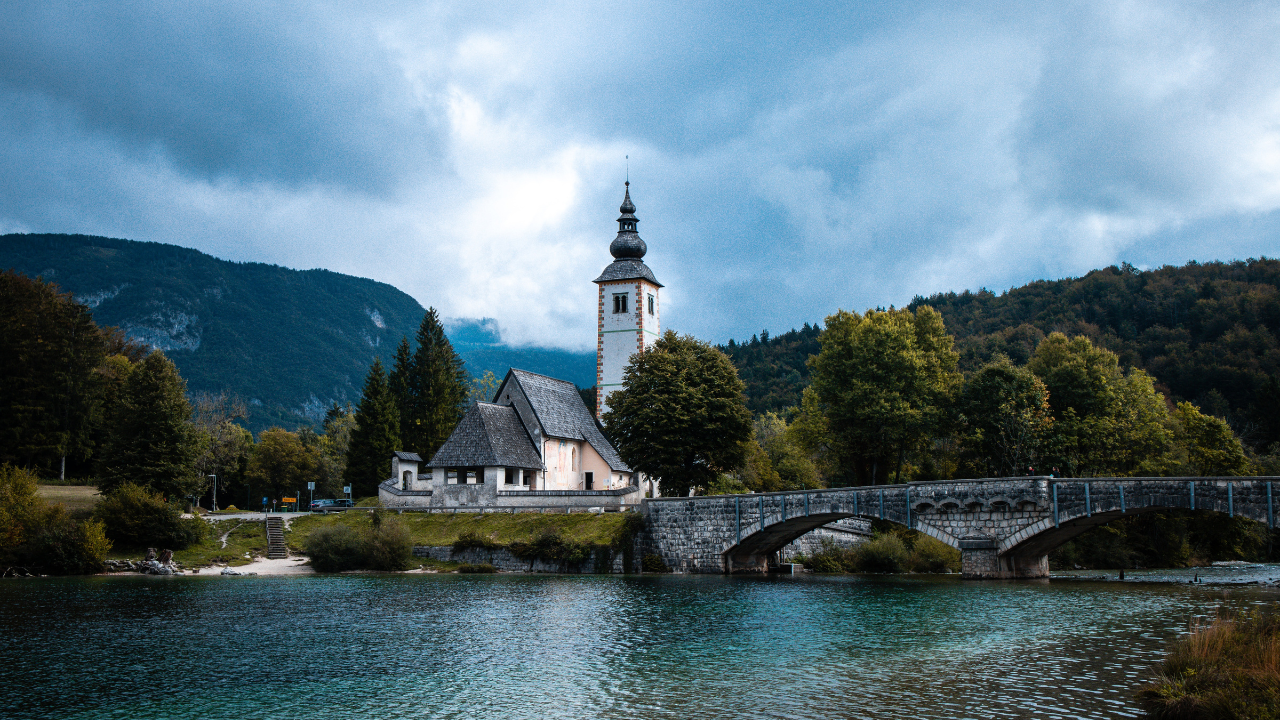 With that, we come to the end of a short yet fulfilling trip to the country of Slovenia. This itinerary covers all the places worth visiting in the small country. Although Slovenia itself offers loads to any tourist, it only makes sense to club 4 days in Slovenia with 10 days in Croatia – its bordering country – for a wholesome holiday in Europe.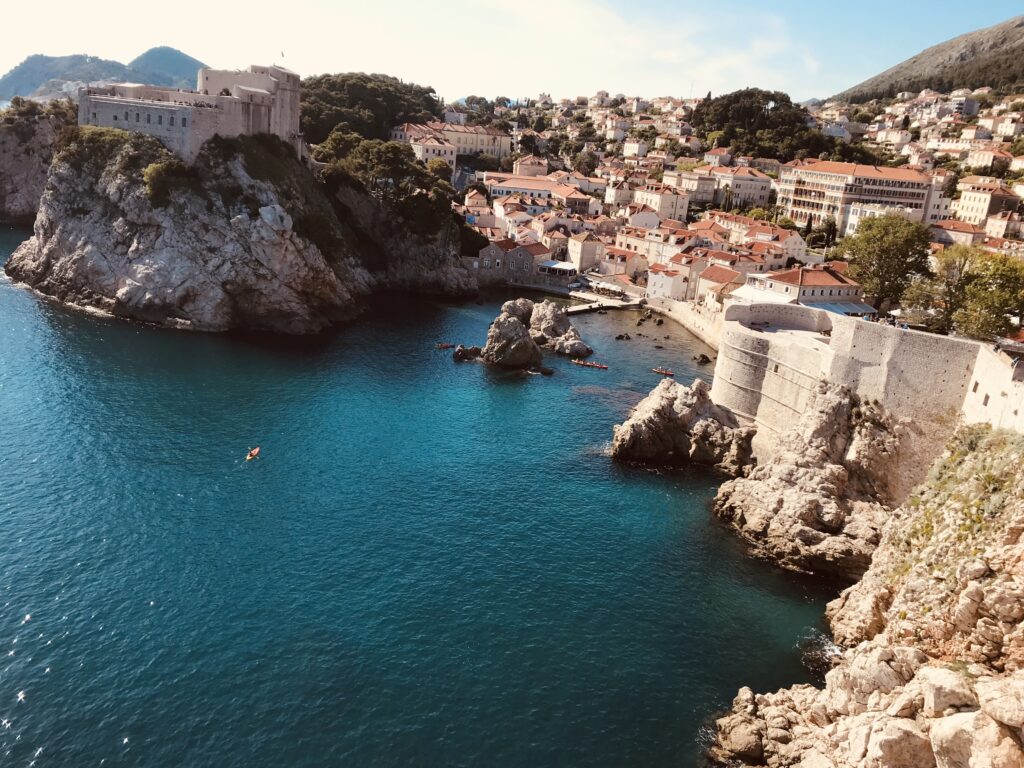 The Beautiful Country of Croatia
After you return to Ljubljana from the tour, take a late evening bus to reach Zagreb, Croatia in 2.5 hours. The last bus departs at 11 pm.
Local Food
Here are some of the most popular and delicious local foods that you must try when visiting Slovenia:
Potica – a traditional Slovenian cake made of sweet yeast dough and filled with various sweet or savory fillings, such as walnuts, honey, or cottage cheese.
Kremsnita – believed to have originated in Bled, it has since become a beloved dessert throughout the country and beyond. It consists of layers of creamy custard sandwiched between layers of crispy puff pastry. The dessert is often served with a cup of coffee or tea.
Kranjska klobasa – a traditional Slovenian sausage made of pork and flavored with garlic and pepper. It is often served with sauerkraut and mustard.
Štruklji – a dish made of rolled dough filled with various fillings such as cottage cheese, spinach, or walnuts. It can be served as a savory or sweet dish, depending on the filling.
Local Transportation
Ljubljana as a city is best explored on foot and hence it is important to stay in the old town area. Ubers are available for airport transfers and transportation within the city.
Currency
The currency in Slovenia is the Euro.
Visa
You need a Schengen Visa to enter Slovenia and a passport valid for at least three more months beyond your departure date that is issued within the last 10 years. You may need additional documents along with your visa, best to check the guidelines from your country.
Language
Although the official language is Slovenian, English is widely spoken here so you should not have any trouble communicating.
Mobile Network Operators
Telekom Slovenije, A1 Slovenija, Telemach mob. and T-2 are the major mobile phone networks in Slovenia. Connecting to any of these should not be a problem. You could consider buying a local sim card if that works out cheaper than international roaming with your service provider.
Travel Adaptor
Plug types C and F work in Slovenia. Plug type C has two round pins and plug type F has two round pins with two earth clips on the side. Croatia operates on a 230V supply voltage and 50Hz. It is best to carry a universal travel adaptor to avoid any hassles or confusion.
Its' pure, rich natural beauty makes Slovenia an exquisite location and one of the best travel destinations in the world. Book your flights in advance to avail better rates.
Visit our destinations page for more such detailed travel guides on countries worth visiting. Combine the 4 Day Slovenia Itinerary with 10 Days in Croatia to enjoy the best experience in the Balkans region of Europe.
FAQs:
What is the best time to visit Slovenia?
The best time to visit Slovenia is between May to October.
How many days in Slovenia is enough?
4 days is sufficient to see all the places in Slovenia. It is best combined with 10 days in Croatia, its bordering country.
Is Slovenia safe to travel
Slovenia is a tourist-friendly country and it is absolutely safe to travel.
Which are the best places to see in Slovenia?
Ljubljana, Soca Valley, Postojna Cova, Predjama Castle, Piran, Lake Bled and Lake Bohinj are the must-see places in Slovenia.
What is the best itinerary for Slovenia?
Day 1 – Arrive at Ljubljana, explore the city on foot
Day 2 – Explore Soča Valley
Day 3 – Visit Postojna Cave, Predjama Castle and Piran
Day 4 – Visit Lake Bled and Lake Bohinj