Looking to visit the scenic country of Maldives? Here is the ultimate Maldives Itinerary that guides you to have the perfect holiday in Maldives.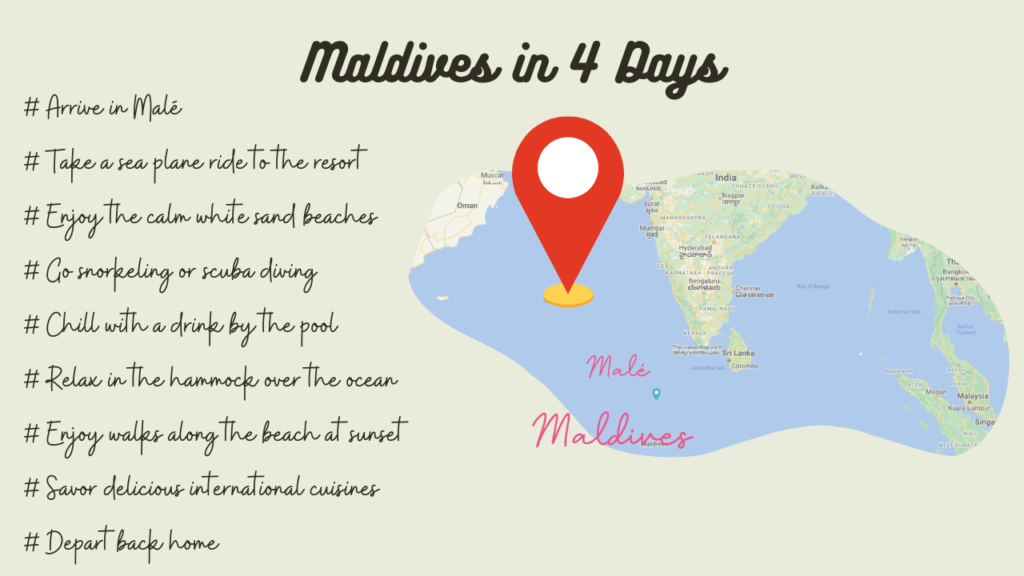 With its pristine cyan colored waters and calm, white sand beaches, Maldives is among the best travel destinations in the world. A must-visit country if you're looking for a relaxed and luxurious holiday. The Maldives offers a vast array of water sports and adventure activities along the Indian Ocean. Choose between snorkeling or scuba diving (or do both!) to catch a glimpse of the vibrant marine life of the ocean.
Our goal at Wander Smartly is to make your travels smarter and help you have the best experience on your trips. From my own experience of having a wonderful vacation in the Maldives, I share the best guide to a blissful Maldivian holiday.
Best Time to Travel
The best time to visit the Maldives is between the months of December to April when hardly any rain is expected. I wouldn't recommend visiting Maldives at other time as you won't enjoy it as much when it rains and can hardly step out of your room.
Maldives Itinerary
The Maldives is a tropical island nation located in the Indian Ocean, southwest of Sri Lanka and India. It is made up of 26 atolls, which are clusters of coral islands that sit atop underwater mountains.
A holiday in Maldives is meant to relax, unwind and pamper yourself. You stay in one of the many luxury resorts that are dotted around the Maldives' islands. These resorts are typically situated on their own private island, offering an exclusive and secluded experience for you. They offer a range of amenities, such as spas, restaurants, and water sports centers, making it easy for you to enjoy and destress.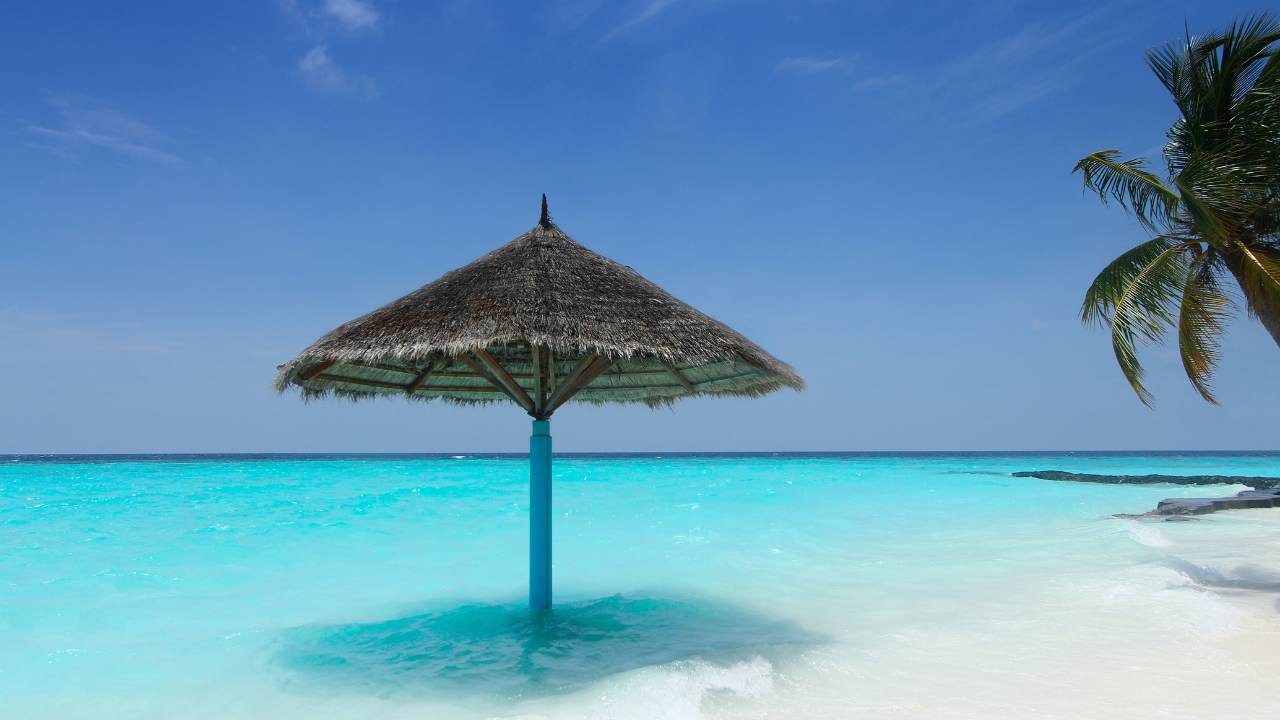 Planning a trip to the Maldives requires minimal effort on research as most of the resorts have the same offerings. Choose from a beach or an over-water villa (I recommend the over-water villa for the quintessential Maldivian experience).
Begin your day with a lavish breakfast spread and a walk along the ocean. During the day, you can engage in a range of activities such as snorkeling, diving, surfing, and paddleboarding. The Maldives is home to a diverse range of marine life, including sharks, manta rays, turtles, and colorful fish, making it a superb destination for scuba divers and snorkelers.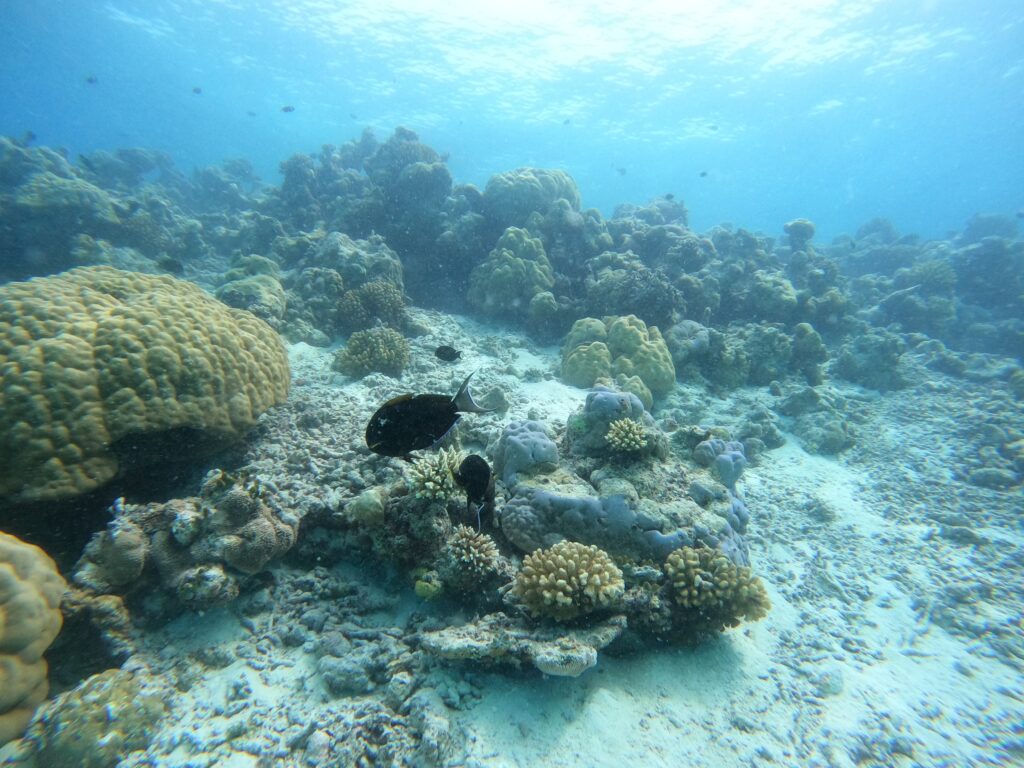 Although you will be provided with the gear for any of these activities, I recommend carrying your own one-piece snorkeling gear that covers your entire face and provides a smooth experience as you float or swim on the surface of the ocean and view the vibrant marine life. This full-face mask makes breathing easy under water and is simple to put on and take off. No need to defog the mask or clench your jaw like the traditional gear. I have one of these myself and use it on all my beach holidays for the best snorkeling experience.
Chill in the resort's swimming pool with a drink in your hand. In the evenings, enjoy delicious food, from traditional Maldivian dishes to international cuisine. Many resorts also offer live music and entertainment, creating a fun and lively atmosphere.
One of the highlights of a holiday in the Maldives is experiencing its stunning natural beauty. Watching the sunset over the ocean in Maldives is a surreal experience. Take a romantic stroll along the beach, or simply relax in a hammock and soak up the stunning scenery.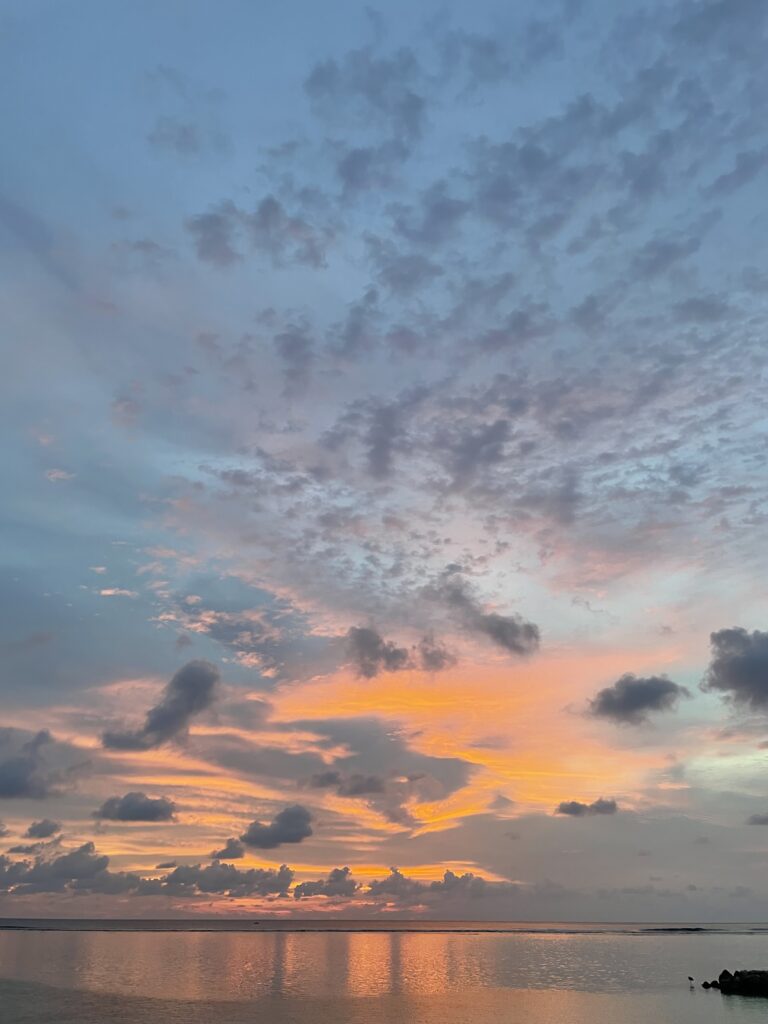 I highly recommend Maldives as a holiday destination for a honeymoon or celebrating any special occasion with your partner. Let the resort know, and they are likely to send over a cake or champagne to add some magic to your special moments.
4 days is just the right amount of time to stay in the Maldives and enjoy the unique cyan colored waters of the Indian Ocean. The beauty of the island, the clam blue waters and white sand beaches provide a wonderful experience that is sure to mesmerize you.
Where to Stay in the Maldives
Radisson Blu Resort Maldives is an excellent choice to get the best experience from a holiday in the Maldives. I stayed there when I went for my honeymoon and I thoroughly enjoyed the resort. Select an overwater villa that comes with its own private pool and terrace and offers breath-taking views of the ocean. I enjoyed laying on the hammock in the room's terrace which was right above the ocean – what a grand experience! You can also dip into the ocean from the room's terrace.
The overwater villa is spacious with a lavishly large bathroom. You get a glimpse of the cyan waters of the ocean when you shower (underrated tiny pleasures) and you can enjoy the bath tub with splendid views as well. The villa also has its very own espresso machine.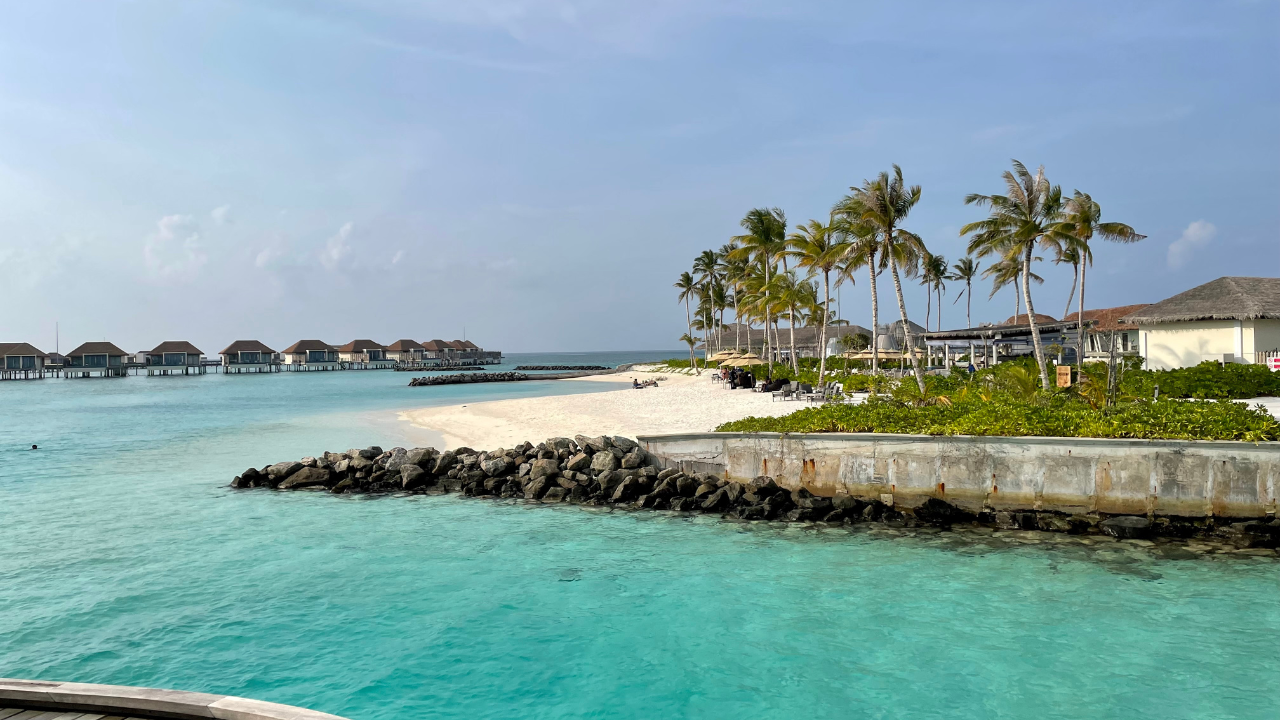 Allow yourself to be pampered in luxury at this magnificent resort. It is best to select the option with all meals included, or even all inclusive (with drinks) as you will be stationed at the resort for the entirety of your holiday. Enjoy delicious local and global cuisines at their restaurants. You can also enjoy a yoga session at their ocean facing yoga pavilion. They provide bicycles so you enjoy cycling over the ocean on the wooden plank bridges connecting the villas to the resort. A must-do experience, in my opinion.
Radisson Blu Resort Maldives offers various water sports for a little bit of adventure mixed with luxury. Book your preferred slots a day or two in advance after reaching there. This resort also has its own beach, an adult island with a lagoon where no children are allowed and two ocean- facing swimming pools. It is grandeur best described in one word and well worth the indulgence.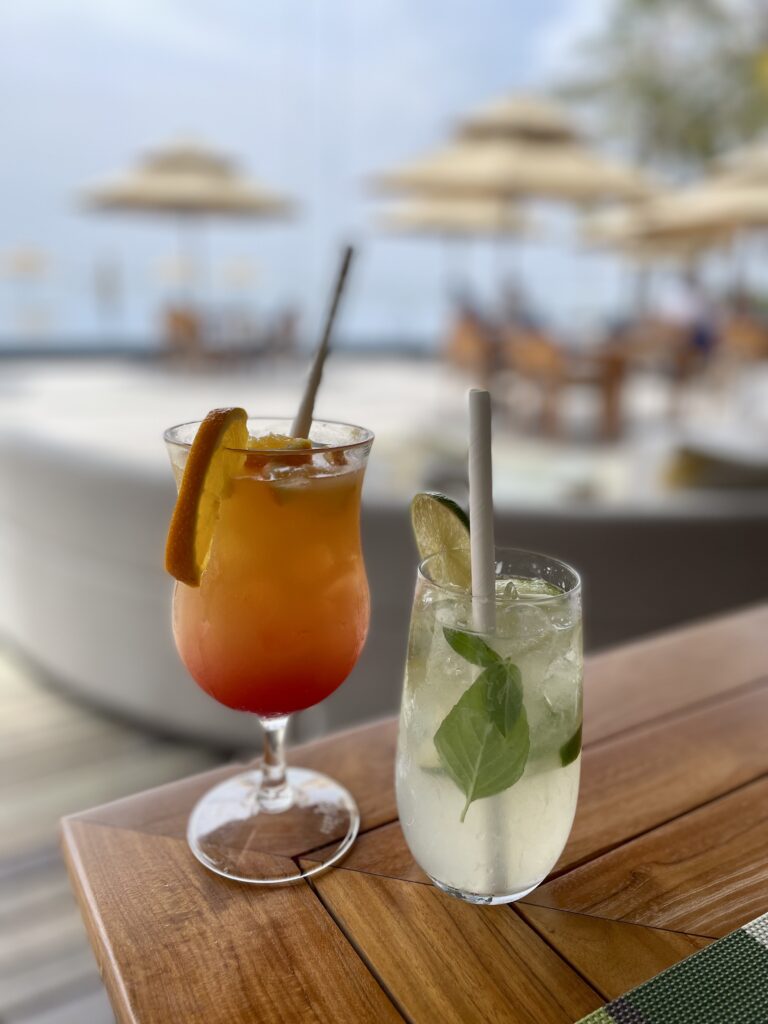 When it comes to a visit to the Maldives, it is best enjoyed by immersing yourself in luxury. The lesser-priced resorts don't match up to the experience by a substantial margin. You may save some money but you will miss out on the experience. If you're travelling all the way to the Maldives, you might as well enjoy it the best way – in the lap of luxury.
How to Reach the Resort
You need to take an international flight to Malé – the capital of Maldives. From here, you will board a sea plane to reach Radisson Blu Resort. This ride will be of 30-45 minutes, with breath-taking views, if I may add. The hotel will arrange the sea plane ride for you with the best option basis your arrival time; let the resort reservations department know once you complete booking the resort and your flight to Male. They will also arrange a sea plane ride for you back to Male for your departure.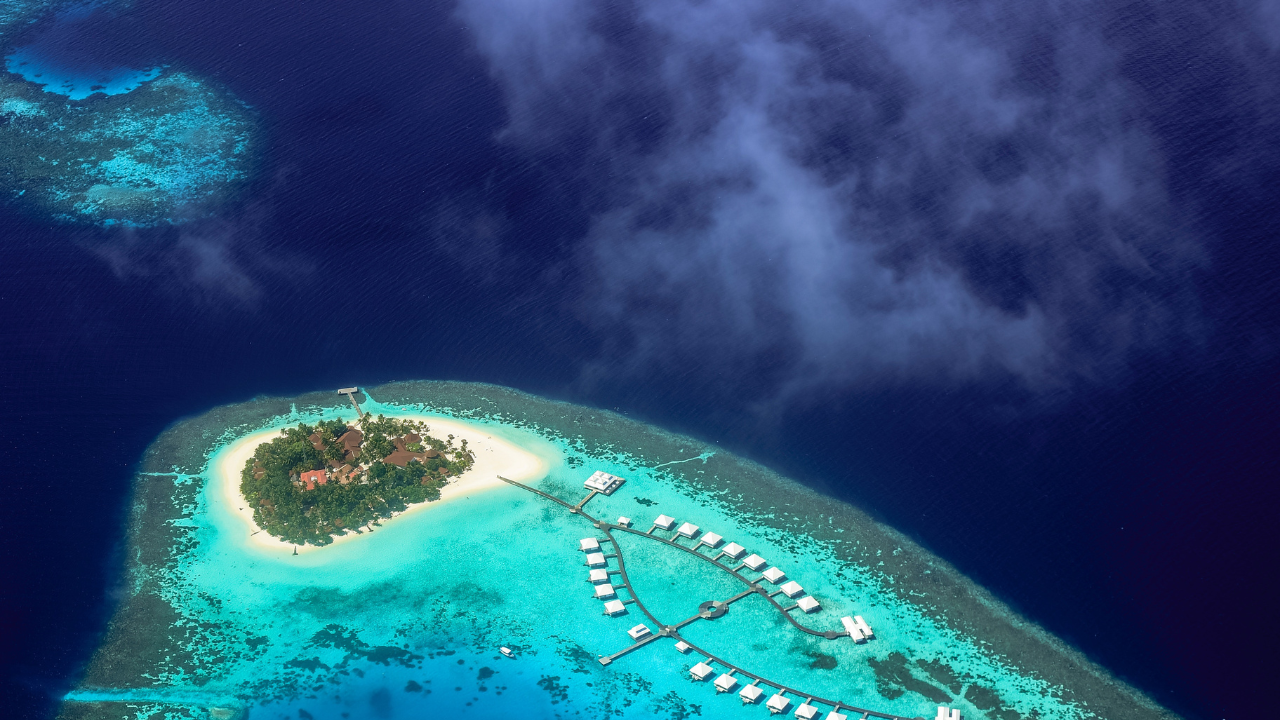 What to Pack for the Maldives
Beachwear, swimwear, shorts and dresses only! Load up on beachwear for your stay in Maldives. You will spend a lot of your time in water so carry at least 2 pairs of swimwear and sarongs (for women). Carry long, flowing dresses for the evenings for those memorable pictures by the water. I'd recommend the women to ditch heels and carry footwear that would be comfortable to walk in.
Men need to carry at least 2 sets of swimwear and throw in a few shirts and shorts for the evenings.
Carry footwear that is comfortable to walk over sand. Remember to carry a lot of sunscreen as you would need to apply it multiple times in the day. Sunglasses, too, are a must.
To capture your memories under water, you can consider investing in a GoPro. I recommend the GoPro HERO10 Black Accessory Bundle which includes the HERO10 Camera, Shorty (Mini Extension Pole + Grip), Magnetic Swivel Clip, 2 Rechargeable Batteries and a Camera Case. This is a great camera which produces high quality images and is amazingly simple to use. You'd want to capture all your marine adventures in the Maldives and a phone won't do what a GoPro will. It is a prudent investment that will produce memories for a lifetime.
History of the Maldives
For curious cats like me, here's a little on the history of the Maldives. It is a small island nation located in the Indian Ocean. Its history dates back over 2,500 years, with the first recorded settlement in the country dating back to 500 BC. Throughout its history, the Maldives has been influenced by a variety of cultures, including Indian, Arab, African, and European.
Early in its history, the Maldives was ruled by Buddhist kings and was an important center for the spread of Buddhism throughout the region. By the 12th century, Islam had begun to spread to the Maldives, and it soon became the dominant religion.
In the centuries that followed, the Maldives became an important trading center, with ships from India, China, Arabia, and Europe stopping at its ports to trade goods such as spices, coconuts, and cowrie shells. The Maldives' strategic location in the Indian Ocean made it a valuable trading hub, and the country's rulers became wealthy and powerful as a result.
During the colonial era, the Maldives came under the influence of various European powers, including the Portuguese, Dutch, and British. The country remained under British protection until it gained independence in 1965.
Maldivian Cuisine
Maldivian cuisine is a unique blend of South Asian and Arab influences, with a focus on seafood and coconut as staple ingredients. The cuisine of the Maldives is also heavily influenced by its geography, as the country is made up of a chain of islands with a long history of fishing.
One of the most popular ingredients in Maldivian cuisine is tuna, which is often used in a variety of dishes such as fish curries, fish soups, and grilled fish. Another staple ingredient is coconut, which is used in a variety of ways, including coconut milk, grated coconut, and coconut oil.
Spices such as cumin, coriander, chili, garlic, and ginger are also commonly used in Maldivian cuisine, giving dishes a flavorful and aromatic kick. Rice and flatbreads, such as roshi and chapati, are also popular staples of Maldivian cuisine.
Here are some of the most popular Maldivian dishes:
Garudhiya: A fragrant fish soup made with tuna, coconut, and spices.
Mas huni: A breakfast dish made with shredded tuna, coconut, onion, and chili.
Rihaakuru: A thick, dark paste made from boiled fish that is used as a condiment or added to dishes for flavor.
Fihunu mas: Grilled fish marinated in a mixture of chili, garlic, and ginger.
Kulhi boakiba: Deep-fried fish balls that are a popular snack in the Maldives.
Bajiya: Savory pastries filled with spiced fish or vegetables and deep-fried until crispy.
Maldivian cuisine also includes a range of desserts, such as bondibai (coconut and rice pudding) and huni hakuru folhi (coconut milk custard). It's a delicious and unique cuisine that is worth exploring during your visit to the Maldives.
Currency
The official currency is the Rufiyaa (Rf) in the Maldives but you do not need to carry the local currency as a tourist. Euros or Dollars work best, also carry your credit cards.
Visa
While travelling to the Maldives as a foreign tourist you do not need a pre-approved visa. Your passport should have at least a month's validity. For all other documents, check the official immigration website of Maldives.
Language
Maldives is very tourist-friendly and English is well spoken at the resort.
Mobile Network Operators
The two major mobile network operators in the Maldives are Ooredoo and Dhiraagu. You could consider buying a local sim card if that works out cheaper than international roaming with your service provider.
Since you will spend your time at the resort which has a WiFi connection, you do not necessarily need to make other arrangements. I travelled to the Maldives without any mobile connection and went by just fine on WiFi.
Travel Adaptor
Plug types D and G work in the Maldives with a supply voltage of 230V and frequency of 50Hz. It is best to carry a universal travel adapter to avoid any hassles or confusion.
A holiday in the Maldives is a luxurious and unforgettable experience that offers the perfect blend of relaxation and adventure in a breathtakingly beautiful setting. Book your flights in advance to avail better rates.
Visit our destinations page for more such detailed travel guides on countries worth visiting.
FAQs:
How many days are enough for Maldives?
4 days is sufficient to enjoy a holiday in the Maldives.
Which is the best month to visit Maldives?
The best time to visit the Maldives is between the months of December to April when hardly any rain is expected.
Where to stay in the Maldives?
Is 4 days enough in Maldives?
4 days is sufficient to enjoy a holiday in the Maldives.
Are the Maldives really worth it?
With its pristine cyan colored waters and calm, white sand beaches, Maldives is among the best travel destinations in the world. A must-visit country if you're looking for a relaxed and luxurious holiday.