Intrigued by the country of Montenegro? This Montenegro Itinerary takes you to the best places in the country.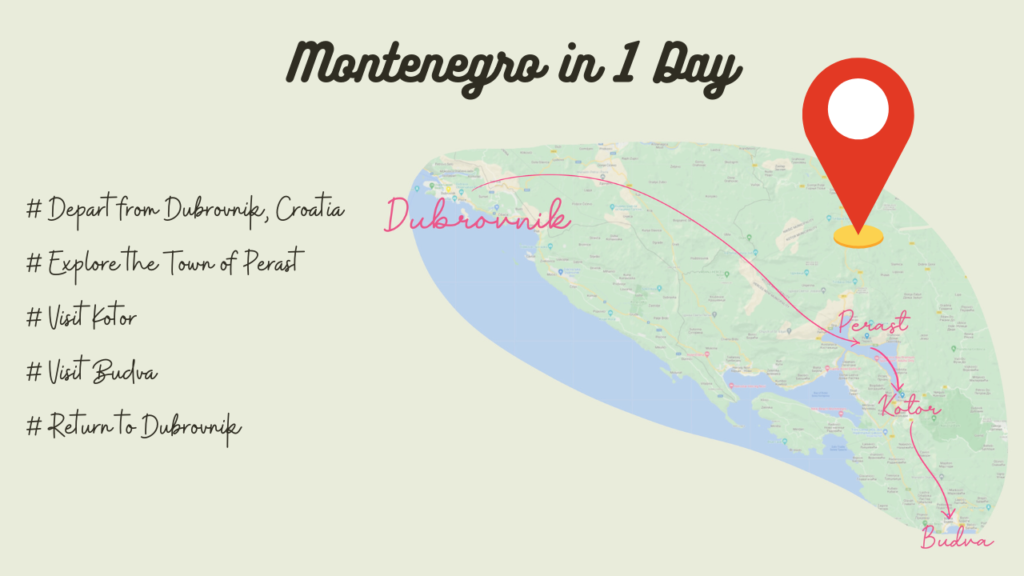 Our goal at Wander Smartly is to make your travels smarter and help you have the best experience on your trips. From my own experience of visiting Montenegro, I share the best 1-day itinerary that you can use for the must-see attractions in the country.
Montenegro, literally meaning Black Mountain, is a tiny country located in south-eastern Europe, on the Balkan Peninsula. This country may be small in size but it is packed with tonnes of natural coastal beauty mixed with charming old towns, making it a must-visit on your trip to Europe.
It has a diverse geography, with rugged mountains, deep canyons, and a stunning Adriatic coastline. It became an independent country only in 2006, making it among the youngest countries in the world.
Montenegro has a rich and complex history, having been inhabited since prehistoric times. It has been ruled by various empires and kingdoms, including the Roman, Byzantine, Ottoman, and the Austro-Hungarian Empire.
Montenegro gained its independence from the Ottoman Empire in 1878 and became a kingdom in 1910. During World War II, Montenegro was occupied by Nazi Germany and its allies. After the war, it became one of the six republics of the Socialist Federal Republic of Yugoslavia.
After the breakup of Yugoslavia in the 1990s, Montenegro became a part of the Federal Republic of Yugoslavia, which later became Serbia and Montenegro. It gained independence from Serbia in 2006 and became a member of NATO in 2017.
With its stunning natural beauty, rugged mountains and rich cultural heritage, it attracts visitors from all over the world. The Adriatic coastline is particularly scenic, with beautiful beaches, crystal-clear waters, and charming coastal towns of Kotor and Budva.
Best Time to Travel:
The best time to visit Montenegro is between May to October. To avoid the crowds and enjoy lower prices, you may want to consider visiting during the shoulder seasons (late spring or early fall).
Montenegro Itinerary
This day-long itinerary is covered on a day tour from Dubrovnik in Croatia, and is part of a 10 Day Croatia Itinerary. You will cover the two must-visit places in the country on the same day itself, saving you the hassle of staying overnight and spending time travelling.
Depart from Dubrovnik at 7:30 am
The tour begins at 7:30 am with a pick-up from the city of Dubrovnik in Croatia. It is likely you will be picked up from your hotel itself (click here to check). Taking this day tour is the best way to visit the country of Montenegro from Dubrovnik as it is a guided tour in a small group of 8 people or less.
Explore the Town of Perast
Perast is a small town located on the Bay of Kotor in Montenegro. It has a population of only around 350 people. Perast is known for its picturesque waterfront, stunning architecture, and historical significance.
Perast was once a wealthy town, known for its maritime trade and shipbuilding. Many of the town's impressive Baroque palaces and churches were built during this time, including the Church of St. Nicholas, which was constructed in the 17th century.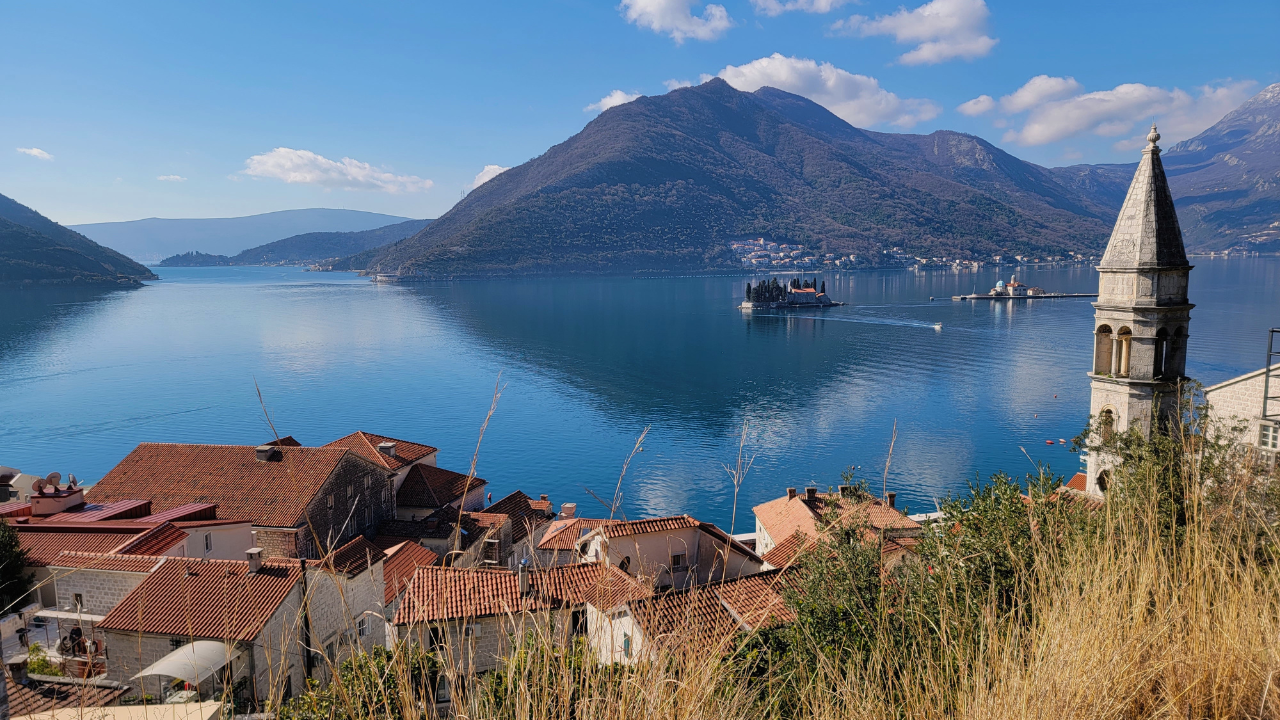 One of the most notable landmarks in Perast is the island of Our Lady of the Rocks, which you can explore by boat. The island is home to a beautiful Catholic church that was built in the 17th century. Legend has it that the island was created by local fishermen who placed rocks in the sea each time they returned from a successful fishing trip.
Perast's waterfront is lined with beautiful old palaces and houses, many of which have been restored and converted into restaurants, cafes, and small hotels. The town's narrow streets are also filled with charming stone houses and small squares, making it a delightful place for you to explore on foot.
Visit Kotor
Your next destination is the town of Kotor. Kotor is a historic town located on the Bay of Kotor in Montenegro, at the foot of the Lovcen Mountain. The town is surrounded by impressive fortifications, including walls and towers that date back to the Middle Ages. Kotor's old town is a UNESCO World Heritage site and is known for its impressive architecture, stunning scenery, and rich cultural heritage.
Exploring Kotor's old town will be a fun experience. It is a maze of narrow streets and alleyways, lined with stone houses, small squares, and charming cafes and restaurants. The town's main square, the Trg od Oruzja (Square of Arms), is surrounded by impressive buildings, including the town hall and the Clock Tower.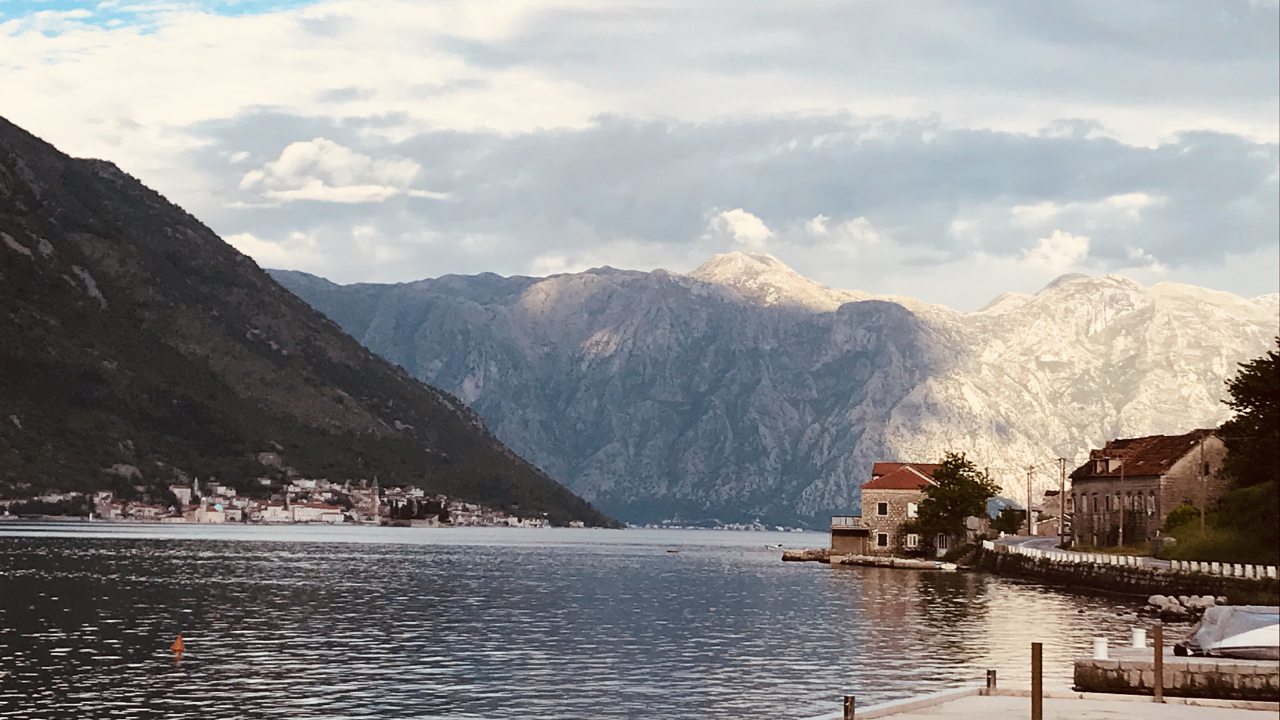 Next, explore the Bay of Kotor which is known for its stunning scenery and crystal-clear waters. I highly recommend you take a boat tour of the bay for beautiful views of the calm bay embraced by rugged, black mountains.
Kotor is a charming town that is rich in history, culture, and natural beauty. Definitely worth a visit.
Visit Budva
Budva is a coastal town located in the central part of Montenegro, on the Adriatic Sea. It is one of the oldest settlements on the Montenegrin coast and is known for its beautiful beaches, medieval architecture, and vibrant nightlife.
Budva's old town, also known as Stari Grad, is a walled city that dates back to the Middle Ages. It is characterized by narrow streets, stone houses, and historic buildings, including the Citadel, the Church of St. Ivan, and the Church of Holy Trinity.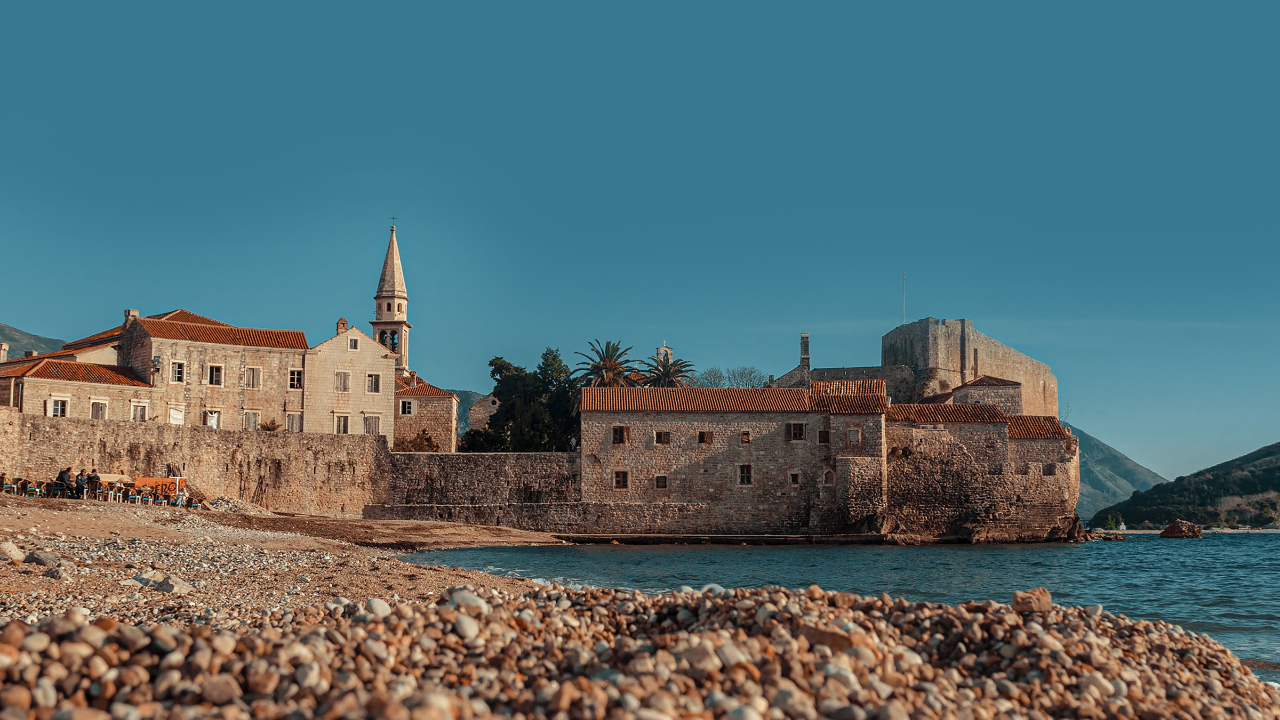 Budva's beautiful beaches are known for their crystal-clear waters, soft sand, and stunning views of the Adriatic Sea. Explore the old town of Budva and enjoy spectacular views of the ocean.
Return to Dubrovnik
Upon your return to Dubrovnik the same day, make sure to stop at places to click great pictures of the serene Kotor Bay. You will be dropped off at your hotel (check here) after the 10-hour tour ends. This tour promises a wonderful and unique experience as you explore old, picturesque towns in the beautiful country of Montenegro.
Local Food
Montenegro has a rich culinary tradition, influenced by its Mediterranean location, as well as its history and culture. Here are some of the local foods that you can try when visiting Montenegro:
Njeguški pršut – a dry-cured ham that is smoked and aged in the town of Njeguši. It is a popular appetizer and is usually served with cheese and olives.
Kacamak – a traditional dish made with cornmeal, potatoes, and cheese. It is often served as a side dish or as a main course with meat.
Čevapi – small grilled sausages made from a mixture of beef and lamb, seasoned with spices and herbs. They are usually served with onions, bread, and a side of ajvar, a red pepper spread.
Soparnik – a traditional pie made with spinach and onions, seasoned with garlic and olive oil. It is a vegetarian dish that is a popular local specialty.
Montenegrin Wine – Montenegro has a long tradition of winemaking, and there are many local wines that you must try, such as Vranac, Krstač, and Chardonnay.
Currency
The currency used in Montenegro is the Euro.
Visa
You can enter Montenegro with a Schengen visa unless you come from a visa-exempt country. Best to check the local guidelines from where you are travelling.
Language
Montenegrin is the official language in Montenegro and English, though not widely spoken, can be used to communicate in the places we've mentioned.
The charming towns of Perast, Kotor and Budva will melt your heart and leave you with the best Montenegrin experience in just a day's time. A must-visit when you are travelling to the Balkans region of Europe.
Visit our destinations page for more such detailed travel guides on countries worth visiting. Visit Montenegro as part of 10 Days in Croatia and club it with 4 days in Slovenia to enjoy the best 14-day trip to the Balkans region of Europe.
FAQs:
Is Montenegro worth visiting?
The charming old towns of Perast, Kotor and Budva are absolutely worth visiting in the country of Montenegro.
How many days is sufficient to see Montenegro?
A day trip from Dubrovnik is sufficient to visit the must-see places in Montenegro – Perast, Kotor and Budva.
Can you visit Montenegro from Dubrovnik?
Absolutely, you can do a day trip to Montenegro from Dubrovnik and be back the same day.
Which are the best places to see in Montenegro?
The charming old towns of Perast, Kotor and Budva are must-visit places in the country of Montenegro.