If you've been wanting to visit the magical country of Turkey, then you've landed on the right page. This is the finest 10 Day Turkey Itinerary that covers all the best places to visit.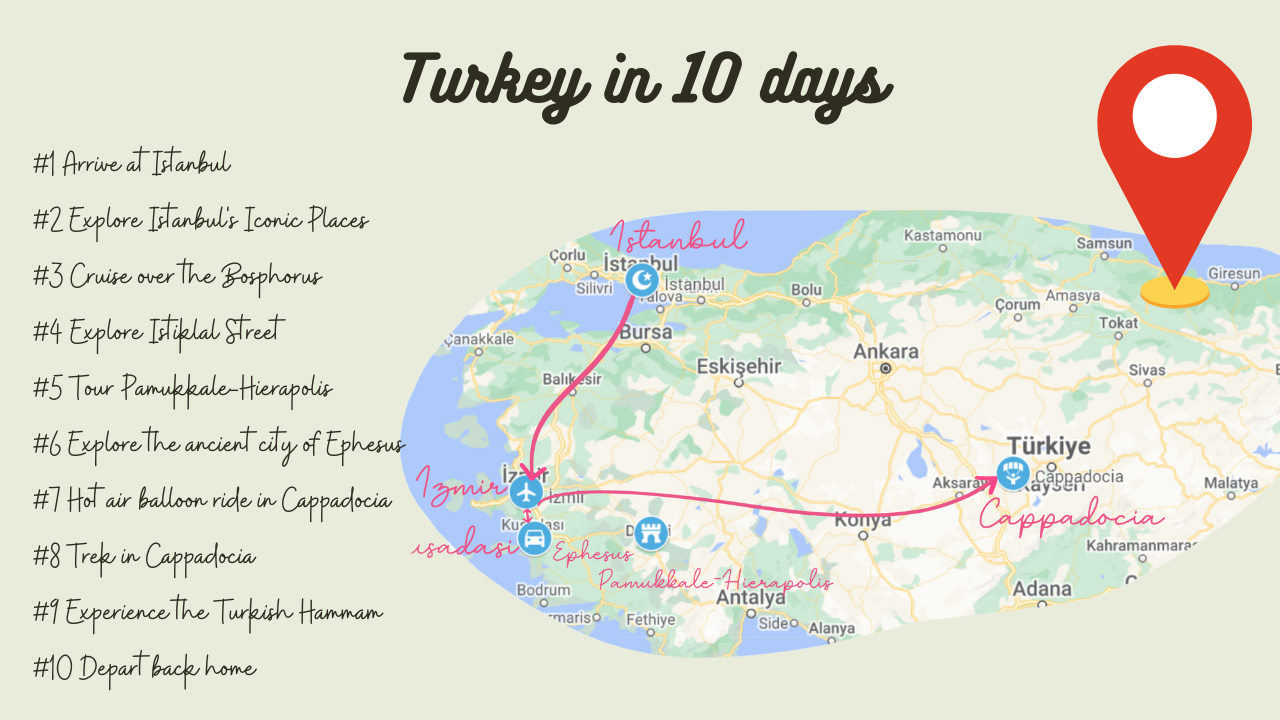 Turkey is a great holiday destination that offers a range of experiences for travelers of all ages and interests. Located in part Asia and part Europe, Turkey has a mix of elements from both worlds to charm you. From the architectural marvels in Istanbul and the remains of the ancient cities of Hierapolis to the picturesque landscapes and whimsical fairy chimneys of Cappadocia, Turkey is undoubtedly among the best travel destinations of the world.
Our goal at Wander Smartly is to make you travel smarter and have the best experience while exploring the world. From my own experience of visiting Turkey and falling irrevocably in love with it, I share the perfect 10-day Turkey Itinerary where each day promises to be a new adventure. This Turkey Itinerary features all the best places to see with the right amount of time at each location, so you get the best of your holiday.
Best Time to Travel:
You can visit Turkey at any point of time in the year; best avoided from June to October when crowds are maximum.
Turkey Itinerary
Day 1: Arrive at Istanbul
Istanbul is the largest city in Turkey and has one of the busiest airports in the world. Formerly known as Constantinople, Istanbul is among the most vibrant cities in the world today that also boasts of a rich heritage. For the best experience of the city, stay in the old part of town, near Sultanahmet, the historical heart of the city. Lalahan Hotel is great value for money and has the major attractions within walking distance. The metro station is also at close proximity. I loved their breakfast spread, especially the honey and sesame coated peanuts. If Lalahan is not available, Hotel Nena is a good alternative.
Get a little rest from your jet lag in your comfy hotel bed. If time permits in the evening, treat yourself to an exciting Dinner Cruise as you marvel at the beauty of Istanbul at night while cruising along the Bosphorus. You will sail on a mega yacht, watch a show with traditional Turkish folk dancing, and dine on a delicious assortment of authentic Turkish Cuisine. The welcome to Turkey couldn't get any more grand.
Day 2: Explore Istanbul's Iconic Historical Places
Istanbul has an interesting and captivating history. Inhabited since at least the 7th millennium BC, it has been ruled by different empires and civilizations over the centuries. As Constantinople, it was the capital of the Byzantine Empire founded by the Greeks which later fell to the Ottoman Turks, and the city was renamed Istanbul. Over the years it has undergone massive transformation to becoming one of the largest cities in the world today.
For the first half of the day, visit the iconic Blue Mosque, the Hagia Sophia Grand Mosque and the Grand Bazaar in the city; best to take a guided tour to know the story behind these architectural marvels. The Blue Mosque, also known as the Sultan Ahmed Mosque, is one of the most famous landmarks in Istanbul, known for its stunning beauty, unique architecture, and historical significance. Check out its impressive domes, six minarets, and intricate tile work, which includes more than 20,000 blue tiles that adorn the interior walls.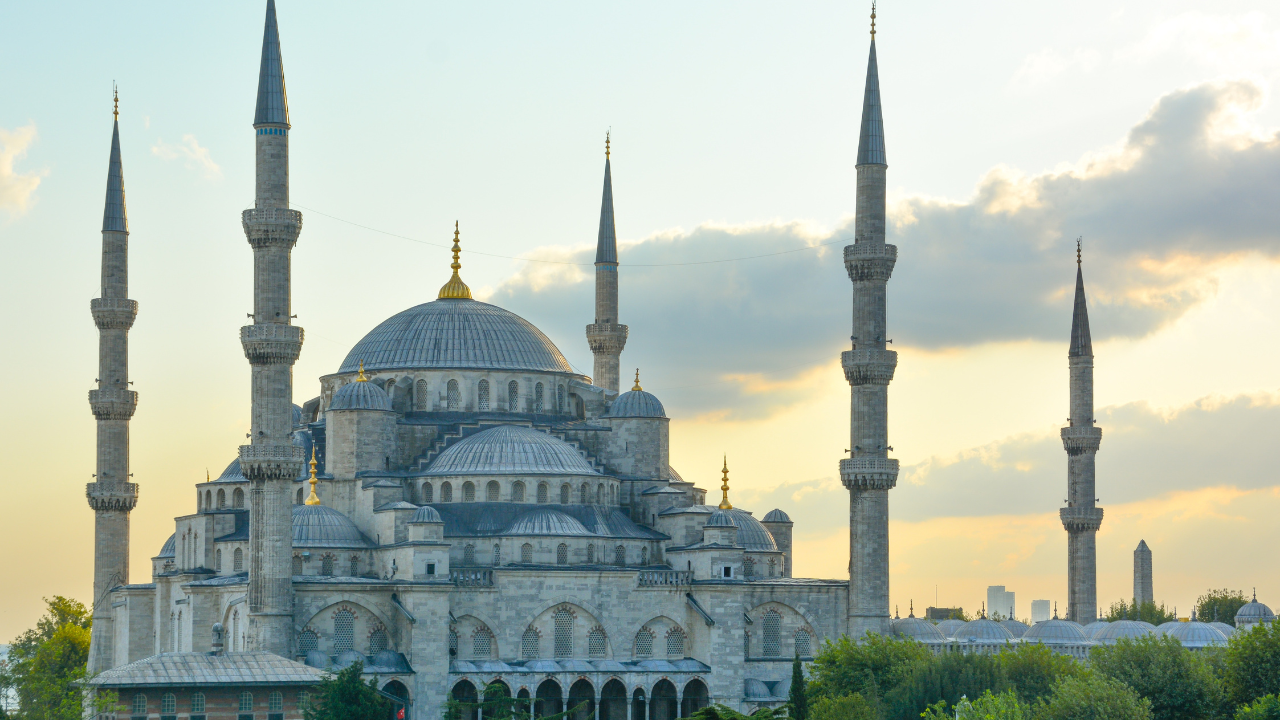 Of the two mosques, the Hagia Sophia fascinated me the most, with its incredible history and coexistence of elements of both Christianity and Islam. The building was originally constructed as a cathedral and after a 1000 years it was conquered and converted into a mosque, adding minarets and other Islamic architectural features. It served as a mosque for almost 500 years until the Turkish Republic was established in 1935 and it was turned into a museum. In 2020, it was again converted into a mosque, sparking much controversy and debate.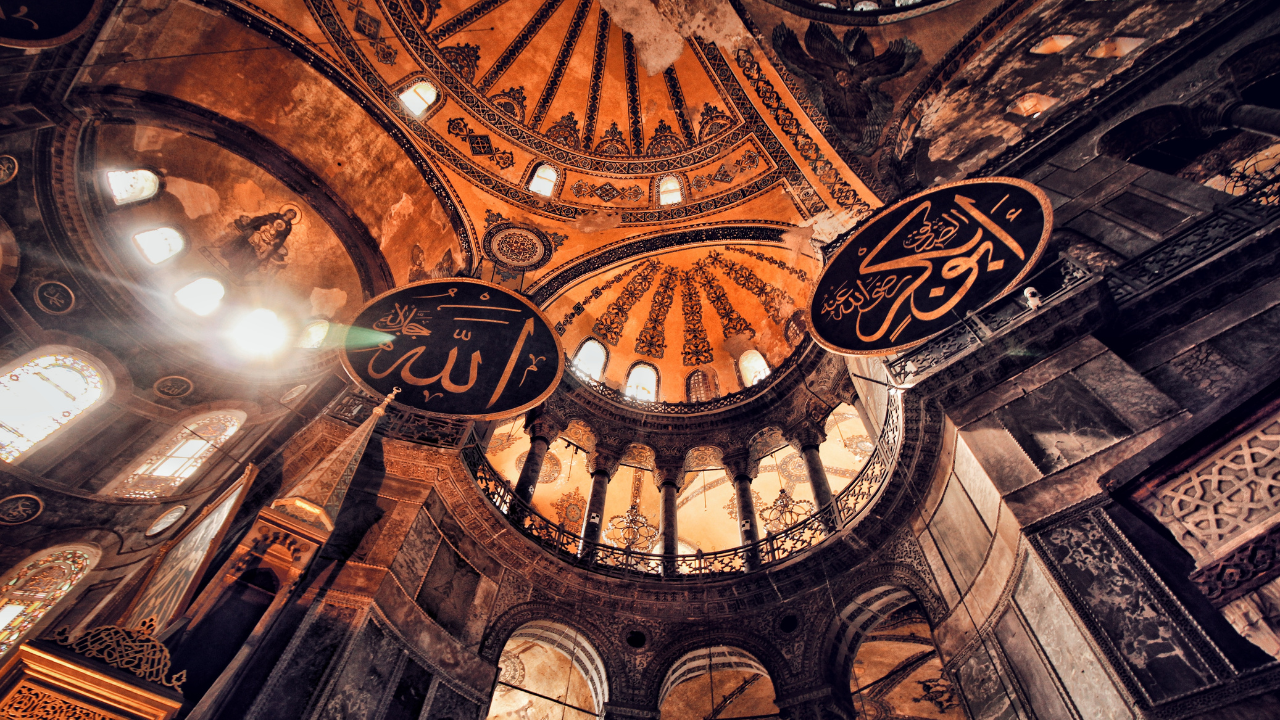 A trip to Istanbul is incomplete without a visit to the Grand Bazaar, which dates back to the 15th Century and was a focal point for Mediterranean trade. It is also known for its unique architecture which hasn't undergone much change since it was built and has withstood the might of many natural disasters. You can pick up traditional Turkish items here, such as ceramics, lamps, jewelry, food and so on.
Avoid Fridays and Sundays for this tour as the Blue Mosque is closed on Friday mornings and the Grand Bazaar is shut on Sundays.
Enjoy a relaxed lunch after the 4-hour tour. In the evening, head out to watch the Whirling Dervishes show at the HodjaPasha Culture Center. It is a meditation practice performed by Sufi groups using dance and music as their offering to God. I remember getting goosebumps as I saw the group performing with impeccable sync on stage despite keeping their eyes closed with devotion. This is a one-hour show and a must-see experience in Turkey. Ensure you book tickets in advance as they're likely to sell out and not be available at the last minute.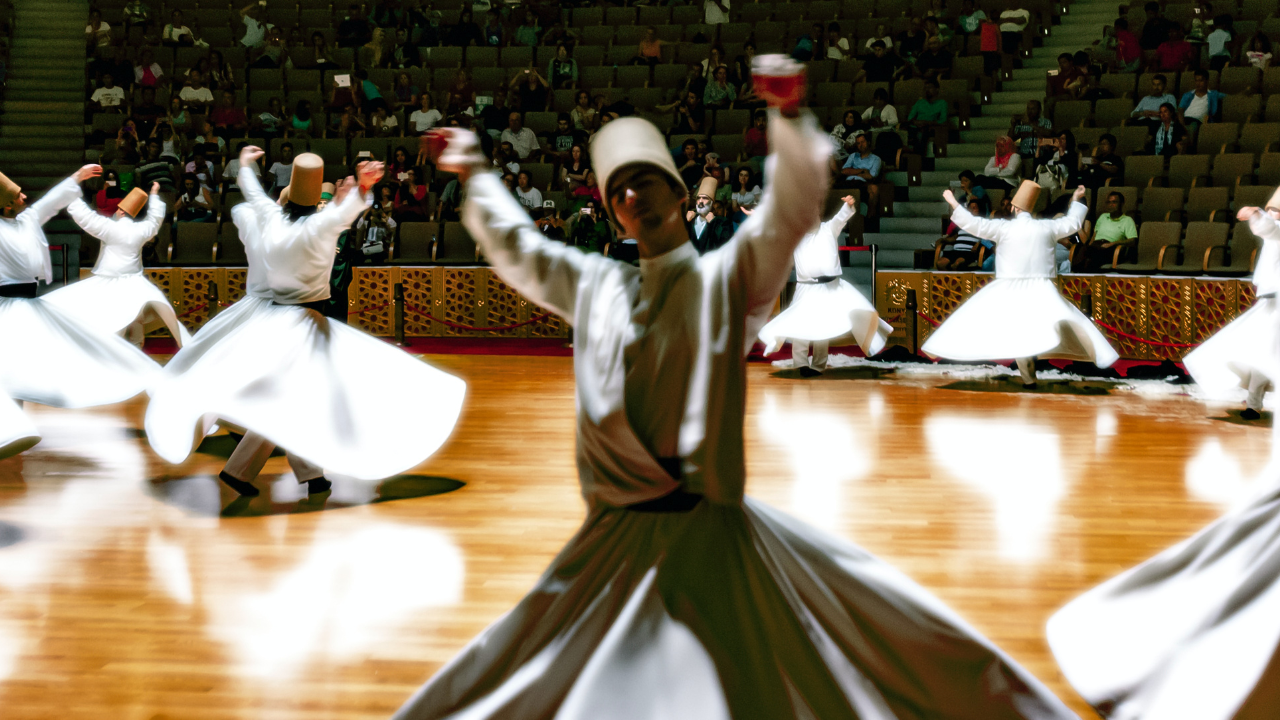 Day 3: Topkapi Palace and Day Cruise Over the Bosphorus
Begin the day with a guided tour to the Topkapi Palace Museum in Istanbul which served as the administration center and home to the Ottoman Sultan in the 15th Century. A UNESCO World Heritage Site, it is rated as among the best places to visit in Istanbul. The artwork, treasury and courtyards are sure to mesmerize you as you witness the royal depiction of the country's glory.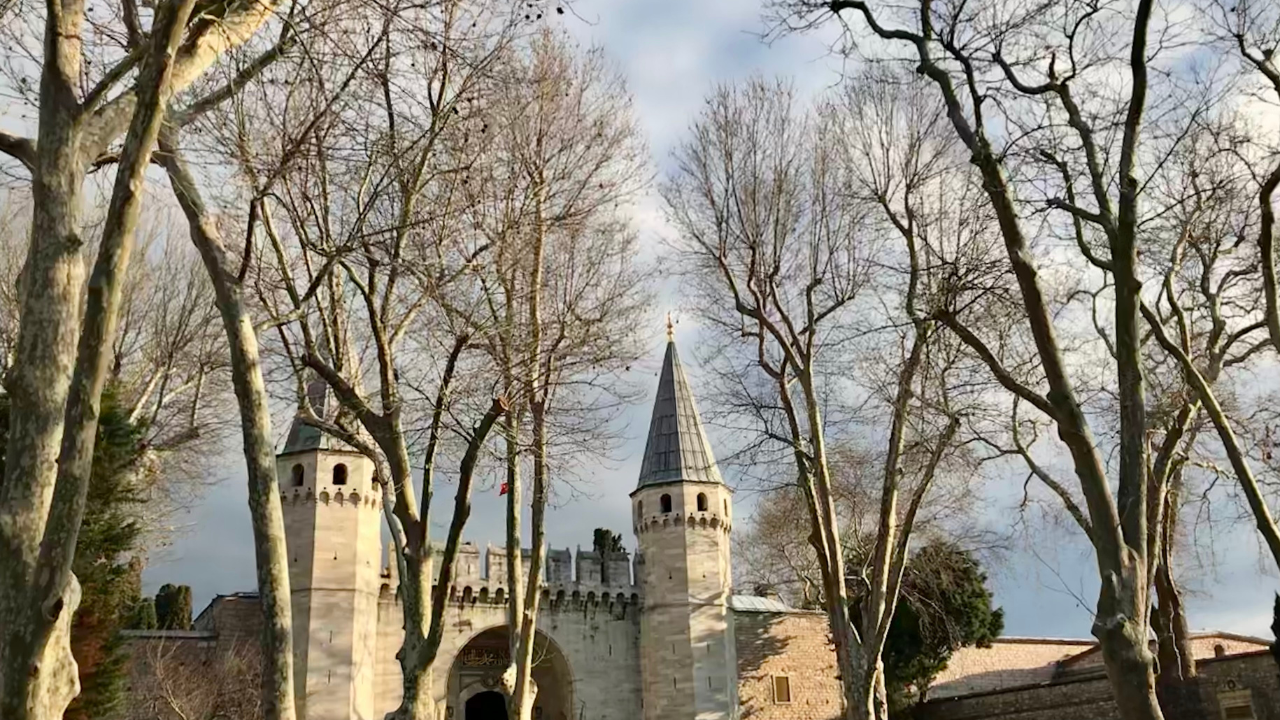 Your next experience should be a day cruise along the Bosphorus with a stopover on the Asian Side of the city. Pass under the two suspended Bosphorus bridges that connect Europe and Asia and admire the thick walls of the medieval Rumeli Fortress. Sail past the historic monuments of Galata Tower and Dolmabahçe Palace. Stopover on the Asian side and explore Kanlica, a district that stands in defiance of time.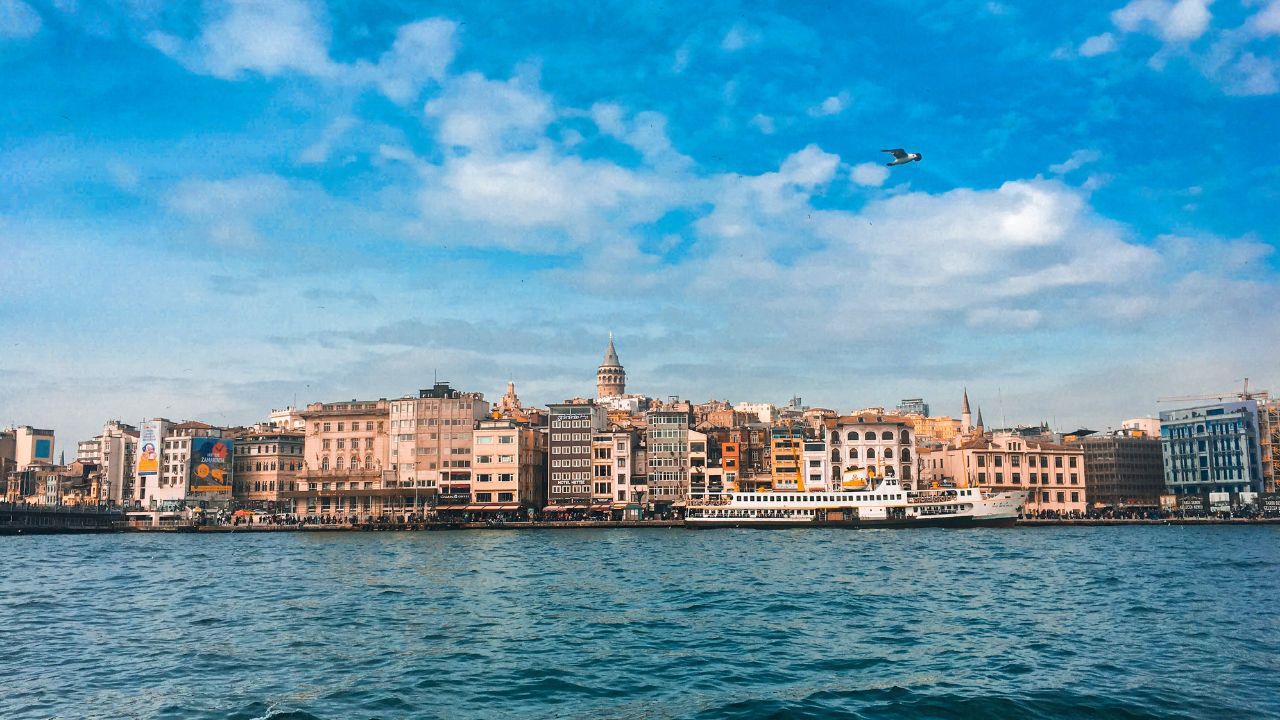 Day 4: Istiklal Street and Travel to Kusadasi
This is a day to stroll along the Istiklal Street in Istanbul. Istiklal Street is famous for being one of the most popular and busiest pedestrian streets in Istanbul, Turkey. It is located in the heart of the city and stretches for about 1.4 kilometers, from Taksim Square in the north to Galata Tower in the south.
The street is known for its lively atmosphere, lined with a variety of shops, cafes, restaurants, cinemas, theaters, and historical buildings. It offers a unique blend of the old and new, with modern shopping centers coexisting with traditional markets, and historic buildings standing alongside contemporary architecture. Bustling with cafes, restaurants, shops, live music, it shows the vibrant and modern face of Istanbul. The vibe of the street is amazing and this is a must-see side of Istanbul.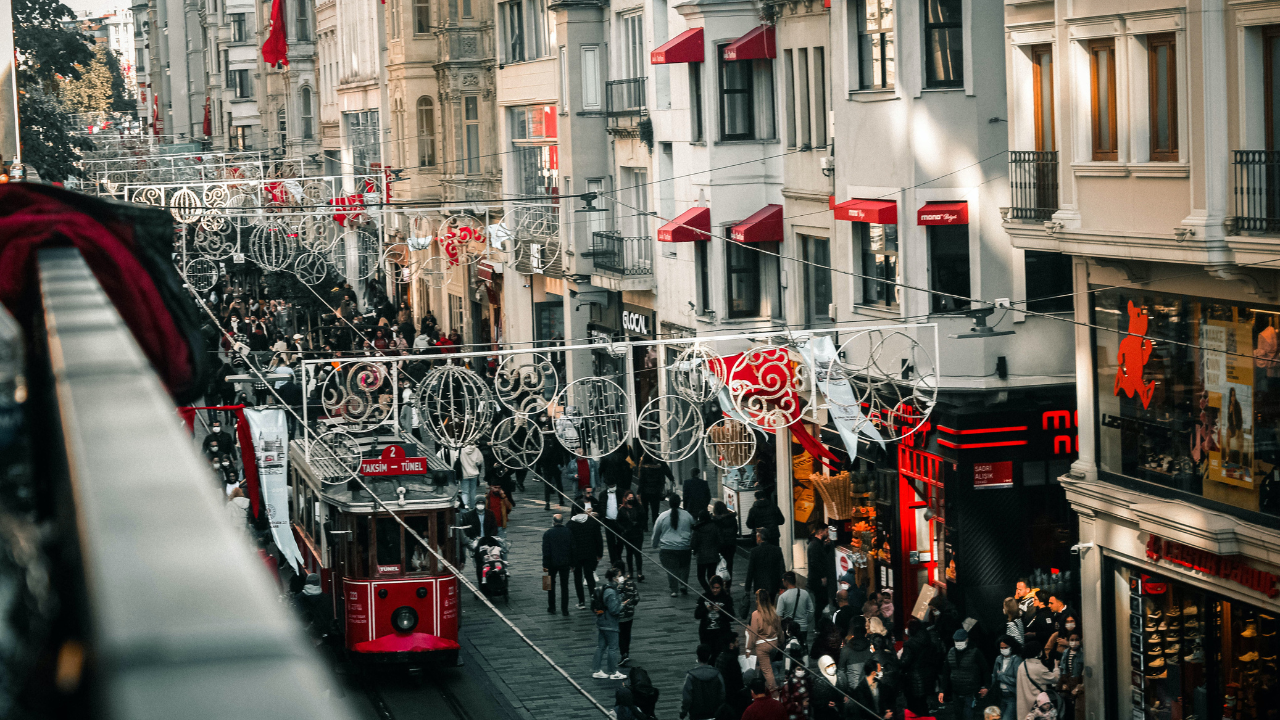 Spend half the day walking along Istiklal street. On the same day, take an evening flight to Izmir.
Upon landing, drive down to Kusadasi (takes 1.5 hours) as your base for the next two nights. Kusadasi is a beach town on the Western coast of Turkey. You can enjoy a walk along its seafront promenade, if time permits. Book your stay in the Ilayda Avantgarde Hotel in Kusadasi. It offers great-value accommodation, and is close to the beach in the heart of the city. It offers views overlooking the Aegean Sea and the Kuşadası Marina.
Day 5: Pamukkale-Hierapolis Tour
Pamukkale is famous for its unique and beautiful natural landscape, which features terraced pools of bright white mineral deposits cascading down a steep hillside. The name "Pamukkale" translates to "cotton castle" in Turkish, and the name perfectly describes the soft, white appearance of the natural limestone terraces that make up the landscape.
These terraces were formed over thousands of years by the natural flow of mineral-rich hot springs that are found in the area, today known for its therapeutic qualities. As the hot water flowed over the limestone, it deposited calcium carbonate, which slowly built up to form the terraced pools.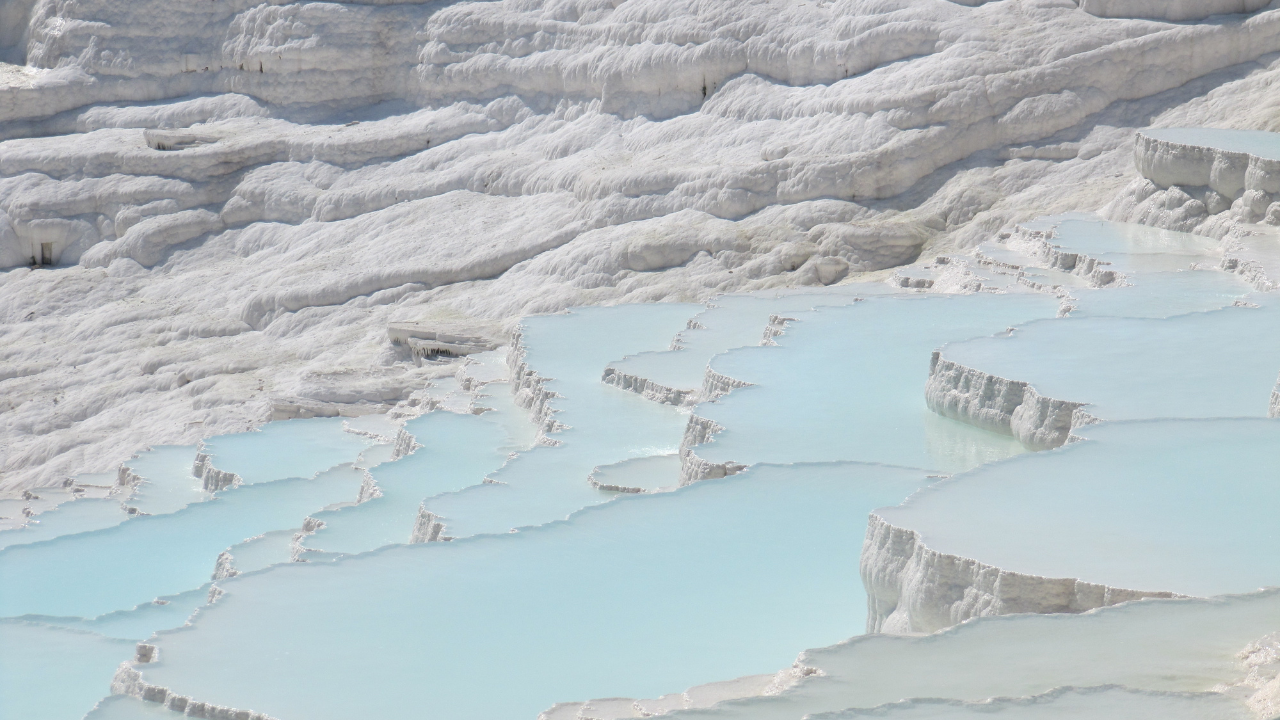 After you dip your feet in the exotic pools of Pamukkale, check out the ruins of Hierapolis, part of the UNESCO World Heritage Site of Hierapolis-Pamukkale. The ancient city of Hierapolis was built around the pools of Pamukkale in the 2nd century BC. The city also had a number of other notable features, such as a large theater, a necropolis, and a number of temples and other religious structures, the ruins of which you will get to witness.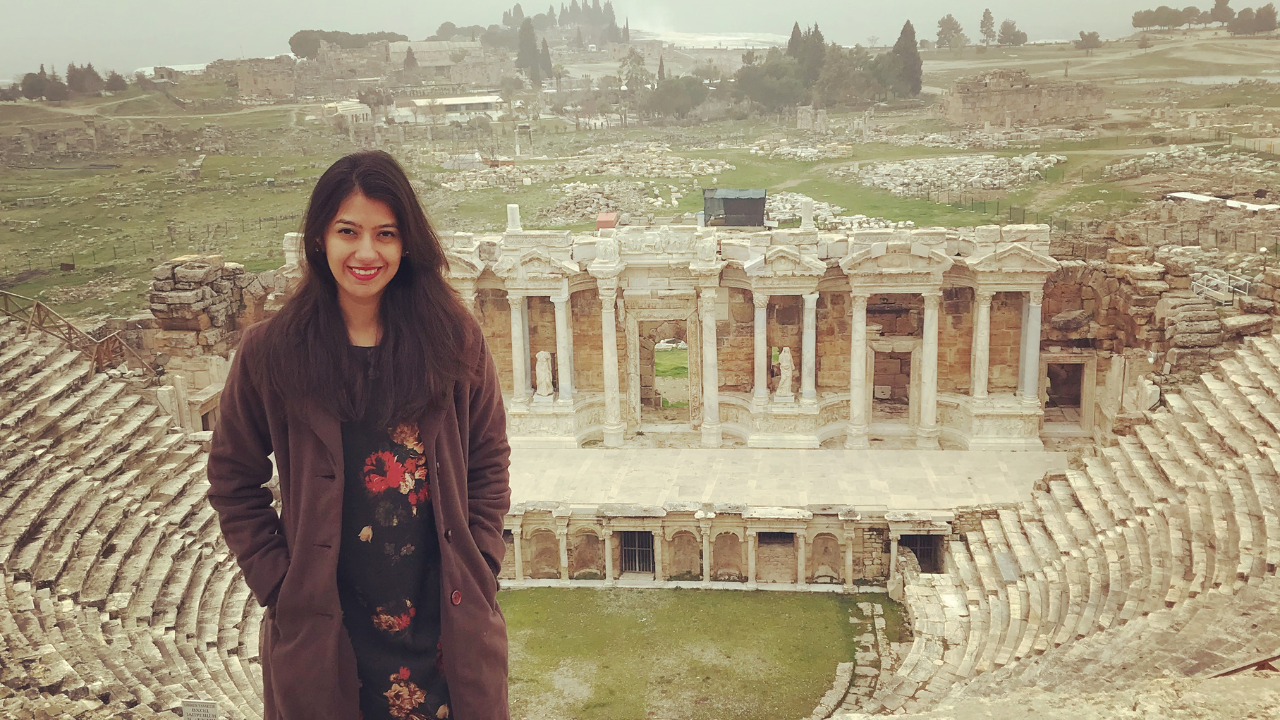 This place is a 2.5-hour drive from Kusadasi. It's best to book a day tour that will pick you up from your hotel and drop you off, as well as avoid making you stand in queues to get in. Remember to carry your swimwear if you want to dip more than your feet in the pools.
Day 6: Ephesus Tour and Flight to Cappadocia
Ephesus was an ancient Greek city founded in the 10th century BC which became one of the most important cities of the ancient world, renowned for its great wealth, culture, and architecture. One of the Seven Wonders of the Ancient World, The Temple of Artemis, is located in Ephesus. The temple was dedicated to the Greek goddess Artemis, and it was a massive structure that was rebuilt several times over the centuries. Along with this, visit The House of Virgin Mary, which is considered a holy place for both Christians and Muslims alike. This is the official site recognized by the Vatican as the residence where the Virgin Mary spent her final days. Experience a tranquil atmosphere here for prayer and meditation.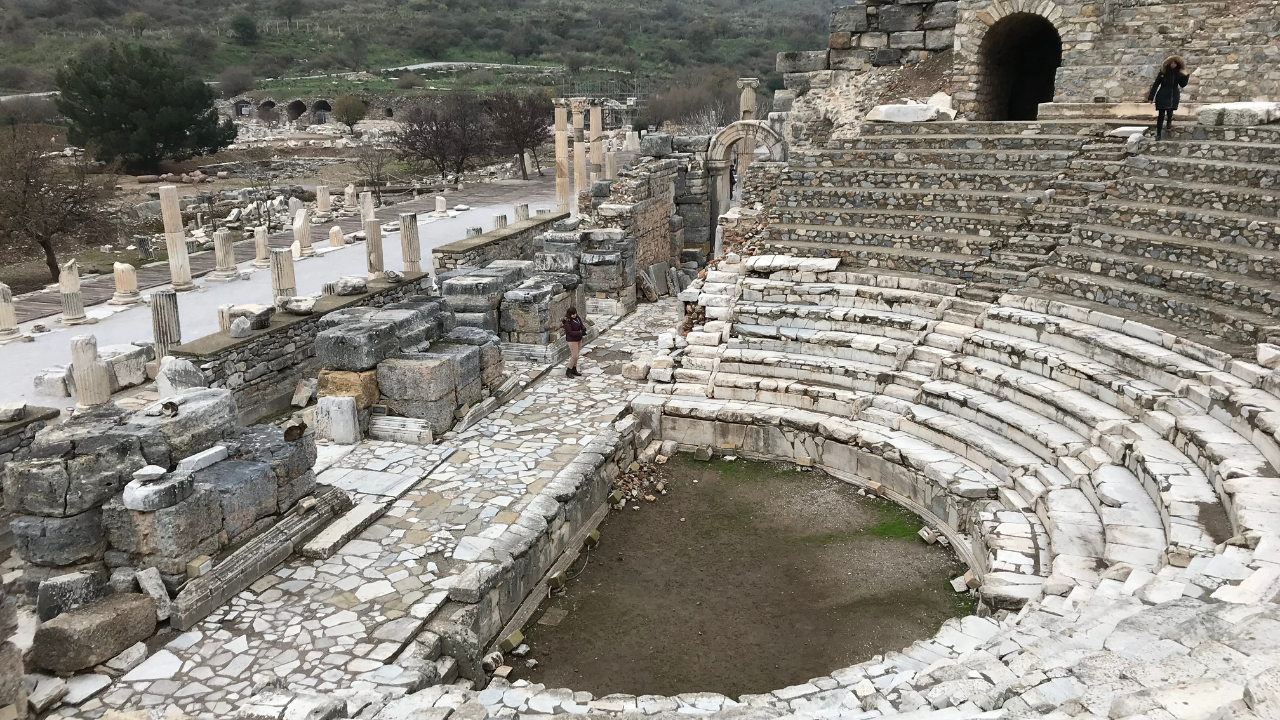 Book the 5-hour day trip for the tour of Ephesus and take a late evening flight from Izmir to Cappadocia.
Day 7: Cappadocia North Tour
Cappadocia is among the most dreamy destinations I've visited in my life! I say this after having travelled to many countries across Asia and Europe. It is famous for its unique landscape, with tall, cone-shaped rock formations popularly known as fairy chimneys. These were formed over millions of years from the erosion of soft volcanic rock in the area. Many of them have been hollowed out and used as houses, churches, and even hotels, some even making underground cities.
Cappadocia is one of the best places in the world for hot air ballooning, thanks to its unique landscape providing breath-taking views of the fairy chimneys. It is also a great place to enjoy hiking.
Stay in a cave hotel in Cappadocia for the best experience. Dere Suites Cappadocia is an excellent place to stay, with cave rooms, authentic interiors and modern amenities.
Wake up early on your first day at Cappadocia for your Sunrise Balloon Flight Tour. Glide above the fairy chimneys and enjoy panoramic views of the unique architecture with a glass of champagne. The weather can play notorious and lead to cancellation of balloon rides, so match your dates with fair weather prediction as much as possible.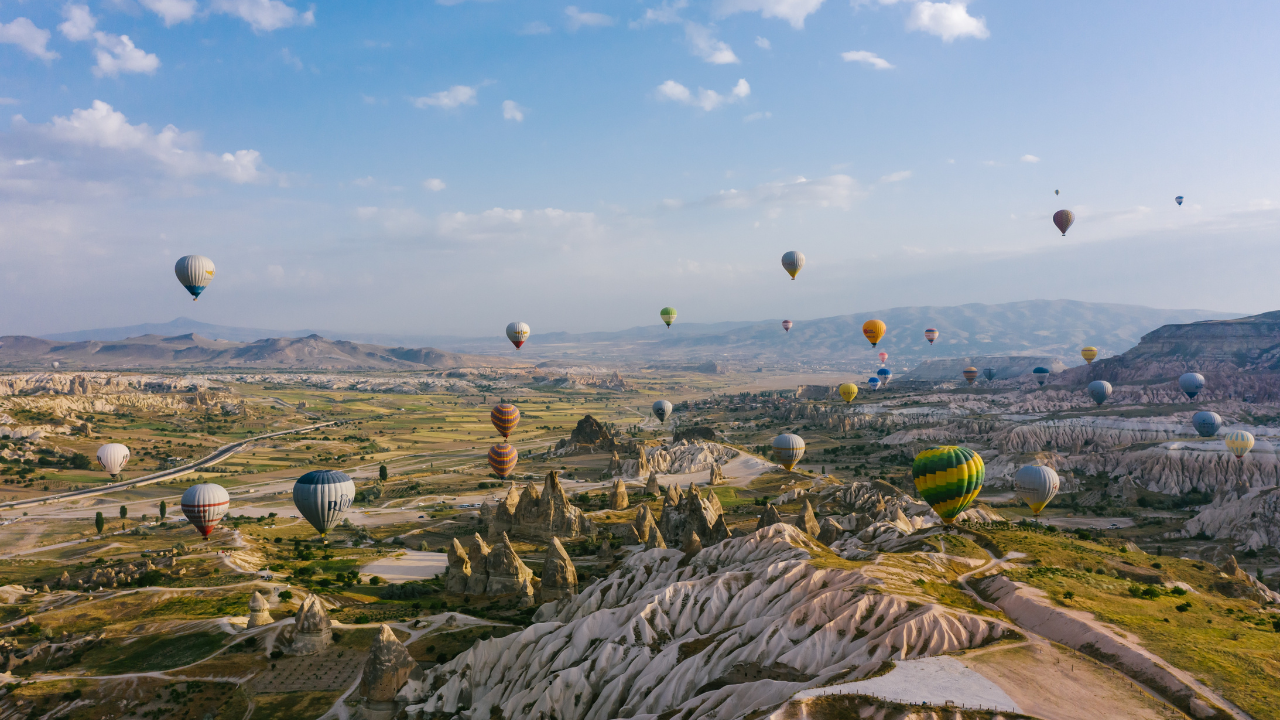 You may be blown over already, but there's more. This is just the start, Cappadocia is a beautifully unique place on earth, and is much more than the balloon ride it is wildly famous for.
After breakfast at the hotel proceed to see the northern region on a day tour. Check out the stunning Dervent Valley and explore the Avanos center of art and its charming old town made of cobbled streets. The Open Air Museum in Goreme is one of my favorite places in Cappadocia, with houses, churches, and monasteries inside the rock formations. Lastly, visit the Uchisar Rock Castle, and enjoy spectacular panoramic views of the valleys of Cappadocia.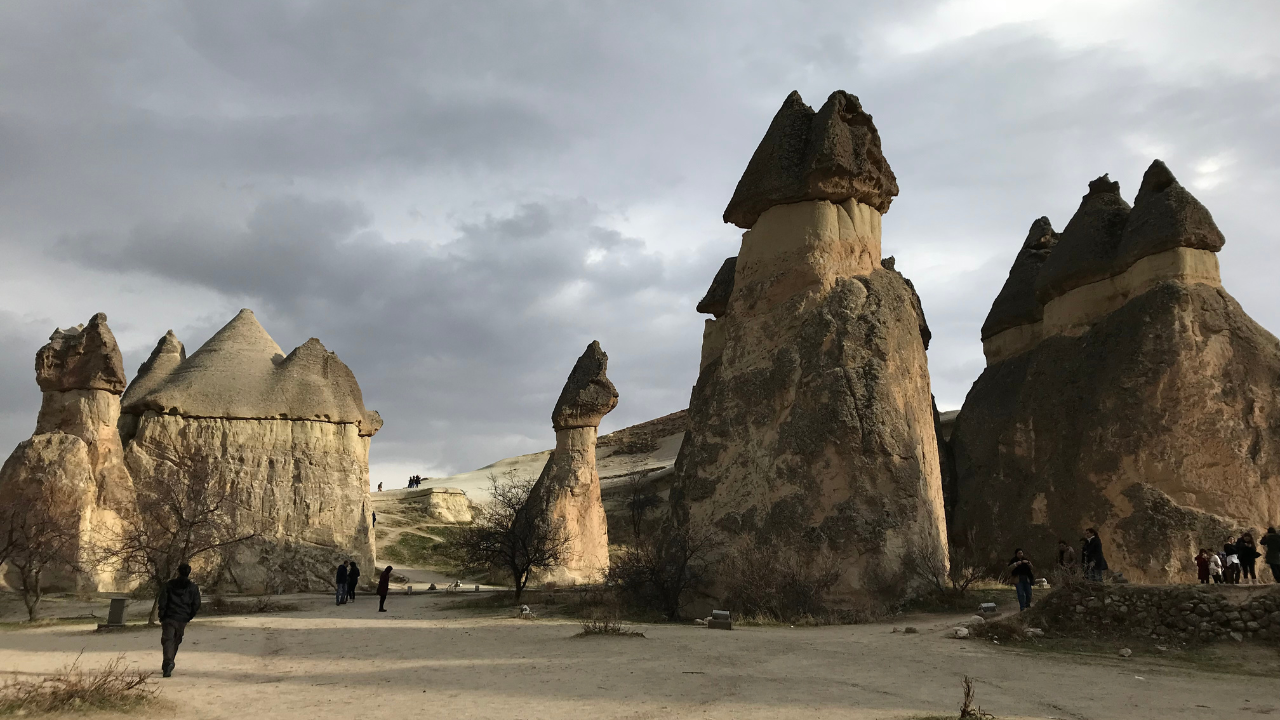 Day 8: Cappadocia South Tour
Your next day at Cappadocia should be spent exploring the Southern Side of the region. Visit the rock cut houses of the Red Valley and Gulludere Valley, visit the panoramic Pigeon Valley where pigeons contributed to the lives of locals with their manure to fertilize the vineyards, and discover the network of subterranean tunnels at Ozkonak Underground City.
If time permits, do go for a trek in Rose Valley. I visited Turkey in December and went for snow trek along the beautiful Rose Valley, stopping every minute to gasp at the wonderful views the valley so graciously offered. Cappadocia is famous for its home-grown wine so make sure you get a taste before leaving.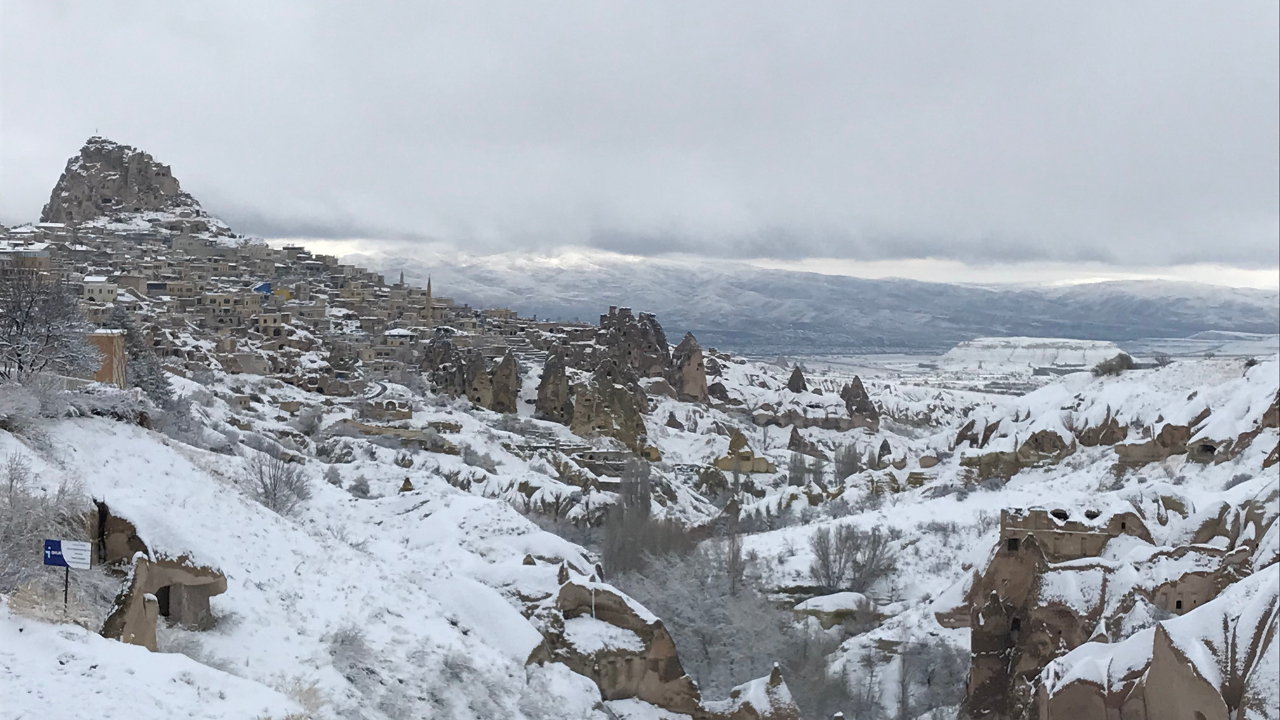 Day 9: Flight to Istanbul and Hammam Experience
Take a flight from Cappadocia to Istanbul a day prior to your final departure date, in order to avoid any hassles due to the domestic flight delay/cancellation. The best way to wind up your Turkish Holiday would be to relax by experiencing the Hammam – a Turkish body scrubbing, washing and massage experience. For the best Hammam experience, go to the Haseki Hurrem Sultan Hammam, which dates back to the 16th century. It's located in the middle of the Blue Mosque and the Hagia Sophia Museum. Go ahead, pamper yourself on your last day in Turkey!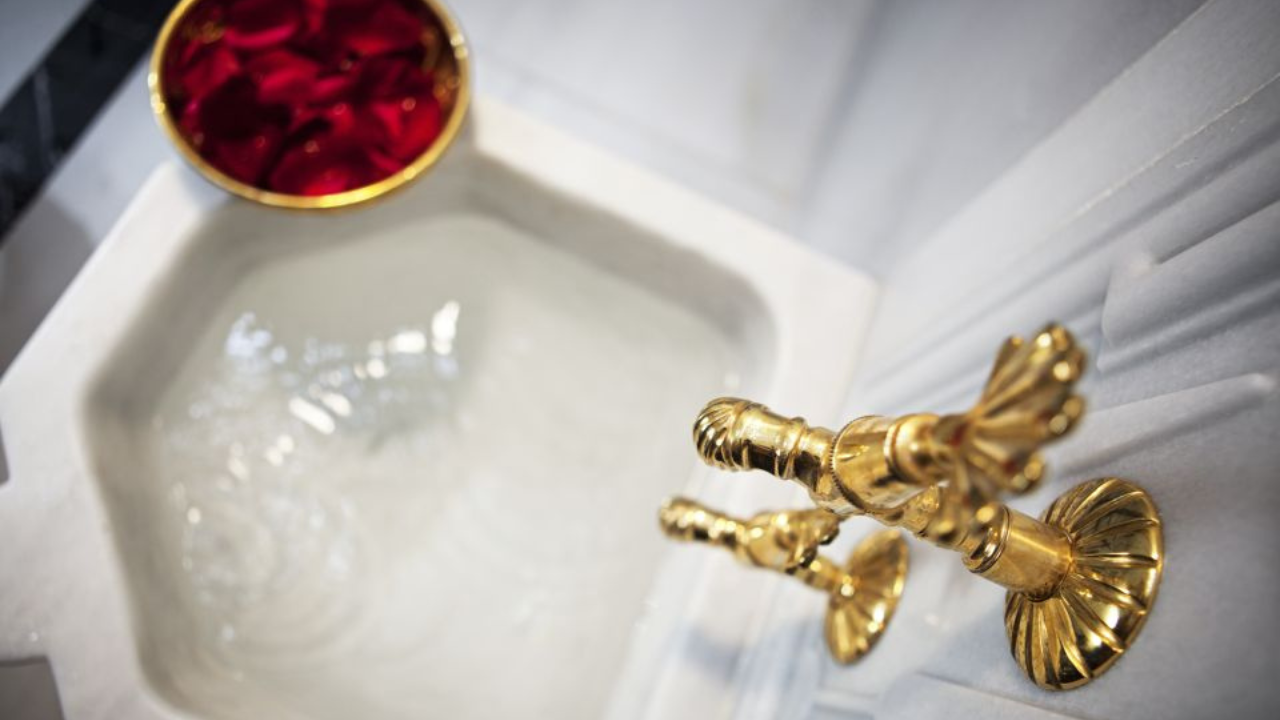 Follow the hammam with a brief visit to the 17th century Spice Bazaar, one of Istanbul's most colorful, bustling attractions. It remains open every day till 7 pm. Book your stay in the same hotel – Lalahan Hotel – for tonight.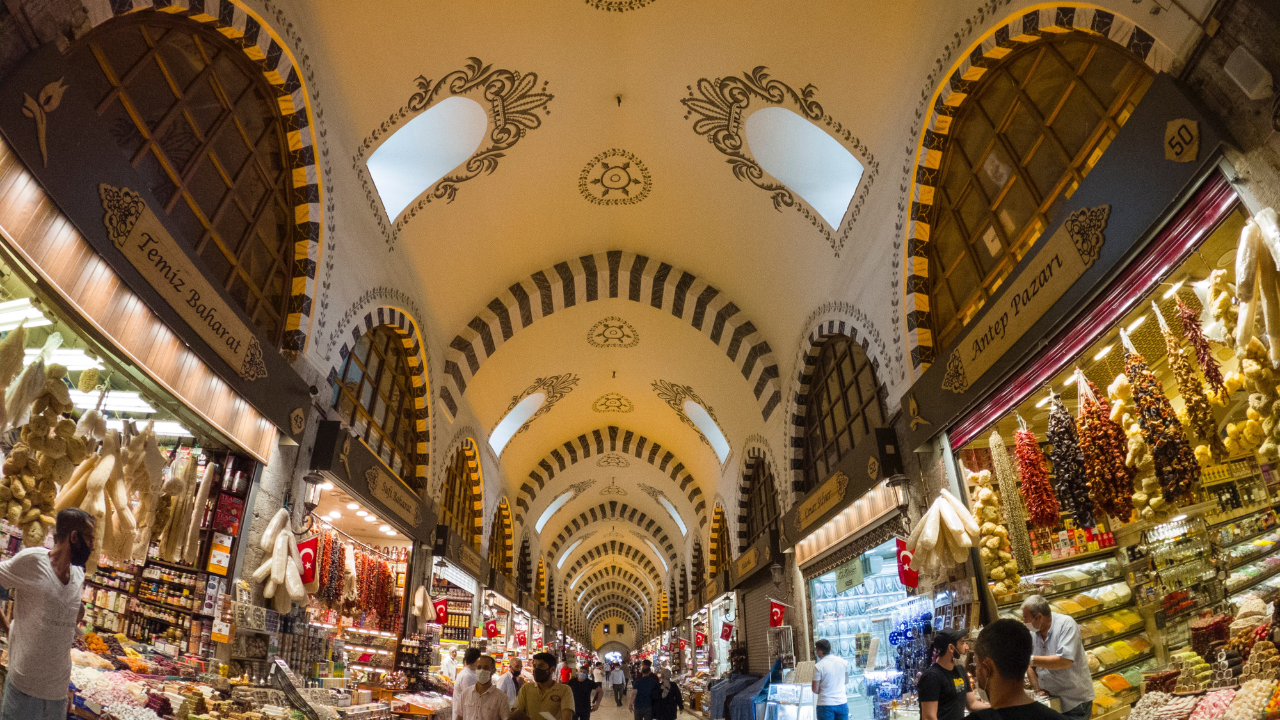 Day 10: Depart Back Home
With a heartful of memories and unforgettable experiences, depart back home with a huge smile on your face!
So that's the best 10-day Turkey Itinerary for you to emulate. Here's some more useful information for when you plan your trip to Turkey.
Local Food
Turkey is known for its delicious and diverse cuisine, influenced by its history and cultural heritage. Some traditional Turkish foods you MUST try when visiting:
Kebabs: Turkish kebabs are a must-try. You can find different types, such as shish kebab (grilled meat on a skewer), adana kebab (spicy minced meat), and doner kebab (slow-cooked meat on a rotating spit).
Baklava: This sweet pastry is made with layers of phyllo dough, nuts, and syrup or honey. It's often served with a cup of Turkish tea or coffee. I strongly suggest you pick some up to share with your friends and family back home!
Turkish Delight: This soft, chewy candy is made with sugar, starch, and flavorings like rosewater or pistachios. It comes in different colors and flavors and is a popular souvenir to take home.
Turkish Coffee: Turkish coffee is a traditional way of preparing coffee using finely ground coffee beans that are brewed with very little water, which results in a concentrated coffee with a thick and frothy layer on top. I had never enjoyed black coffee until I tried Turkish Coffee. Till date, it remains the best coffee I've sipped in my life.
Apple Tea: Even if you're not an avid tea drinker, I yet recommend you sip the hot apple tea in the traditional pear-shaped tea cups. It's an experience in itself!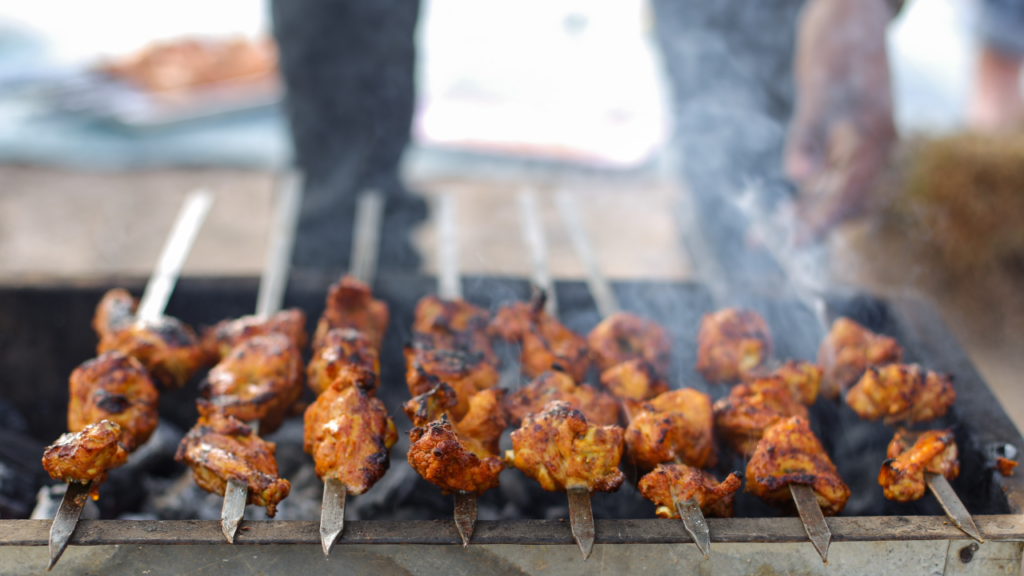 Local Transportation
For transport to airports or hotels, taxis are easily available in Turkey. Please agree on a price before stepping in, to avoid any chances of getting conned. Uber operates in Istanbul and Izmir. The local ride-calling app – BiTaksi – is a great option.
The metro is a good option for local commute on your days in Istanbul.
Currency
The currency in Turkey is the Turkish Lira. ATMs are widely available in major cities and tourist areas. Withdraw Liras from your debit/travel cards.
Visa
You need a visa and a passport with an expiration date at least 60 days beyond your duration of stay. Check out the official guidelines and apply here: https://www.evisa.gov.tr/en/
Language
Turkish is the most widely spoken language in Turkey. English is not widely spoken, so download the Turkish language on Google Translate on your phone for easy communication.
Mobile Network Operators
Turkcell, Vodafone and Turk Telekom are the three main telco operators in Turkey, each providing 4G high-speed internet services. The best and largest operator is Turkcell. You could consider buying a local sim card if that works out cheaper than international roaming with your service provider. Buy a sim from a local shop in Istanbul, as the ones at the airport are likely to be most expensive.
Travel Adaptor
Plug types C and F work in Turkey. Plug type C has two round pins and plug type F has two round pins with two earth clips on the side. Turkey operates on a 230V supply voltage and 50Hz. It is best to carry a universal travel adaptor to avoid any hassles or confusion.
Turkey has so much to offer to a traveler. The history, the culture, the architecture, the food, fairy chimneys, ancient cities, and the ocean. The list seems endless. It is a gem of a destination and a must-visit at least once in your lifetime. It is a trip I hold very dearly in my heart, and I am sure you will too.
Ready to be charmed by Turkey? Book your flights in advance to avail better rates.
Visit our destinations page for more such detailed travel guides on countries worth visiting.
Read Our Latest Travel Guides on Turkey
FAQs:
Is it safe to visit Turkey after the earthquake?
Turkey is open to tourism post the earthquake in early 2023 and is absolutely safe to visit.
How many days is enough to see Turkey?
10 days is sufficient to visit Turkey.
Which places in Turkey are worth visiting?
Istanbul, Hierapolis-Pamukkale, Ephesus and Cappadocia are the must-visit places in Turkey.
Is Antalya worth visiting?
Antalya is known for its beaches along the Mediterranean coast. However, given the number of unique places in Turkey that hold more priority, Antalya can be avoided. If you have more than 10 days to spare in Turkey, you can add an additional 2 days in Antalya. Keep in mind flight connectivity can be a problem so you may have to drive a fair bit to reach Antalya. I'd recommend limiting your trip to other places like Istanbul, Cappadocia and Hierapolis.