Planning a trip to Turkey? In this article, we'll walk you through where to stay in Istanbul, the best areas and hand-picked hotels in all of the city. We will also cover areas to avoid staying in Istanbul.
Istanbul, the vibrant city that straddles two continents, is a fascinating blend of East and West. With its rich history, stunning architecture, and bustling markets, it's no wonder that millions of travelers flock to this enchanting city every year. As you plan your trip to Istanbul, one of the most important decisions you'll make is choosing where to stay.
Our goal at Wander Smartly is to make your travels smarter and help you have the best experience on your trips. From my own experience of visiting Istanbul, I spill the beans on the best places to stay in the city.
Where to Stay in Istanbul
Here are the best areas to stay in Istanbul, with our selection of the best hotels in these areas.
1. Sultanahmet, Fatih District: Historical Old City
Sultanahmet is the historic heart of Istanbul and home to some of the city's most iconic landmarks, including the Hagia Sophia, Blue Mosque, Basilica Cistern and Topkapi Palace. Staying in Sultanahmet puts you within walking distance of these architectural marvels, allowing you to soak in the city's history at every turn.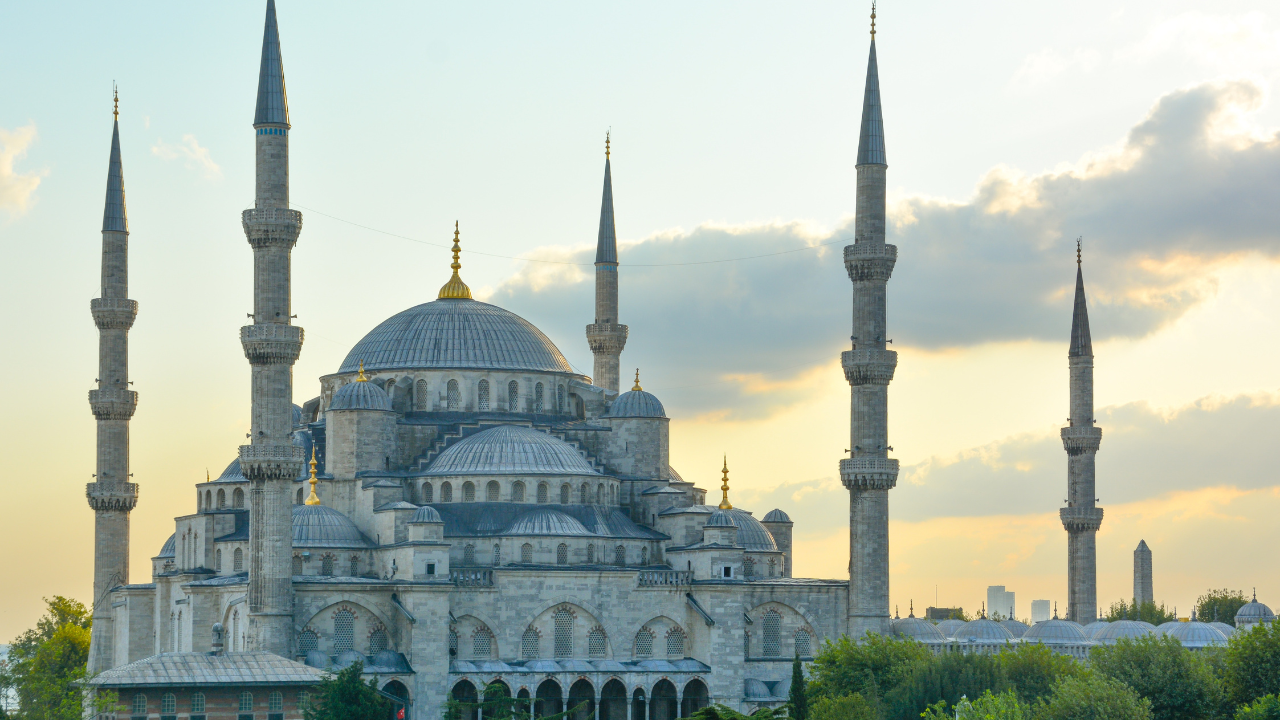 It is located on the European side of the city and is also known as the "Old City" or the "Historic Peninsula" due to its rich historical significance. Beyond the famous landmarks, Sultanahmet also offers a wealth of cultural and historical experiences at the Hippodrome Square, world-famous Grand Bazaar and the Turkish and Islamic Arts Museum.
One of the greatest advantages of staying in Sultanahmet is its walkability. Most of the major attractions in the area are within walking distance of each other, allowing you to explore the neighborhood on foot. Additionally, Sultanahmet is well-connected by public transportation, making it convenient to reach other parts of Istanbul.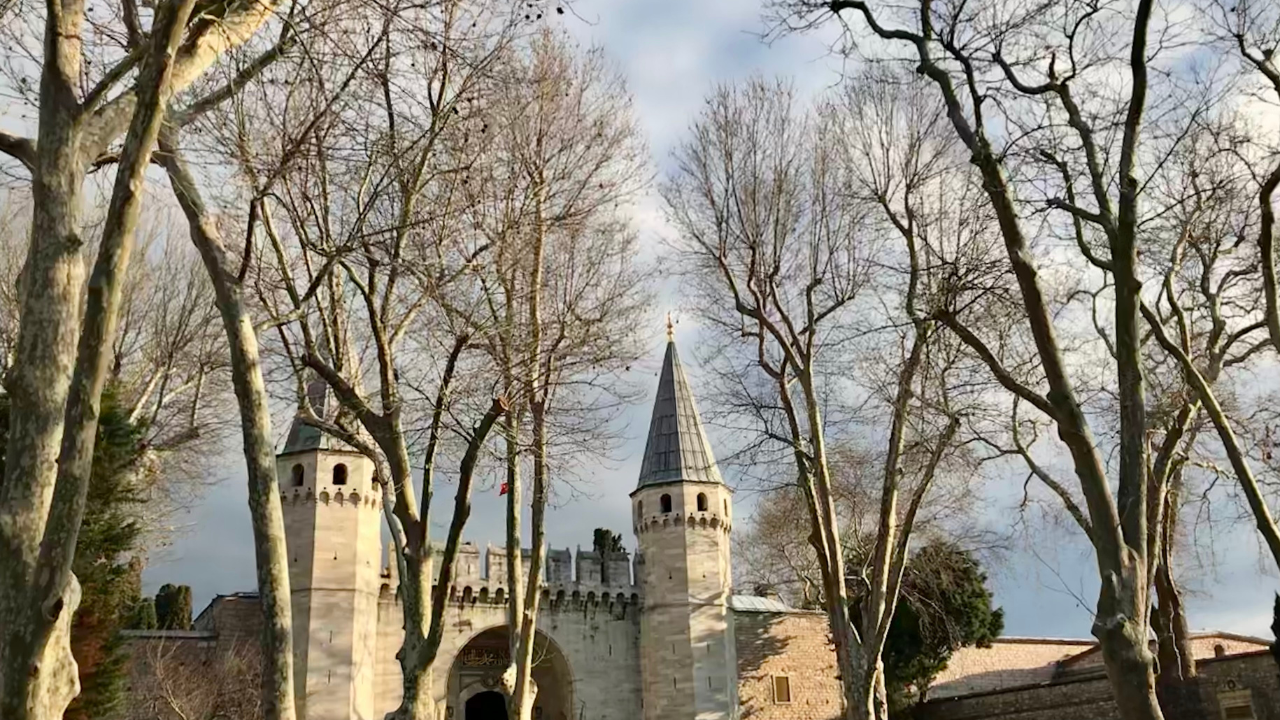 Sultanahmet offers an abundance of culinary delights, allowing you to indulge in authentic Turkish cuisine. From traditional kebabs to mouthwatering mezes, you'll find numerous restaurants and cafes serving delicious food. Don't miss the opportunity to try iconic dishes like Turkish delight, baklava, and Turkish tea or coffee.
Sultanahmet provides a wide range of accommodation options to suit different budgets and preferences. From our research and experience, we'd highly recommend Lalahan Hotel as a great choice of stay in Sultanahmet in Istanbul. It is great value for your money and has the major historical attractions of the city within walking distance. The metro station is also at close proximity. It has all the amenities of a modern hotel and offers a great breakfast spread.
Another area you could consider to stay in within the Fatih District is Sirkeci. It is a historic neighborhood near the Golden Horn. It has a rich historical significance as the terminus of the famous Orient Express train. Sirkeci is renowned for its charming streets, traditional Ottoman-style buildings, and proximity to major attractions such as the Topkapi Palace and the Spice Bazaar.
Wander Smartly Tip: We'd recommend Sultanahmet as the best area to stay in Istanbul as it greatly eases your sightseeing and experience with the city.
2. Beyoglu – Istiklal/Taksim/Karakoy: Urban Energy and Vibrant Nightlife
For those seeking a more contemporary and vibrant atmosphere, Beyoglu is the place to be. Located on the European side of Istanbul, this neighborhood is known for its bustling streets, trendy boutiques, art galleries, and lively nightlife.
At the heart of Beyoglu is Istiklal Avenue, a bustling pedestrian street that stretches for about 1.4 kilometers. This vibrant avenue is lined with an eclectic mix of shops, boutiques, cafes, restaurants, theaters, and art galleries. It is a hub of activity day and night, drawing locals and tourists alike. Istiklal Avenue is known for its diverse architectural styles, including Neo-Classical, Art Nouveau, and Art Deco buildings, adding to its charm.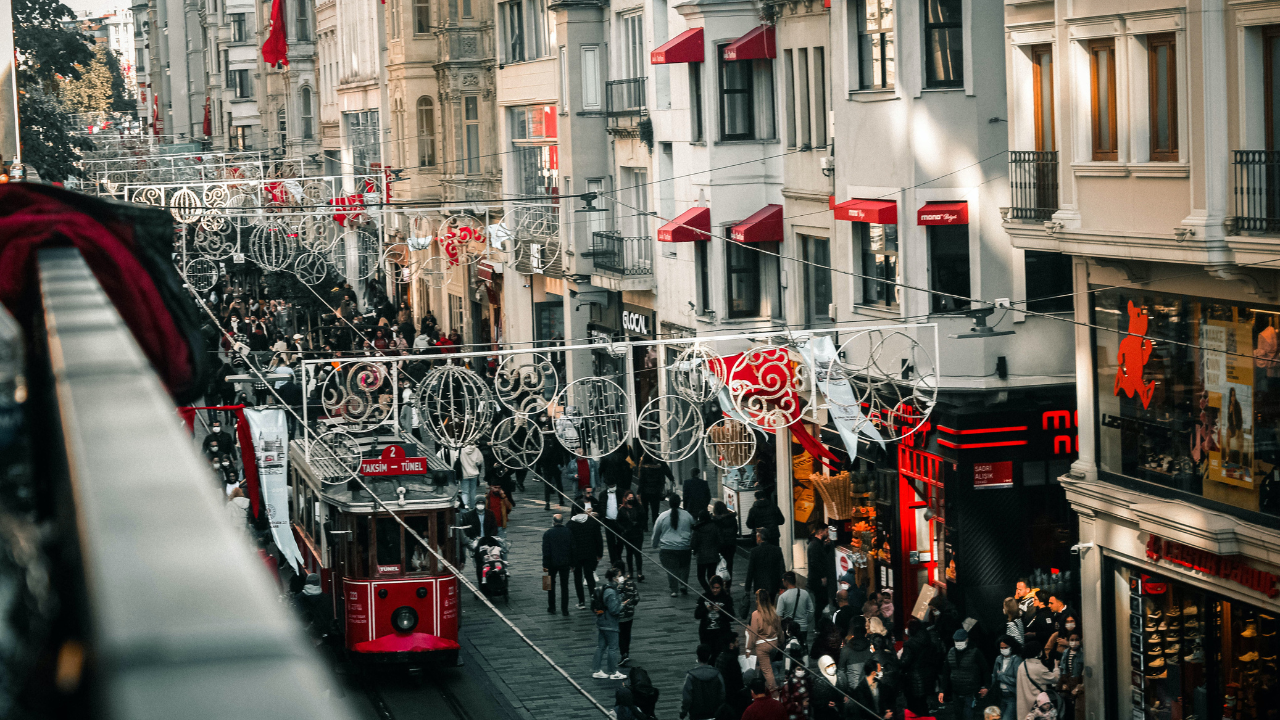 Taksim Square, situated at the northern end of Istiklal Avenue, is the central gathering point in Istanbul. It is a significant transportation hub and a popular meeting place. Taksim Square has witnessed many historical events and serves as a venue for celebrations, demonstrations, and cultural events. From Taksim Square, you can explore nearby attractions or hop on a tram to reach other parts of the city.
Cihangir is a trendy and bohemian neighborhood situated near Taksim Square. Known for its artistic vibe and vibrant streets, Cihangir is a popular choice among artists, intellectuals, and expats. The area offers a wide range of cafes, restaurants, and boutique shops, as well as an active nightlife scene. Staying in Cihangir provides a lively atmosphere and easy access to the cultural offerings of Taksim and Istiklal Avenue.
In the same vicinity, Karakoy is a trendy neighborhood filled with stylish cafes, art galleries, and design shops. It is known for its iconic Galata Tower and its proximity to the lively Galata Bridge. Karakoy is a good choice if you're seeking a hip and artistic atmosphere.
Beyoglu offers a diverse culinary scene, catering to all tastes and budgets. From traditional Turkish street food to international cuisine, you'll find a wide range of dining options in the area. This side of Istanbul is known for its energetic nightlife, with numerous bars, clubs, and live music venues.
Beyoglu offers a lively and cosmopolitan atmosphere, making it an excellent choice if you're seeking a blend of culture and urban energy. If you're interested in shopping, exploring art galleries, or enjoying a vibrant nightlife, Beyoglu is the best place for you to stay in Istanbul.
Walton Hotels Galata in Beyoglu is an excellent place to stay. Just 200 metres from the Galata Tower, it is situated in a great location with the Taksim Square just 500 metres away and the Spice Bazaar only at a kilometre's distance. The breakfast served here is fabulous and the hotel has a rooftop bar with views of the iconic landmarks in the city. You will find many restaurants, bars and cafes at close proximity to the hotel.
3. Besiktas: Stunning Seaside Views
Besiktas is a dynamic and vibrant district located on the European side of Istanbul, situated between the Bosphorus and the hills of Istanbul. It offers a unique blend of historical sites, bustling markets, and a lively atmosphere, and what it makes most special is its picturesque waterfront views.
The district's location along the waterfront offers breathtaking vistas of the iconic Bosphorus Strait, connecting Europe and Asia. You can take leisurely strolls along the seaside promenade or enjoy a Bosphorus cruise to admire the magnificent views of the waterfront mansions, historic landmarks, and bustling maritime activity.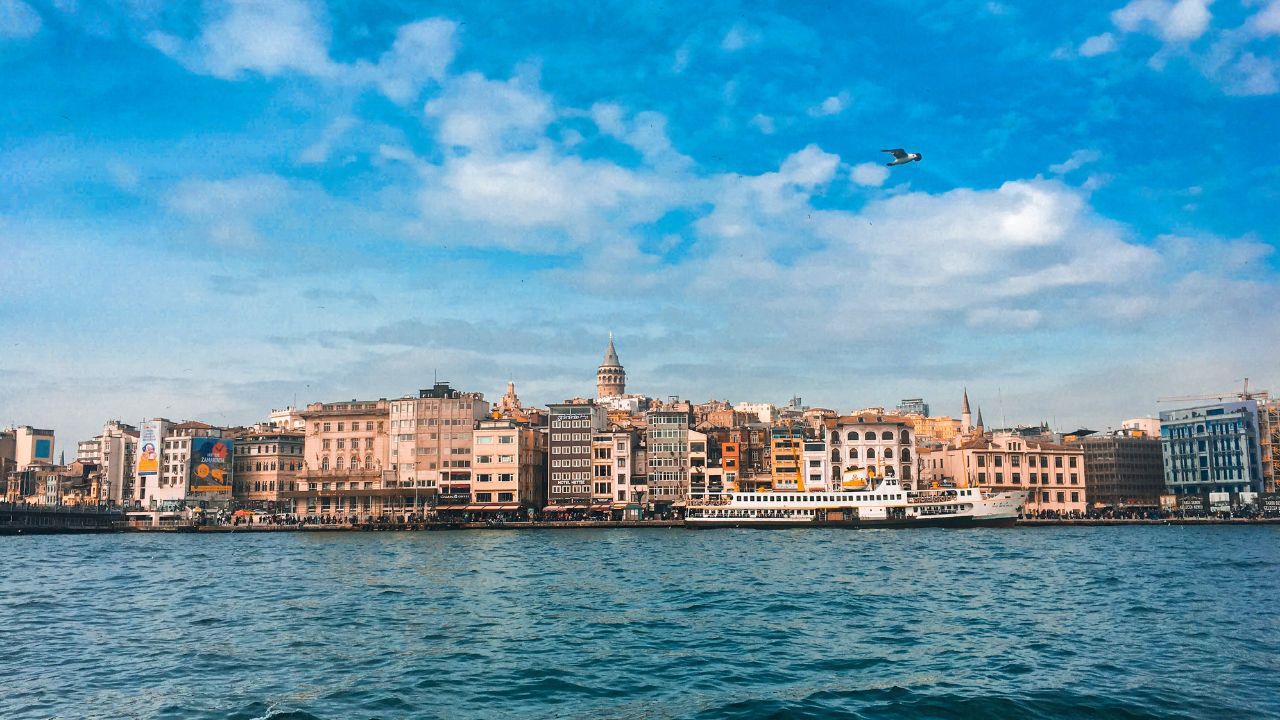 One of the most popular areas within Besiktas is Ortakoy. Known for its charming waterfront promenade, and its iconic Ortakoy Mosque, the area is famous for its lively atmosphere, street food vendors, and quaint cafes.
Besiktas is home to the magnificent Dolmabahce Palace, one of Istanbul's most impressive architectural gems. A visit to Besiktas is incomplete without experiencing its bustling fish market. Besiktas boasts an array of shopping options, from modern shopping malls to trendy boutiques and local markets. The district is also known for its vibrant nightlife, with numerous bars, clubs, and live music venues offering entertainment for every taste.
Besiktas is also famous for its passionate sports culture. The Vodafone Park Stadium, located in the heart of the district, is home to the Besiktas football team. Additionally, Besiktas is host to several cultural events and festivals, such as the Besiktas Culture and Arts Festival, which showcases a variety of artistic performances, exhibitions, and activities.
Renaissance Istanbul Polat Bosphorus Hotel is a brilliant place to stay in Besiktas. It will provide you with great value for your money by offering a luxurious stay at a relatively reasonable price. Try and book a room with the view of the Bosphorus, to really enjoy your stay in the Besiktas area.
4. Princes' Islands: Peaceful Retreat
The Princes' Islands, also known as Adalar in Turkish, are a group of nine islands located in the Sea of Marmara, near the coast of Istanbul. These islands offer a tranquil retreat from the bustling city, with their picturesque landscapes, charming streets, and a serene atmosphere.
Büyükada is the largest and most popular of the Princes' Islands. It is known for its laid-back ambiance, beautiful Victorian-era mansions, and lush greenery. The island is entirely car-free, allowing you to explore its charming streets by foot, bicycle, or horse-drawn carriage (known as phaeton). Büyükada offers a variety of activities, including swimming at sandy beaches, hiking through pine forests, and enjoying panoramic views from its hilltops.
To reach the Princes' Islands, you can take regular ferry services from Istanbul's Kabatas or Bostancı districts. The ferry ride itself offers beautiful views of the city skyline and the sea. If you're looking to escape the city's hustle and bustle and enjoy nature, the Princes' Islands provide a peaceful and idyllic getaway just a short distance from Istanbul.
Ada Palas Buyukada is a wonderful place to stay in Büyükada. It's pretty and picturesque, with tastefully done up rooms. Enjoy a coffee or a meal at the secret garden – its quite instagrammable! The beaches on the island are within walking distance of the hotel with the ferry port only 200m away. The service and hospitality of the hotel is rated to be excellent.
Places Not Worth Staying in Istanbul
1. Fener and Balat: Colorful Streets
Fener and Balat are two neighboring districts located on the European side of Istanbul, known for their rich history, colorful streets, and diverse cultural heritage. These areas offer a glimpse into Istanbul's past and are characterized by their well-preserved architecture, narrow cobblestone streets, and a vibrant community spirit.
They are historically significant neighborhoods, once inhabited by Greek, Armenian, and Jewish communities. The area is dotted with architectural gems, including churches, synagogues, and old Ottoman houses.
Both Fener and Balat are known for their vibrant and colorful houses. The narrow streets are lined with charming, pastel-colored wooden houses that create a picturesque and cheerful atmosphere. Walking through these neighborhoods feels like stepping back in time, as the architecture and layout have been preserved, providing a glimpse into Istanbul's past.
The neighborhood walls are adorned with vibrant murals, graffiti, and art installations, giving the area an artistic and bohemian vibe. You can explore the streets to discover hidden artistic gems and visit art galleries showcasing the works of local artists.
Do note that while visiting Fener or Balat provides an authentic and off-the-beaten-path experience in Istanbul, there aren't really any good places to stay in the area. We'd recommend you to pay a visit here if our description of Fener or Balat entices you, but you're better off staying in the areas in Istanbul we described earlier.
2. Kadikoy: Asian Side
Kadikoy is a vibrant district located on the Asian side of Istanbul, across the Bosphorus Strait from the historic city center. It is known for its lively atmosphere, rich cultural heritage, diverse culinary scene, and thriving arts and entertainment scene.
Kadikoy is rich in historical landmarks that reflect its diverse past. One prominent site is the Haydarpasa Train Station, an iconic railway terminal that serves as a gateway to Anatolia. Other notable landmarks include the Surp Takavor Armenian Church, the historical Bull Statue, and the Kadikoy Greek Orthodox Church.
One of the most popular neighborhoods within Kadikoy is Moda. Known for its bohemian and laid-back vibe, Moda offers a charming mix of tree-lined streets, historic buildings, and trendy cafe. Moda Park, located along the waterfront, is a beautiful green space where you can unwind and enjoy views of the sea.
Kadikoy is known for its thriving arts and cultural scene. You can explore contemporary art exhibitions, catch live music performances, or attend theater productions showcasing both local and international talent. Kadikoy also hosts various cultural festivals throughout the year, celebrating music, art, and theater.
If you desire, visiting Kadikoy can be a great way to explore the Asian side of Istanbul. We, however, do not recommend staying here as all other major attractions of the city are much further away. Staying on the Asian side isn't the smartest way to explore all of Istanbul. You're better off staying in any of the areas we described earlier in this article, but the Asian side is best restricted to a day's visit.
---
Istanbul offers a diverse range of neighborhoods and accommodation options to suit every traveler's preference. Whether you prefer to immerse yourself in the city's rich history in Sultanahmet, explore the trendy streets of Beyoglu, or experience the peaceful vibes of Princes' Islands, there is a lot to Istanbul that is sure to capture your heart.
As you plan your visit, consider the unique characteristics and attractions of each area to find the perfect place to stay and make your trip to Istanbul an unforgettable one.
See our article on How to Spend 4 Days in Istanbul that covers all the things you must experience in the charming city.
Check our detailed 10 Day Turkey Itinerary that takes you through the must-see places in the country, and guides you how best to visit them.
Drop a comment below to let us know your thoughts! Visit our destinations page for detailed travel guides on places worth visiting.
FAQs
What is the best part of Istanbul to stay in?
Sultanahmet, the historic heart of Istanbul and home to some of the city's most iconic landmarks, including the Hagia Sophia, Blue Mosque, Basilica Cistern and Topkapi Palace, is the best place to stay in all of Istanbul. Staying in Sultanahmet puts you within walking distance of these architectural marvels, allowing you to soak in the city's history at every turn.
Where should I stay in Istanbul first time?
Sultanahmet is the best place to stay in all of Istanbul, for a first-timer. Staying in Sultanahmet puts you within walking distance of the major attractions of the city, making your experience smooth and efficient.
How many days in Istanbul is enough?
4 days is sufficient to see all the must-visit places in Istanbul.