Planning to visit the beautiful city of Cape Town? This article talks about the most gorgeous landmarks in Cape Town that you must include in your itinerary.
Cape Town is a city that will captivate you with its stunning landscapes and vibrant culture. Nestled between the azure waters of the Atlantic Ocean and the majestic Table Mountain, Cape Town offers an array of gorgeous landmarks that will leave you in awe. Whether you're a nature enthusiast, history buff, or a lover of art and culture, Cape Town has something extraordinary to offer everyone who visits.
Our goal at Wander Smartly is to make your travels smarter and help you have the best time on your trips. From my own experience of visiting Cape Town and loving every bit of the city, here are the most gorgeous landmarks that you must visit to find out why Cape Town is one of the most beautiful cities of the world.
Landmarks in Cape Town
1. Table Mountain: An Iconic Beauty
No trip to Cape Town would be complete without ascending Table Mountain, the city's most iconic landmark and one of the New 7 Wonders of Nature. This flat-topped mountain, standing tall at 1,085 meters above sea level, dominates the city's skyline. The Table Mountain National Park offers numerous hiking trails catering to all skill levels. For those seeking a more leisurely ascent, the Table Mountain Aerial Cableway provides a scenic ride to the summit. Once you reach the top, you'll be rewarded with awe-inspiring panoramic views of the city.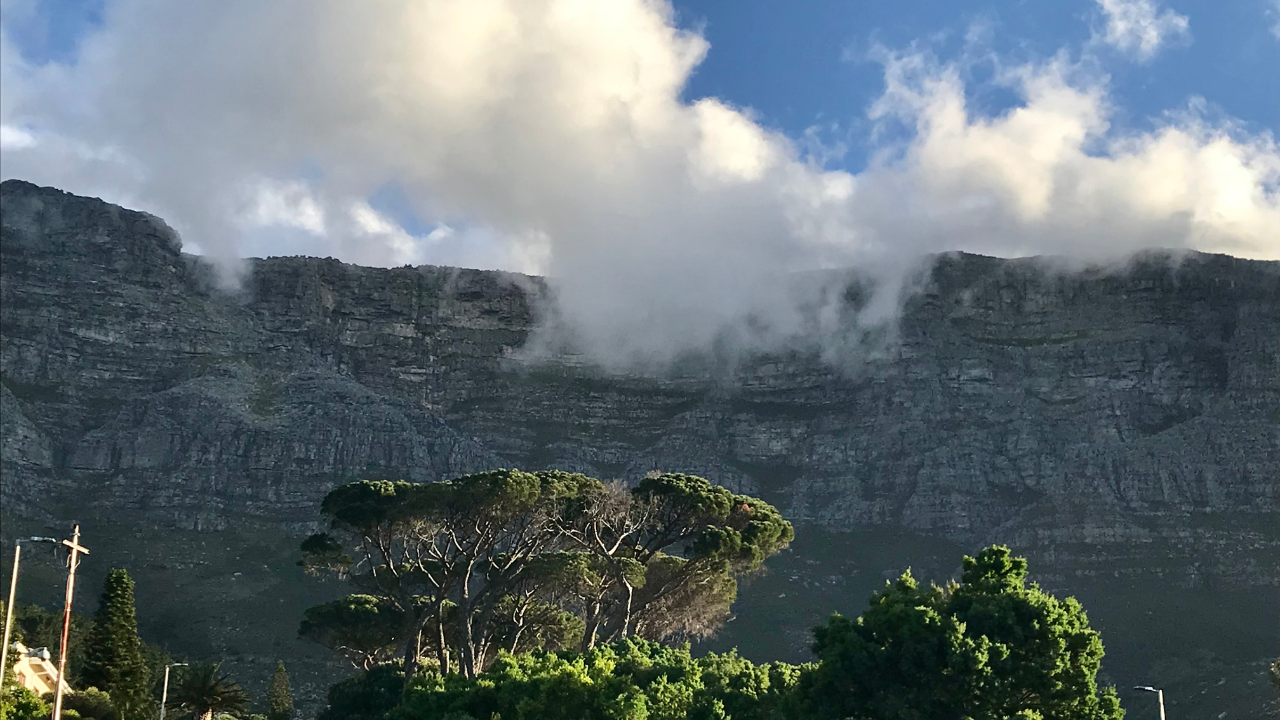 2. Kirstenbosch National Botanical Garden: Nature's Masterpiece
Nestled at the eastern foot of Table Mountain, Kirstenbosch National Botanical Garden is a botanical wonderland that showcases the unique flora of the Cape. Stroll through the various gardens, from the Fragrance Garden to the Protea Garden, and be mesmerized by the diverse range of indigenous plant species. The treetop canopy walkway, known as the Boomslang, offers breathtaking views of the gardens and the city beyond. Kirstenbosch also hosts open-air concerts during the summer months, providing a magical setting to enjoy music surrounded by natural beauty.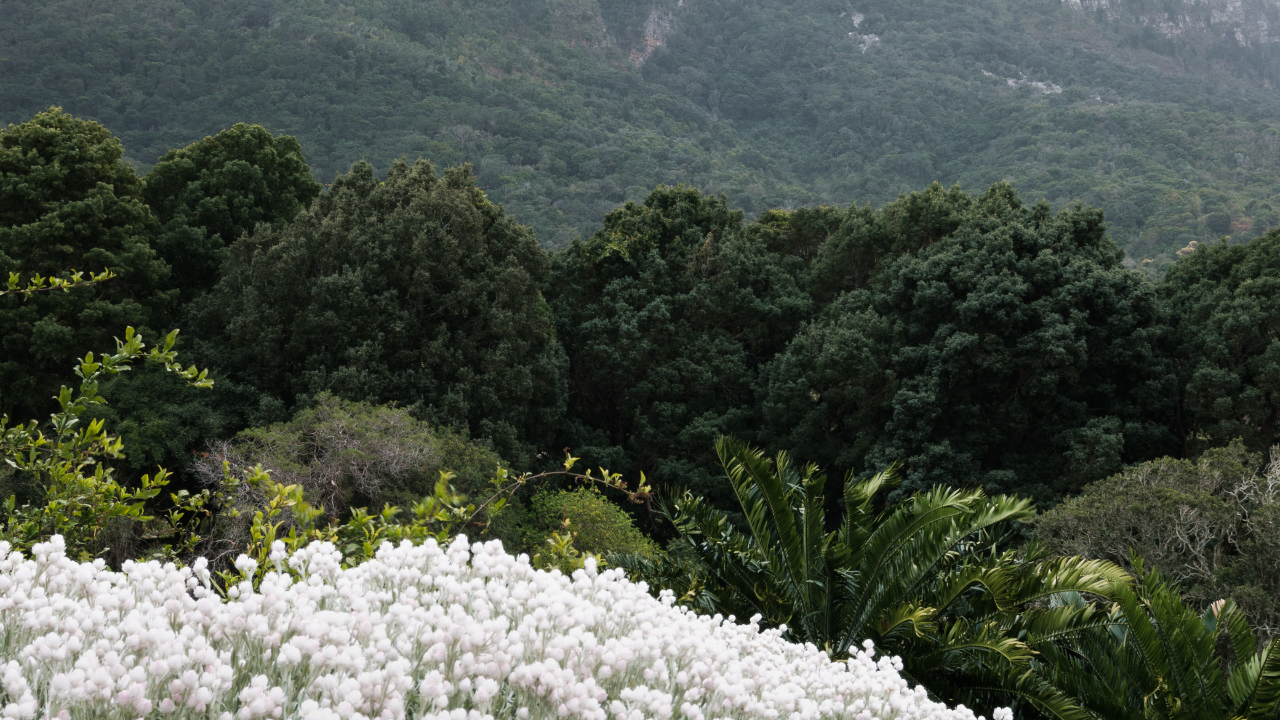 3. Lion's Head: A Hike to Remember
For the adventurous souls seeking a panoramic view of Cape Town, a hike up Lion's Head is an absolute must. This distinctive mountain peak sits adjacent to Table Mountain and is a popular spot for both locals and tourists to catch the sunrise or sunset. The moderate hike takes you through fynbos-covered slopes and rocky outcrops before reaching the summit. Once there, you'll be rewarded with a 360-degree view that encompasses the city, coastline, and surrounding mountains, making it an unforgettable experience.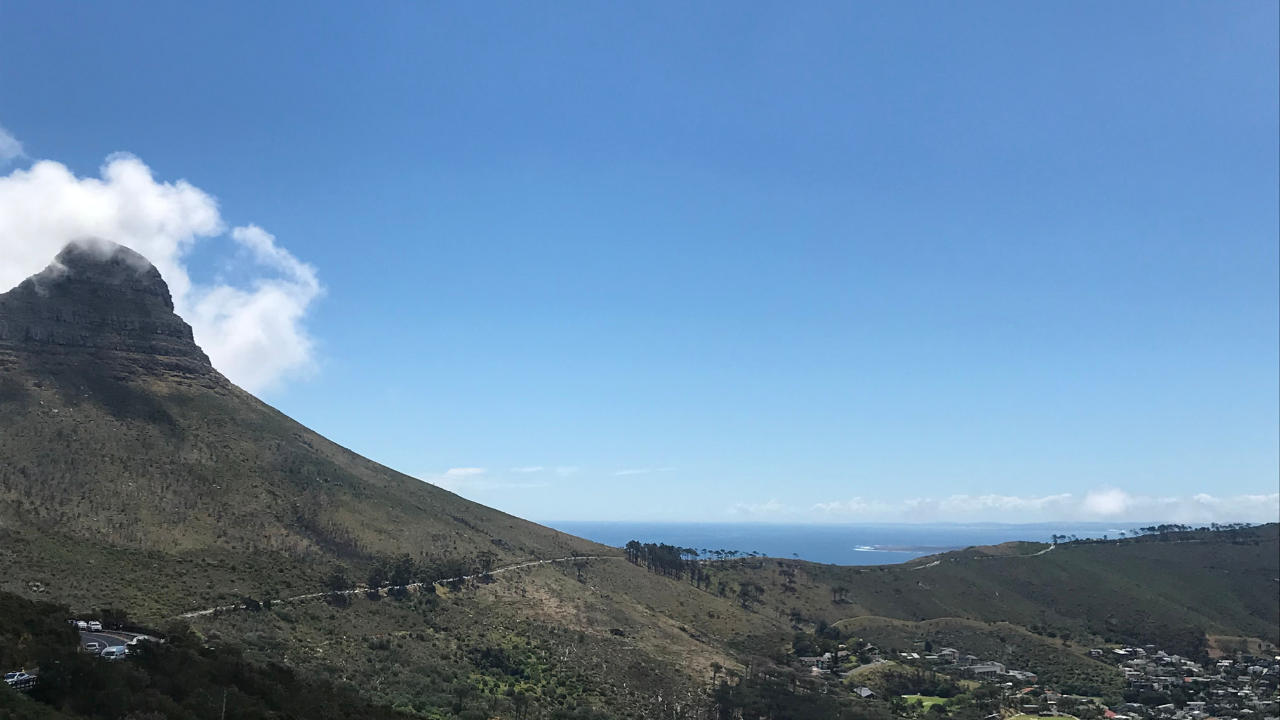 4. Cape Point: Where Two Oceans Meet
Prepare to be awestruck as you venture to Cape Point, where the mighty Atlantic Ocean meets the serene Indian Ocean. Located within the Table Mountain National Park, this rugged and windswept promontory offers dramatic cliffs, pristine beaches, and fynbos-covered landscapes. The iconic Cape Point Lighthouse stands proudly at the top, providing a fantastic vantage point to watch the waves crash against the rocks below. Take a hike along the trails and keep an eye out for the abundant wildlife, including baboons, ostriches, and seabirds.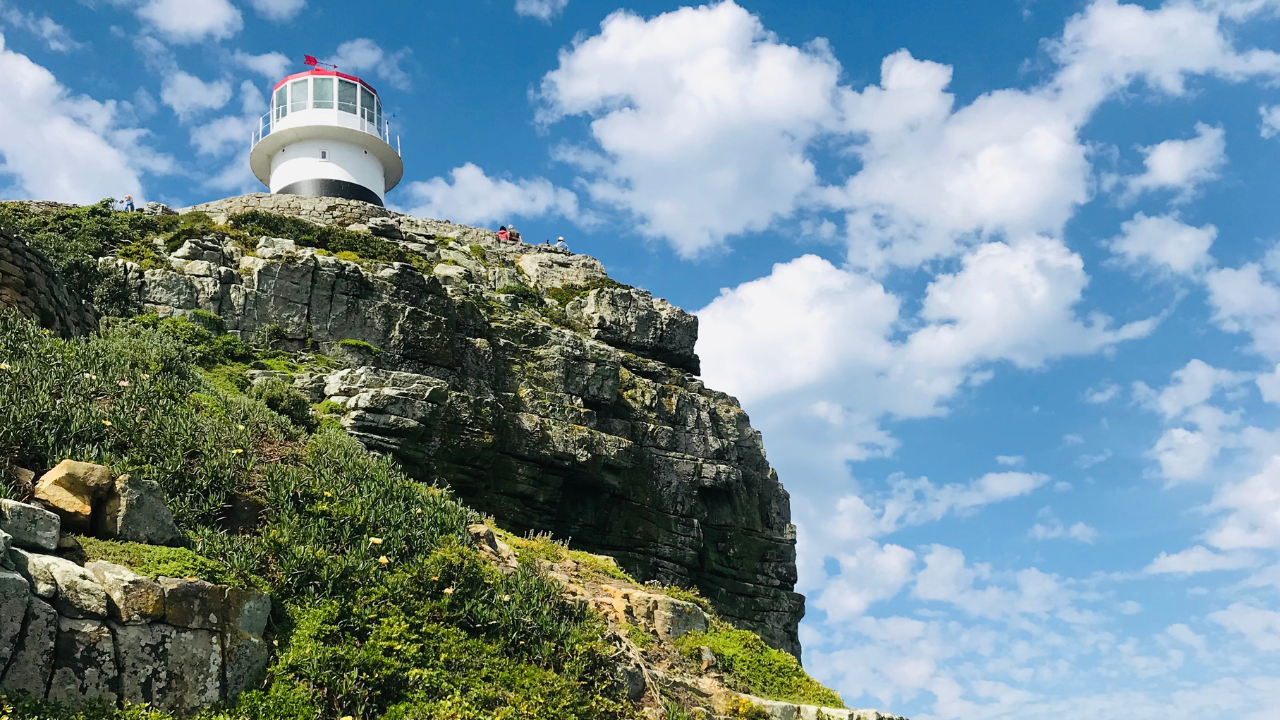 5. Boulders Beach: Home of the African Penguins
For an enchanting encounter with the adorable African penguins, head to Boulders Beach in Simon's Town. This sheltered cove is not only a great swimming spot but also serves as a breeding ground for these charming creatures. Stroll along the wooden boardwalks that wind through the granite boulders and observe the penguins waddle, swim, and play in their natural habitat. Remember to maintain a respectful distance to protect both these delightful birds and their habitat.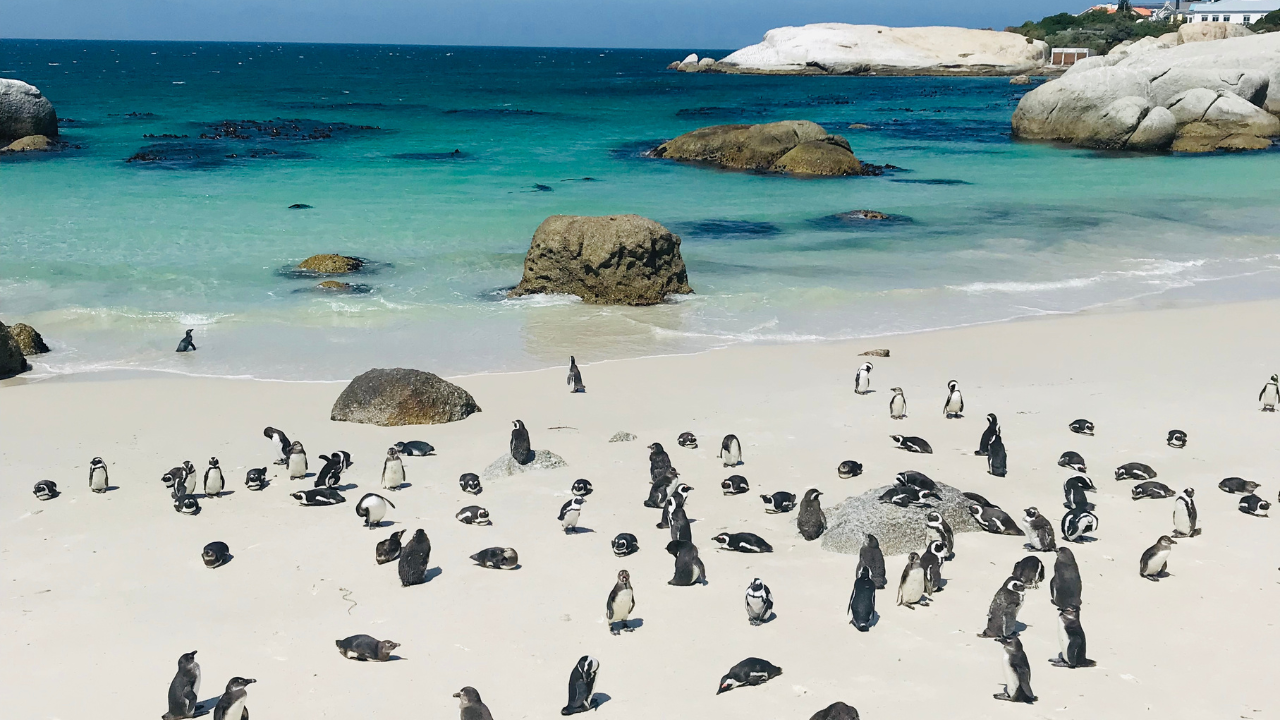 6. Bo-Kaap: A Kaleidoscope of Colors
Immerse yourself in the vibrant culture of Cape Town's Bo-Kaap neighborhood, where the streets come alive with an explosion of color. This historic area is renowned for its brightly painted houses, which add to the charm and character of the community. Take a leisurely walk through the cobblestone streets, learn about the area's Cape Malay heritage, and indulge in the delicious Cape Malay cuisine at one of the local eateries.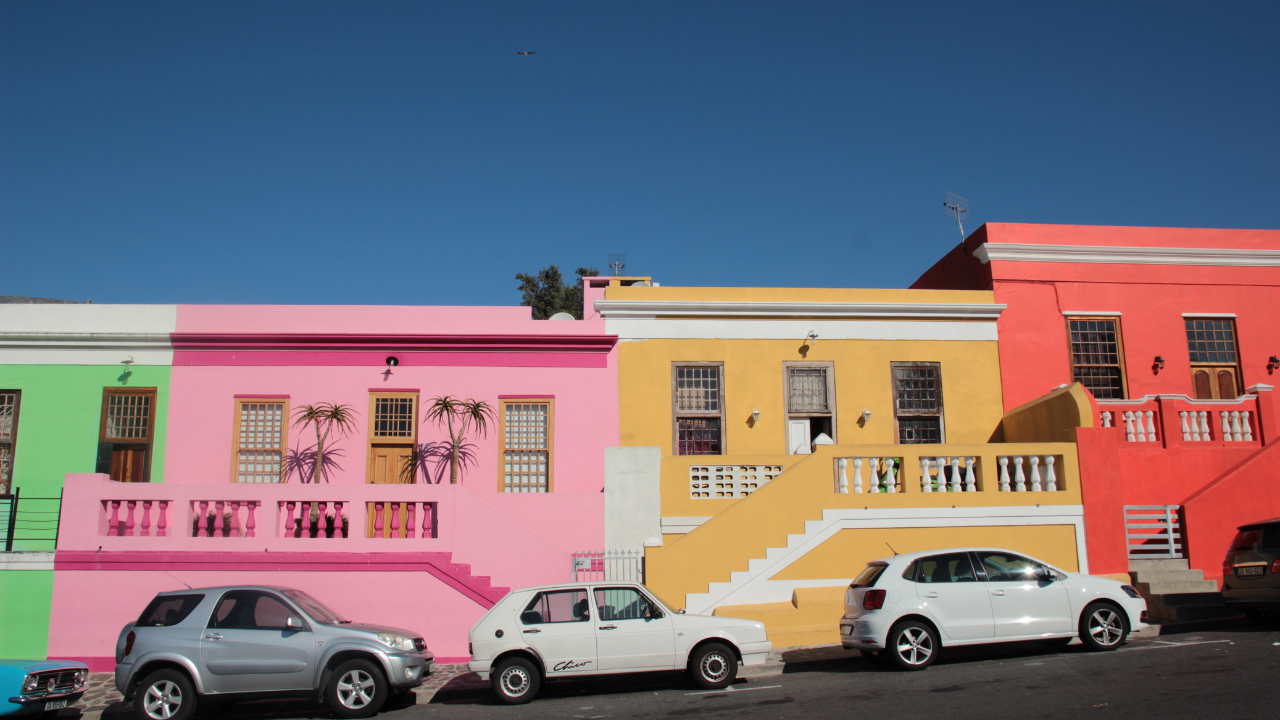 7. Victoria & Alfred Waterfront: A Shopper's Paradise
No trip to Cape Town is complete without a visit to the Victoria & Alfred Waterfront. This bustling waterfront precinct combines modernity with historical charm and offers a plethora of activities for visitors. From shopping at designer boutiques and artisanal markets to dining at world-class restaurants overlooking the harbor, there's no shortage of entertainment offered here. Don't miss the opportunity to hop on a boat tour to enjoy breathtaking views of the city and Table Mountain from the water.
8. Robben Island: A Historical Journey
This is a must-visit place for all history lovers. A UNESCO World Heritage Site, Robben Island was once a political prison where Nelson Mandela and other anti-apartheid activists were incarcerated during South Africa's dark past. A guided tour of the island offers a poignant glimpse into the struggles of the past, providing visitors with a powerful reminder of the resilience and triumph of the human spirit. As you sail back to the mainland, you'll carry with you the indomitable spirit of those who fought for justice and equality.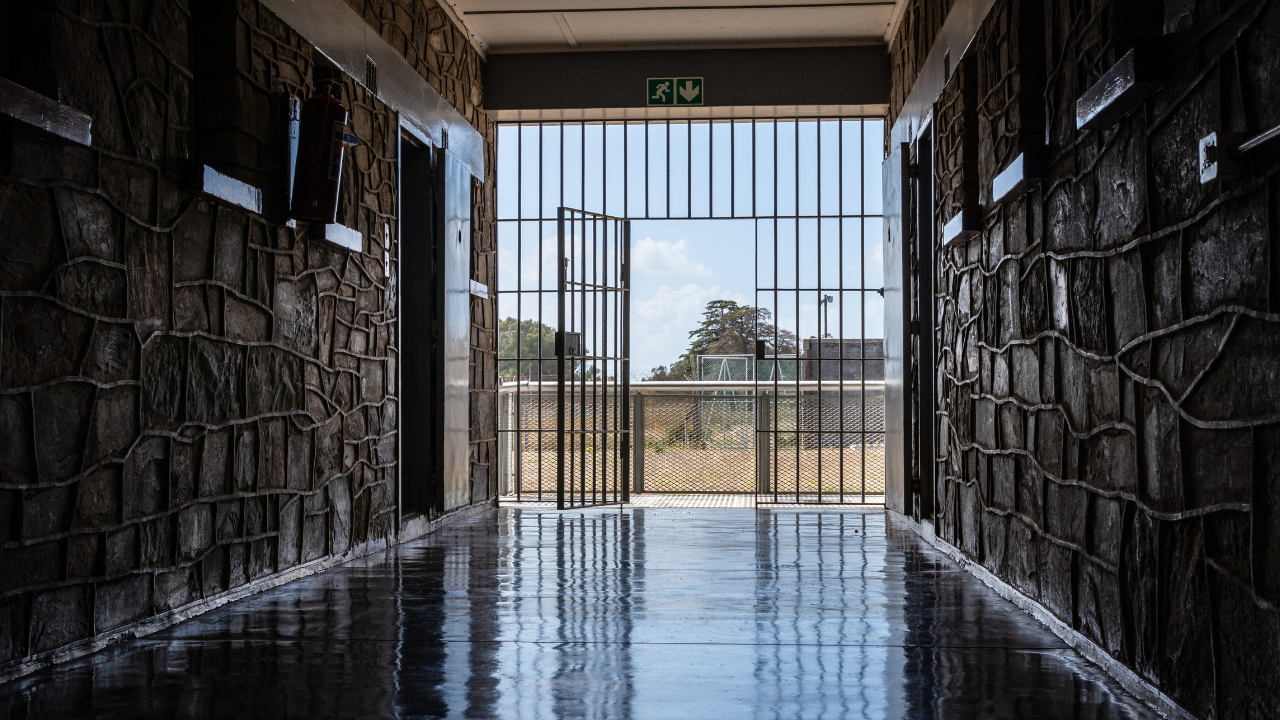 9. Camps Bay: A Beach Lover's Paradise
Camps Bay is a postcard-perfect beach located on the western side of the city. With its soft, white sands and crystal-clear waters, it's a favorite spot for both locals and visitors alike. Surrounded by the Twelve Apostles Mountain Range, the scenery here is simply breathtaking. The palm-lined promenade is dotted with trendy restaurants, cafes, and bars, making it a great place to relax and enjoy the view. As the sun sets, the sky transforms into a canvas of warm hues, making Camps Bay the ideal spot for a romantic evening stroll.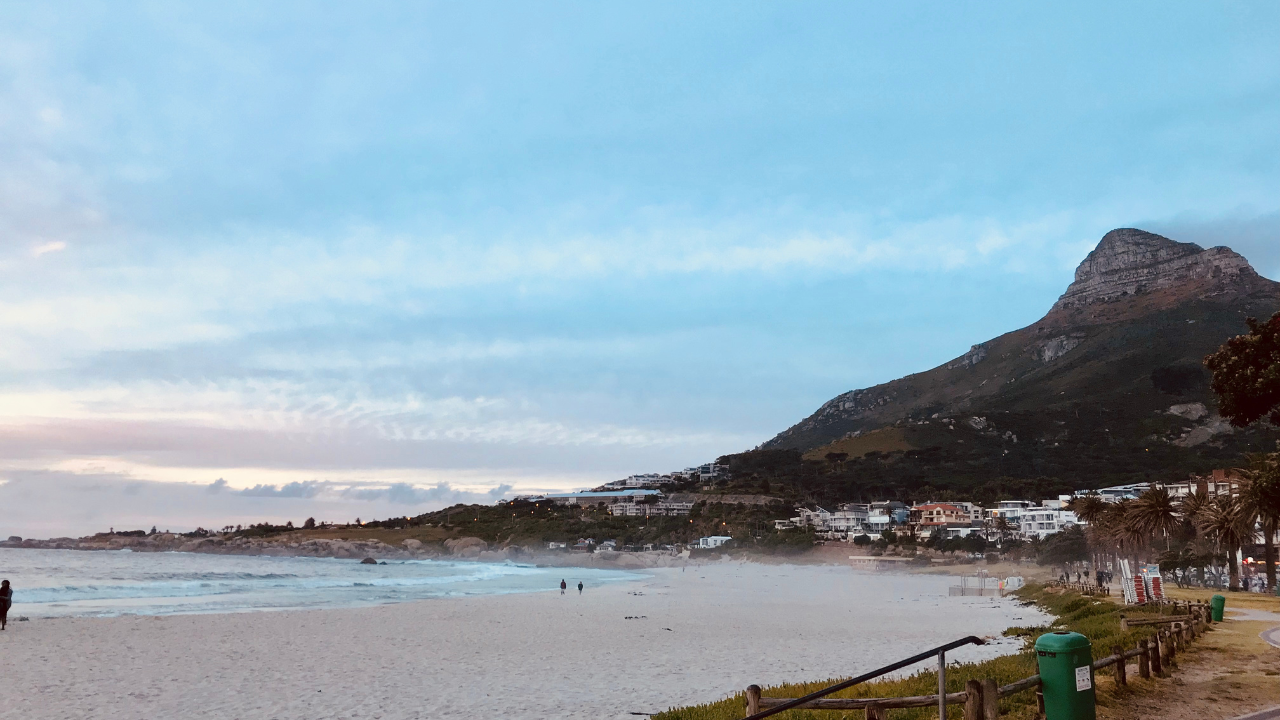 10. Hout Bay: Serenity by the Sea
Nestled in a picturesque valley surrounded by mountains, Hout Bay is a tranquil fishing village just a short drive from Cape Town's city center. The bay's sweeping coastline and sheltered harbor create a serene setting that draws you to a peaceful escape. Take a boat trip to Seal Island to witness the playful antics of the resident Cape fur seals, or explore the vibrant Bay Harbour Market for local crafts and delectable cuisine. Hout Bay is also a gateway to the scenic Chapman's Peak Drive.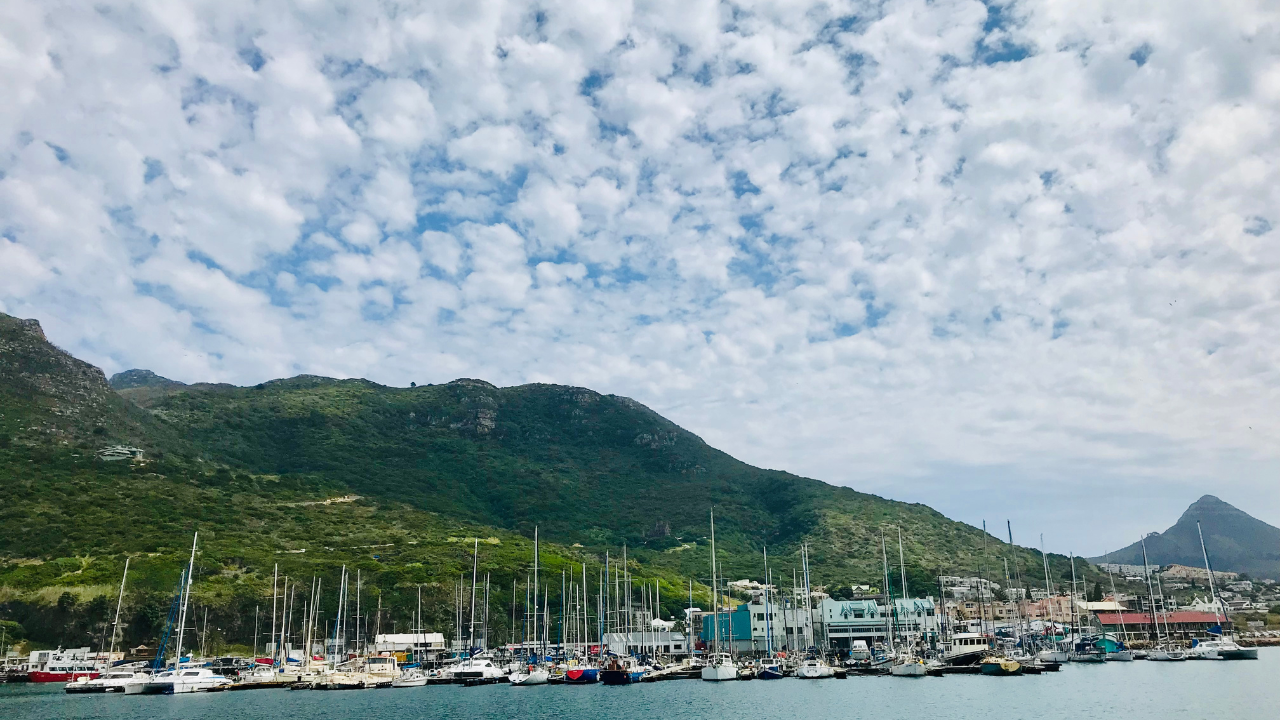 11. Chapman's Peak Drive: A Scenic Marvel
Considered one of the most breathtaking coastal drives in the world, Chapman's Peak Drive is a must-visit landmark near Cape Town. This winding road hugs the cliffs along the Atlantic coast, offering awe-inspiring views of the ocean and the rocky shoreline below. The drive's numerous viewpoints provide picture-perfect moments and opportunities to spot whales and dolphins during the migration season. Chapman's Peak Drive is a testament to nature's grandeur and the engineering marvel of the road itself.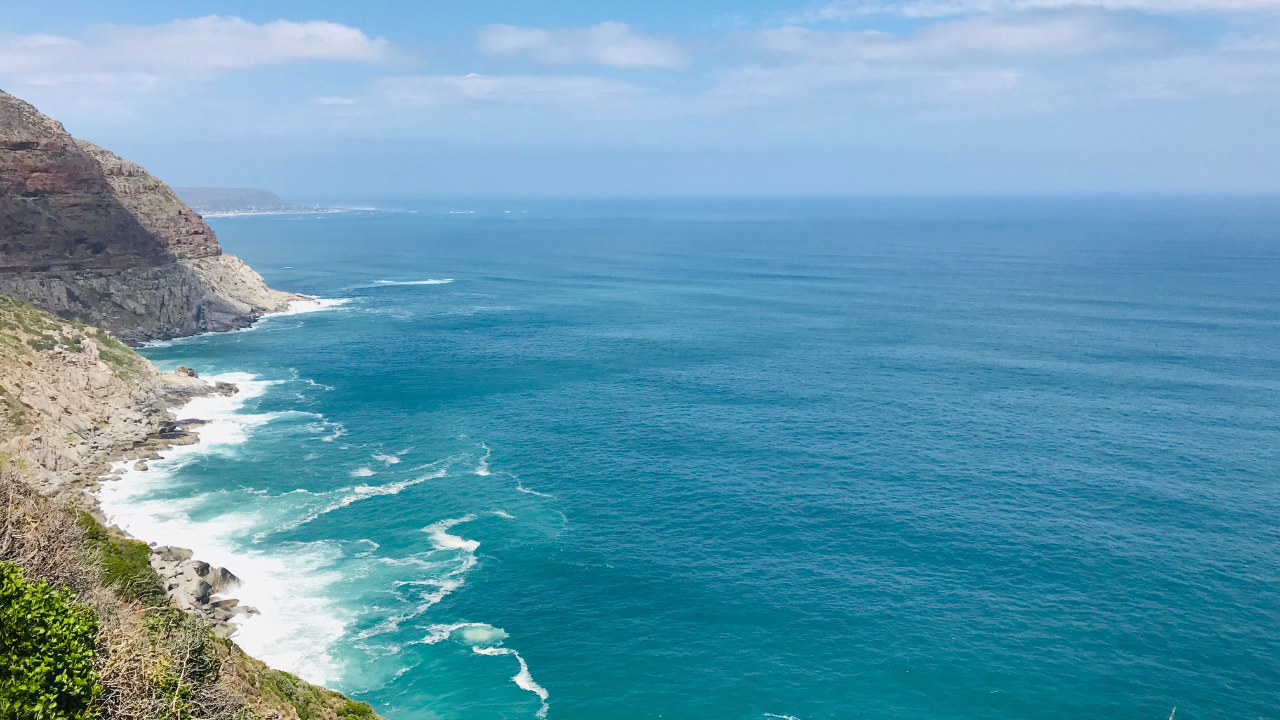 12. Muizenberg Beach: Surfer's Delight
Muizenberg Beach, situated on the False Bay coast, is a vibrant hub for surfers and beach enthusiasts. Its long stretch of soft, golden sand is perfect for a leisurely stroll or a relaxing sunbathing session. What sets Muizenberg apart is its colorful Victorian beach huts that line the shoreline, creating a playful and picturesque backdrop.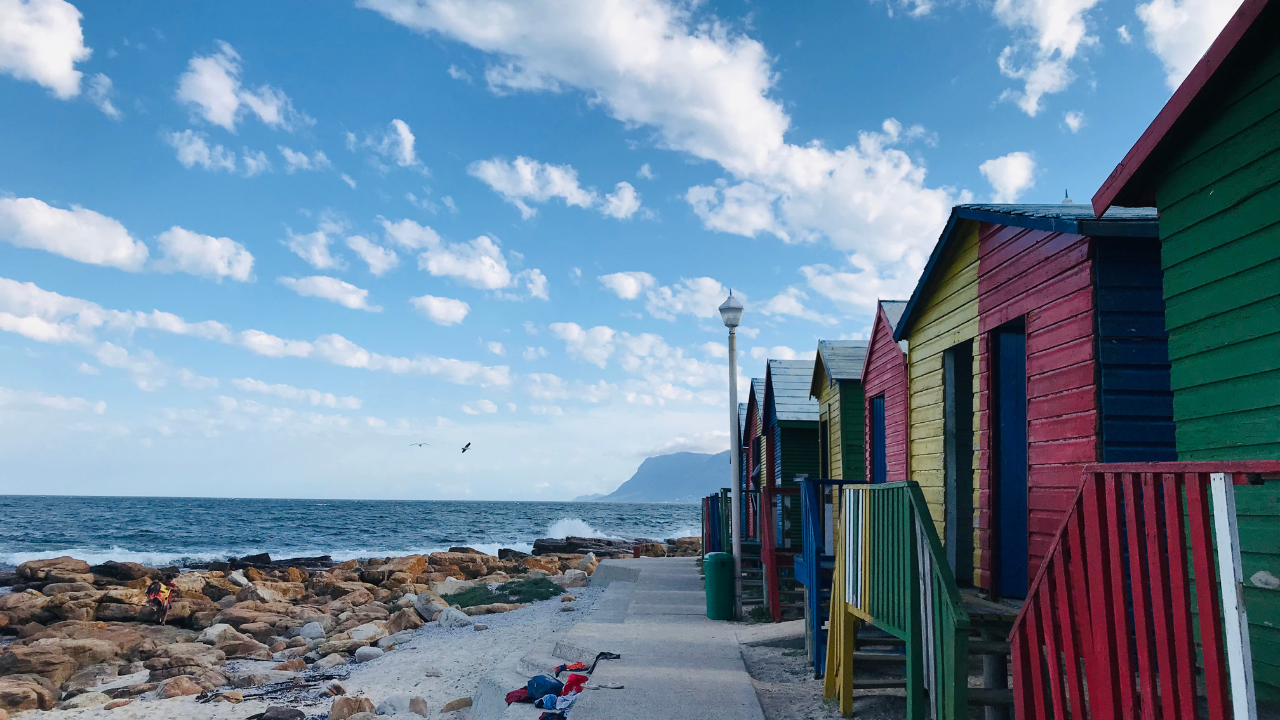 Novice surfers can take advantage of the gentle waves and enroll in surf schools to catch their first wave, while experienced surfers can ride the iconic waves that have made Muizenberg famous. If you're not into surfing, you must yet make a visit to catch the view of the colorful huts against the ocean.
13. Stellenbosch: A Wine Lover's Haven
Located just a short drive from Cape Town, Stellenbosch is a charming town known for its historic architecture, oak-lined streets, and world-class vineyards. As the heart of the Cape Winelands, Stellenbosch offers wine enthusiasts an opportunity to savor some of South Africa's finest wines amidst stunning natural landscapes. Take a leisurely wine tasting tour, explore the elegant Cape Dutch-style buildings, and immerse yourself in the rich cultural heritage of this enchanting town.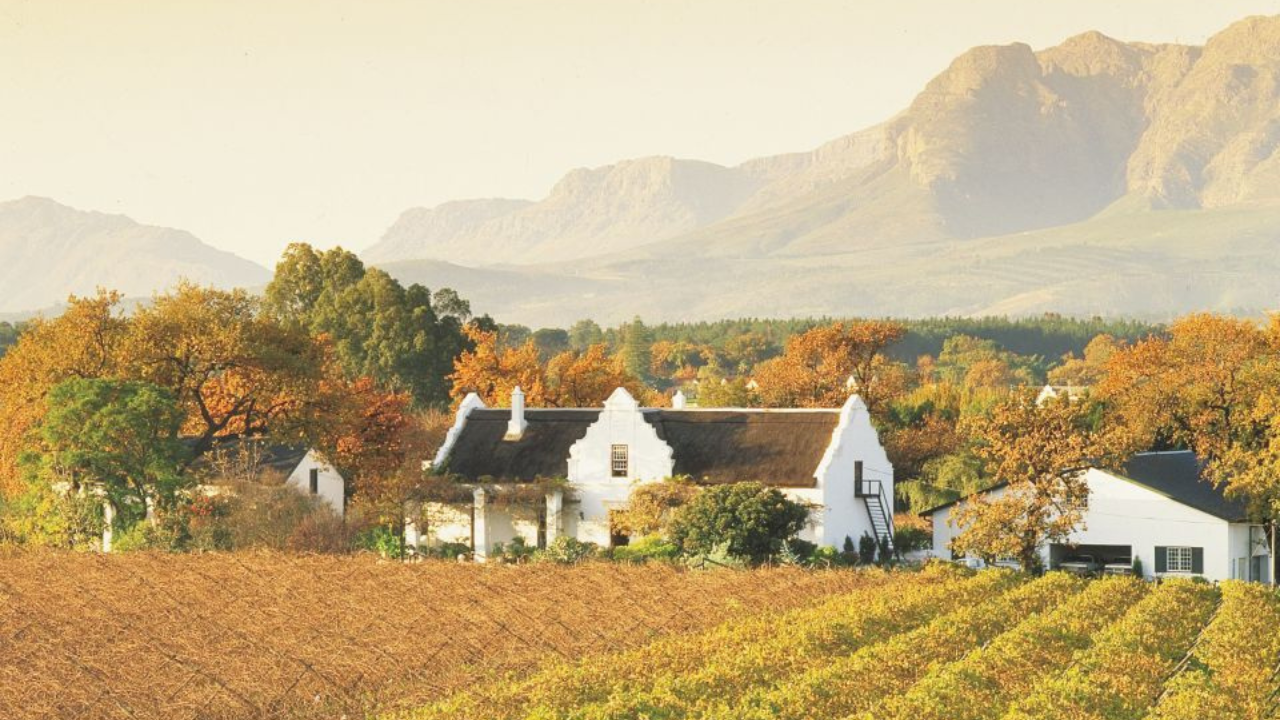 Best Time to Travel
Cape Town can be visited anytime of the year. To enjoy great weather, fewer crowds and the best experience, visit Cape Town between the months of March to May or September to November.
How to Reach
Cape Town Airport is well connected by flight to major destinations in the world.
Cape Town's beauty lies not only in its spectacular landscapes but also in its rich history and diverse culture. From the iconic Table Mountain to the charming streets of Bo-Kaap, and the historical significance of Robben Island, every landmark we explored revealed a different facet of this enchanting city. So, pack your bags and get ready for a journey filled with breathtaking experiences in this gem of South Africa.
To know more details to better plan your trip to Cape Town, read our detailed 5 Day Cape Town Itinerary.
Drop a comment below to let us know your thoughts! Visit our destinations page for detailed travel guides on places worth visiting.
FAQs
What is Cape Town famous for?
Cape Town is a city that will captivate you with its stunning landscapes and vibrant culture. Nestled between the azure waters of the Atlantic Ocean and the majestic Table Mountain, Cape Town offers an array of gorgeous landmarks that will leave you in awe. Whether you're a nature enthusiast, history buff, or a lover of art and culture, Cape Town has something extraordinary to offer everyone who visits.
How many days do you need to see Cape Town?
5 days is sufficient to see all the beautiful places in Cape Town.