Travel apps can enhance your travel experience by providing you with easy access to information, helping you save time and money, and offering personalized recommendations. We live in a time when there is an app for almost every need we have. Selecting the right apps for your travels can play a pivotal role in easing your experience.
Our goal at Wander Smartly is to make you travel smarter and help you focus on building memories. Use our online travel resources to make your bookings in minutes. For more specific travel related needs, we bring to you a curated list of the best travel apps from our first-hand experience of traveling and researching. Not all apps on the list will be relevant for everyone. We've offered recommendations on those we think are must-have travel apps for everyone and those that can be considered basis your needs.
Here are the 18 travel apps worth knowing about:
Let's understand the functionality and benefits of each of these apps in detail.
1. Rome2rio
Rome2rio is a travel search engine that helps users find the best way to get from one place to another. It aggregates and compares various transportation options like flights, trains, buses, ferries, and driving routes to help users find the most convenient route for their travel needs.
Enter your starting location and destination into its search bar, and the platform will display a list of transportation options. It also shows the estimated travel time and cost for each option. You can also filter their search results based on your preferences, such as the cheapest or fastest option.
I would recommend using the app for local travel options to discover the best way to get to a place.
2. PackPoint
PackPoint is a mobile application that helps users to create packing lists for their travels. Start by selecting your destination, the dates of travel, and the activities you plan to do. PackPoint then uses this information to create a customized packing list for you. The app takes into account the weather conditions at the destination, the length of the trip, and the planned activities to suggest items that you might need to pack.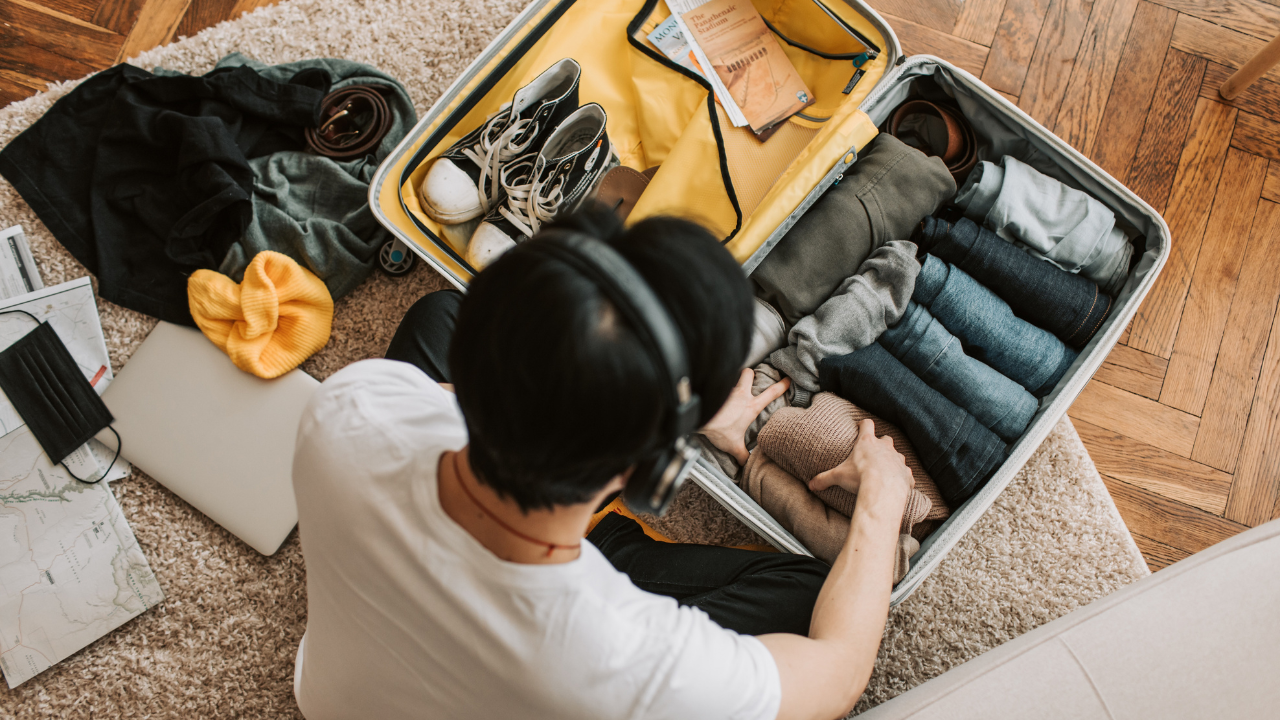 The suggested packing items are categorized into different sections, such as clothes, toiletries, and electronics, making it easy for you to organize your packing. You can also add or remove items as needed, and the app automatically updates the list.
PackPoint is a useful tool that ensures you have everything you need for your trip and saves you from the avoidable stress of scrambling for things at the last minute.
3. Flushd
Access to a clean bathroom while on the go is a necessity for travelers. Here's where Flushd comes to your aid. Flushd is a bathroom-finding app that shows a selection of bathrooms near your location. It has a unique feature of helping parents find bathrooms with changing tables and allows its users to rate and review bathrooms.
With this, it also offers reading content to keep you engaged while you're inside. It tracks your bathroom behavior and offers badges and achievements. Once you look beyond the quirks, the app can be quite useful to locate a bathroom when you're on the road in a foreign country and need to relieve yourself.
I recommend keeping this app handy for emergencies. One drawback, the app is currently available only on iOS.
4. AllTrails
This one's for all outdoor enthusiasts. AllTrails provides information on over 100,000 hiking and outdoor trails across the world, including details on trail conditions, difficulty level, length, elevation gain, and user reviews.
You can search for trails based on your preferences. Save trails to your profile, create your own trails, and share your experiences with other users through photos and reviews.
AllTrails provides a range of tools and resources like maps, driving directions, weather forecasts, and information on nearby amenities such as parking, restrooms, and campsites.
It also features information on other outdoor activities such as mountain biking, trail running, and cross-country skiing. I highly recommend the app to discover hike and trail routes in a new place.
5. TripIt
This is a marvelous solution to organizing your trip and keeping you updated at all times. TripIt is a travel itinerary management service that helps users organize all the details of their travel plans in one place. Simply forward your travel confirmation emails to a designated email address, and then TripIt automatically extracts all the relevant information from those emails and creates a detailed itinerary for your trip.
The TripIt itinerary includes important details such as flight and hotel reservations, car rental information, and activity bookings, as well as local weather forecasts and maps of the surrounding area. You can access your itinerary anytime through their website or mobile app, and share it with others who may need to know your travel plans.
Another beauty of TripIt is that it provides real-time flight alerts and updates, such as gate changes or delays, which can save you from hassles at the airport.
This is a must-use app and I recommend you use it for all your trips to stay organized!
6. HotelTonight
HotelTonight is a convenient and affordable option when searching for a hotel room at the last minute. This mobile application allows you to book last-minute hotel rooms at discounted rates. It specializes in same-day bookings and offers deals on unsold hotel inventory, useful if you need to find a room on short notice. This application can prove to be useful for any last-minute changes or surprises in your travel plans.
7. Journey
The joy of traveling comes from visiting new places and engaging in unique experiences. Recording the highlights of your trip before it fades from memory ensures you keep the experience with you forever.
Journey is an app to help you document your travel experiences by allowing you to create a digital journal of your journeys. The app offers a variety of features that make it easy for you to record and share your experiences. You can create a travel diary, add photos and videos, track your journey through GPS, and share your journey through social media or email.
8. Visited
Visited helps you keep a log of your travels. It records your adventures and experiences and allows you to create a wishlist of the places you'd like to go to. You can add journal notes and memories on the app as well. A fun feature of the app is sharing your world travel percentage with others. You can also make a personalized travel map and get a physical copy delivered to you. This is a fun app for all travel enthusiasts.
9. Colibra
Colibra provides travel insurance and travel assistance services. The app offers coverage for flight delays, trip cancellations, lost baggage, medical emergencies, and more. It is designed to simplify the travel insurance process.
Colibra offers automatic compensation for flight delays. You need to book your tickets on their app and in case of a flight cancellation or a delay of more than 3 hours you don't pay anything. If your flight is delayed by more than an hour, Colibra guarantees instant compensation.
10. XE Currency Converter
XE Currency Converter is an online tool that allows you to convert one currency into another. It provides real-time exchange rates, and it's easy to use.
It simplifies your currency conversions on a foreign trip. Simply select the currency you want to convert from and the currency you want to convert to, and then enter the amount you want to convert. The converter will then display the converted amount in the chosen currency.
It stores the last updated rates and hence can be used when you don't have an internet connection. Using this app is simpler than googling the currency rate or using the calculator. I recommend you download the app to avoid any confusion on currency conversions.
11. LoungeBuddy
LoungeBuddy helps travelers find and access airport lounges around the world. It provides you with information on the lounges available at your departure airport, including amenities, hours of operation, and reviews from other travelers.
You can also use the app to purchase lounge access passes, which can be used for a single visit or multiple visits depending on the pass type. LoungeBuddy partners with various lounge networks and airlines to offer access to lounges that may not be available through other means.
I'd recommend LoungeBuddy if you expect to have long layovers between flights. Relaxing in a lounge is definitely more comfortable than waiting on a chair at the gate for hours. The app is available on iOS only.
12. TimeShifter
TimeShifter is a mobile app designed to help travelers overcome jet lags. It aims to reduce the impact of jet lag by providing personalized recommendations for you.
Input your travel itinerary, including departure and arrival times, and the app creates a personalized plan that includes a combination of sleep, light exposure, and caffeine to help you adjust to the new time zone. The app recommends specific times for sleeping, waking up, seeking or avoiding bright light, and consuming or avoiding caffeine. It also provides guidance on when to take naps and when to avoid them based on your individual needs.
Fatigue due to jet lags can be a real dampener on trips. TimeShifter helps you overcome the impact with its expert-designed plans.
13. Google Translate
Google Translate is a valuable tool for travelers who want to overcome language barriers and communicate effectively with people from different cultures. With this, you can translate words, phrases, and even entire paragraphs of text into a wide variety of languages.
In addition to text, Google Translate also offers visual translation. Use your phone's camera to translate text in real time. For example, if you're in a foreign country and you come across a sign or a menu in a language you don't understand, you can simply point your phone's camera at the text and Google Translate will convert it for you.
Another powerful feature of the app allows you to have a conversation with a foreigner in different languages. Google Translate also offers offline translation, so you can download specific languages and use the app without an internet connection.
This is a must-have app if the country you're traveling to doesn't speak your language. Download from the Apple Store or on Google Play.
14. Splitwise
When traveling in a group, Splitwise can be a great way to divide expenses such as accommodation, food, transportation, and activities. Create a group in Splitwise and invite your travel companions to join. You can add expenses whenever anyone in your group pays. The app allows for flexibility in selecting group members who should divide the said expense, who paid, and who owes whom how much. This helps to ensure that everyone pays their fair share.
At the end of the trip, you can settle up any outstanding balances using Splitwise. This can be done by transferring money directly to each other's accounts or by using payment apps like Venmo, PayPal, or Zelle.
Using Splitwise in travel can help avoid any awkwardness or confusion that may arise when splitting expenses in a group. It ensures that everyone is contributing equally and helps to keep track of expenses throughout the trip. This is a must-have app if you're traveling in a group.
15. Google Maps
Google Maps is an invaluable tool for planning and navigating trips. Not only does it provide turn-by-turn directions, but it also estimates travel times, traffic information, and alternative routes. Google Maps includes ratings and reviews from other users, which can be helpful in choosing hotels, restaurants, and other travel-related businesses. You can download maps for offline use, which can be particularly useful when traveling in areas with limited or no internet access.
I recommend this as a 'must download' on your phone before embarking on your trip. This plays a pivotal role in your safety and ensures you do not get lost in a new place. Download from the Apple Store or on Google Play.
16. HappyCow
This is a delight for all vegan/vegetarian travelers. HappyCow helps you discover vegan restaurants and eases your hunt to satiate hunger pangs.
HappyCow helps you filter restaurant types and navigate via the app. Decide from the options basis their reviews and translate the text into your language. It also enables you to save listings of local restaurants for offline viewing.
17. Entertainment (Netflix, Prime Video)
It is a good idea to download apps that can keep you engaged during those long hours of travel. I prefer to not rely on in-flight entertainment and pre-download a series on my iPad. Although I love to read, watching something entertaining can really help kill time when you're tired. Choose from Netflix, Prime Video, or any other streaming app of your choice.
You can also download games that can keep you busy. Keep your music ready as well. I'd also recommend downloading a calm playlist that can help you drift off to sleep faster.
18. Transportation (Uber/Grab)
No matter if you plan to use public transport or hire a car, it is imperative to have a ride-hailing app on your phone when you travel. Things may not always go as per plan and you should not be hassled in a foreign country for lack of transport. Download Uber/Grab depending on the location.
The advent of technology has significantly simplified our lives. Use technology to your advantage when you travel for a smooth and hassle-free experience. Choose from the above list of apps that applies best to your needs. Download and sign in on those apps before you set off on your trip.
All set to pack for your upcoming travel? Read our article on packing tips to efficiently carry your stuff on the go.
FAQs
What travel apps do I need?
1. Google Maps
2. Google Translate
3. TripIt
4. Splitwise
5. XE Currency Converter