Planning a trip to the beautiful country of Vietnam and mulling over which of its cities – Hanoi vs Ho Chi Minh – is a better choice to visit? In this article, we'll draw a detailed comparison across various factors like city vibe, weather, culture, nightlife, surrounding areas, etc. to help you decide which city to explore during your Vietnamese adventure.
Embarking on a journey to Vietnam is like stepping into a vibrant mosaic of rich history, breathtaking landscapes, and warm hospitality. This Southeast Asian gem boasts two iconic cities: Hanoi and Ho Chi Minh City (formerly Saigon). Each city possesses its own unique charm, offering you an opportunity to explore diverse cultural wonders, sample delectable cuisine, and delve into a rich historical tapestry.
Our goal at Wander Smartly is to make your travels smarter and help you have the best experience on your trips. From my own experience of visiting both Hanoi and Ho Chi Minh, I share a detailed comparison across both cities for you to judge which is better for you.
Hanoi Vs Ho Chi Minh – Which is Better for You
Here's a detailed comparison between the two cities on 10 important points to consider.
1. City Vibe
Hanoi enchants you with its blend of old-world charm and lively atmosphere. The city's numerous lakes, parks, and tree-lined boulevards provide a peaceful respite amidst the bustling streets. Stroll around Hoan Kiem Lake and witness locals engaging in tai chi or sip a cup of Vietnamese coffee at a quaint café while observing the vibrant city life.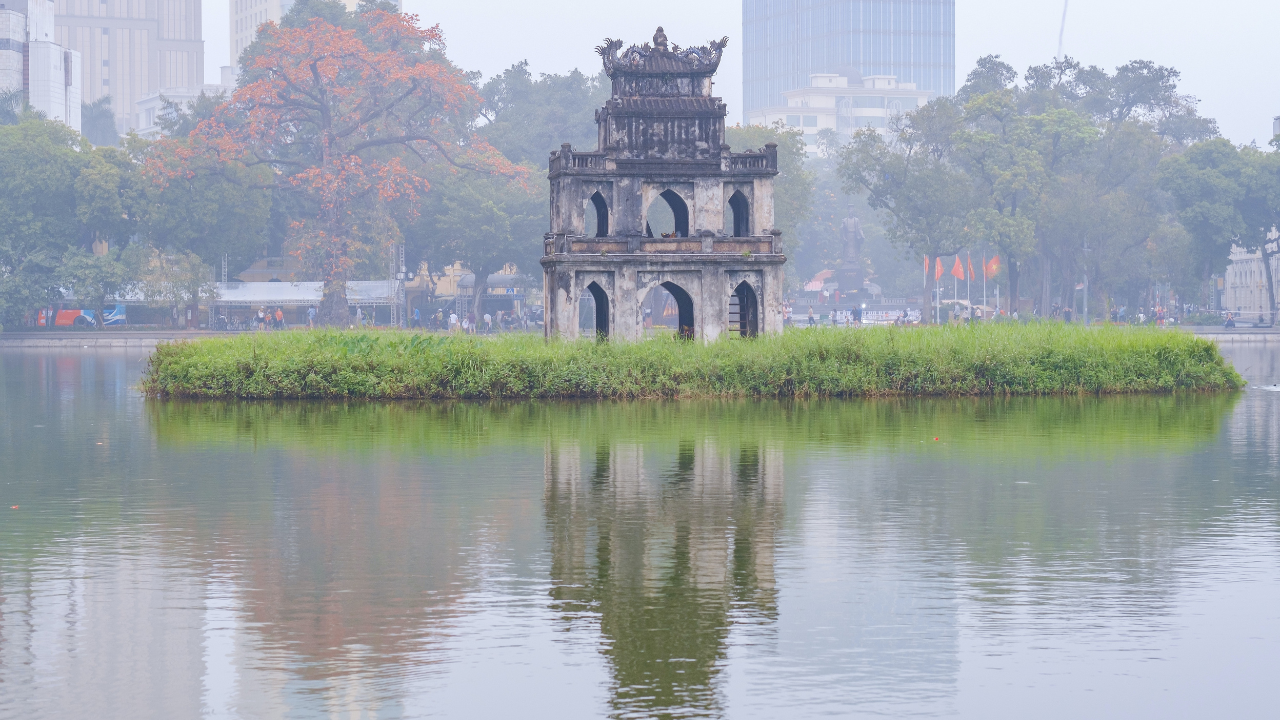 As Vietnam's largest city, Ho Chi Minh is an energetic and fast-paced metropolis. The streets are alive with buzzing motorbikes, neon lights, and an infectious energy. Immerse yourself in the vibrant nightlife scene at rooftop bars, live music venues, and night markets. The city's skyscrapers, including the Bitexco Financial Tower, showcase its modernity.
2. Cultural Experiences
Hanoi embraces Vietnam's authentic, rich cultural heritage. The city is famous for its traditional water puppetry shows, where skillful puppeteers bring folklore and legends to life. Wander through the bustling markets, such as Dong Xuan Market, to witness the daily lives of locals and savor authentic street food. Hanoi's French Quarter showcases a fusion of Vietnamese and French influences in its architecture and cuisine. The temples in Hanoi are known for their beautiful Buddhist architecture and intricate carvings, and boast of a rich historical context.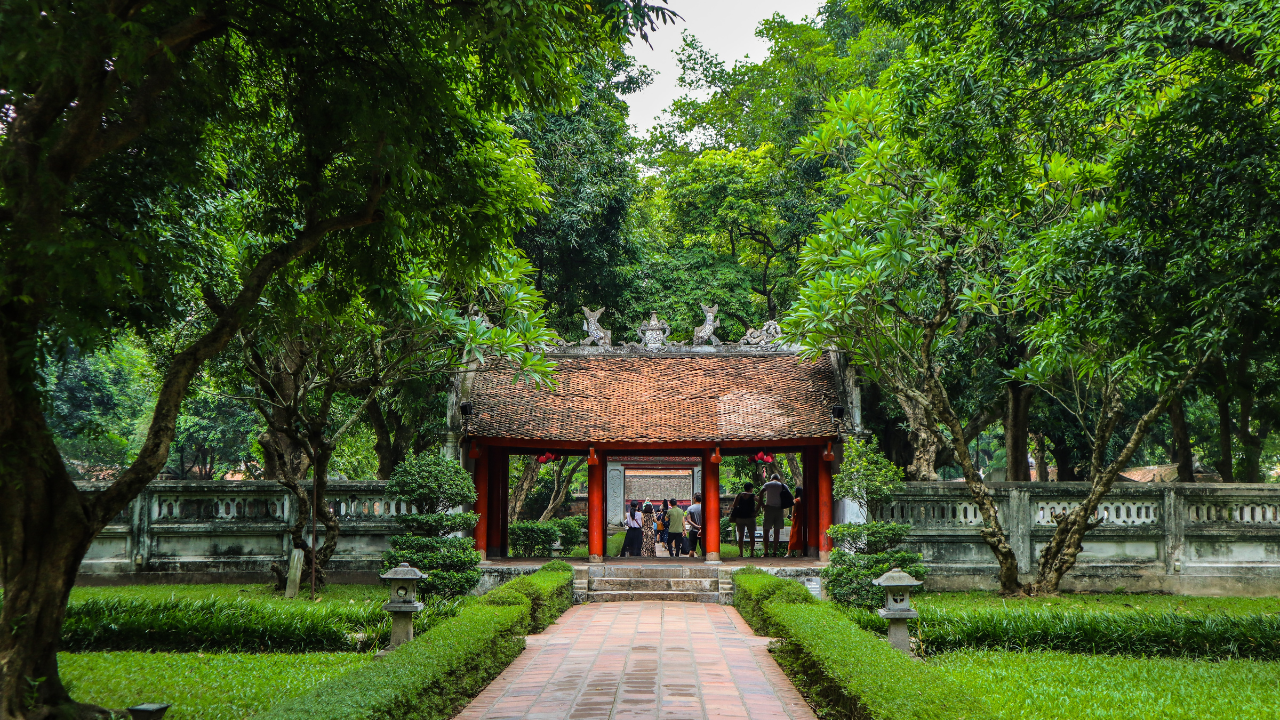 Ho Chi Minh City offers a more modern twist on Vietnamese culture. Marvel at the neo-Romanesque Notre-Dame Cathedral and the striking Chinese-inspired Cholon (Chinatown) district. Experience the bustling Ben Thanh Market, where you can haggle for handicrafts, clothing, and local delicacies. The city's cosmopolitan atmosphere and international dining scene offer are a testament to its modernity.
3. Historical Significance
As the capital of Vietnam for over a thousand years, Hanoi is steeped in history and exudes a traditional ambiance. The Old Quarter, with its narrow streets and colonial architecture, takes you back in time. Don't miss the Ho Chi Minh Mausoleum, Temple of Literature, and Hoan Kiem Lake, which are symbols of the city's rich historical heritage. The Maison Centrale, also known as Hanoi Hilton, served as a place of detention for Vietnamese revolutionaries and American prisoners of war, and is a must-visit museum in Hanoi.
Formerly known as Saigon, Ho Chi Minh City thrives as a modern metropolis, but its history is evident in its landmarks. The War Remnants Museum, Cu Chi Tunnels, and Reunification Palace provide insights into Vietnam's tumultuous past. Exploring these sites offers a contrasting perspective on the country's history compared to Hanoi.
4. Day Trips and Surrounding Areas
From Hanoi, you can easily embark on day excursions to the stunning Halong Bay, a UNESCO World Heritage Site renowned for its emerald waters and towering limestone islands. Explore the ancient capital of Hoa Lu and the picturesque Tam Coc region, often referred to as "Halong Bay on Land." These day trips offer a glimpse of Vietnam's natural beauty.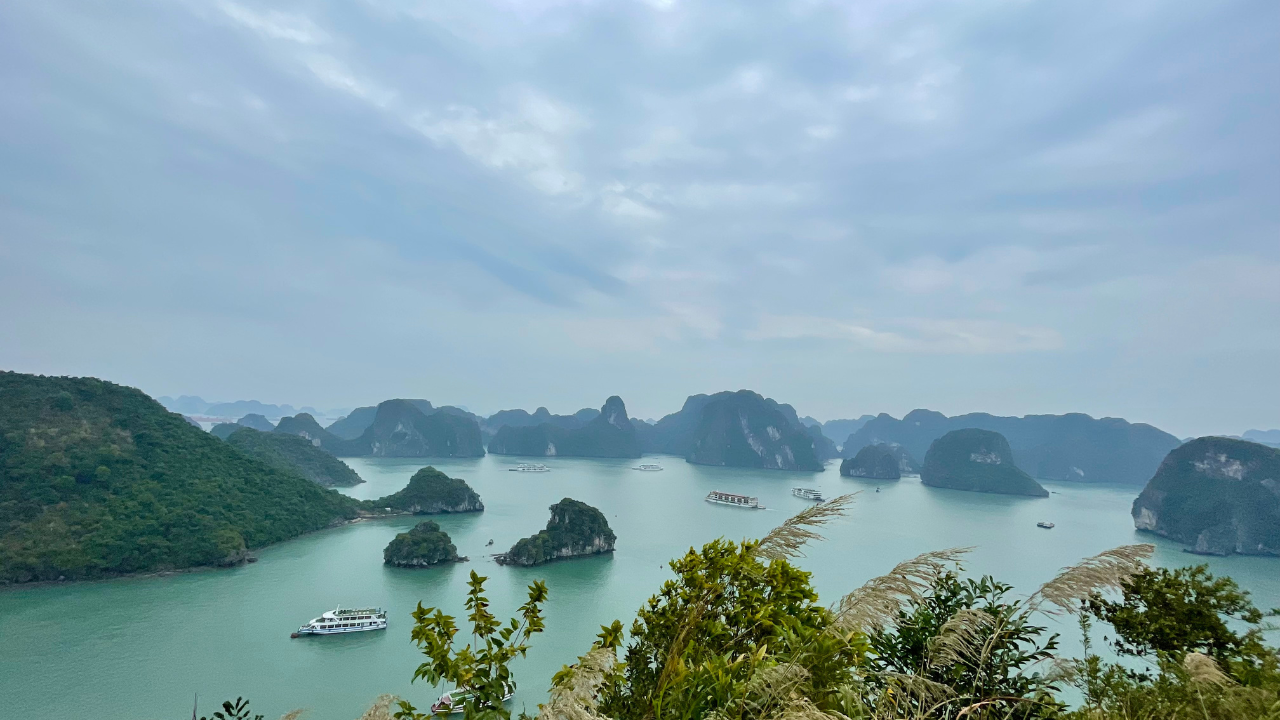 Ho Chi Minh City serves as a gateway to the Mekong Delta, an expansive network of rivers and lush landscapes. Take a boat trip along the delta's tributaries, visit floating markets, and witness the rural charm of Vietnam. Additionally, the historic Cu Chi Tunnels, located just outside the city, provide a fascinating insight into the country's war history.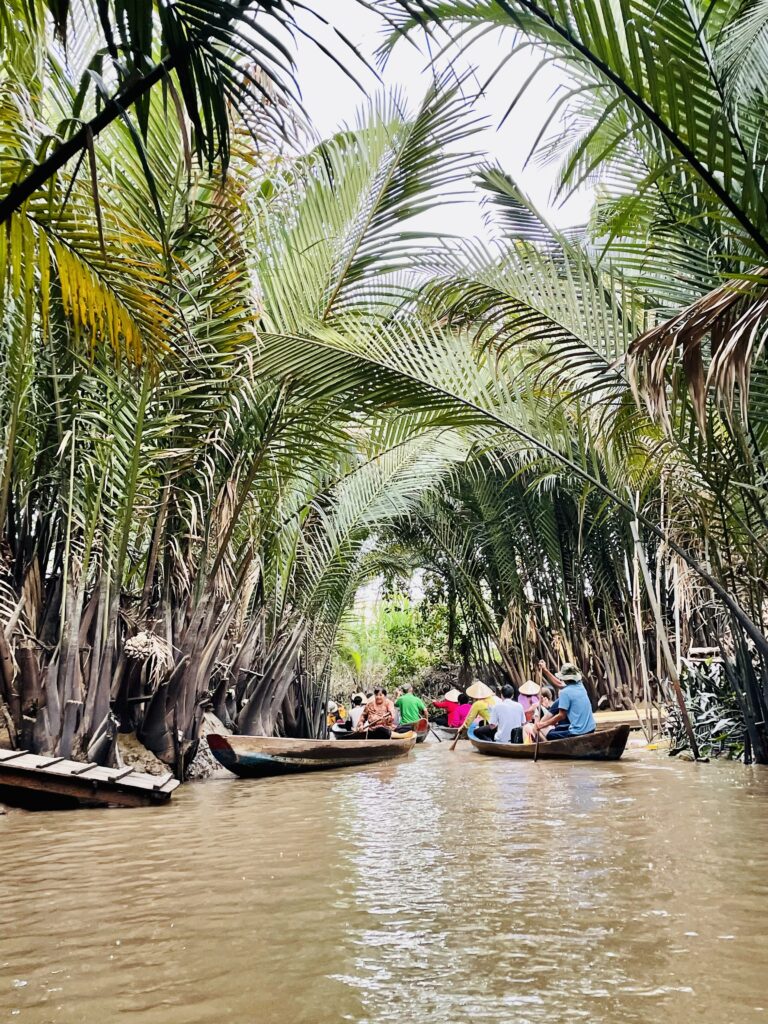 5. Culinary Delights
Renowned for its street food, Hanoi is a food lover's paradise. Sample the city's iconic dishes such as pho (noodle soup), bun cha (grilled pork with noodles), and banh mi (Vietnamese sandwich). Try egg coffee, a unique local specialty, or indulge in freshly brewed tra da (iced tea). The street food stalls and family-run restaurants provide an authentic culinary experience.
Wander Smartly Tip: While you're in Ha Noi, devour the decadent Vietnamese Coffee in both the hot and iced form, from any AHA Cafe outlets. These serve the best Vietnamese coffee compared to any other place in all of the city.
Ho Chi Minh City's culinary scene reflects its cosmopolitan nature. Explore a myriad of options ranging from street food to high-end restaurants. Don't miss the chance to taste the city's famous banh xeo (Vietnamese pancake), com tam (broken rice), and banh cuon (steamed rice rolls). For a chic dining experience, visit rooftop bars that offer stunning views of the city's skyline.
6. Nightlife
While Hanoi's nightlife scene may not be as vibrant as Ho Chi Minh City's, it still has its own unique charm. The city offers a variety of options, including lively bars, music venues, and night markets. The Old Quarter comes to life in the evening, with bustling street food stalls and bars serving local beer and cocktails. For a more laid-back atmosphere, head to the trendy West Lake area.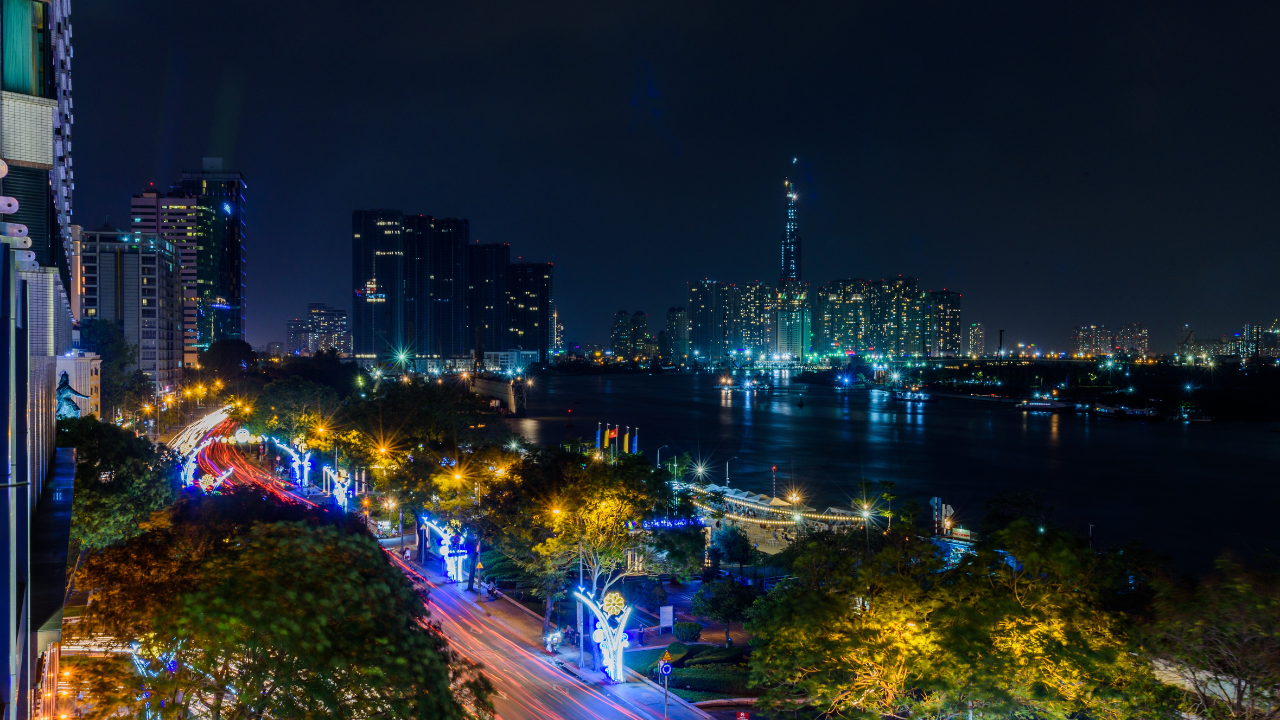 Ho Chi Minh City is renowned for its vibrant and dynamic nightlife. The city boasts a plethora of rooftop bars, nightclubs, and live music venues catering to various tastes. Popular areas for nightlife include Bui Vien Street in the backpacker district and the upscale bars in District 1. From sipping cocktails with panoramic city views to dancing the night away, Ho Chi Minh City offers an electrifying after-dark scene.
7. Ease of Reach
Hanoi is well-connected both domestically and internationally. Noi Bai International Airport serves as the main gateway to the city, with direct flights to major cities around the world. The city also has an extensive railway network connecting it to other parts of Vietnam. Public transportation within the city, such as buses and taxis, is readily available and affordable.
Ho Chi Minh City's Tan Son Nhat International Airport is the largest airport in Vietnam and serves as a major transportation hub in Southeast Asia. It offers a wide range of domestic and international flights. The city is well-connected by bus and train services, and it is a convenient starting point for exploring the southern region of Vietnam.
8. Weather
Hanoi experiences distinct seasons. Summers (May to August) can be hot and humid, while winters (December to February) are cooler and occasionally chilly. Spring (March to April) and autumn (September to November) offer pleasant weather with milder temperatures, making them ideal for exploring the city on foot.
Ho Chi Minh City has a tropical climate characterized by high humidity and consistent temperatures throughout the year. The city experiences two main seasons: the dry season (December to April) and the rainy season (May to November). The average temperature hovers around 30°C (86°F) year-round, with occasional afternoon showers.
9. Shopping
Hanoi offers a unique shopping experience, with a blend of traditional markets and modern shopping centers. The bustling Old Quarter is famous for its street markets, such as Dong Xuan Market, where you can find a variety of items, including clothing, handicrafts, and souvenirs. For a more upscale shopping experience, visit the Trang Tien Plaza or Vincom Center.
Ho Chi Minh City is a shopaholic's paradise, and wins over Ho Chi Minh with numerous shopping options ranging from local markets to high-end boutiques. Ben Thanh Market is a must-visit, offering a vast array of goods, including clothing, jewelry, spices, and handicrafts. For a more upscale experience, explore the luxury shopping malls in District 1, such as Vincom Center or Saigon Centre.
10. Cost
Although Vietnam as a whole is budget-friendly, Hanoi generally entails a lower cost compared to Ho Chi Minh City. Accommodation, food, and transportation options are relatively affordable, making it an attractive destination for budget travelers. Street food stalls and local markets offer inexpensive dining options, while budget-friendly guesthouses and hostels provide affordable accommodation choices.
Ho Chi Minh City tends to be slightly more expensive than Hanoi, especially when it comes to accommodation and dining in popular tourist areas. However, it also offers a wider range of upscale and international dining options and luxurious accommodations for those seeking a more lavish experience.
---
Both Hanoi and Ho Chi Minh City offer captivating experiences for travelers, but they do differ in their offerings. Hanoi exudes charm through its ancient heritage, tranquil lakes, and traditional street scenes, while Ho Chi Minh City embraces modernity, diversity, and a bustling urban vibe. Hanoi is slightly more pocket-friendly and Ho Chi Minh has a busting nightlife.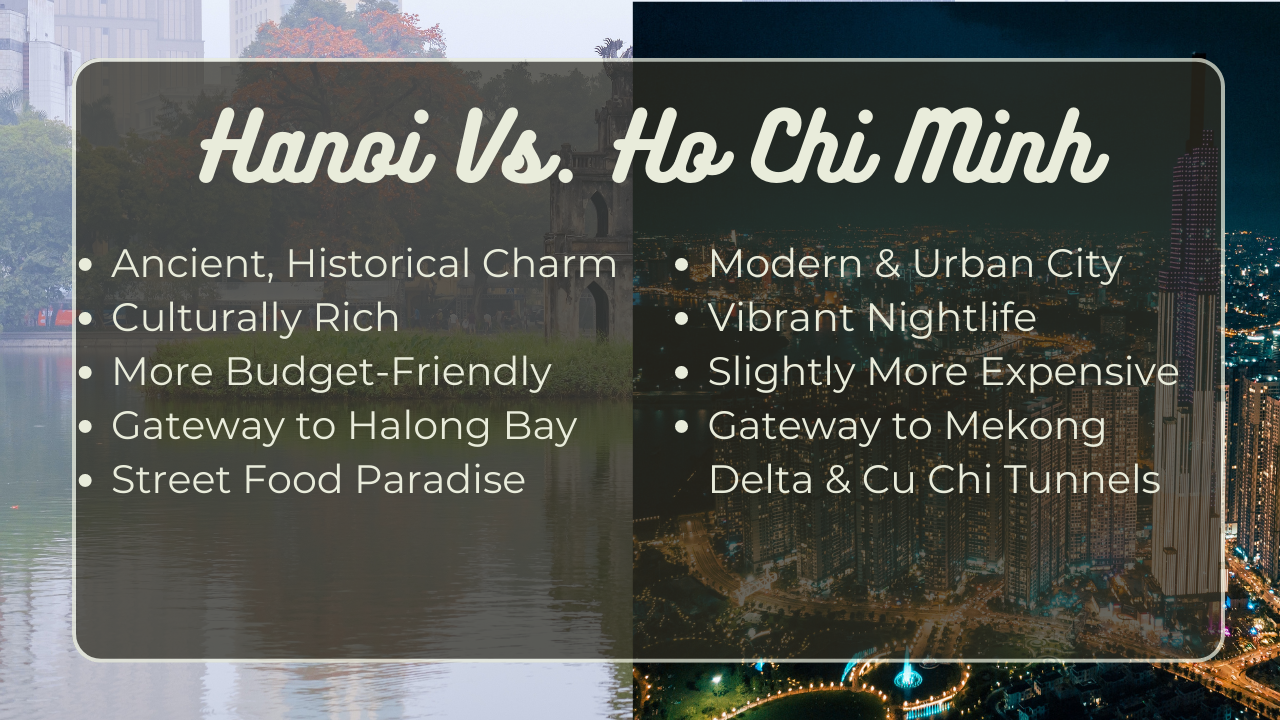 Whether you prefer the nostalgic allure of Hanoi or the cosmopolitan energy of Ho Chi Minh City, both cities promise an unforgettable journey through Vietnam's rich tapestry of history, culture, and flavors.
Wander Smartly Tip – While visiting Vietnam, we recommend you visit both Hanoi and Ho Chi Minh for a wholehearted Vietnamese adventure. Check our detailed 10 Day Vietnam Itinerary for a complete guide on places to visit, where to stay, and which activities to indulge in.
Drop a comment below to let us know your thoughts! Visit our destinations page for detailed travel guides on places worth visiting.
FAQs
Which is better – Hanoi or Ho Chi Minh?
Both Hanoi and Ho Chi Minh City offer captivating experiences for travelers, but they do differ in their offerings. Hanoi exudes charm through its ancient heritage, tranquil lakes, and traditional street scenes, while Ho Chi Minh City embraces modernity, diversity, and a bustling urban vibe. Hanoi is slightly more pocket-friendly and Ho Chi Minh has a busting nightlife. Ideally, you must visit both when in Vietnam.