Looking for a quick getaway in India? Here's the perfect Pondicherry Itinerary that guides you on where to stay, which places to visit, how to reach and which cafes to eat at.
The charming coastal town of Pondicherry is the perfect location if you're looking for a short, sophisticated beach holiday in India. This is where French heritage meets Indian culture. With its history, spirituality, world class cafes and beautiful landscapes, Pondicherry offers a great blend of experiences for you.
Our goal at Wander Smartly is to make your travels smarter and help you have the best experience on your trips. My friends took me to Pondicherry on my bachelorette trip and it was so much fun, yet an elegant and serene experience at the same time. In this article, I share all the details you would need to best spend two spectacular days in Pondicherry.
2 Day Pondicherry Itinerary
Day 1: Visit Mahabalipuram, White Town, Aurobindo Ashram & Promenade Beach
Morning: Arrive at Chennai and halt at Mahabalipuram before reaching Pondicherry
Take a morning flight to Chennai and rent a car to reach Pondicherry. This drive is typically 3 hours long, along the coastal road. The ancient town of Mahabalipuram, a designated UNESCO World Heritage Site, is on the way to Pondicherry, and I highly recommend you make a stop there to see the iconic Shore Temple. I am not a religious person, but I do recommend visiting this temple built right by the ocean for its location and architecture.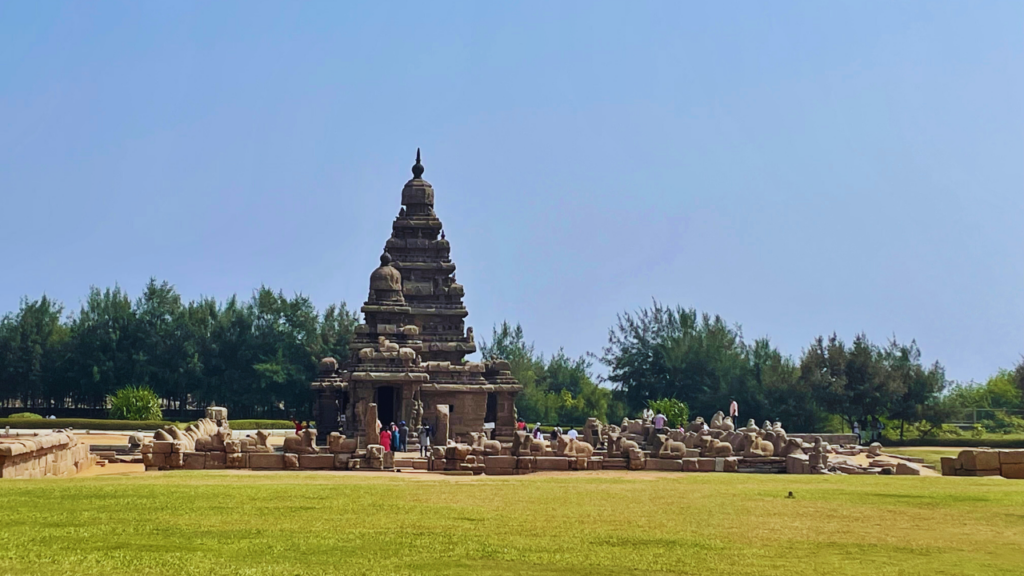 You can also check out the rock-cut caves, Arjuna's Penance, and the Five Rathas. Grab lunch at The Wharf, located within the Radisson Blu Resort, a highly rated place with ocean views.
Afternoon: Reach Pondicherry and Check-in
After a delightful sight-seeing expiring and a fulfilling lunch, reach Pondicherry and relax for a bit at your hotel. You must, must plan to stay at White Town in Pondicherry, the best location with French quarters and proximity to the ocean. Staying within White Town gets you the best of your stay in Pondicherry, so ensure you book your hotel in advance.
I'd recommend Villa Shanti as a great place to stay. It is a charming boutique hotel that offers a delightful blend of French aesthetics and Indian hospitality.
Evening: Explore White Town, Visit Aurobindo Aashram and Walk along Promenade Beach
White Town is also known as the French Quarter, the beating heart of Pondicherry's colonial charm. As you stroll through its narrow, cobbled streets, you will be transported to an era of French colonial architecture and culture. The distinctive mustard-yellow buildings with white facades and colorful bougainvillea will simply make you fall in love with the town.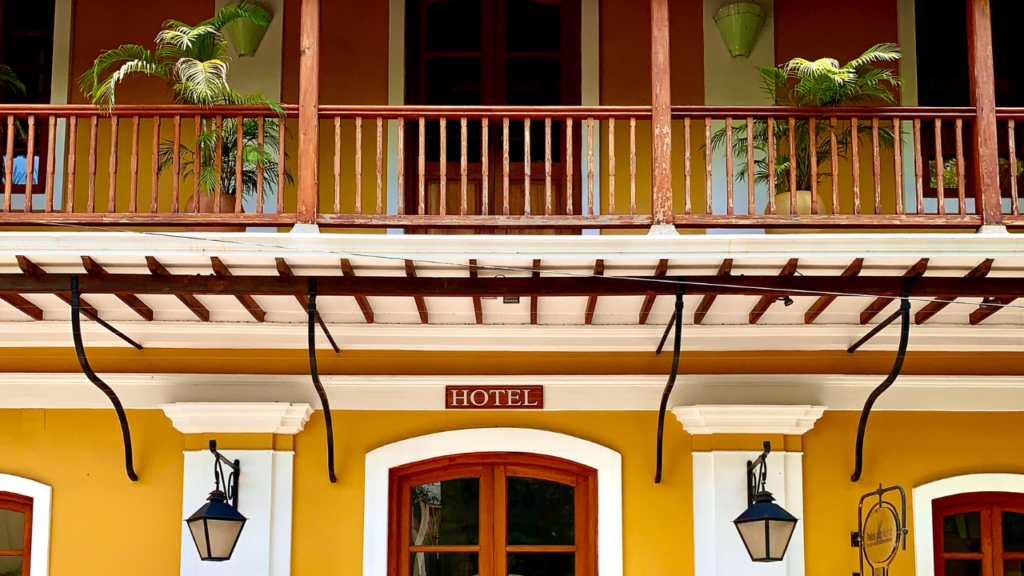 Grab coffee at Hope Café. It has some funky, psychedelic art on its walls which is quite distinctive and beautiful, to say the least.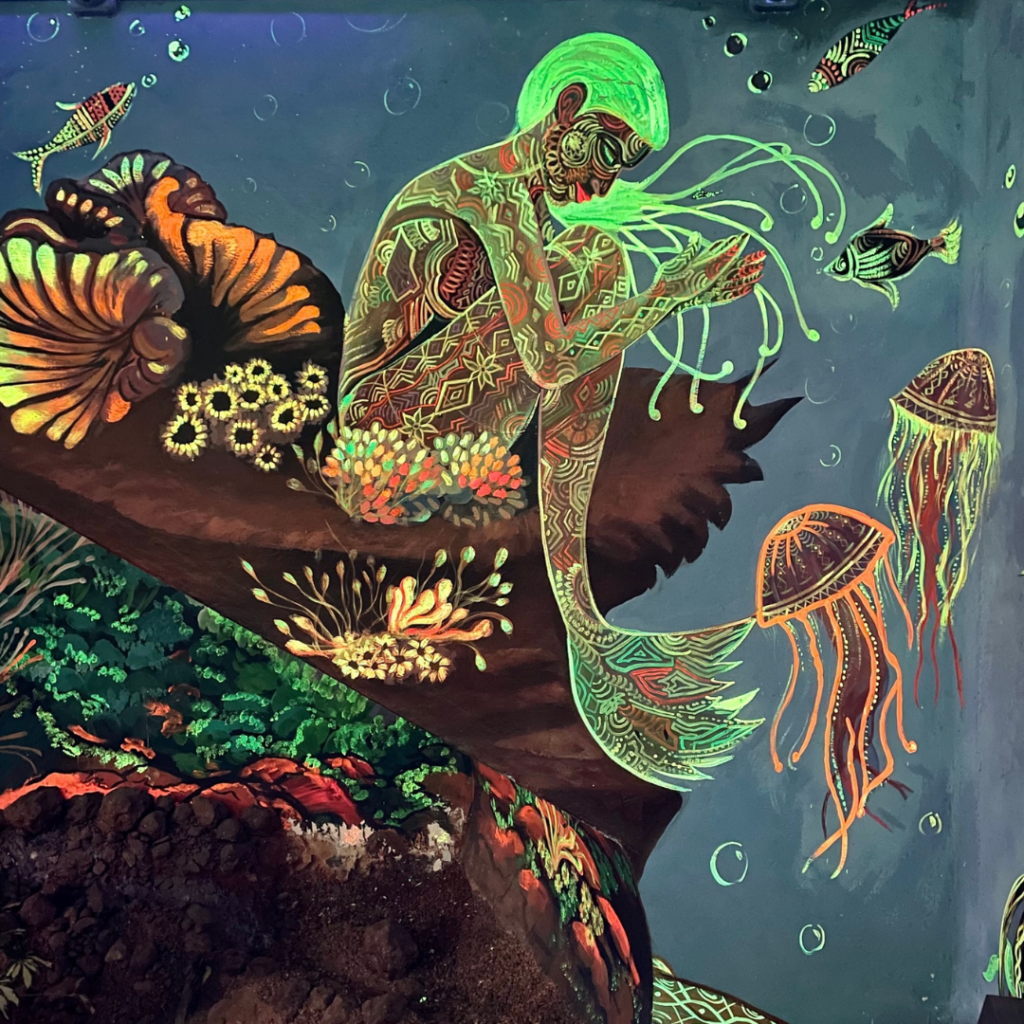 Next, visit the iconic Aurobindo Ashram in White Town. Founded by Sri Aurobindo and Mirra Alfassa (The Mother) in 1926, the Aurobindo Ashram provides a serene and peaceful environment for you to meditate, even for a bit, and seek solace. The beautiful gardens and quiet courtyards offer a conducive atmosphere for some relaxation.
You would need to remove your footwear outside the Ashram but don't worry, the place is neat and clean.
Next, stroll by the Promenade Beach, often referred to as the "Pondicherry Beach". You can relax on the benches here while enjoying the sea breeze and the sound of crashing waves. Sounds inviting, doesn't it?
I'm pretty sure I had the best gelato ice cream in India at Gelateria Montecatini Terme on beach road in Pondicherry. You can continue walking along the promenade till you reach here. With authentic Italian Gelato in multiple flavours on offer, you cannot skip this place on your trip to Pondicherry!
Night: Enjoy dinner at Coromandel Café
Enjoy a great dinner at Coromandel Cafe, known for its cozy ambiance and delectable French-Indian fusion cuisine. Try sitting outside for a great vibe. I loved their desserts on offer, especially the Tiramisu, which tasted like a small piece of heaven in my mouth.
Day 2 – Visit Auroville, Serenity Beach, and Le Café
Morning: Breakfast at Café Des Arts and visit to Auroville
Begin your second day with a delectable breakfast at Café Des Arts. This is one of the most popular (with good reason) and instagrammable cafes in all of Pondicherry, making it a must-visit place for you.
Do keep in mind the café opens at 9 am and is closed on Tuesdays.
Auroville is an experimental township located near Pondicherry – it takes about 30 mins to reach from Pondicherry. It was founded in 1968 by The Mother, and was envisioned as a place where people from all walks of life and from around the world could come together in harmony, towards a shared vision of human unity and sustainable living.
Even today, Auroville is home to people from around the world who have come to live, work, and contribute to the community. The residents, known as Aurovilians, come from diverse backgrounds, cultures, and professions.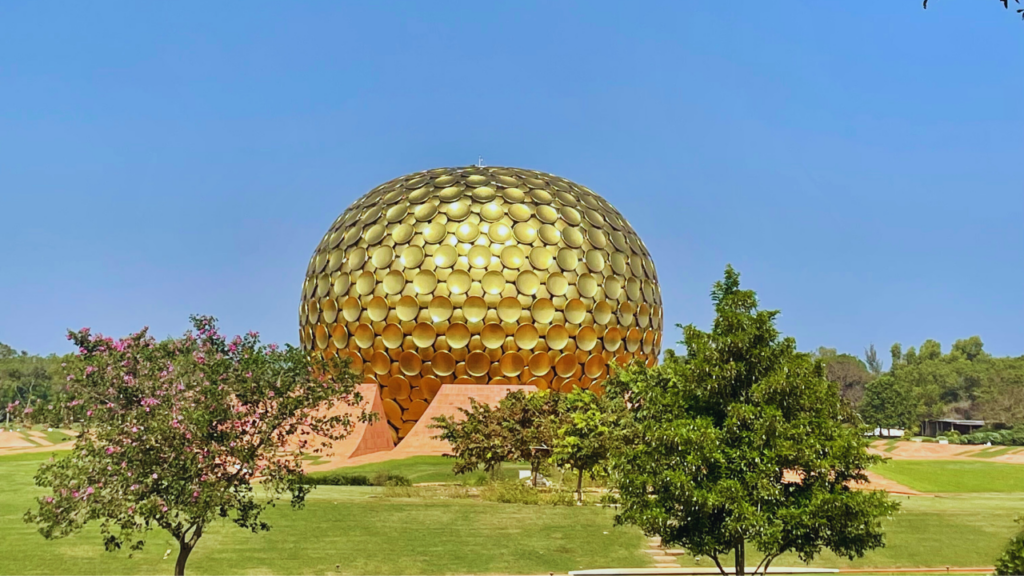 At the heart of Auroville stands the Matrimandir, a breathtaking architectural marvel and the spiritual center of the community. If you wish to visit the inner chamber of the Matrimandir, you would need to make a booking days in advance and reach before 8:30 am on your day of visit.
You would be taken through an exhibition and video presentation and you would be doing a fair bit of walking in Auroville, so remember to wear comfortable shoes. You can also spend some time exploring their souvenir shop, but I personally found the items to be exorbitantly priced. Grab lunch at the café in Auroville, and then head over to Serenity Beach.
Afternoon: Serenity Beach
Serenity Beach, located just a few kilometers north of Pondicherry, is a hidden gem along the Bay of Bengal. It boasts golden sandy shores that stretch for miles, flanked by turquoise ocean waters. The beach offers a stunning backdrop for long, leisurely walks. The icing on the cake is the stone bridge along the ocean, which you must walk along and sit at, for a soothing experience of the ocean.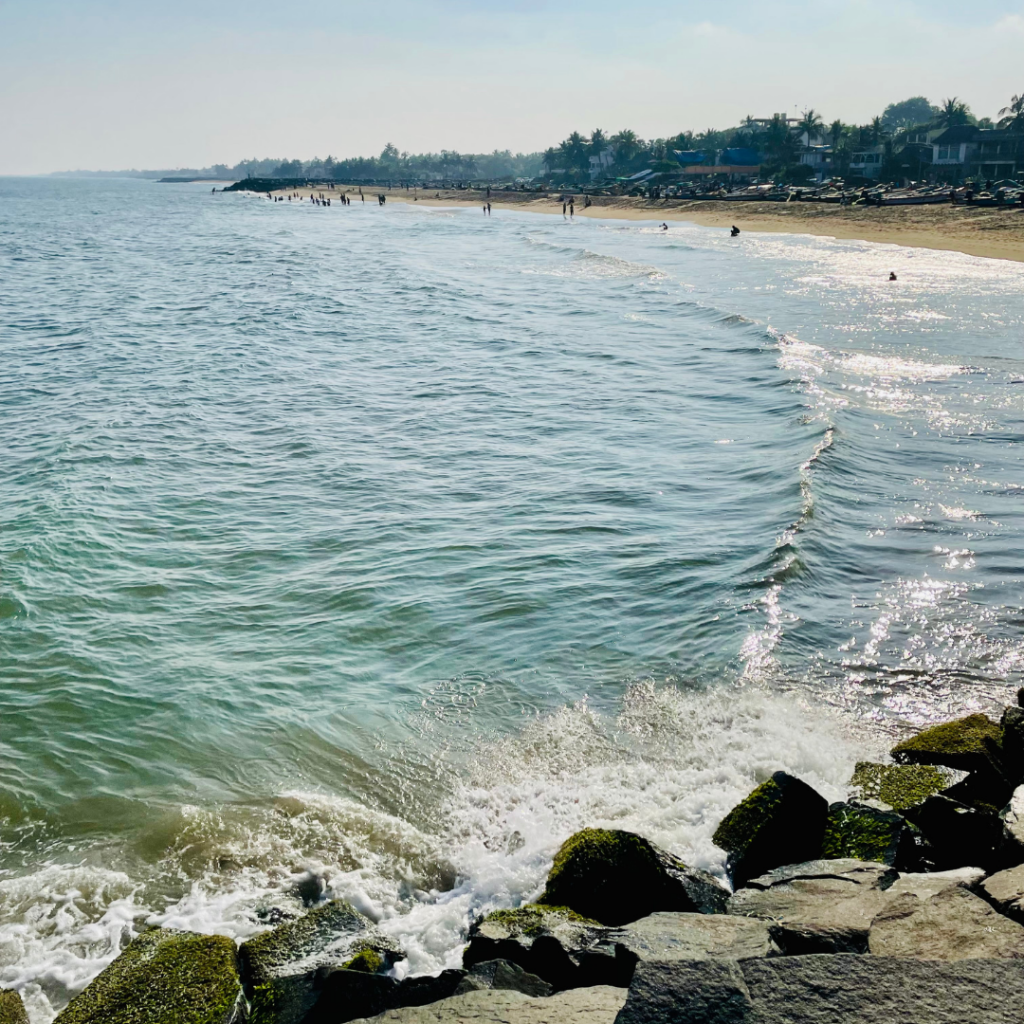 Evening: Coffee at Le Cafe
Return to Pondicherry and visit Le Café at Promenade Beach. This place, undoubtedly, offers the best ocean view in all of Pondicherry and is a must-visit destination. It is a humble place and you may have to stand in a queue to order your coffee, but it is worth the views you'd be soaking in. Try taking a table upstairs for better views.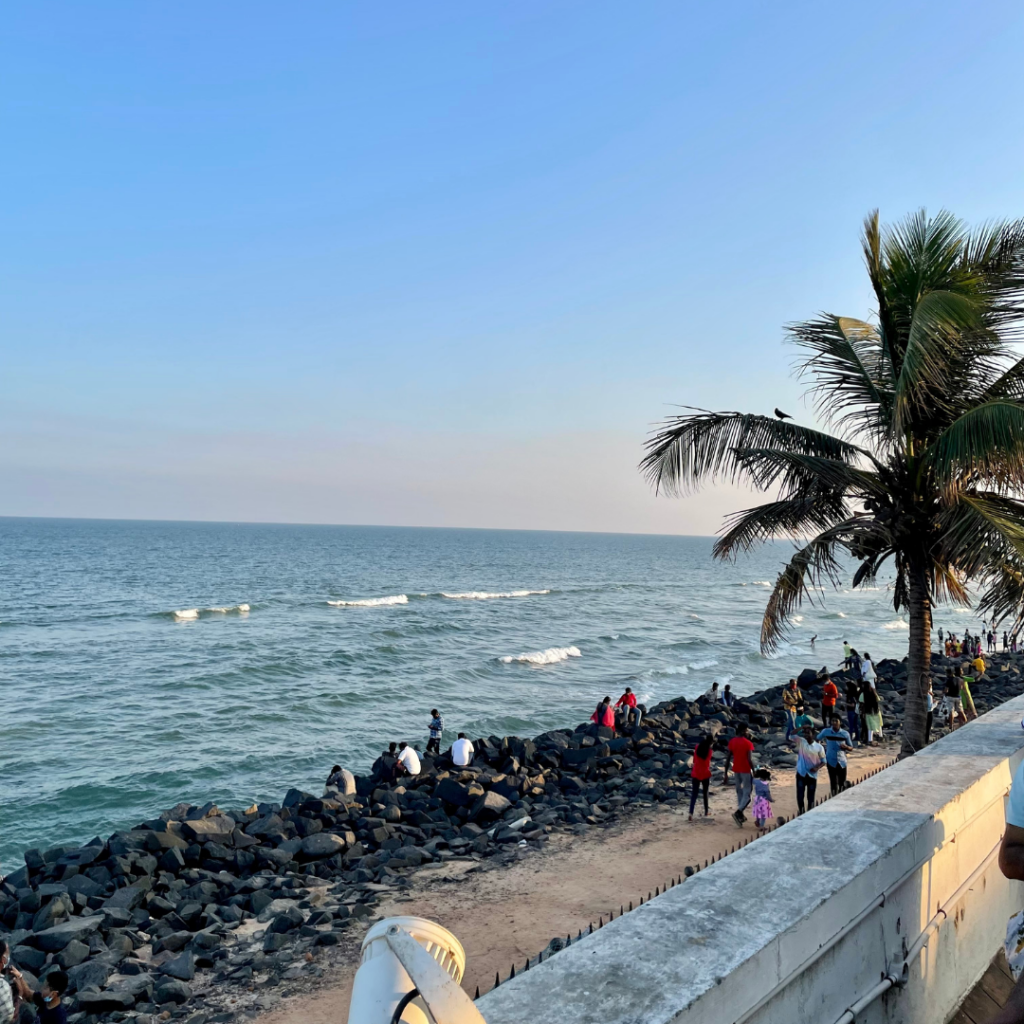 Dinner: Farewell Feast
For your farewell meal in Pondicherry, make a reservation at Villa Shanti for an alfresco, fine-dining experience. Housed in a beautifully restored heritage building, Villa Shanti retains the colonial charm of its architecture and offers a diverse range of culinary experiences from classic French dishes to Indian-inspired creations.
With this, your two-day adventure in Pondicherry would come to an end. You can travel back to Chennai the next morning and take a flight home from Chennai airport.
Where to Stay
My best recommendation is for you to stay in the French quarters of Pondicherry – White Town. Your experience of Pondicherry will be immensely heightened by staying here. Villa Shanti, in particular, is an excellent place to stay. This heritage villa turned hotel is a haven offering a tranquil and elegant abode in the vibrant area of White Town. The hotel is adorned with a serene courtyard and a lush garden, providing a peaceful oasis within the bustling town. The outdoor spaces are perfect for relaxation, reading a book, or simply unwinding amidst the greenery.
You must book your stay in advance as hotels in White Town tend to sell out quickly.
Best Time to Travel
The best time to visit Pondicherry is during the winter months, from October to March. This period offers the most pleasant weather for exploring the town on foot and other activities.
How to Reach
The best way to enjoy this itinerary is to take a flight to Chennai and reach Pondicherry by road via Mahabalipuram. Pondicherry also has an airport of its own but does not offer direct flights to most cities in India.
Alternatively, Pondicherry has its own railway station, which is well-connected to major cities in South India like Chennai, Bangalore, and Mangalore. Another option is to reach Villupuram Junction, which is approximately 35 kilometers away from Pondicherry. Villupuram is a major railhead and is well-connected to various cities in India.
Local Transportation in Pondicherry
The best way to experience Pondicherry is on foot. Walking allows you to explore the quaint streets, colonial architecture, and nearby attractions at your own pace.
Pondicherry is known for being a cycle-friendly town, and renting a bicycle is a popular option for exploring the area.
Auto rickshaws are a popular and convenient mode of transport within Pondicherry. Negotiate the fare with the driver before starting your journey, or ensure they use the meter. Auto rickshaws are suitable for short distances and can take you to various destinations within the town.
You can rent a motorcycle or taxi for a full day of sightseeing.
Ride-sharing apps like Uber and Ola operate in Pondicherry, providing an easy and convenient option for booking cabs to specific destinations within the town or nearby areas.
---
Pondicherry is a destination that seamlessly combines history, spirituality, and gastronomy. With this 2-day itinerary, you'll have a taste of the unique blend of French and Indian culture that makes this town so special. Make sure to take in the sights, savor the flavors, and immerse yourself in the serene beauty of Pondicherry. Happy travels!
Drop a comment below to let us know your thoughts or questions! Check more travel guides for India or visit our destinations page for detailed travel guides on places worth visiting.
FAQs
How many days are sufficient for Pondicherry?
2 to 3 days is sufficient to enjoy the best of Pondicherry
Which is the best month to visit Pondicherry?
October to March is the best time to visit Pondicherry
Why Pondicherry is better than Goa?
The charming coastal town of Pondicherry is the perfect location if you're looking for a short, sophisticated beach holiday in India. This is where French heritage meets Indian culture. With its history, spirituality, world class cafes and beautiful landscapes, Pondicherry offers a more refined experience than Goa.