Marveling at pictures of the iconic Halong Bay and Sapa Valley? There's that, and more to Northern Vietnam. Here is the best 7-day Northern Vietnam Itinerary that fills each day with a unique surprise for you.
Northern Vietnam is a region of remarkable landscapes that sets it apart from the rest of the country. From the magnificent limestone karsts of Halong Bay to the terraced rice fields of Sapa, Northern Vietnam's diverse geography will take you on a visual feast.
Our goal at Wander Smartly is to make your travels smarter and help you have the best experience on your travels. From my own experience of visiting Vietnam, I share all the details that you need to plan the perfect 7-day Northern Vietnam itinerary.
Best Time to Travel
The best time to explore Northern Vietnam is Spring (March to April) and autumn (October to November). These months are particularly lovely with mild weather and blooming landscapes. These months also offer cooler temperatures and less rainfall, ensuring a pleasant travel experience for you.
7 Day Northern Vietnam Itinerary
Day 1: Arrive at Hanoi and Explore the Old Quarter
Hanoi, the capital of Vietnam, is renowned for its abundant history and architecture. I spent 3 full days exploring this city and was amazed at the experiences it engages one with. Upon arrival, settle into your hotel to alleviate any travel fatigue. I highly recommend selecting accommodations within the Old Quarter district, which houses the city's most captivating cultural landmarks. The Imperial Hotel and Spa, situated in the Old Quarter, stands out as an exceptional option, boasting spacious and charming rooms along with superb hospitality. I stayed here during my visit to Northern Vietnam, and their service and location greatly eased my stay.
Head on to explore the Old Quarter on foot. Opt for this 3-hour food walking tour commencing at 6 pm, that takes you on a culinary adventure as you immerse yourself in the local markets, savor authentic Vietnamese cuisine and desserts, and enjoy a taste of local beer, tea, or coffee at charming cafes and bars.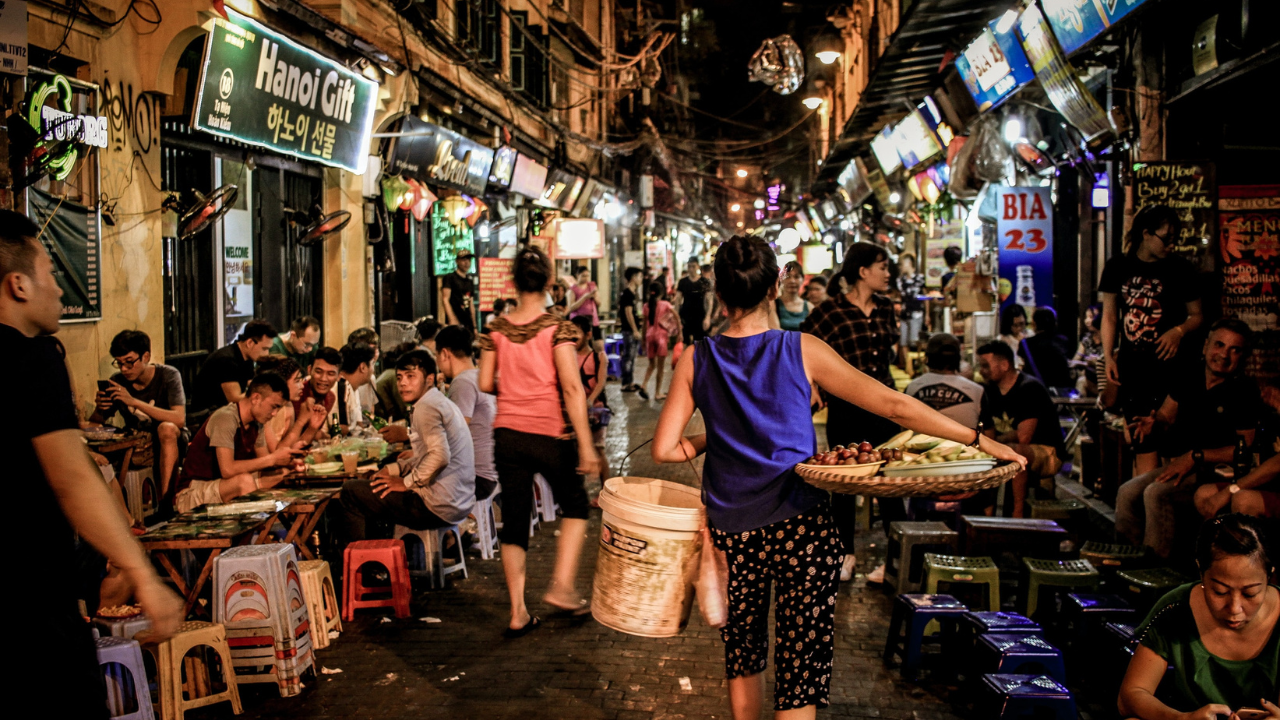 Day 2: Visit the Lakes & Temples of Hanoi and the iconic Train Street
Make the most of your initial day in the city by a leisurely exploration of nearby attractions on foot. Start with a walk along Hoàn Kiếm Lake, aptly named 'Lake of the Returned Sword'. As the story goes, Emperor Ly Thai To returned a mystical sword to a giant turtle dwelling within the lake, an enduring symbol of the city. A 1.8-kilometer (1.1-mile) walking path encircles the lake, offering an ideal setting for a relaxed promenade.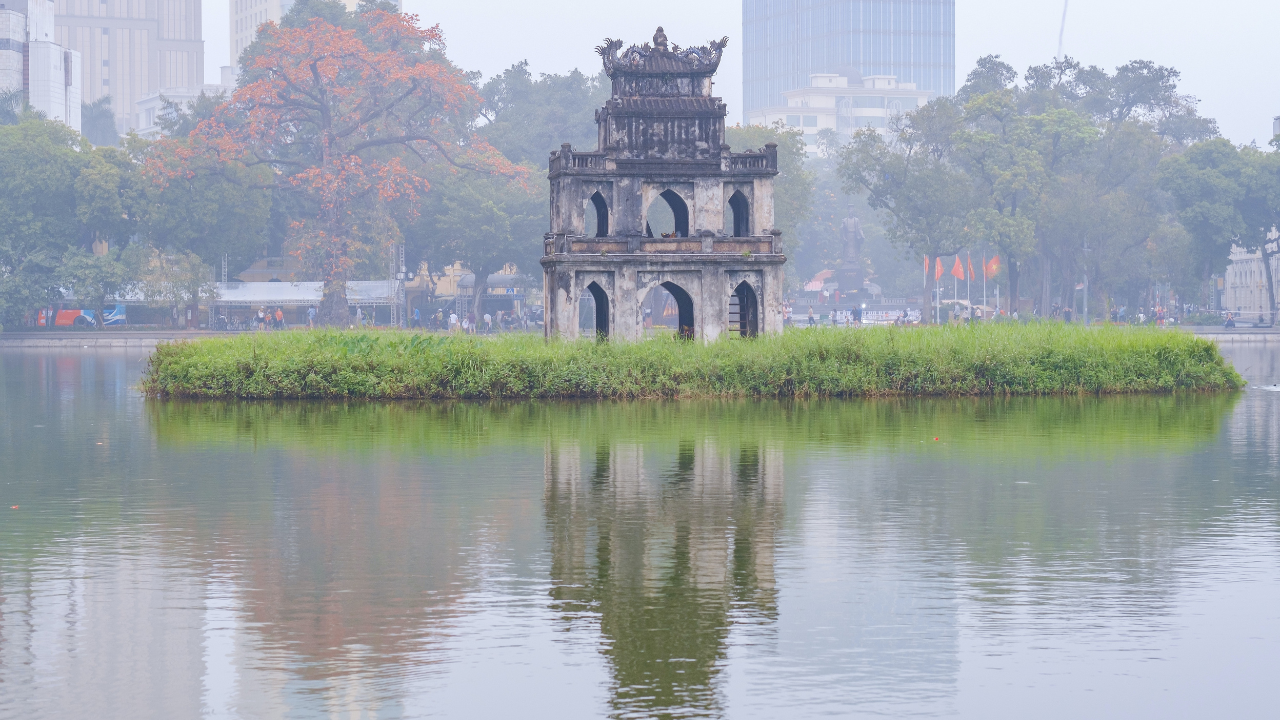 Pause for a cup of coffee or tea at one of the numerous lakeside cafes, where lush gardens and ancient trees create a picturesque backdrop. I had a lovely time walking around the lake, which is right outside The Imperial Spa and Hotel in the Old Quarter.
Continue your stroll along the lake's perimeter until you reach Ngoc Son Temple, positioned on an island within the lake. To access the temple, walk across The Huc Bridge, a wooden structure imbued with Buddhist architecture in a charming scarlet color. I found The Huc Bridge to be quite pretty, and took many a picture from different angles to get the best one. Operating daily from 8 am to 6 pm, the temple requires a nominal entry fee of approximately 30,000 VND.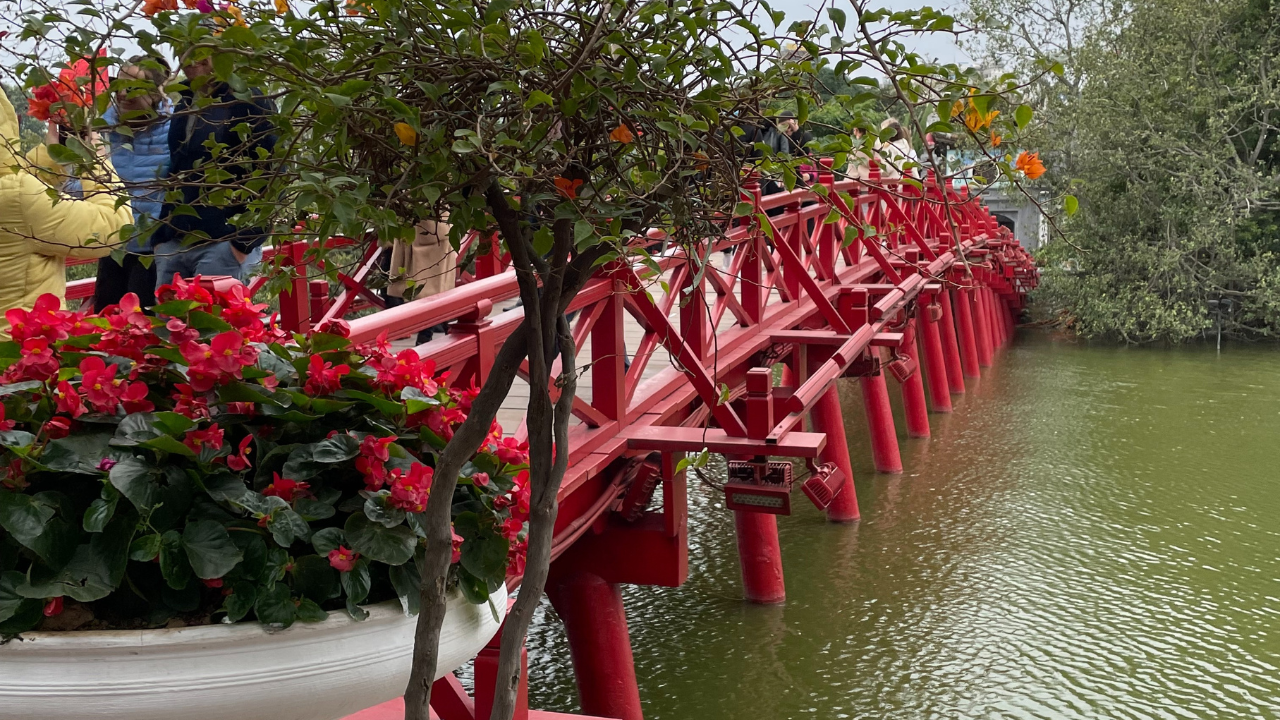 Dedicate some time to meandering through the streets of the Old Quarter. While you shop around the hotel, you may want to haggle prudently and initiate negotiations by halving the quoted price. You can pick up some great souvenirs like Hong Lam's flavored dried fruits, such as the ginger-infused apricots (Mo Hong Lam 1). They're yum! I got many packets of different dried fruits from this store in Hanoi to distribute among family. You can also find these at airports in Vietnam.
To know more about shopping in Vietnam, read our article on things to buy in Vietnam and how to bargain.
Your next destination is The Temple of Literature, an imperative stop in your journey across Northern Vietnam. Renowned for its architecture, the temple features scenic courtyards, gardens, and pavilions adorned with intricate carvings. With a nominal entry fee, the temple will welcome you between 8 am to 5 pm. It would be great to adhere to a dress code—avoid tank tops and revealing attire—out of respect. Located about 3 kilometers from the lake, you can take a taxi to reach here.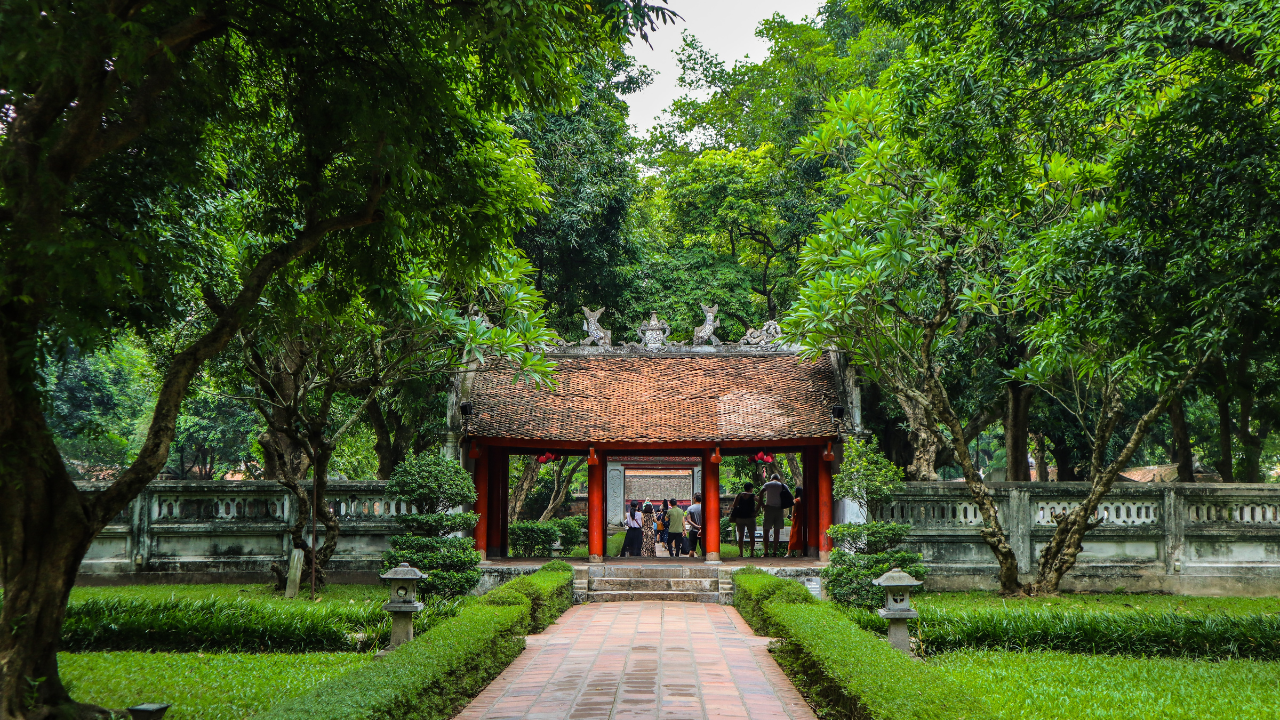 Following this, explore the iconic and Instagram-worthy Train Street in the Old Quarter. This narrow passageway is traversed by trains mere inches away from residences and shops lining the tracks. Relish a cup of coffee at one of the cozy cafes lining the street, and witness trains rumble past. Ensure you align your visit with the train schedule, that run intermittently between 7:30 pm and 10 pm on weekdays and continuously throughout weekends. Consult your hotel reception for accurate timings.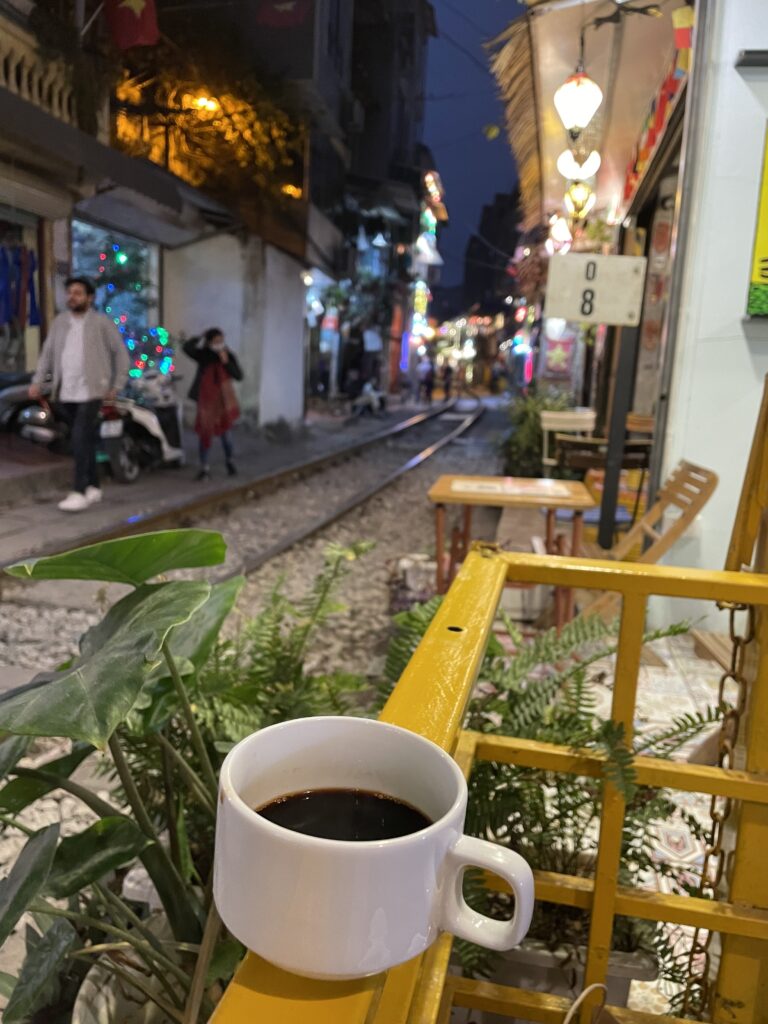 For those finding the walk to Train Street and back taxing, consider indulging in a rickshaw ride. Seating two passengers at the front, rickshaws in Hanoi offer unobstructed views of the city—a quintessential Old Quarter experience worth relishing during your stay.
Conclude the day with a delectable local dinner, as there are ample fine restaurants around your hotel, with Tung's Kitchen being particularly commendable. Try and secure a spot on their balcony, which gives a unique dining view onto the bustling street. Retire early, for an extensive (and enthralling) day awaits you tomorrow!
Day 3: Cruise Along Halong Bay
Halong Bay is renowned for its astonishing natural splendor, as well as its geological significance. It has been designated a UNESCO World Heritage Site and stands as one of Vietnam's most sought-after destinations, all with good reason. The bay with its emerald-hued waters and an array of towering limestone islands together form an almost surreal marine panorama.
Additionally, the region harbors a multitude of caves, grottoes, and concealed lagoons that contribute to its inherent natural beauty. A visit to Halong Bay is essential in your Northern Vietnam Itinerary.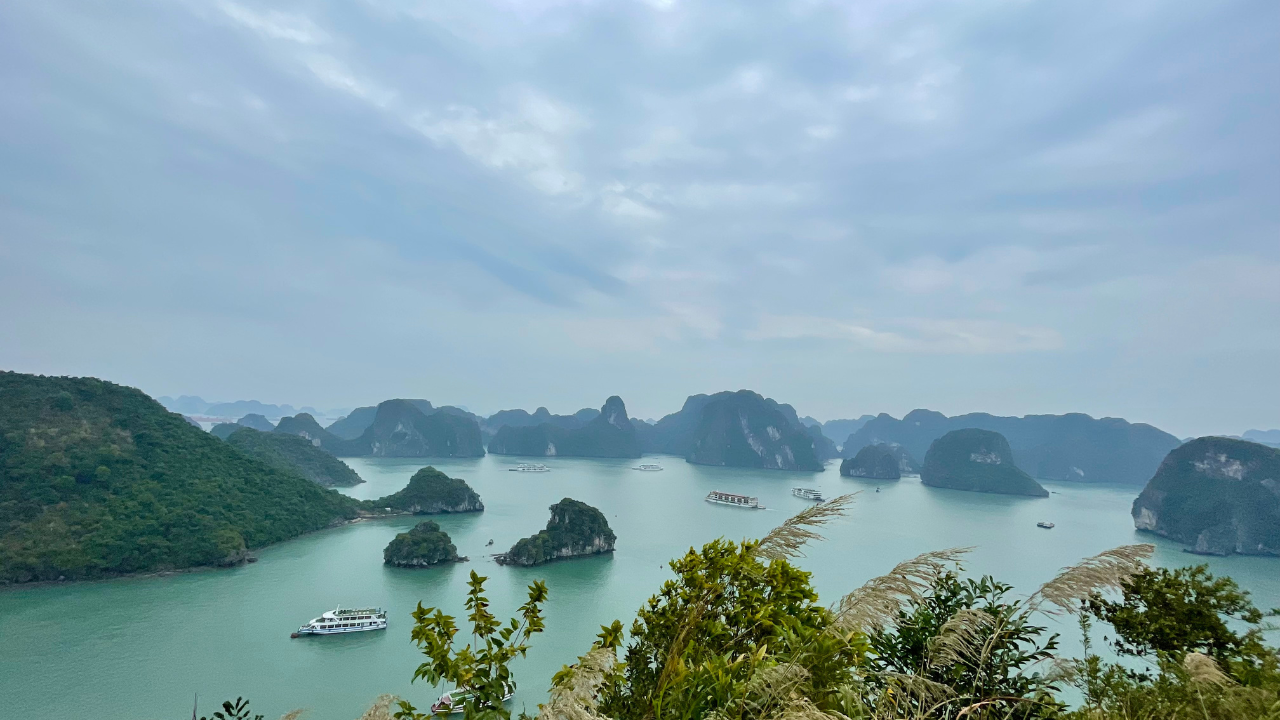 To best experience Halong Bay, take this day-long tour originating from Hanoi. Commencing with a hotel pickup in the Old Quarter area, the journey to the port lasts around 2.5 hours, culminating in a boat cruise across the expanse of Halong Bay. Enjoy a sumptuous lunch on the cruise, accompanied by breathtaking bay views.
You can opt for kayaking or a bamboo boat ride, as well as a hike to a vantage point to bask in panoramic bay vistas. I took some amazing photographs of the bay from the hill top, and highly recommend you do the same! If you are likely to go kayaking, it's advisable to pack a change of clothes. Additionally, if your visit falls within the period from December to March, do carry a jacket.
You might have heard claims that Halong Bay is over-hyped and unworthy of a visit. Having ventured there despite such opinions, I couldn't disagree more. Halong Bay epitomizes the very reason travelers include Vietnam in their holiday plans, and this reputation is entirely justified. I was completely mesmerized by its magnificence, and I have every reason to believe it is bound to leave you awe-inspired too.
Day 4: Explore Landscapes of Ninh Binh
After your Halong Bay adventure, head to Ninh Binh, known as the "Halong Bay on Land". Ninh Binh is renowned for its enchanting natural landscapes, characterized by limestone karsts and meandering rivers that make for quite a picturesque setting.
Ninh Binh is celebrated for its unique karst topography, which resembles Halong Bay's limestone formations. However, in Ninh Binh, these dramatic limestone karsts rise from emerald-green rice paddies, creating a unique landscape.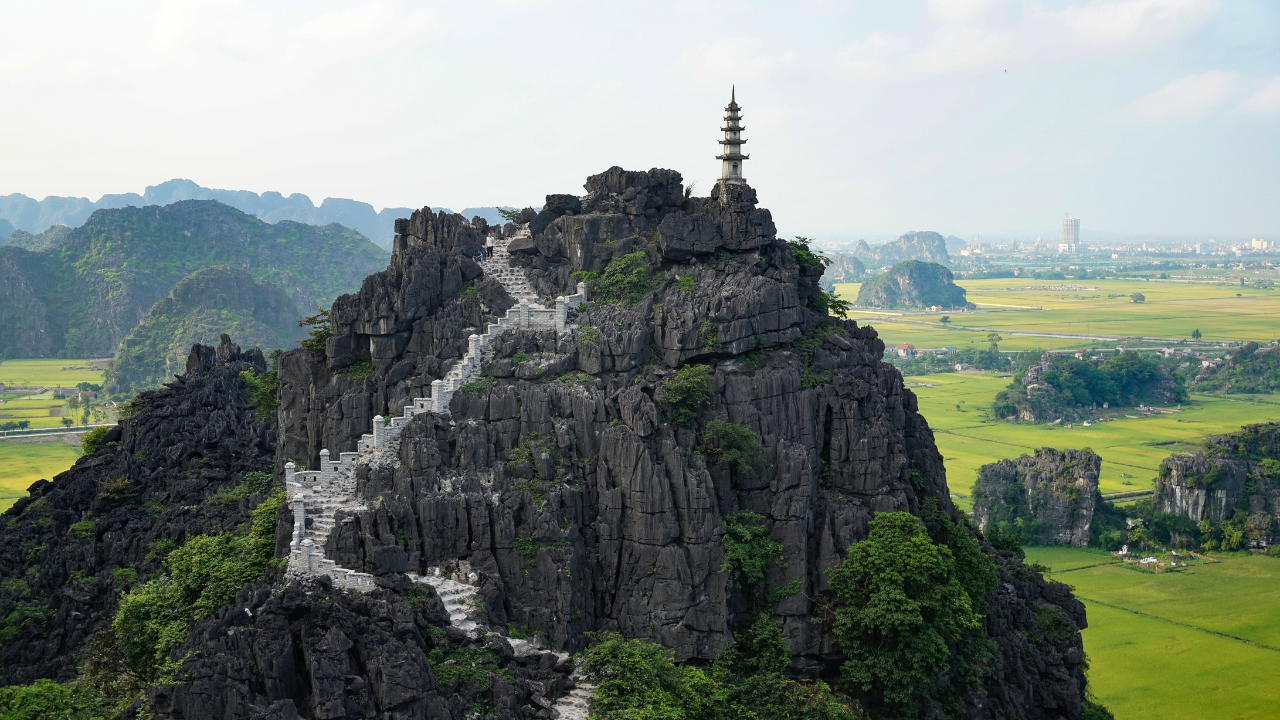 You can best experience the mesmerizing beauty of Ninh Binh on this day tour from Hanoi. Cruising in limousine minivan, you'll visit Hoa Lu, the former capital of Vietnam. Delve into the depths of Mua Cave and admire the views from the mountain's peak. Additionally, you'll glide through the enchanting passages of Tam Coc caves via a boat ride and cycle through the fields to reach the cave temples of Bich Dong Pagoda. Enjoy an authentic Vietnamese lunch along the banks of the Ngo Dong River.
Day 5, 6: Trek in Sapa Valley
Sapa Valley is a highland region located in the northwest of Vietnam, renowned for its breathtaking natural beauty and stunning terraced rice fields. Located in the Hoang Lien Son Mountain range, Sapa Valley is known for its rugged peaks, lush valleys, and mist-covered landscapes.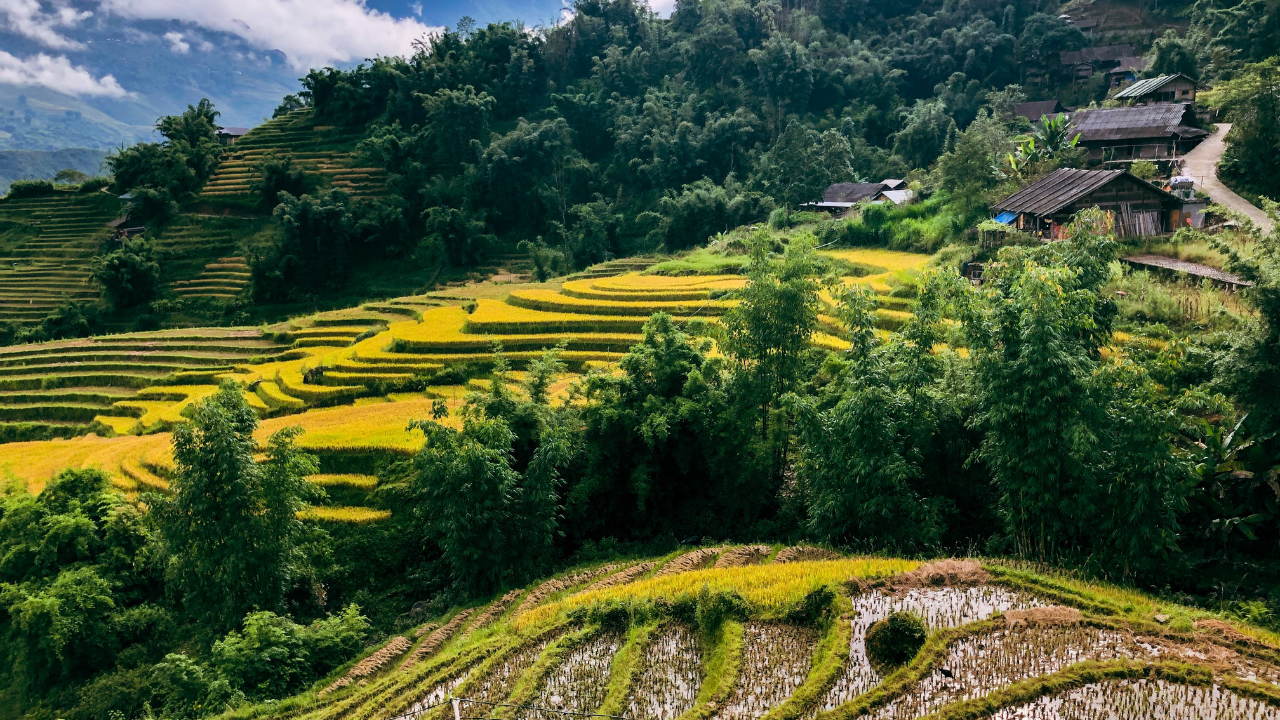 Sapa Valley is a must-visit when you're focusing only on Northern Vietnam. The best way to experience the beauty of this valley is to take a 2-day, 1-night tour from Hanoi. This tour will pick you up from your hotel in Old Quarter around 6 am on a comfortable air-conditioned bus. You will reach Sapa Valley around 2 pm in the afternoon and after lunch, begin a 9 km hike through the rice terraces of the valley, along Muong Hoa Stream, Black Hmong village of Lao Chai to witness spectacular landscapes.
You will then head over to your homestay in a bungalow and relax for the night.
The next morning begins with a 4 km trek across the rice paddies and bamboo forests, through the Giang Ta Chai Bridge. You have free time in the afternoon after lunch and you begin the return journey to Hanoi around 3 pm and reach by 9 pm.
Day 7: Experience Museums and Water Puppetry in Hanoi and Return Home
Your trip to Northern Vietnam is incomplete without learning about its history and visiting its museums. Vietnam's path to independence has been marked by a prolonged and intricate history. French colonial rule endured for over six decades, characterized by its brutal exploitation of the populace and resources. Later, the United States entered the fray, deploying thousands of troops to Vietnam.
Consequently, a multitude of museums across Vietnam are dedicated to commemorating the legacies of revolutions. These institutions display photographs, documents, and artifacts associated with the country's wars. Among the museums in Hanoi, I recommend you visit the Maison Centrale, colloquially known as the Hai Lo Prison or Hanoi Hilton. This facility incarcerated both Vietnamese revolutionaries and American prisoners of war.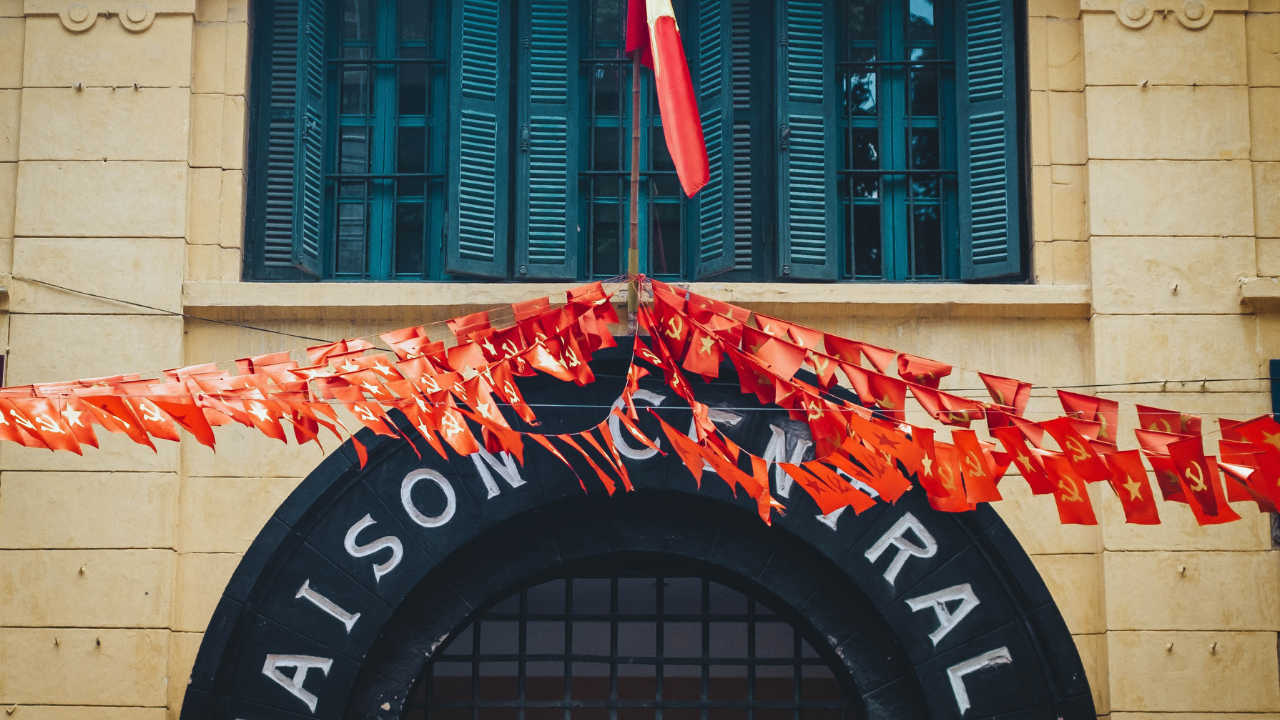 Go for the audio-guided tour as it offers insights into the prison's history and the stories of its detainees. The prison's conditions were notorious for their severity, marked by overcrowding, disease, and malnourishment. Inmates often endured torture and maltreatment at the hands of guards. The museum offers a glimpse into the cells where prisoners were held, along with exhibits illustrating the prison's role during the Vietnam War.
Tickets for the museum can be obtained at the entrance. Earmark around three hours for the audio-guided tour. The history enthusiasts can also consider visiting the Vietnam National Museum of History. This museum's collection spans various epochs of Vietnamese history, arranged chronologically and thematically to showcase different dimensions of the nation's culture and history.
Afterward, indulge in lunch and then attend the Water Puppet Show, a unique Vietnamese art form. I strongly recommend Chayfood in the Hoàn Kiếm district for delectable vegan cuisine. Their spring rolls, complemented by sesame peanut sauce, are particularly exquisite. Read our article for a complete guide to vegetarian/vegan food in Vietnam.
Experience one of Vietnam's most distinct art forms live on stage at the Thang Long Water Puppet Theatre. Originating from flooded paddy fields, water puppetry was initially a form of entertainment for villagers who manipulated puppets in waist-deep water. The show, lasting 50 minutes and staged at regular intervals, is a captivating spectacle. Secure your tickets in advance.
While in Ha Noi, savor the authentic Vietnamese Coffee available at AHA Cafe outlets, renowned for offering the finest Vietnamese coffee in comparison to other cafes.
Plan to return by taking an evening flight home. As your 7-day adventure in Northern Vietnam comes to an end, you'll leave with cherished memories of diverse landscapes and unforgettable experiences. From the vibrant streets of Hanoi to the majestic karsts of Halong Bay, to the tranquil rice terraces of Sapa, this journey offers the best taste of Northern Vietnam.
Ready for a great holiday to Vietnam? Book your flights in advance to avail better rates.
Vietnam is a great holiday destination that offers something for everyone, from history buffs and foodies to nature lovers and adventure seekers. If you're seeking to see of all Vietnam, with this Ultimate 10-day Vietnam Itinerary, you get to see the best places in Vietnam in just the right amount of time.
Local Food
Vietnam is known for its diverse and delicious cuisine. Here are some local foods you should try while in Vietnam:
Pho – a noodle soup with beef or chicken and various herbs and spices.
Banh mi – a baguette sandwich filled with a variety of meats, pickled vegetables, and herbs.
Vietnamese Coffee – prepared with Robusta beans and condensed milk, Vietnamese coffee has a rich and decadent flavour and is a must-try on your trip to Vietnam, both the iced and hot versions.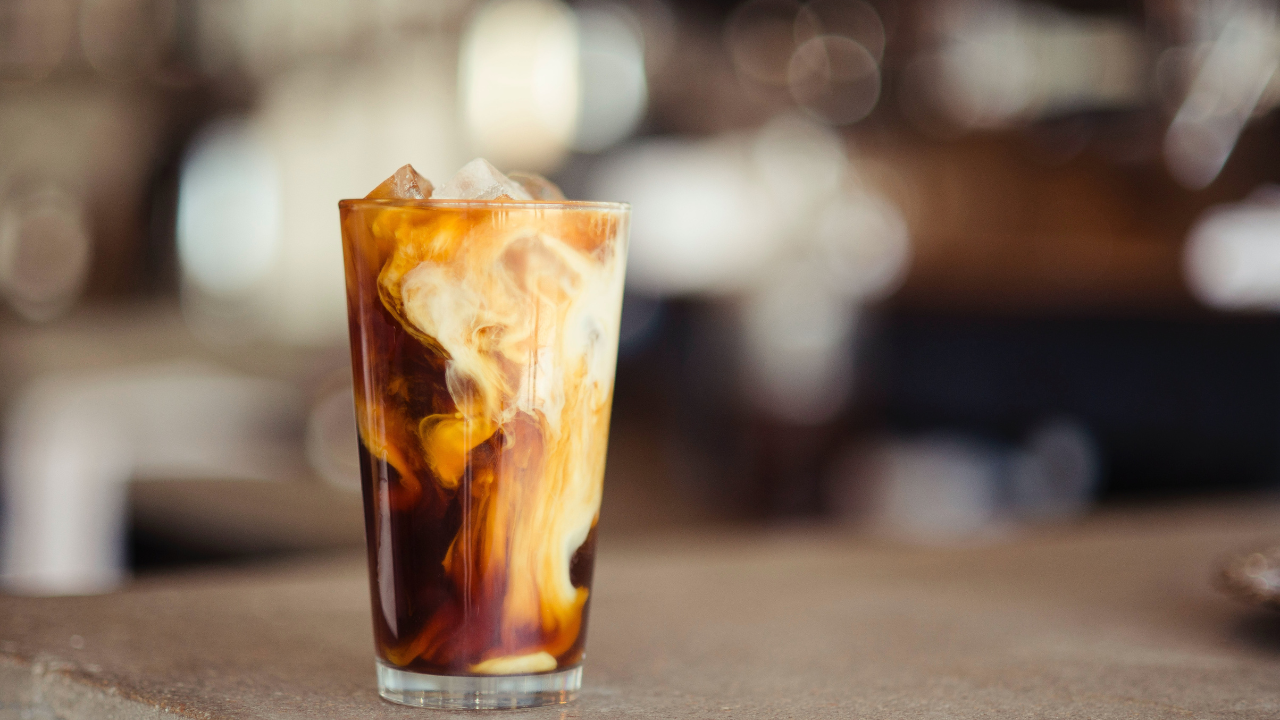 Local Transportation
Taxis are readily available in Vietnam. The most reputable cab operators are Mai Linh and Vinasun. Do ensure the meter is running or decide on a fare if you use any other cab operator. Alternatively, download the Grab app (Uber equivalent) on your phone.
Currency
The currency in Vietnam is the Vietnamese Dong. Cards aren't widely used in Vietnam so carry cash in the local currency with you. ATMs are widely available in major cities. Withdraw Dongs from your debit/travel cards. You may not find international banks in Vietnam; the best ATMs to use are Agribank, Vietcombank, BIDV, Techcom Bank, Sacombank. There will be a transaction fee deducted each time you withdraw cash, so withdraw large amounts at a time.
Visa
Tourists from some countries are exempt from a visa for a defined duration of visit. You can check the list of countries here: https://www.myvietnamvisa.com/visa-requirements.html.
A passport with at least 6-month validity from the date of travel is required. There are many websites operated by travel agents that help procuring an e-visa. I applied for mine here: https://vietnamvisa.govt.vn/.
Language
Vietnamese is the official language in Vietnam. You will find English being spoken in most tourist places, but many café owners and cab drivers do not speak English. Download the Vietnamese language on Google Translate on your phone for easy communication.
Mobile Network Operators
Viettel and Vinaphone are the biggest mobile operators in Vietnam providing 4G and 5G services. You could consider buying a local sim card if that works out cheaper than international roaming with your service provider back home. The best SIM Card providers in Vietnam are Viettel and Vinaphone.
Travel Adaptor
Plugs type A (two flat vertical pins), type C and type F (two round pins) fit most electrical outlets in Vietnam. It is best to carry a universal travel adaptor to avoid any hassles or confusion.
Visit our destinations page for more such detailed travel guides on countries worth visiting.
FAQs
How many days do you need in North Vietnam?
7 days is perfect to see all the places worth visiting in North Vietnam.
Is North Vietnam worth visiting?
Yes, Northern Vietnam is a region of remarkable landscapes that sets it apart from the rest of the country. From the magnificent limestone karsts of Halong Bay to the terraced rice fields of Sapa, Northern Vietnam's diverse geography will take you on a visual feast.
What month is best for North Vietnam?
The best time to explore Northern Vietnam is Spring (March to April) and autumn (October to November). These months are particularly lovely with mild weather and blooming landscapes. These months also offer cooler temperatures and less rainfall, ensuring a pleasant travel experience for you.
How do I spend a week in North Vietnam?
7 Day Northern Vietnam Itinerary:
Day 1: Arrive at Hanoi and Explore the Old Quarter
Day 2: Visit the Lakes & Temples of Hanoi and the iconic Train Street
Day 3: Cruise Along Halong Bay
Day 4: Explore Landscapes of Ninh Binh
Day 5, 6: Trek in Sapa Valley
Day 7: Experience Museums and Water Puppetry in Hanoi and Return Home