Planning a trip to Bali? In this article, we'll walk you through where to stay in Bali, the best areas and hand-picked hotels in all of the island.
Bali is an enchanting island paradise known for its stunning beaches, lush rice terraces and vibrant culture. Bali offers a plethora of breathtaking destinations, each with its own unique charm and appeal. Whether you're a beach lover, a nature enthusiast, a culture seeker, or an adventurer, Bali has something for everyone.
Our goal at Wander Smartly is to make your travels smarter and help you have the best experience on your trips. From my own experience of planning a trip to Bali, I take you on a journey through the best areas to stay in Bali, so you can make the most of your unforgettable experience on this magical island.
Where to Stay in Bali
Here are the best areas to stay in Bali, with our selection of the best hotels in each of these areas.
1. Seminyak: The Cosmopolitan Hub
Seminyak is one of Bali's most trendy and upscale areas, perfect for you if you're seeking a mix of luxury and vibrant nightlife. Known for its stylish beach clubs, chic boutiques, and high-end resorts, Seminyak has it all and attracts a cosmopolitan crowd. From world-class restaurants, trendy boutiques, and art galleries to the beautiful beaches and exciting nightlife, Seminyak is the perfect place to stay in Bali.
Seminyak offers an unparalleled sophisticated experience and is undoubtedly the best place to stay in all of Bali. The iconic Potato Head Beach Club and Ku De Ta are must-visit spots to unwind and enjoy stunning sunsets.
Nestled in the heart of Seminyak, Potato Head Suites & Studios stands as a true epitome of luxury and style. If you're seeking a place to stay that combines modern elegance with Balinese charm, look no further. This upscale beachfront resort offers a world-class experience, providing you with a taste of paradise and the finest amenities. One of the standout features of this resort is its famous beach club, the Potato Head Beach Club, which is situated just a stone's throw away from the suites and studios.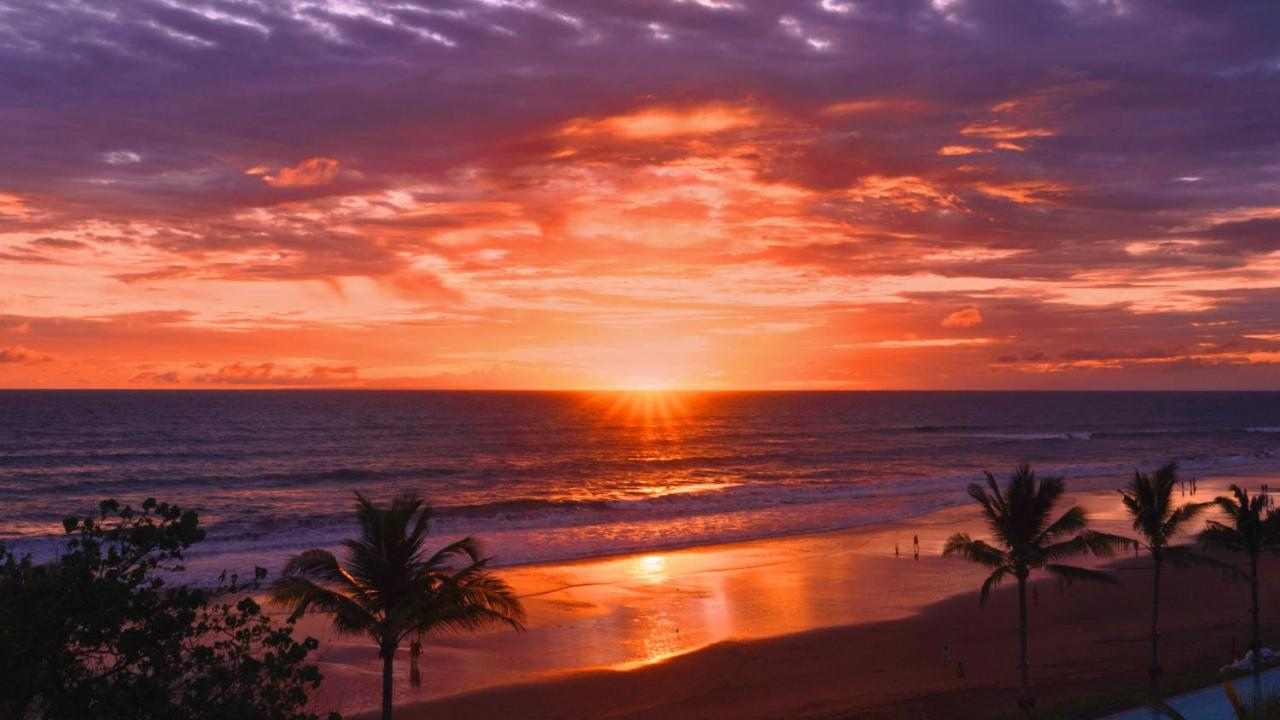 Situated in Seminyak, Potato Head Suites & Studios enjoys a prime location that puts you within easy reach of the area's top attractions. The resort's central location allows you to immerse yourself in the vibrant energy of Bali while still providing a peaceful retreat to return to at the end of the day. Highly recommended as among the finest places to stay in Bali.
2. Ubud: Lush Rainforests and Terraced Rice Paddies
Ubud, the cultural heart of Bali, is surrounded by lush rainforests and terraced rice paddies. It provides a tranquil retreat away from the hustle and bustle of the tourist hotspots. Here, you can immerse yourself in Balinese traditions, explore the vibrant local markets, and visit art galleries showcasing the island's creative talents. Ubud is also a fantastic base for day trips to nearby attractions like the Tegalalang Rice Terraces and the Monkey Forest.
Nestled amidst lush greenery and rice terraces in the cultural hub of Ubud, The Sebali Resort is a breathtaking place to stay. From the moment you step inside, you'll be captivated by its traditional Balinese architecture, intricate wooden carvings, and open-air spaces that create a tranquil atmosphere. The resort's location amid the lush greenery of Ubud allows you to enjoy breathtaking views of the surrounding rice terraces and tropical forests. Enjoy the picturesque landscape in the infinity pool.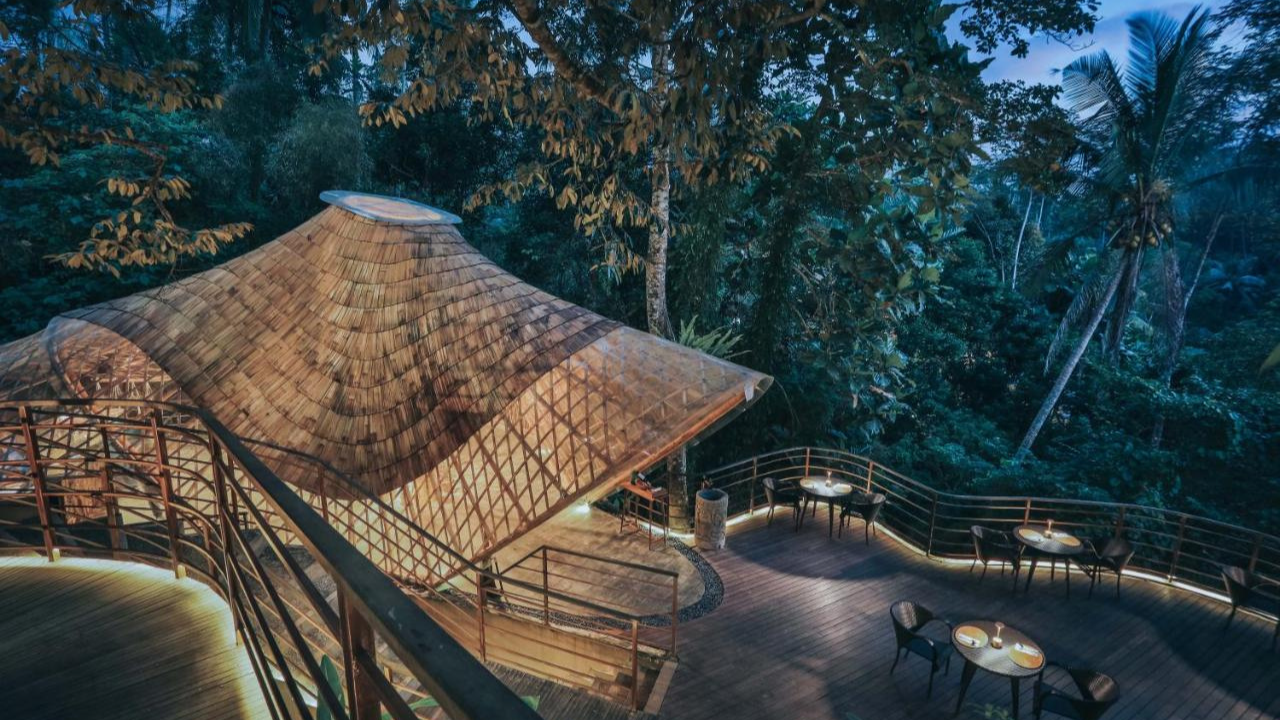 While the Resort is tucked away in a peaceful corner, it is still conveniently close to the attractions of Ubud. Explore the bustling Ubud Market, visit the sacred Monkey Forest, or venture out to the nearby temples and cultural sites. The resort offers shuttle services to the center of Ubud, allowing you to experience the best of both worlds – tranquility and adventure.
Wander Smartly Tip: Our recommendation is to split your stay between Seminyak and Ubud to get the best experience in Bali.
3. Kuta and Legian: Where the Party is at
If you're looking to experience Bali's energetic party scene, Kuta and Legian are the places to be. These adjoining areas offer an array of budget accommodations, restaurants, and bars catering to a younger crowd. Kuta's famous surf beaches attract wave riders from all over the world, while Legian offers a more laid-back atmosphere. Keep in mind that Kuta and Legian can get quite crowded, so if you prefer a quieter stay, you might want to explore other areas.
Located on the vibrant shores of Kuta Beach, The Anvaya Beach Resort Bali is an exceptional place to stay in Kuta. Its prime beachfront location allows you direct access to the renowned Kuta Beach. The resort's private beach area is perfect for sunbathing, swimming, or indulging in water sports. It's the perfect place to catch the breathtaking sunsets over the ocean.
The Resort boasts a magnificent lagoon pool, surrounded by lush gardens and towering palm trees. Additionally, the resort's infinity pool on the rooftop provides magnificent views of Kuta's coastline and a fantastic spot for sunset gazing.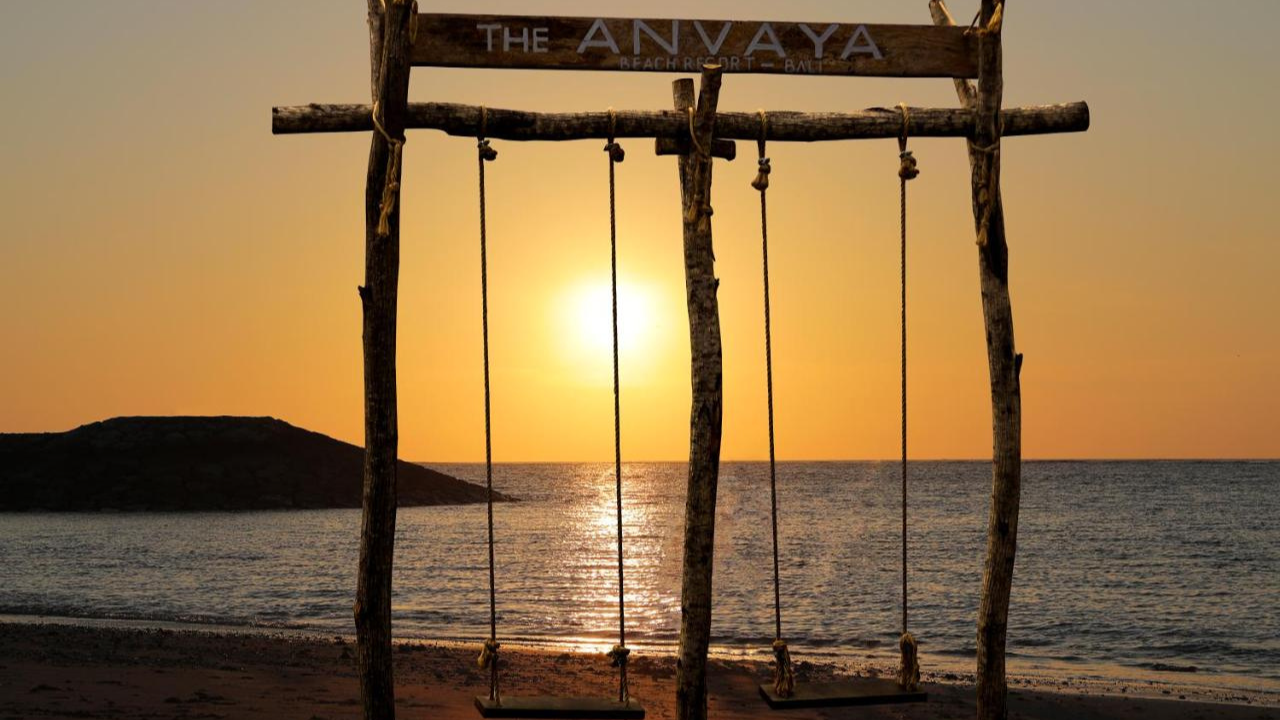 The resort is also conveniently located near Kuta's vibrant attractions. It is within walking distance of popular restaurants, cafes, shopping centers, and nightlife spots. Book your stay early to avail great prices!
4. Nusa Dua: Luxury Resorts And Family Retreats
Nusa Dua is a well-planned, upscale area if you're seeking luxury resorts (which come at very affordable rates if you book early) and a quieter ambiance. The pristine beaches in Nusa Dua are perfect for sunbathing and water sports. The area is also known for its world-class golf courses and rejuvenating spa facilities. Families looking for a serene vacation experience will find Nusa Dua to be an excellent choice.
Nestled on the stunning cliffs of Nusa Dua, overlooking the pristine Indian Ocean, the Hilton Bali Resort stands as a luxurious tropical escape. It boasts a prime beachfront location, allowing you to revel in the beauty of the white sandy beaches and crystal-clear waters of Nusa Dua. It is home to several world-class restaurants, each offering a unique dining experience. It offers a host of family-friendly facilities and activities, making it the perfect choice for you if you are travelling with children.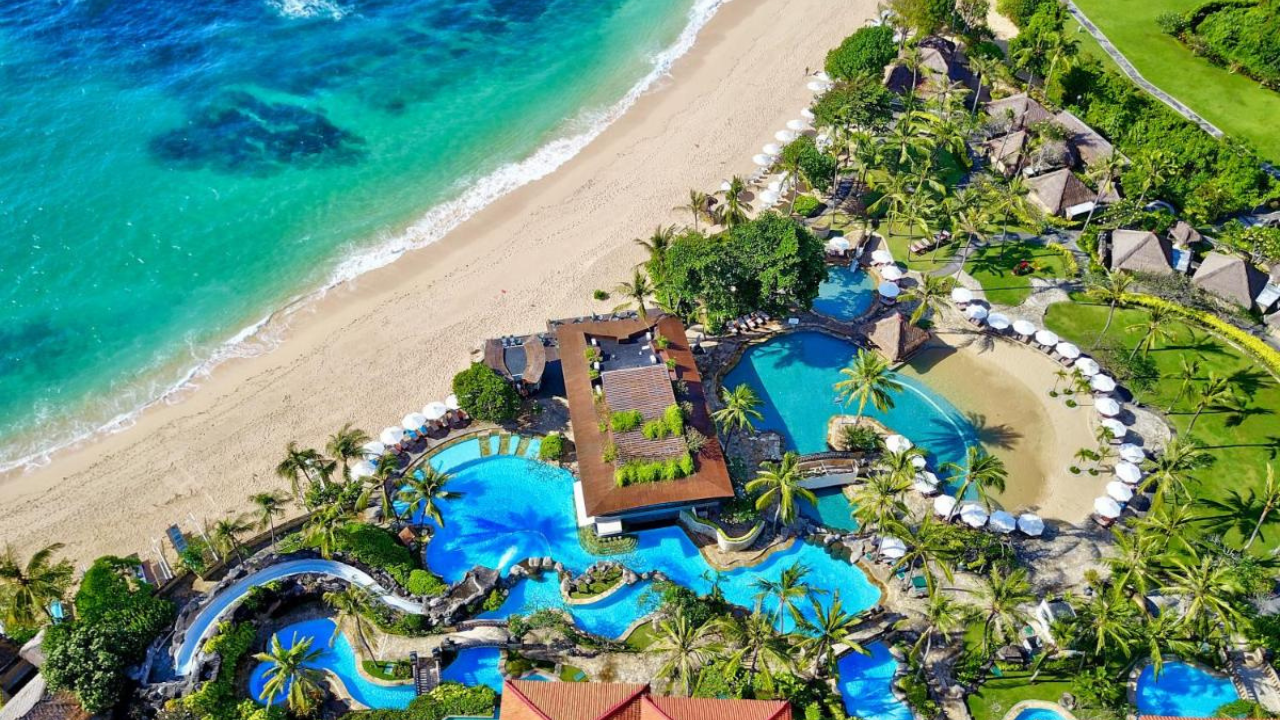 5. Jimbaran: Romantic Retreat
Situated on Bali's southwestern coast, Jimbaran is renowned for its beautiful white-sand beaches and fresh seafood restaurants on the shore. It's an excellent choice for honeymooners and couples seeking a romantic retreat. The calm waters and breathtaking sunsets make it an ideal spot for a beachfront candlelit dinner. Jimbaran is also close to the iconic Uluwatu Temple, where you can witness traditional Balinese dance performances against a dramatic cliffside backdrop.
White Palm Hotel Bali is an excellent place to stay in Jimbaran. Facing the beachfront, it offers a swimming pool, garden and terrace. This resort is right on the beach, giving you a great experience of staying in Jimbaran. Great options for breakfast are also available here.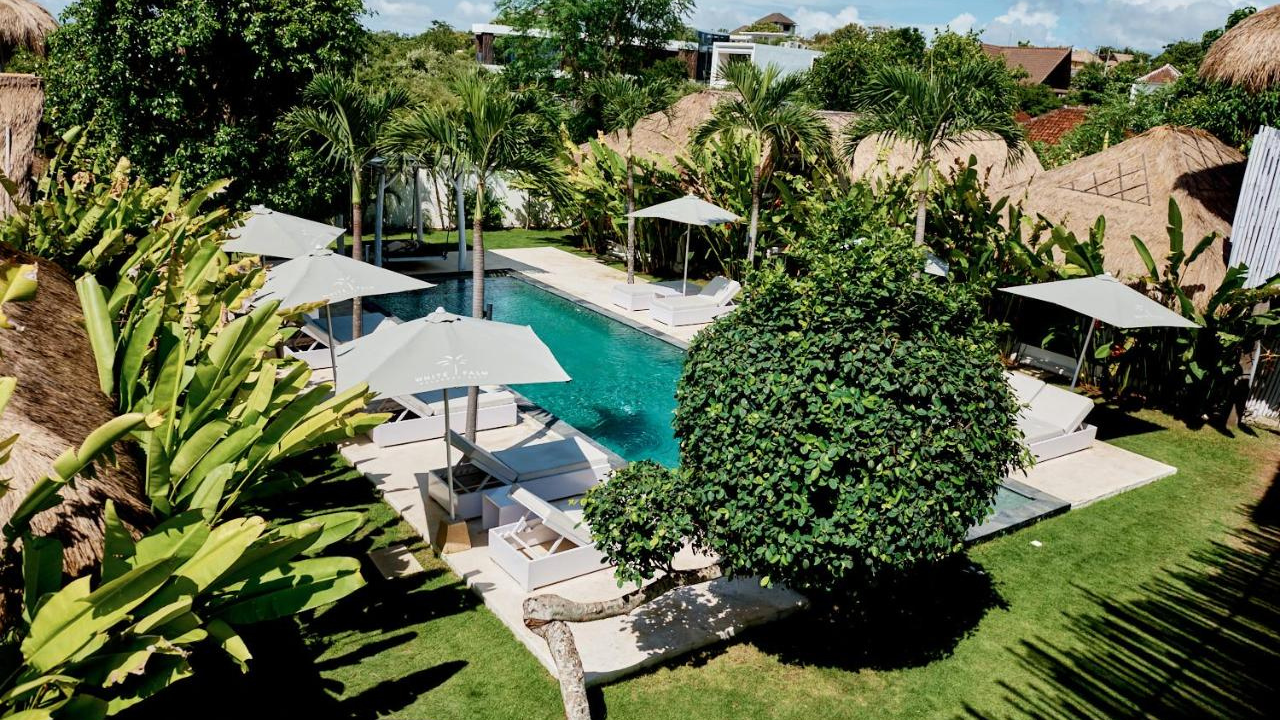 6. Canggu: Surfers' Paradise
Canggu has become a favorite among digital nomads and surf enthusiasts. This laid-back coastal town offers a blend of hip cafes, beach bars, and co-working spaces, making it an excellent spot for remote workers. Besides its vibrant surf culture, Canggu is surrounded by rice fields and charming villages, providing you with an authentic Bali experience.
White Goose Boutique Hotel in Canggu is a highly rated hotel which is only steps away from the Berawa Beach. It is loved for its prime location which is surrounded by beach bars and clubs. The hotel is also well rated for its hospitality. A myriad of international options is offered for breakfast.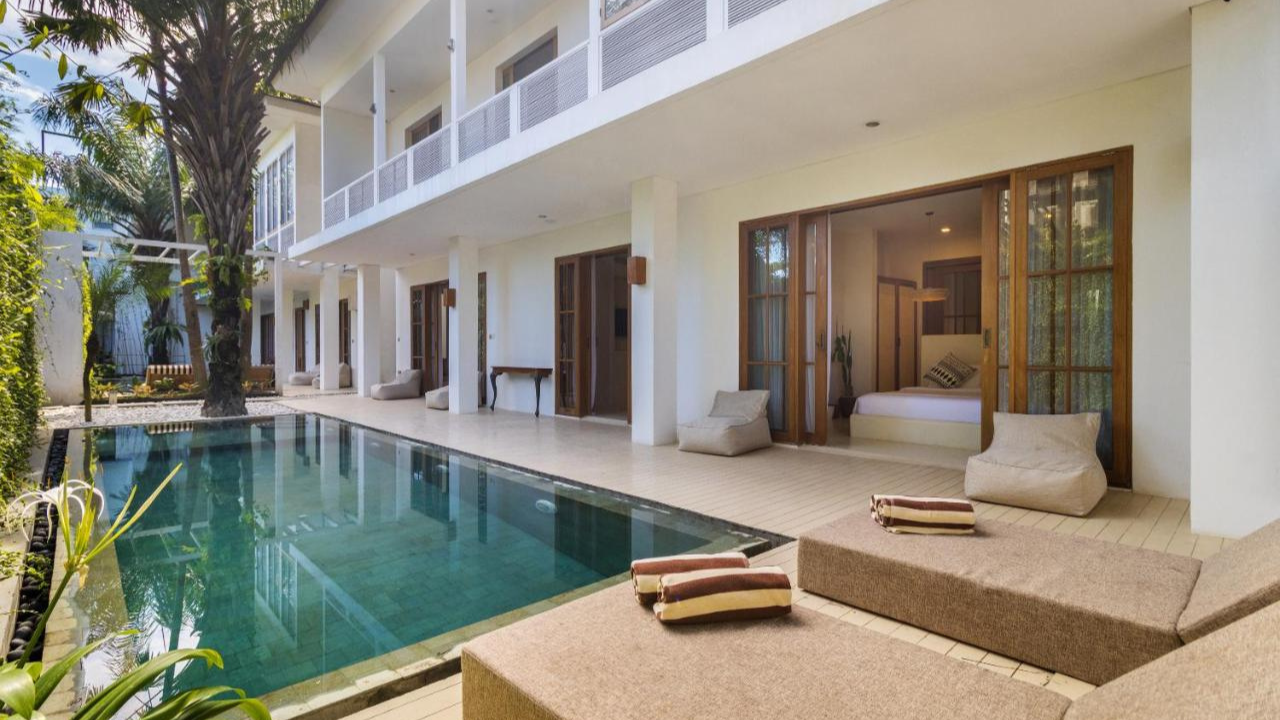 7. Uluwatu: Natural Beauty
Perched on the southernmost tip of Bali, Uluwatu is a paradise for surfers and nature lovers. The area boasts some of Bali's most breathtaking cliff-top views, and visitors can enjoy the stunning vistas at locations like Single Fin Beach Club. Uluwatu is also known for its ancient temple, Pura Luhur Uluwatu, which is a cultural and spiritual highlight worth exploring.
Radisson Blu Bali Uluwatu is located on the breathtaking cliffs of Uluwatu and offers a perfect blend of luxury, comfort, and natural beauty. Its incredible location atop the rugged cliffs offers panoramic views of the Indian Ocean. You can savor these stunning vistas from your private balconies or the resort's infinity pool. Don't miss the resort's rooftop bar, Lookout Bar, to unwind with a drink and a mesmerizing sunset.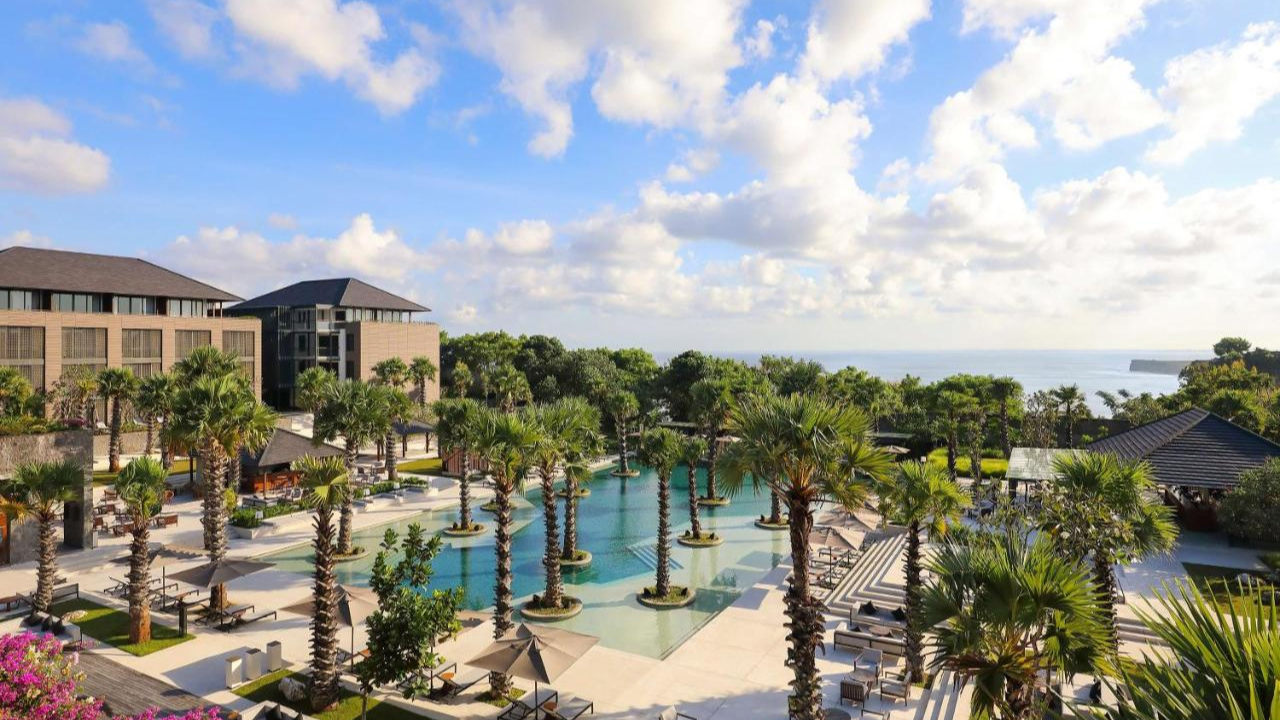 Wander Smartly Tip: We'd recommend you stay in any of these 7 areas basis your preference. Only if you are looking for quieter places or if this isn't your first visit to Bali, you can consider staying in the areas described below:
8. Sanur: Tranquillity and Peace
Sanur offers a more laid-back and family-friendly atmosphere compared to bustling areas like Kuta. The long stretch of sandy beach provides a safe environment for swimming and water sports. Sanur is also home to a wide range of resorts, restaurants, and shops. It's an excellent choice if you're seeking a tranquil and less crowded beach destination.
9. Bedugul and Munduk: Bali's Serene Mountains
Located in Bali's mountainous region, Bedugul and Munduk offer a cooler climate and stunning natural beauty. Bedugul is famous for its serene Lake Beratan, where the iconic Ulun Danu Bratan Temple stands gracefully on the water's edge. Munduk, on the other hand, is surrounded by lush rainforests and picturesque waterfalls, making it an ideal destination for trekkers and nature enthusiasts.
10. Sidemen: Authentic Cultural Experience
Sidemen is a hidden gem nestled in Bali's eastern hills, offering breathtaking views of rice terraces and traditional Balinese villages. This off-the-beaten-path destination is perfect for those seeking tranquility and an authentic cultural experience. You can indulge in rice field trekking, explore local handicrafts, and embrace the laid-back lifestyle of rural Bali.
11. Amed: Divers' Paradise
Amed is a sleepy fishing village that has transformed into a diving and snorkeling haven. The crystal-clear waters of Amed are home to vibrant coral reefs and shipwrecks, making it a diver's paradise. With its black sand beaches and a relaxed ambiance, Amed is perfect for you if you're looking to unwind and escape the crowds.
12. Nusa Lembongan: Small Island Experience
A short boat ride from Bali's southeast coast, Nusa Lembongan is a small island offering a more tranquil and pristine getaway. The crystal-clear waters surrounding the island are ideal for snorkeling, and the rugged coastline provides scenic spots for cliff jumping and sunset views.
13. Lovina and Singaraja: Black Sand Beaches
Located in the northern part of Bali, Lovina and Singaraja are known for their black sand beaches and dolphin-watching tours. Lovina offers a laid-back atmosphere, while Singaraja has some historical and cultural sites worth exploring. This region provides a more relaxed and less touristy experience compared to the southern parts of Bali.
14. Nusa Penida: Adventurers' Paradise
For the adventurous souls, Nusa Penida is an unspoiled paradise located southeast of Bali. With its rugged cliffs, stunning viewpoints, and beautiful beaches like Kelingking Beach and Crystal Bay, Nusa Penida is a haven for nature enthusiasts and avid photographers.
15. Denpasar: Local Bali Life
As the capital city of Bali, Denpasar is often overlooked in favor of the island's more popular destinations. However, Denpasar offers a chance to experience authentic Balinese culture and daily life. Here you can explore local markets, museums, and temples, gaining a deeper understanding of the island's heritage.
16. Tabanan: Cultural Heritage
Tabanan is a region of Bali rich in natural beauty and cultural heritage. The area is known for its UNESCO-recognized Jatiluwih Rice Terraces, offering you a glimpse into Bali's agricultural traditions. The iconic Tanah Lot Temple, perched dramatically on a rock formation in the sea, is another highlight of Tabanan.
Bali's diverse landscape and culture provide an array of incredible areas to stay, each offering a unique experience. Whether you seek luxury, adventure, serenity, or cultural immersion, Bali has something special in store for you. Remember to plan your trip according to your preferences and interests to make the most of your stay in this enchanting island paradise. So, pack your bags and get ready to experience the beauty and magic of Bali like never before!
Drop a comment below to let us know your thoughts or questions. Visit our destinations page for detailed travel guides on places worth visiting.
FAQs
How many days is enough to stay in Bali?
7 days is a sufficient amount of time to explore Bali.
Which is better Ubud or Seminyak?
Seminyak is one of Bali's most trendy and upscale areas, perfect for you if you're seeking a mix of luxury and vibrant nightlife. Known for its stylish beach clubs, chic boutiques, and high-end resorts, Seminyak has it all and attracts a cosmopolitan crowd. Ubud, the cultural heart of Bali, is surrounded by lush rainforests and terraced rice paddies. It provides a tranquil retreat away from the hustle and bustle of the tourist hotspots. It is to split your stay between Seminyak and Ubud to get the best experience in Bali.
What month is best to stay in Bali?
Bali is best visited between the months of April to October in the dry season.