A trip to Mumbai, India on the cards? In this article, we'll walk you through which is the best place to stay in Mumbai for you – the areas and hand-picked hotels in all of the city.
The vibrant metropolis of Mumbai is a melting pot of cultures and a treasure trove of experiences waiting to be discovered. When it comes to selecting the perfect place to stay in Mumbai, you're spoiled for choice. From the upscale business districts to the charming coastal neighborhoods, each area offers a unique perspective of the city.
Our goal at Wander Smartly is to make your travels smarter and help you have the best experience on your trips. From my own experience of living in Mumbai, I share the finest details on the areas & hotels worth staying here.
Best Place to Stay in Mumbai – A Review of 9 Areas
Here are the best areas to stay in Mumbai from south to north, what each areas offers, with our selection of the best hotels in these areas.
1. Colaba: A Historical Gem at Mumbai's Southern Tip
Nestled at the southern tip of Mumbai, Colaba is a neighborhood that invites you to step back in time while embracing the modernity of the present. Its charming blend of colonial heritage, vibrant markets, and iconic landmarks paints a vivid picture of Mumbai's rich history and diverse culture.
Colaba's historical significance is etched into its architecture and landmarks. The most prominent of these is the Gateway of India, an architectural marvel that stands as a symbol of Mumbai's colonial past. Built to commemorate the arrival of King George V and Queen Mary in 1911, this grand structure now welcomes thousands of visitors to its steps each day.
Adjacent to the Gateway is the Taj Mahal Palace, an iconic hotel that has witnessed the city's history unfold for over a century. Its opulent architecture, luxurious accommodations, and unparalleled service make it the best place to stay in all of Mumbai. The hotel's proximity to major attractions, including the Gateway of India, is another added advantage.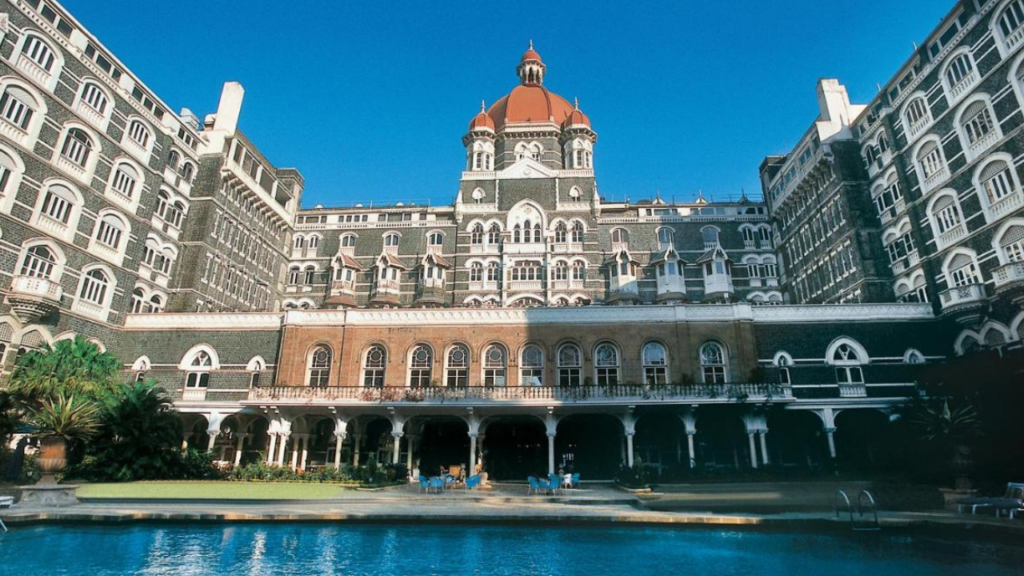 Landmarks and Attractions
Gateway of India: Majestic and awe-inspiring, the Gateway of India offers a stunning view of the Arabian Sea. It's a hub of activity, from tourists taking photographs to street performers showcasing their talents.
Colaba Causeway: This bustling street is a shopper's paradise, lined with a plethora of shops selling everything from jewelry and handicrafts to clothing and accessories. It's an excellent place to pick up souvenirs and experience the local shopping scene.
Chhatrapati Shivaji Maharaj Museum (formerly Prince of Wales Museum): This museum is a treasure trove of art, artifacts, and exhibits that showcase India's rich history and culture. Its Indo-Saracenic architecture is a sight to behold.
Kala Ghoda Art Precinct: While technically located in the neighboring Fort area, the Kala Ghoda district is a short walk from Colaba. It's an artistic haven filled with galleries and museums, making it a must-visit for art enthusiasts.
Eateries and Cafes: If you're seeking a taste of Mumbai's contemporary cafe culture, Colaba Social offers a vibrant atmosphere, innovative cocktails, and a menu that pays homage to local flavors. My personal favourite dish is their dal khichdi, made with rice and lentils that is comfort Indian home food at its best.
Make sure you also visit the iconic Leopold Café, which finds its mention in the novel 'Shantaram' by Gregory David Roberts. Another place worth visiting in Colaba is Woodside Inn. It's a quaint little place with a cosmopolitan crowd and a great vibe.
2. Fort/Kala Ghoda: Where Culture and Creativity Converge in Mumbai
Fort and Kala Ghoda districts stand as a cultural haven inviting you to explore a world of artistic expression and history. This area is a captivating blend of historic architecture, contemporary art, charming cafes, and galleries that come together to create a vibrant and inspiring atmosphere.
The streets of Kala Ghoda come alive at The Kala Ghoda Arts Festival held annually, which transforms the area into a cultural carnival, featuring art exhibitions, workshops, performances, and culinary experiences.
Abode Bombay, a boutique hotel in Fort, captures the essence of the district. With its unique rooms, and connection to the artistic surroundings, it becomes an integral part of your cultural journey.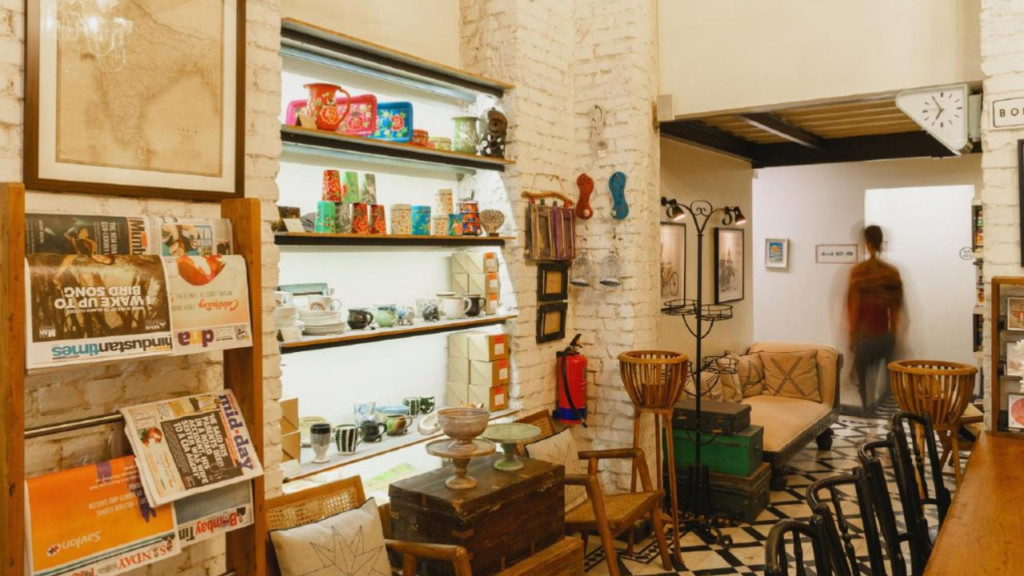 Art Galleries and Museums
Chhatrapati Shivaji Maharaj Vastu Sangrahalaya (CSMVS): Housed in a stunning Indo-Saracenic building, CSMVS is a treasure trove of art that spans India's history and culture.
Jehangir Art Gallery: A longstanding institution in Mumbai's art scene, this gallery showcases a diverse range of artworks, from traditional to contemporary, by both emerging and established artists.
National Gallery of Modern Art (NGMA): This branch of the NGMA showcases modern and contemporary Indian art, providing insight into the evolution of artistic styles and movements.
Cafes and Eateries
Kala Ghoda Cafe: A cozy retreat amidst the art district, this cafe offers a peaceful ambiance and a range of dishes inspired by global flavors.
The Pantry: A charming cafe known for its organic and locally sourced ingredients, The Pantry offers a variety of wholesome dishes and artisanal products.
Historical Landmarks
David Sassoon Library and Reading Room: A beautiful Gothic-style structure, the library is a historic institution that provides a serene environment for reading and research.
Chhatrapati Shivaji Terminus (CST): A UNESCO World Heritage Site, CST is a masterpiece of Victorian Gothic architecture and a testament to Mumbai's colonial past. Watch it come alive at night with spectacular lighting.
3. Marine Drive: Mumbai's Queen's Necklace by the Arabian Sea
Stretching gracefully along the Arabian Sea, Marine Drive is an iconic promenade that perfectly encapsulates the spirit of Mumbai. Marine Drive's allure lies in its sweeping panoramic views of the Arabian Sea. Whether you're taking a leisurely stroll, enjoying a morning jog, or simply sitting by the edge, the sea breeze and the soothing sound of waves create a sense of tranquility amid the bustling city. The picturesque sight of the promenade illuminated at night earns it the moniker "Queen's Necklace," as the line of streetlights mimics a glittering necklace when viewed from a distance.
The Oberoi, Mumbai, situated along Marine Drive, offers a luxurious retreat that complements the splendor of the location. With opulent rooms, impeccable service, and unparalleled views of the Arabian Sea, the hotel ensures that your stay is a blend of comfort and elegance.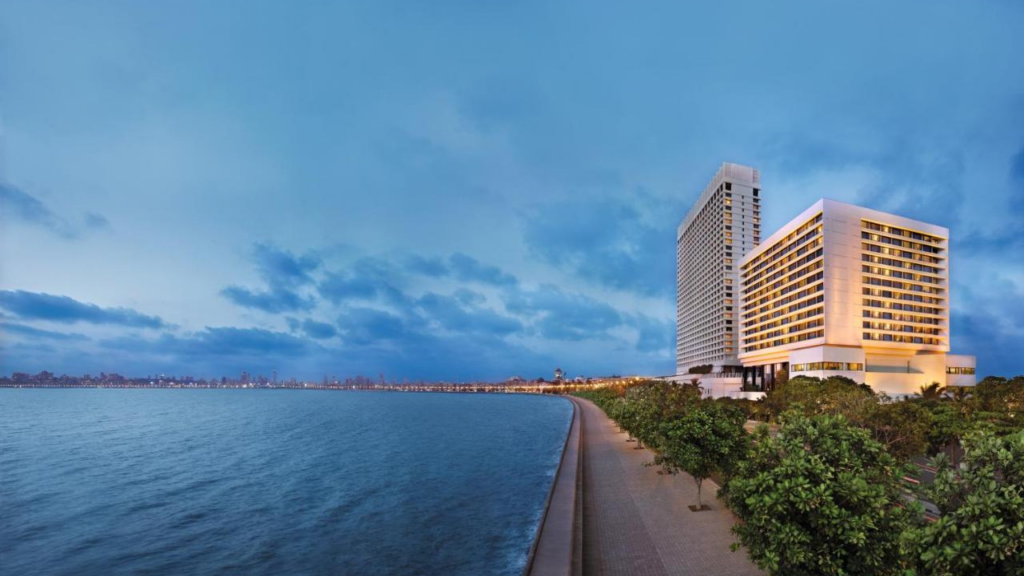 Art Deco Architecture
As you walk along Marine Drive, you'll be greeted by a series of Art Deco buildings that stand as a testament to Mumbai's architectural heritage. Many of these structures date back to the 1930s and 1940s and boast intricate detailing, geometric designs, and pastel hues that reflect the elegance of the Art Deco movement. These buildings add a touch of nostalgia to the modern cityscape, creating a visual blend of the past and present.
Local Experiences
Marine Drive is more than just a picturesque promenade; it's a place where locals gather to unwind and socialize. The stretch is also popular among fitness enthusiasts, offering a scenic route for jogging, cycling, and yoga by the sea. Marine Drive is one of the best places in the city to catch the sunset. I could personally sit on the promenade for hours enjoying the sea breeze and the lovely view of the ocean.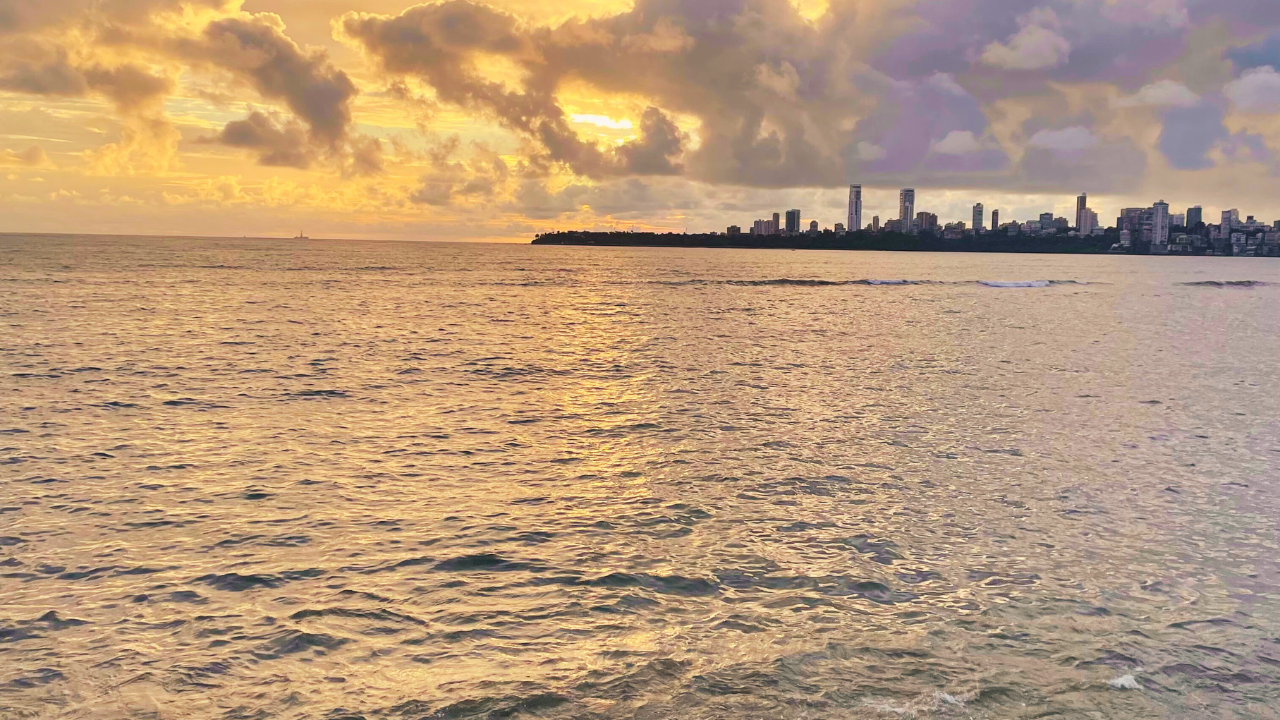 Cafes and Eateries
Enjoy a cup of chai (tea) or indulge in local street food like bhel puri and vada pav from the nearby stalls. You can also walk over to Girgaon Chowpatty for sampling the local street good. For a more upscale experience, you can head to the elegant restaurants that offer a variety of cuisines. I'd recommend Pizza By The Bay as it offers a great combination of sea view and delicious international cuisine. You must also try the Chhole Bhatoore at Cream Centre.
4. Worli: Where Tranquility Meets Urban Accessibility in Mumbai
Located between the Arabian Sea and the bustling heart of Mumbai, Worli is a neighborhood that strikes a balance between serene retreat and urban connectivity. At the heart of Worli lies the iconic Worli Sea Face, a waterfront promenade which is a favorite among joggers, walkers, and those seeking a moment of solitude. As the sea breeze caresses your skin and the waves gently lap against the shore, you'll find a sense of calm that contrasts the city's energetic pace.
Four Seasons Hotel Mumbai in Worli offers unparalleled luxury with panoramic views of the city skyline and sea. Its elegant rooms, diverse dining options, and indulgent spa ensure a lavish stay.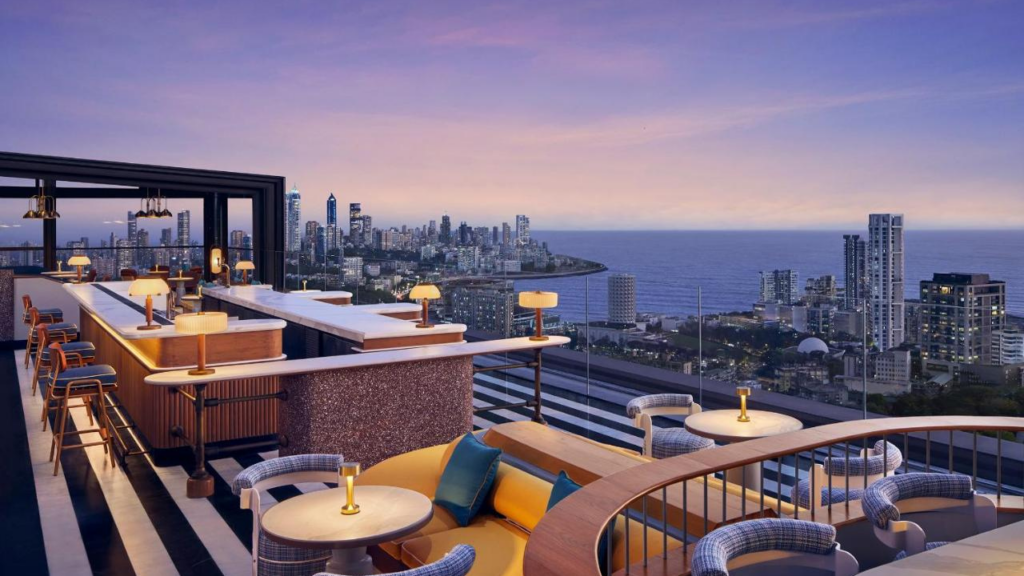 Landmarks and Attractions
The Bandra-Worli Sea Link, an architectural marvel, gracefully connects Worli with Bandra, another prominent Mumbai neighborhood. This cable-stayed bridge not only eases commuting but also provides stunning views of the Arabian Sea. As you drive along the sea link, you'll be treated to panoramic vistas of the city's skyline and the shimmering waters below.
Worli is also home to the revered Siddhivinayak Temple, a prominent Hindu temple dedicated to Lord Ganesha. The temple's grand architecture and vibrant atmosphere make it a must-visit for both the devout and those interested in experiencing Mumbai's religious and cultural diversity.
5. Lower Parel: The Trendsetting Urban Oasis of Mumbai
Located within the vibrant heart of Mumbai, Lower Parel is a neighborhood that has undergone a remarkable transformation, evolving from its industrial roots into a modern hub of fashion, food, entertainment, and contemporary living. Its history is rooted in its industrial significance. Once a thriving textile hub, the area has undergone a dramatic shift, embracing modernity while preserving traces of its past.
The St. Regis Mumbai, Lower Parel epitomizes sophistication and modern luxury in this bustling district. With its sleek design, lavish accommodations, and exceptional amenities, the hotel offers an urban sanctuary if you're seeking an indulgent stay. The St. Regis's proximity to entertainment options and its panoramic views of the city skyline make it a prime choice for you to immerse yourself in Lower Parel's energetic ambiance.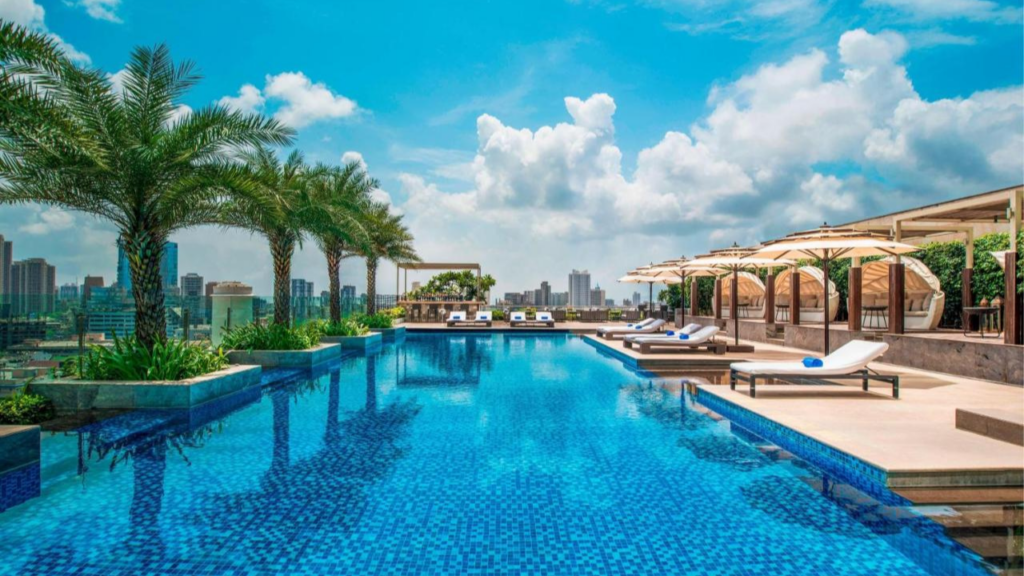 High-End Shopping and Lifestyle
Lower Parel has become synonymous with fashion and lifestyle. It's home to some of Mumbai's most upscale malls and boutiques, offering a curated selection of international and Indian brands. Renowned malls like Palladium and High Street Phoenix cater to the luxury, style, and the latest trends, making it a paradise for shopaholics.
Culinary Delights
Lower Parel's culinary scene reflects Mumbai's global influences and diverse palate. The neighborhood boasts a plethora of dining options, from street food stalls serving local delicacies to upscale restaurants offering international cuisines. You must try Ishaara for Indian food and Pa Pa Ya for delectable Asian Cuisine.
Nightlife and Entertainment
The district's thriving nightlife scene includes chic lounges, rooftop bars, and entertainment venues that offer a lively escape.
5. Bandra West: The Bohemian Rhapsody of Mumbai's Suburbs
Moving northwards towards suburban Mumbai, Bandra West is a neighborhood that effortlessly marries its old-world charm with a modern, cosmopolitan vibe. Known as the "Queen of the Suburbs," Bandra West is a hub of fashion, culture, and culinary delights.
Bandra West is an artistic haven, dotted with galleries, studios, and street art that reflect the neighborhood's bohemian soul. The area is known for its community of artists, musicians, and designers, resulting in a colorful tapestry of creativity. Wander through the lanes adorned with murals and installations, and you'll find yourself immersed in the neighborhood's creative energy.
Taj Lands End, an upscale hotel along Bandra's coast, best captures the essence of the neighborhood. With luxurious rooms, breathtaking sea and city views, and a range of dining options, the hotel offers a blend of elegance and modern comfort that complements Bandra West's charm.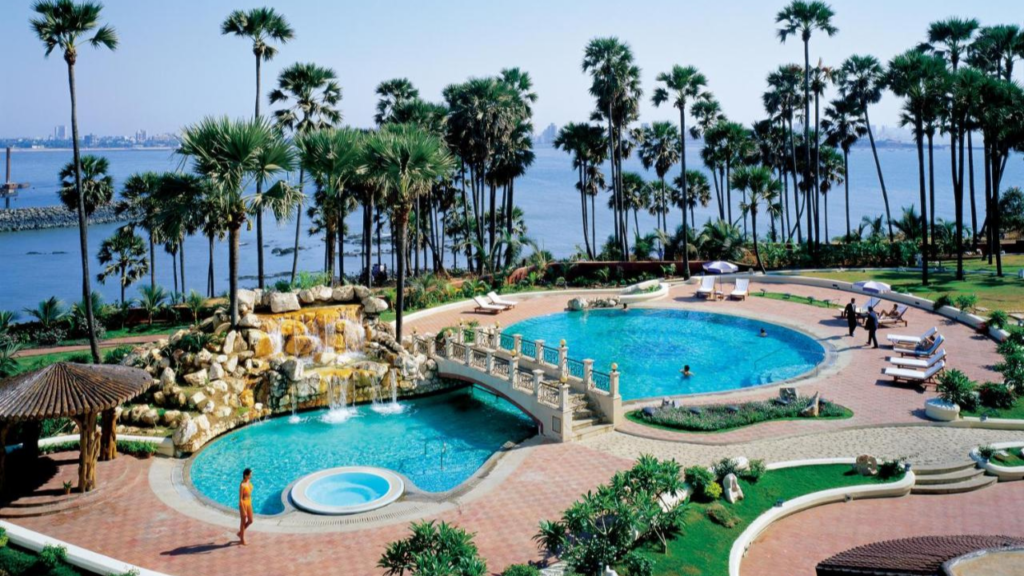 Charming Cafes and Boutiques
Bandra West's streets are lined with charming cafes, boutique stores, and quaint bookshops. It's a paradise for you if you're seeking unique shopping experiences and a dose of indie culture. The area's bohemian flair is reflected in its eclectic range of boutiques, where you can discover everything from vintage fashion to contemporary designs.
When it comes to coffee, Subko Coffee in Bandra West is a must-visit. Wander through the narrow streets which can only be accessed on foot, to reach here and indulge in their delicious offerings. My personal favourite is the combo of double-baked almond croissant and cortado.
Culinary Delights
Bandra West's culinary scene is a testament to Mumbai's gastronomic diversity. From street food stalls to upscale restaurants, the neighborhood caters to all palates. Indulge in local favorites like vada pav and pav bhaji, or explore international cuisines in restaurants like Bastian and The Lovefools.
Cultural Landmarks
Bandra West is home to several iconic landmarks that have become synonymous with the neighborhood's identity. The Bandra Fort offers panoramic views of the Arabian Sea and the Bandra-Worli Sea Link, making it a popular spot for sunset seekers and photographers. The Mount Mary Church, a historic basilica, is a spiritual and cultural landmark that attracts pilgrims and tourists alike.
Bandra Bandstand & Carter Road
The Bandra Bandstand and Carter Road Promenades are both scenic stretches that overlook the Arabian Sea. They are perfect for leisurely walks, picnics, and soaking in the sea breeze. The iconic "Bandstand Fort," a historic watchtower, adds a touch of nostalgia to the area's coastline. Grab a coffee at The Bandstand Pantry, which offers one of the best views of the ocean – up, close and personal – in all of the city.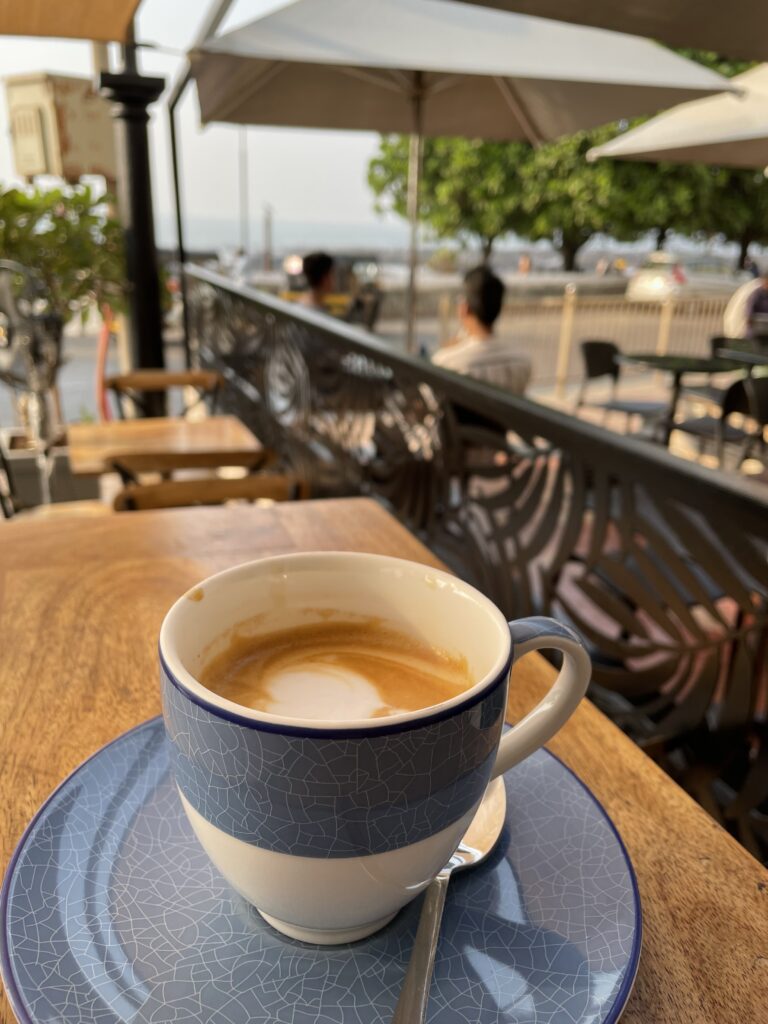 6. Bandra Kurla Complex (BKC): Mumbai's Modern Business and Lifestyle Hub
Bandra Kurla Complex, often referred to as BKC, is a testament to Mumbai's progress and transformation into a global financial and commercial hub. Situated in the heart of the city, this modern business district offers a blend of corporate infrastructure, upscale lifestyle amenities, and cultural experiences.
One of the best things about staying in BKC is its accessibility to the rest of the city. BKC is at a comfortable junction between the Western and Central lines and its strategic location ensures excellent connectivity to both South Mumbai and the suburbs. Its proximity to the airport, major highways, and railway stations makes it an ideal base for business travelers looking to navigate the city efficiently. So, if your stay in Mumbai involves a lot of travel within different parts of the city, BKC is the place where you should be staying.
The Trident Hotel in BKC stands as a beacon of luxury and sophistication, offering an oasis of tranquility amidst the fast-paced business world of Mumbai. This five-star haven combines opulent accommodations, impeccable service, and modern amenities to provide an unforgettable stay for both business travelers and leisure seekers.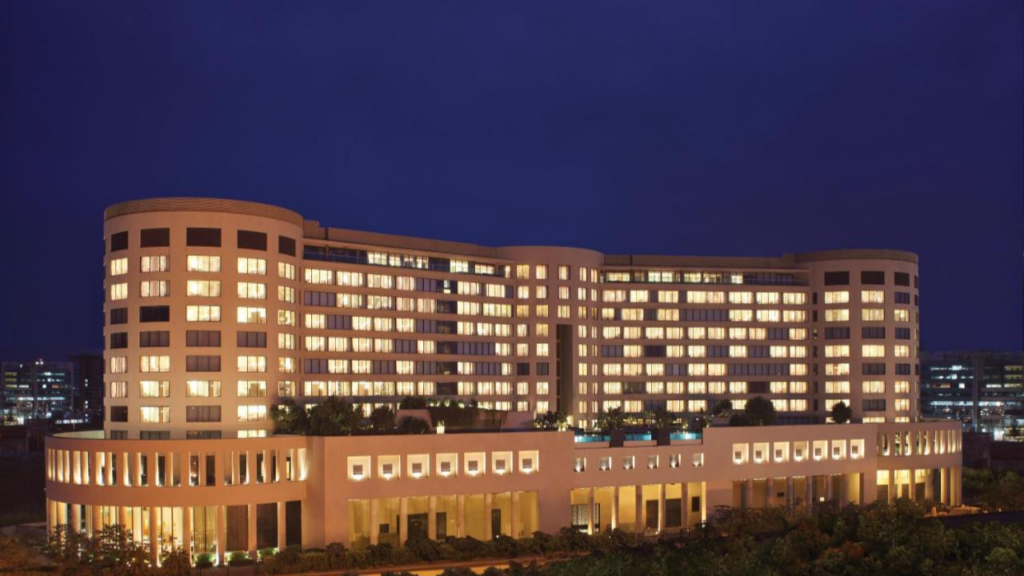 Luxury Shopping and Dining
BKC is not just about business; it's also a lifestyle destination. The area boasts upscale shopping complexes and dining establishments that cater to refined tastes. You must indulge in middle-eastern delights at Bayroute, or try the degustation menu at Trèsind.
When it comes to shopping, the Jio World Drive at BKC is a one-stop shop for all high-end brands. You can also catch a Bollywood movie at its in-house multiplex, PVR or enjoy a drive-in movie experience as well. You should also visit NMACC – Nita Mukesh Ambani Cultural Centre – and catch an exhibition or a theatrical performance.
7. Andheri/Santa Cruz East: Proximity to the Airport
If you're in Mumbai for a short stay, consider staying in Santa Cruz East or Andheri East. These bustling neighborhoods offer a blend of local life, bustling markets, and proximity to the city's airport. For a luxurious escape, ITC Maratha offers refined accommodations, diverse dining options, and rejuvenating spa experiences. This oasis in the midst of the city's energy provides a perfect balance of comfort and convenience.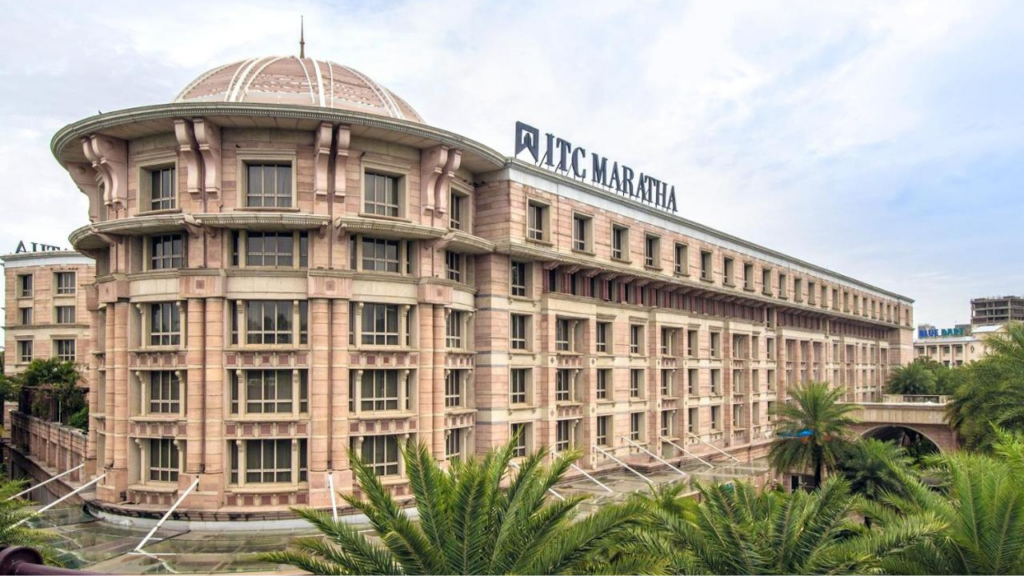 8. Juhu: Mumbai's Charming Coastal Haven
Juhu is a vibrant neighborhood in Mumbai that offers a unique blend of natural beauty, cultural attractions, and a relaxed beachside ambiance. From its iconic beach to its lively street food scene, Juhu welcomes you to experience the charm of coastal Mumbai.
The crown jewel of Juhu is its picturesque beach, which stretches along the Arabian Sea. From morning yoga sessions to evening strolls, the beach offers a tranquil escape from the city's bustle. Witness stunning sunsets, relish the sea breeze, and engage with the vibrant local scene that thrives on its shores.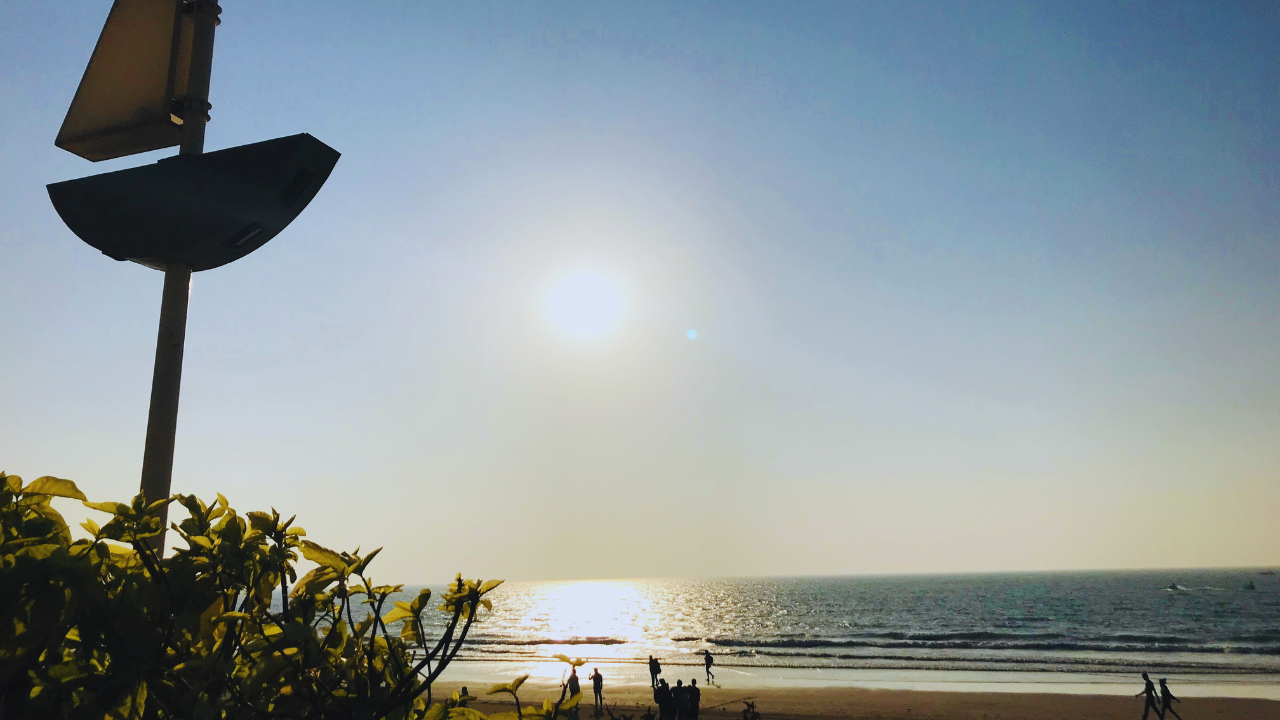 Novotel Mumbai Juhu Beach captures the essence of the neighborhood's coastal allure. Overlooking the Arabian Sea, the hotel offers breathtaking views, luxurious accommodations, and a range of dining options that reflect Mumbai's culinary diversity. Its proximity to Juhu Beach ensures that you're always a stone's throw away from the tranquil seafront.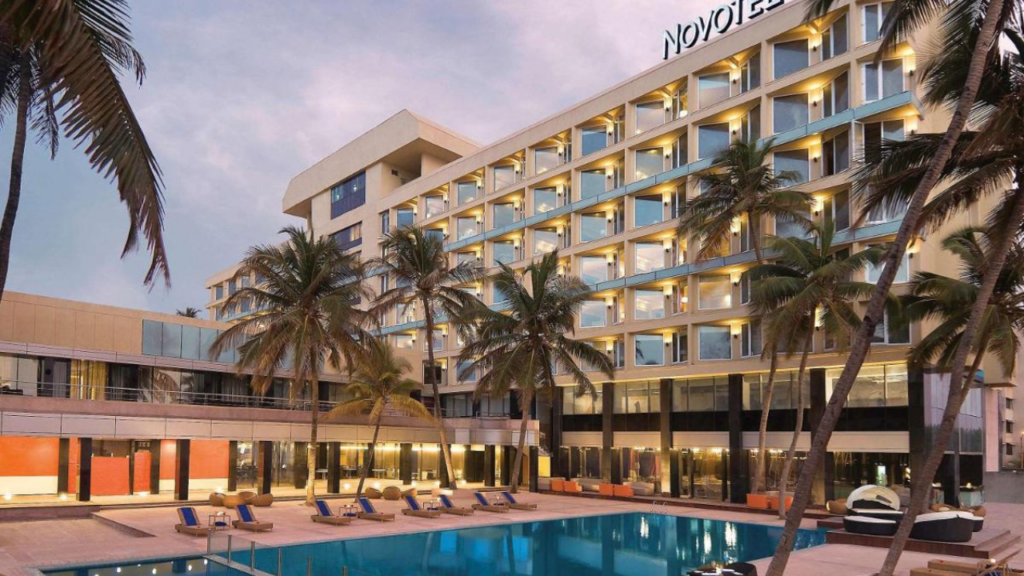 Landmarks and Attractions
ISKCON Temple: The ISKCON Temple in Juhu is a spiritual haven dedicated to Lord Krishna. The temple's architecture, serene ambiance, and cultural events make it a popular destination for both devotees and tourists.
Prithvi Theatre: An iconic cultural institution, Prithvi Theatre hosts a range of performances, including plays, concerts, and cultural events. It's a platform that showcases Mumbai's vibrant artistic scene. While you're there, indulge in the Irish coffee at Prithvi Café.
Street Food Delights
Juhu's street food scene is renowned throughout Mumbai. Along the beach and its adjacent lanes, you'll find stalls offering an array of Mumbai's beloved treats. From pav bhaji and pani puri to bhelpuri and sev puri, Juhu is a gastronomic paradise for those seeking a taste of authentic local flavors. You must try the vada pav at Anand, close to Narsee Monjee Institute. Whenever I bite into the vada pav there, it is nothing short of a party for my tastebuds.
Upscale Eateries and Cafes
Juhu also boasts upscale restaurants and cafes that offer a diverse range of cuisines, ensuring that every palate is satisfied. Try One8 Commune, the restaurant owned by the legendary cricketer Virat Kohli, for a lovely dining experience.
9. Powai: A Tranquil Urban Oasis in Mumbai
Located in northeast Mumbai, Powai is a serene and upscale neighborhood that seamlessly blends urban living with natural beauty. Known for its picturesque lake, cosmopolitan population and modern infrastructure, Powai offers a harmonious retreat from the city's hustle and bustle. Having lived in Powai for months, I can say with a lot of conviction that this is the greenest area of Mumbai you can possibly stay at.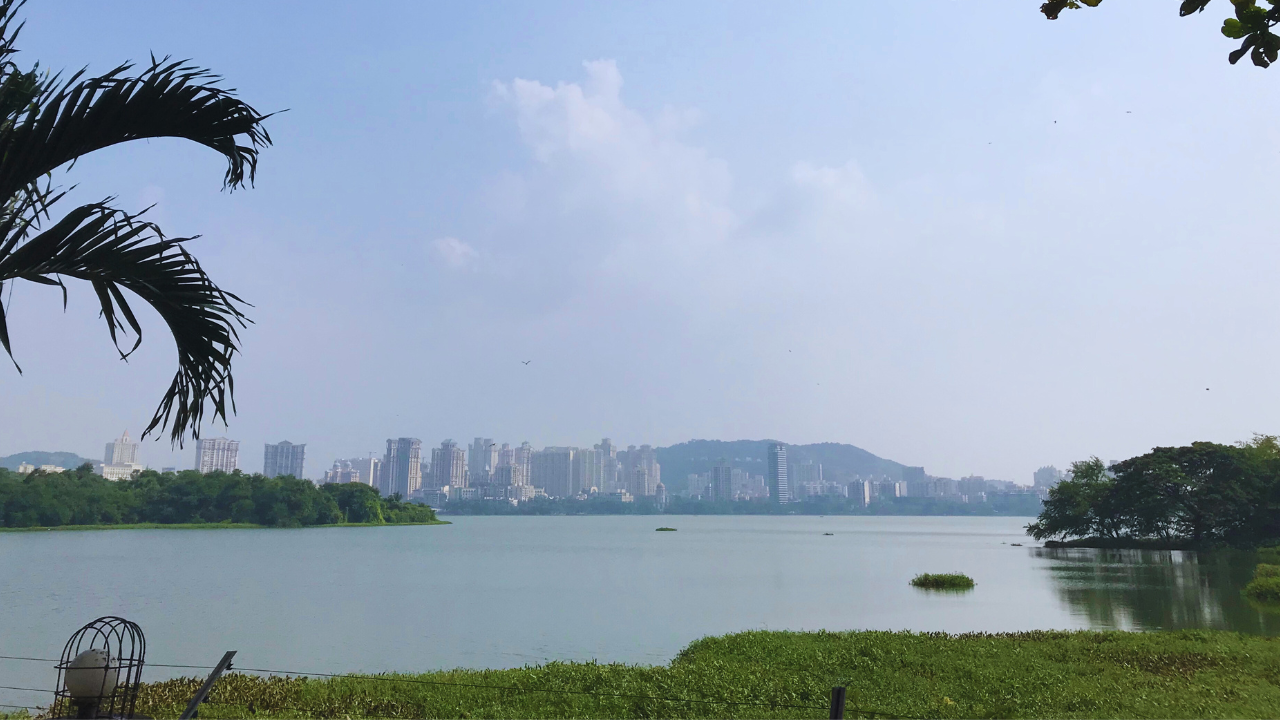 At the heart of Powai lies the iconic Powai Lake, a tranquil expanse of water surrounded by lush greenery. Here you can enjoy a leisurely stroll along its promenade, a boat ride, or simply gaze at the waters.
The Westin Mumbai Powai Lake offers a luxurious retreat with a lakeside view. With its elegant rooms, upscale amenities, and stunning surroundings, the hotel provides a perfect blend of comfort and relaxation.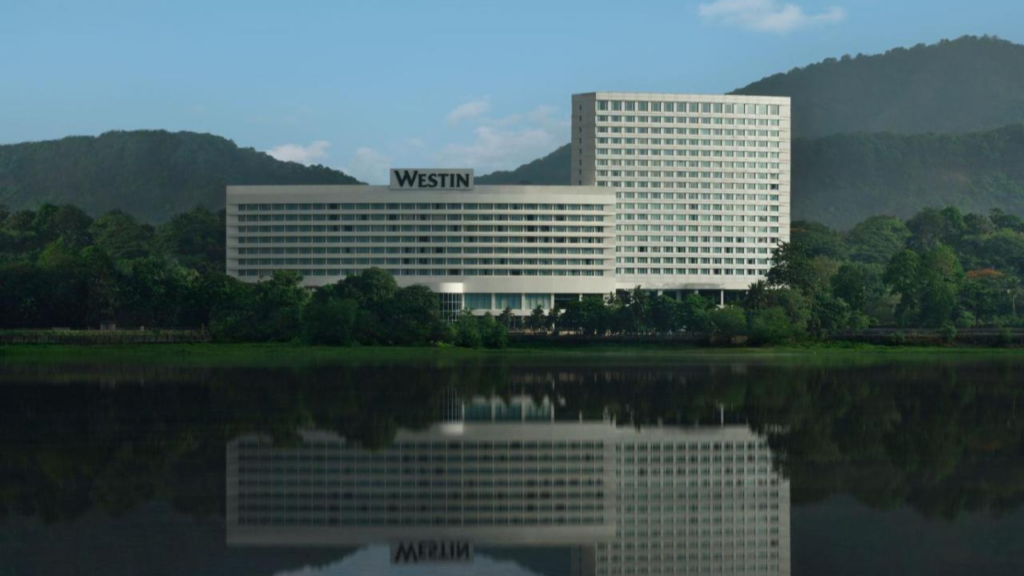 Parks and Open Spaces
Beyond Powai Lake, the neighborhood features parks and open spaces where you can engage in recreational activities, exercise, or simply relax. These green havens provide a respite from the city's concrete landscape.
Cafes and Restaurants
Powai boasts a vibrant dining scene, with a variety of cafes and restaurants that cater to diverse tastes. Try Mirchi and Mime for modern Indian cuisine, Sassy Spoon for a vibrant ambience and delicious international cuisine, or enjoy a dessert and coffee at Poetry By Love and Cheescake.
---
Mumbai's diverse neighborhoods offer a spectrum of experiences, from historical charm to modern luxury. Each area showcases a different facet of this captivating city. Whichever part of Mumbai you choose to explore, rest assured that you'll find a variety of accommodation options that cater to your preferences and needs.
Drop a comment below to let us know your thoughts! Check more travel guides for India or visit our destinations page for detailed travel guides on places worth visiting.
FAQs
What is the best area to stay in Mumbai?
Colaba, Marine Drive, Bandra West or BKC are the top 4 areas to stay in Mumbai.
Which is the safest area in Mumbai?
Mumbai overall is generally a very safe city, just take regular precautions as you would anywhere.
How many days should you stay in Mumbai?
2 to 3 days is sufficient to see the best places in Mumbai.
Is Mumbai a good tourist destination?
The vibrant metropolis of Mumbai is a melting pot of cultures and a treasure trove of experiences waiting to be discovered. From the elegant Marine Drive to the upscale Bandra suburb, Mumbai is a great destination for tourists to explore.