Tired of heading to Goa every weekend? Here's the ultimate 2-day Vizag Itinerary for the perfect, refreshing getaway.
I was almost about to book another trip to Goa for a long weekend getaway with my friend and somehow, we didn't feel the excitement we should have before finalizing our trip. We quickly realized we've been to Goa way too many times and felt we should try a different place that would give us the breath of fresh air we needed. I'd been to Vizag many years before on a college trip and remember being pleasantly surprised by the natural landscapes. With convenient flight options on offer, we agreed to visit Vizag for the beautiful valleys around the city in addition to the beautiful beaches.
Our goal at Wander Smartly is to make your travels smarter and help you have the best experience on your trips. From my multiple visits to the underrated city of Vizag or Vishakhapatnam in India, I share the all the details you would need to spend two invigorating days here.
Vizag Itinerary
Day 1: Kailasagiri Park, Submarine Museum, Rushikonda Beach
Start your first day with a buffet breakfast and a relaxed morning at Varun Beach. I stayed at Novotel in Vizag, which is right across the beach and possibly the best place to stay in all of Vizag. Its prime location, majestic views and infinity pool make it the perfect abode for your vacation in Vizag.
Head to Kailasagiri Park – a hilltop park that offers panoramic views of the city and coastline. You can reach the summit by a ropeway or a drive. The park is adorned with sculptures, well-manicured gardens, and walking trails. Witness the colossal statue of Lord Shiva and Goddess Parvati, which stands as a symbol of spirituality and devotion. A visit to the Kailasagiri Park was a calming and divine experience for me. It is well worth a visit on your trip to Vizag.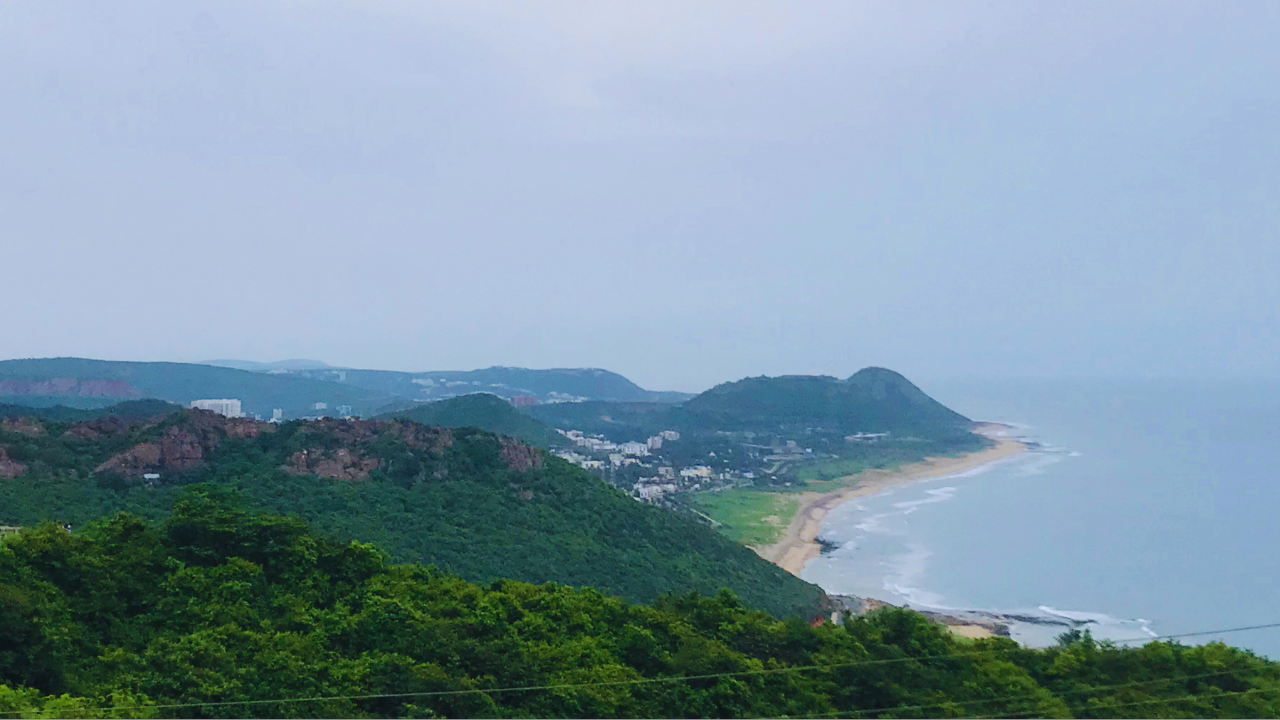 Next, grab lunch at Sri Sairam Parlour. This is a simple restaurant without any frills, but the food here is lip-smacking. I am a huge fan of South Indian food, namely, dosas and idlis, and found the food here to be absolutely delicious. Their filter coffee had the biggest froth I've seen on any coffee I've had across the globe. This is a must-visit place on your trip to Vizag. You can even eat here multiple times, like I did.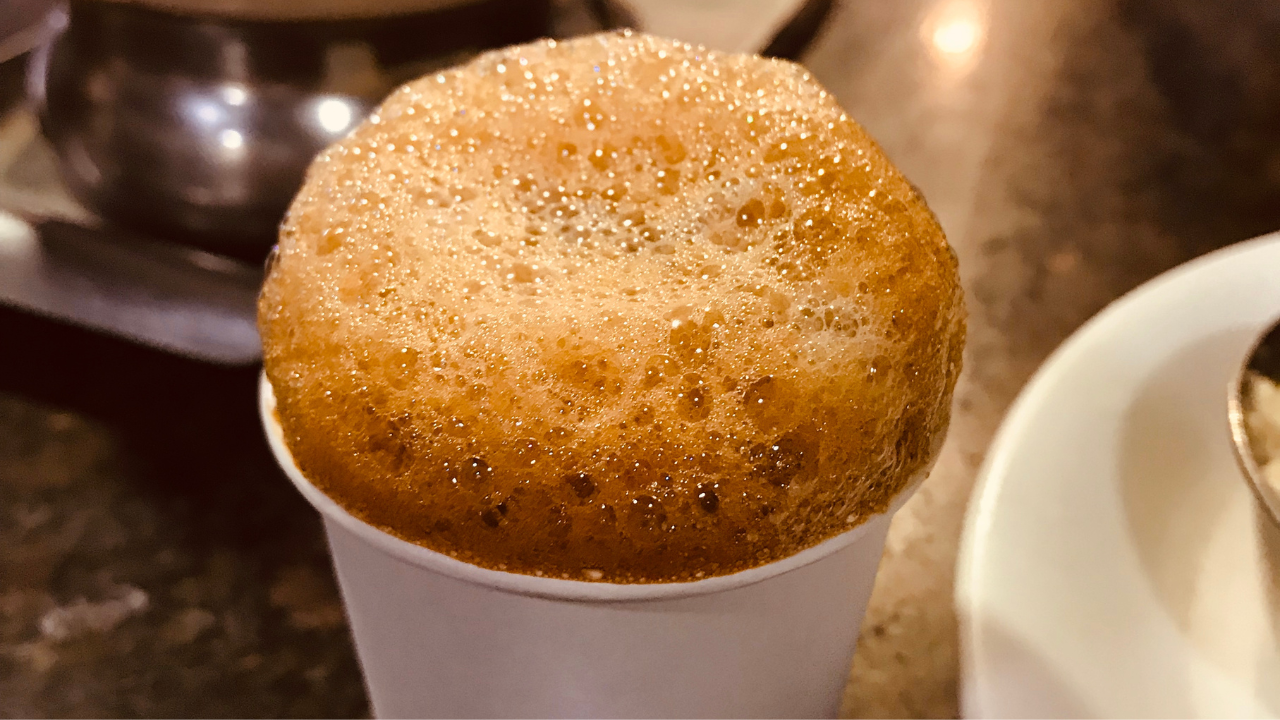 Your next stop is the Kursura Submarine Museum on RK Beach. INS Kursura, an Indian Navy submarine, served the nation diligently for over three decades before being decommissioned in 2001. Today, this once-operational submarine has found a new purpose as a floating museum, showcasing the trials and triumphs of submariners and the technology that enabled them to navigate the depths of the ocean.
One of the most poignant aspects of the museum is its portrayal of life aboard a submarine. Audio-visual presentations, photographs, and personal anecdotes from submariners shed light on the challenges they faced – from isolation and confinement to the camaraderie that developed among the crew members. These narratives offer a human perspective to the technological marvel that the submarine represents.
This museum is at walking distance from Novotel and charges a minimal entrance fee of INR 40 per person and INR 50 for a still camera. It is open on all days except Monday, from 2 pm to 8:30 pm. On Sundays, it is also open in the mornings from 10 am to 12:30 pm.
Spend the evening taking a tranquil walk on Rushikonda Beach. I went here only after sunset and had a mesmerizing moonlit ocean retreat. With its pristine shores, clear waters, and a host of water sports activities, Rushikonda Beach has earned its reputation as one of Vizag's most sought-after destinations. Enjoy jet-skiing, banana ride, parasailing and even kayaking along Rushikonda Beach.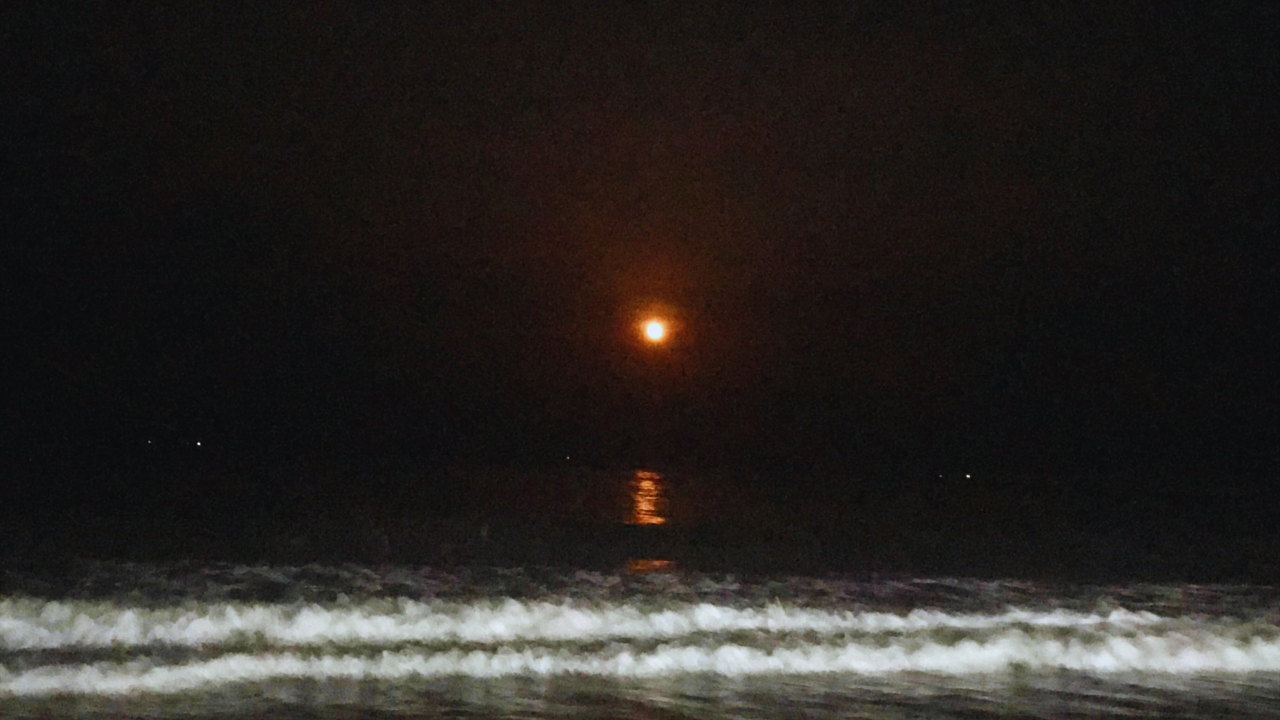 Have a peaceful dinner at Novotel and tuck in early, as you have a bit of travelling to do the next day.
Day 2 – Araku Valley, Borra Caves, Coffee Museum
Kickstart your second day in Vizag by embarking on a scenic drive to the enchanting Araku Valley, nestled amidst the Eastern Ghats. The approximately 4-hour drive rewards you with lush landscapes, coffee plantations, and breathtaking views. As you approach the valley, you'll be captivated by its mist-covered hills and refreshing weather. I was completely blown away by the magnificent views of the valley, that made me visit Vizag once again, after a decade.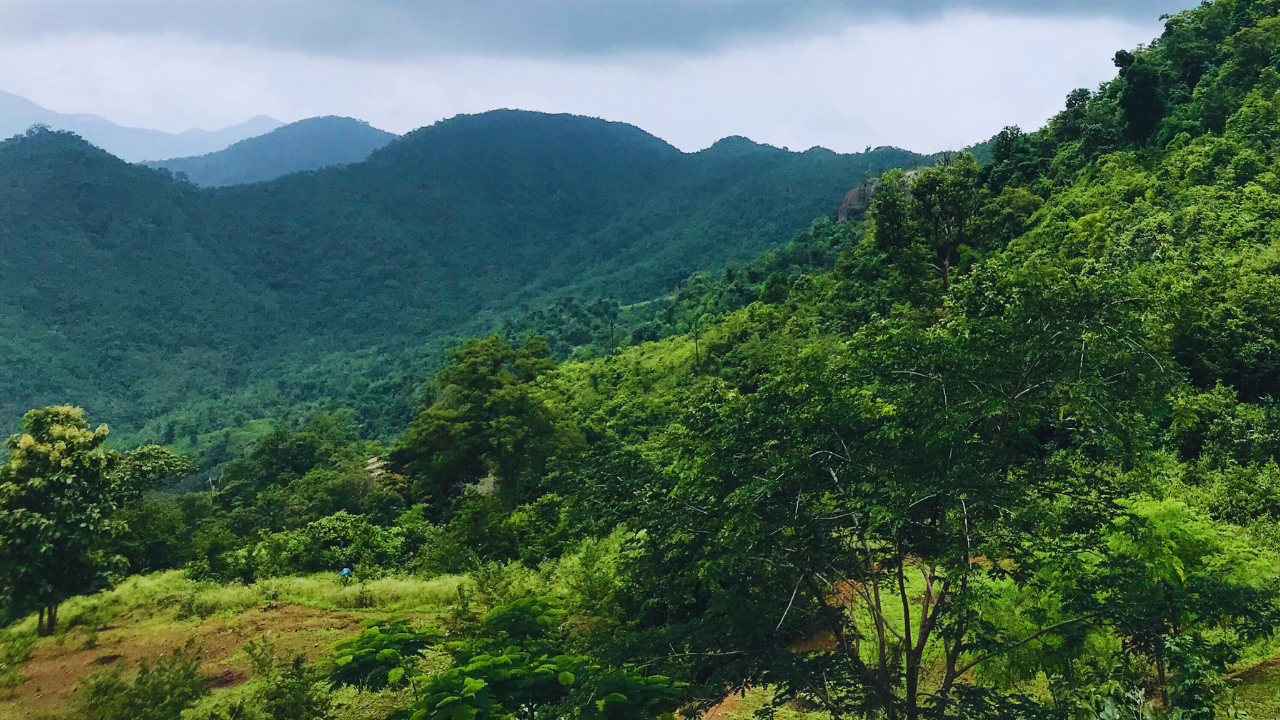 Araku Valley is renowned for its coffee plantations, which contribute to the region's economic and cultural identity. The sight of meticulously maintained coffee estates covering the hillsides is a testament to the labor of the locals who cultivate the cherished beans. Many plantations offer guided tours, giving you the chance to learn about the coffee cultivation process and even sample freshly brewed coffee.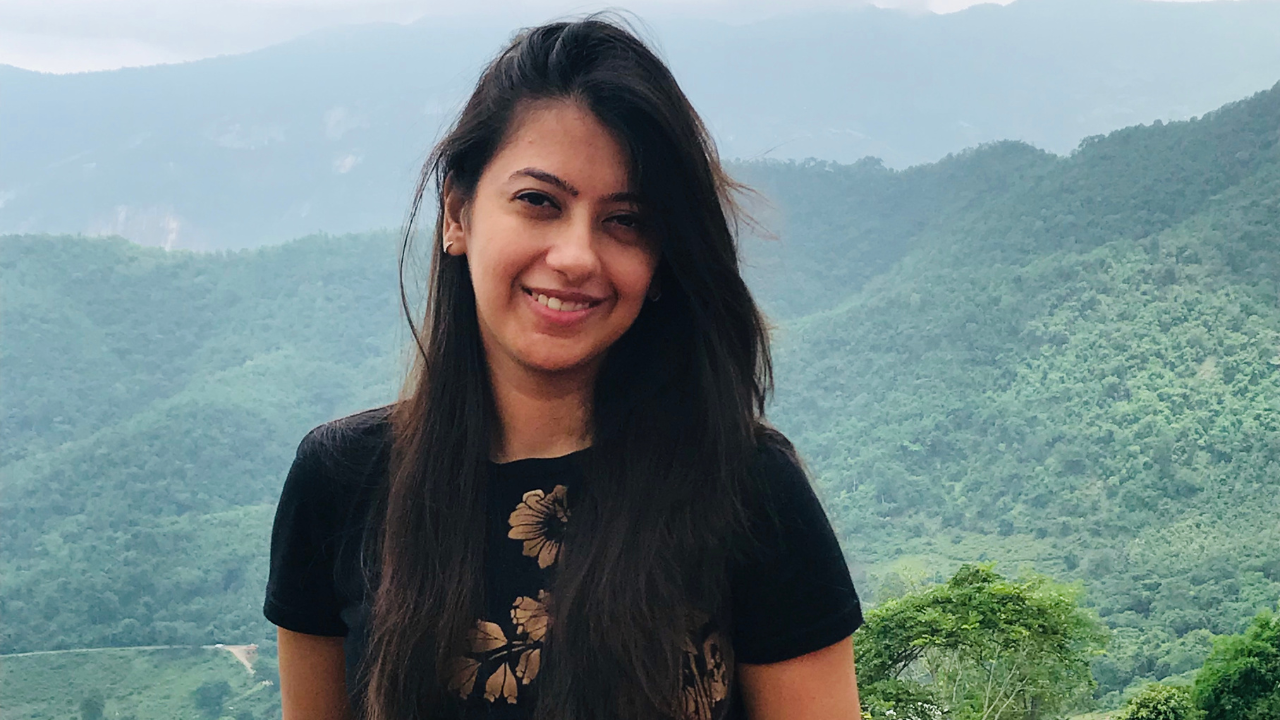 I reached Araku Valley by road once and took a train the other time. Both ways to reach the valley are fine, you can choose as per your convenience. To check train options, go to the official website of Indian Railways – IRCTC – and put in 'VSKP' as origin and 'ARK' as destination.
Head over to Borra Caves, a wonder carved by nature over millions of years. These limestone caves boast intricate formations that resemble sculptures, stalactites, and stalagmites. The play of light and shadow adds an ethereal touch to the interiors. Don't miss the Lord Shiva lingam-shaped formation, a sight to behold. Ensure you wear comfortable clothing and carry a jacket as it can get chilly inside the caves.
The ambiance within Borra Caves is both mystical and enigmatic. The cool air, the gentle echoes of water droplets, and the unique smell of mineral-rich earth combine to create an atmosphere that transports you to a different realm. The faint echoes and reverberations further add to the sense of awe and wonder as you explore deeper into the cave's chambers.
End the tour to the valley with a visit to the Araku Valley Coffee Museum. I happened to discover this museum on my return journey by chance, and I'm glad I stopped to make a visit! As a coffee-lover, I loved knowing all about the discovery of coffee, how it gained popularity all over the world and many more factoids about my favorite beverage. I also grabbed some freshly brewed Arabica from the local plantations at the museum, and it was just the right touch to the coffee museum experience.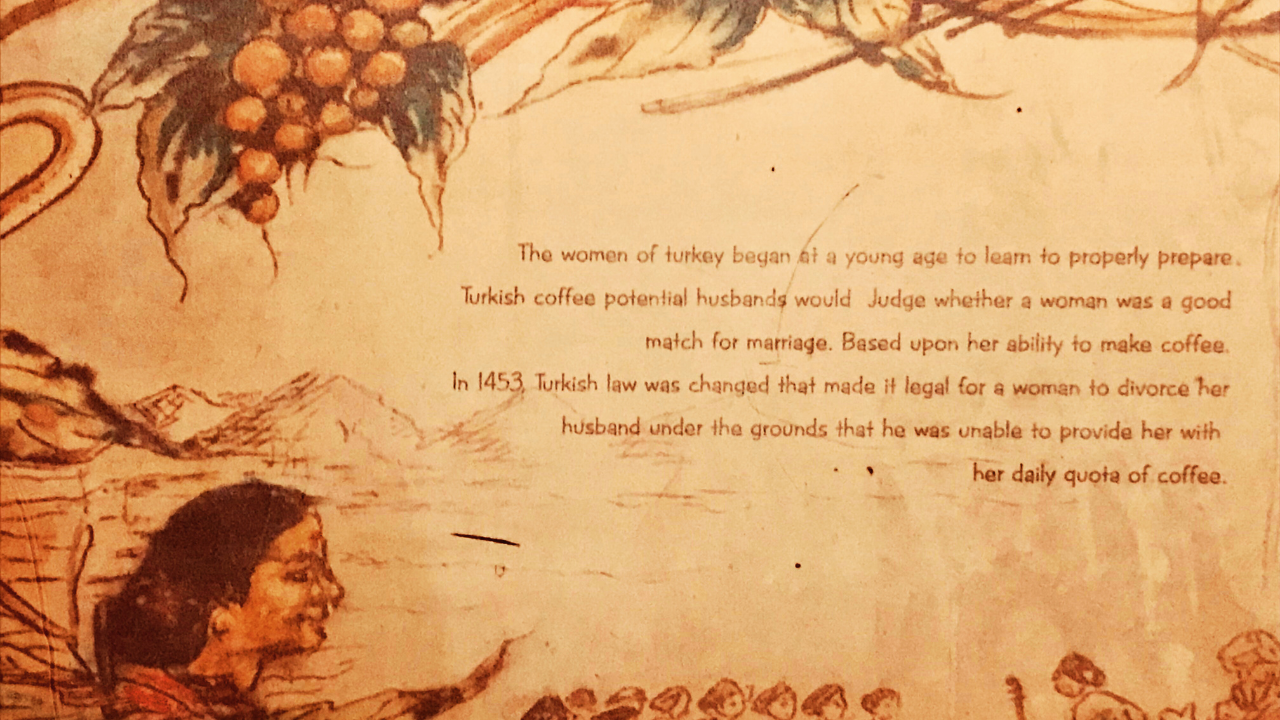 The Araku Coffee Museum is more than just a showcase of coffee beans; it's a celebration of the intricate process that transforms these beans into a cherished beverage. The Araku Coffee Museum isn't very popular and you wouldn't find many people writing or talking about it, but this place is a must-visit on your journey back to Vizag from Araku Valley. You must also pick up coffee packets from Araku Valley as souvenirs for your loved ones back home. You will also get these at the airport.
The Coffee Museum is open all days of the week from 9 am to 8 pm and charges a meagre entrance fee of INR 10 per person.
Where to Stay
Perched along the picturesque coastline of Visakhapatnam, Novotel Visakhapatnam Varun Beach is a prestigious five-star hotel that seamlessly blends modern luxury with the tranquility of the Bay of Bengal. Offering breathtaking views and exceptional service, this hotel provides an unforgettable experience.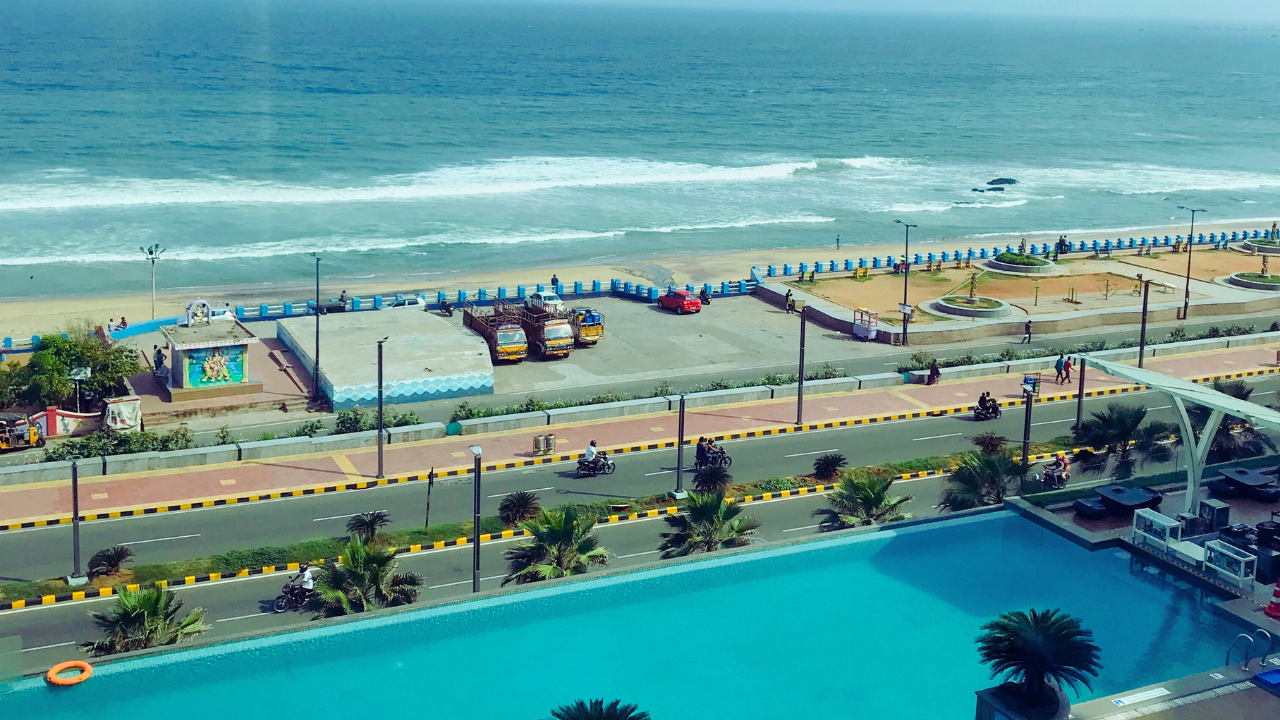 The hotel's beachfront setting allows you to relish both the sunrise and sunset over the water, creating a truly magical ambiance that sets the tone for a memorable stay. I stayed there during my second visit to Vizag and absolutely loved the location and the views. Look no further and book your stay in advance to avail great prices.
Best Time to Travel
October to February is generally considered the best time to visit Visakhapatnam due to the comfortable weather and the opportunity to enjoy the city's outdoor attractions. The monsoon months of July to September do offer lush landscapes, but you run the risk of heavy rain disrupting your plans.
How to Reach Vizag
Visakhapatnam Airport is well-connected to major Indian cities through regular domestic flights. Travelling by air is the easiest and most convenient way to reach Vizag.
Several express and superfast trains run to and from Visakhapatnam, making it an accessible destination by rail. Visakhapatnam Junction is a major railway station that connects the city to various parts of India.
You can also travel to Vizag by private car, bus, or hired taxis. Several state-run and private bus operators offer bus services to and from Vizag, connecting it to neighboring cities and towns.
Local Transportation in Vizag
Once you're in Vizag, you can easily get around the city using local transportation options such as taxis, auto-rickshaws, and app-based cab services. I had rented a car for both the days to ease my itinerary and make it more flexible. The city also has a well-connected public bus system that can take you to various parts of the city and its attractions.
---
From the tranquil beaches to the majestic Borra Caves and enchanting Araku Valley, every experience in Vizag leaves you mesmerized. So, next time you're searching for the perfect weekend getaway location in India, consider going beyond places like Goa and revel in the humble charm of Vishakhapatnam.
Drop a comment below to let us know your thoughts or questions! Check more travel guides for India or visit our destinations page for detailed travel guides on places worth visiting.
FAQs
How many days are enough for Vizag?
2 days is just the right amount of time to enjoy the best of Vizag.
Is 1 day enough for araku?
Yes, a day-trip is sufficient to see Araku Valley from Vizag.
What is famous in Vizag?
Rushikonda Beach, Kailasagiri Park, Submarine Museum, Araku Valley and Borra Caves are the must-visit places in Vizag.
Which month is best for Vizag?
October to February is generally considered the best time to visit Visakhapatnam due to the comfortable weather and the opportunity to enjoy the city's outdoor attractions.
Where to stay in Vizag?
Novotel Visakhapatnam Varun Beach is a prestigious five-star hotel that seamlessly blends modern luxury with the tranquility of the Bay of Bengal. Offering breathtaking views and exceptional service, this hotel provides an unforgettable experience and is the best place to stay in Vizag.
What are weekend getaway places in India, other than Goa?
A 2-day retreat to Vizag is a refreshing getaway in India, often better from going to Goa repeatedly.